Credit: Hilary Beaumont
Kinder Morgan shareholders have voted in favour of two resolutions calling on one of North America's largest energy infrastructure companies to improve reporting on its climate change impacts.
The vote at the company's AGM in Houston on Wednesday sent a strong signal that shareholders want increased transparency around environmental risk, only three weeks before the company is set to decide whether to pull out of its troubled Trans Mountain pipeline expansion in Canada.
The expansion would triple the pipeline's capacity to carry oil from Alberta's oil sands to the B.C. coast, where the Canadian government says it can be sold to Asian markets. While the pipeline is championed by the Trudeau government and Alberta, it has hit a wall in B.C., where it is opposed by municipal governments, the provincial government, eco-activists and some First Nations. Critics say the company has not properly assessed or disclosed legal risks to the pipeline from First Nations who oppose it, and who hold significant rights in the battle against the $7.4 billion dollar project.
Moments before investors voted at Wednesday's AGM, a First Nations chief from territory along the pipeline route in B.C. spoke in favour of the resolutions, warning shareholders that the Trans Mountain project tramples on Indigenous rights.
'Shareholders should not be misled'
Chief Judy Wilson from the Neskonlith First Nation in B.C.'s interior used a proxy share from the New York State Comptroller to speak at the AGM.
"Your company misinterprets Canadian law at your own peril," she told shareholders.
Wilson is from Secwepemc territory, the largest Indigenous territory the pipeline must cross on its way from Alberta to the B.C. coast, with more than 500 kilometres of land along the pipeline route. While some chiefs on Secwepemc territory have signed mutual benefit agreements with Kinder Morgan Canada, others like Wilson have opposed the project.
Wilson told investors that support from some band councils does not equate to consent for the project to move forward, because in Secwepemc law, title is collectively held. Aboriginal law is enshrined in Canada's constitution under section 35.
"Shareholders should not be misled," Wilson told the AGM. "My people, the Secwépemc people, collectively hold Aboriginal Title and Rights regarding our territory. …Property rights cannot be ceded by individual groups."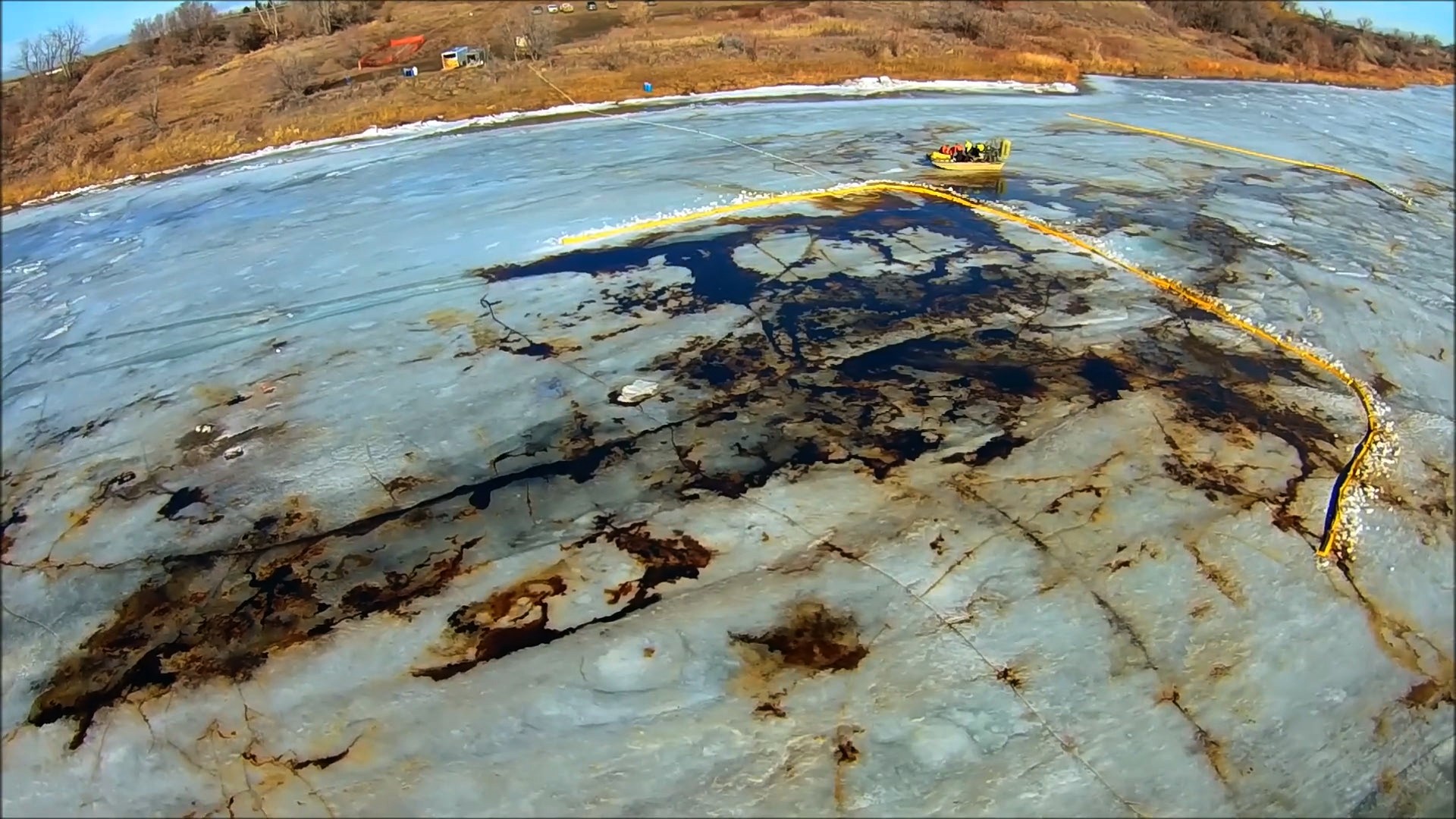 She warned of delays and risks to the project from First Nations opposition, saying "the federal government has failed to adequately consult with us."
"We do not believe that the risks of this project have been accurately evaluated nor fully disclosed, and we want you to know that we have the law on our side and we intend to enforce our rights," Chief Wilson told shareholders. "We are here to tell you that even if the Canadian government tries to minimize political or financial risks, we will not stop fighting [the pipeline expansion] because it threatens our culture, spirituality and identity."
Two resolutions passed
Investors brought forward three resolutions relating to climate change impacts, but only two passed.
The first, backed by Norway's $1.3 trillion sovereign wealth fund, which invests profits from the country's oil and gas production, called on Kinder Morgan to issue a report on methane leaks, which shareholders said were both a source of lost revenue and "a significant contributor to climate change."
The second, tabled by New York State's $270-billion retirement fund, asked the company to publish an annual sustainability report that would include business risk from climate change, increasingly severe weather, energy efficiency and other relevant environmental and social impacts.
The third resolution called for the company to issue a report assessing its climate impacts and mitigating risk in relation to "the internationally recognized goal of limiting the global increase in temperature to two degrees Celsius [above pre-industrial levels]."
The two resolutions on climate change reporting passed while the methane emission resolution failed.
The board unanimously opposed all three motions.
In response to the vote, executive chairman Rich Kinder said in a statement, "As you are probably aware, these proposals are non-binding, however, the Board will carefully consider the proposals and the information contained in the supporting statements in determining what actions to take with respect to them."
Wilson said she was disappointed the methane emissions resolution didn't pass, saying "these all tie together."
Protests continue in Burnaby
While the AGM went ahead in Texas, protesters blockaded the company's Westridge Marine Terminal in Burnaby, B.C. Wednesday morning in an attempt to stop employees from accessing the site. Paddlers in kayaks attached themselves to a floating razor wire fence while protesters on land blocked the terminal's gates.
Kinder Morgan has told the Canadian government it will decide by May 31 whether to proceed with the project. On Tuesday, the Canadian Press reported that natural resources minister Jim Carr said he understood why the threat of "endless court action" might dissuade Kinder Morgan's investors, but said he is confident the federal government can come to a financial agreement with the company before its deadline.