With just three tweets on Wednesday morning, Donald Trump changed the lives of thousands of members of the military.
The president declared a stunning reversal to a 2016 Obama-administration rule that allowed trans individuals to serve openly in the military, imperiling the livelihoods of as many as 6,630 active-duty trans service members. Some worried about their units. Others feared for their ability to support their families. No one knew exactly what to make of Trump's words, which characterized transgender personnel as a "disruption" and a "burden."
Confounded, many trans members of the military reached out to their commanding officers, who offered reassurance and support; Trump might be the commander in chief, but his tweets are just that — tweets. And by the end of the day, the Department of Defense's official policy on transgender individuals' ability to serve had not changed.
The Pentagon reportedly had no idea the announcement was coming and directed media inquiries straight to the White House.
"A lot of people are very afraid for their careers."
"We know a tweet is not policy. Turning a tweet into policy is a lot of work," Maj. Bryan Fram, a transgender staff officer at the Pentagon, told VICE News. "A lot of people are very afraid for their careers, but once again, we're not at the point yet where we know what's going to happen."
But that hasn't reassured active-duty trans members of the military and those who support their right to serve.
"They're worried that they're gonna lose their jobs," said Blake Dremann, a lieutenant commander in the Navy who became the first openly transgender service member to be promoted following the Obama administration's 2016 repeal of the ban on trans people in the military.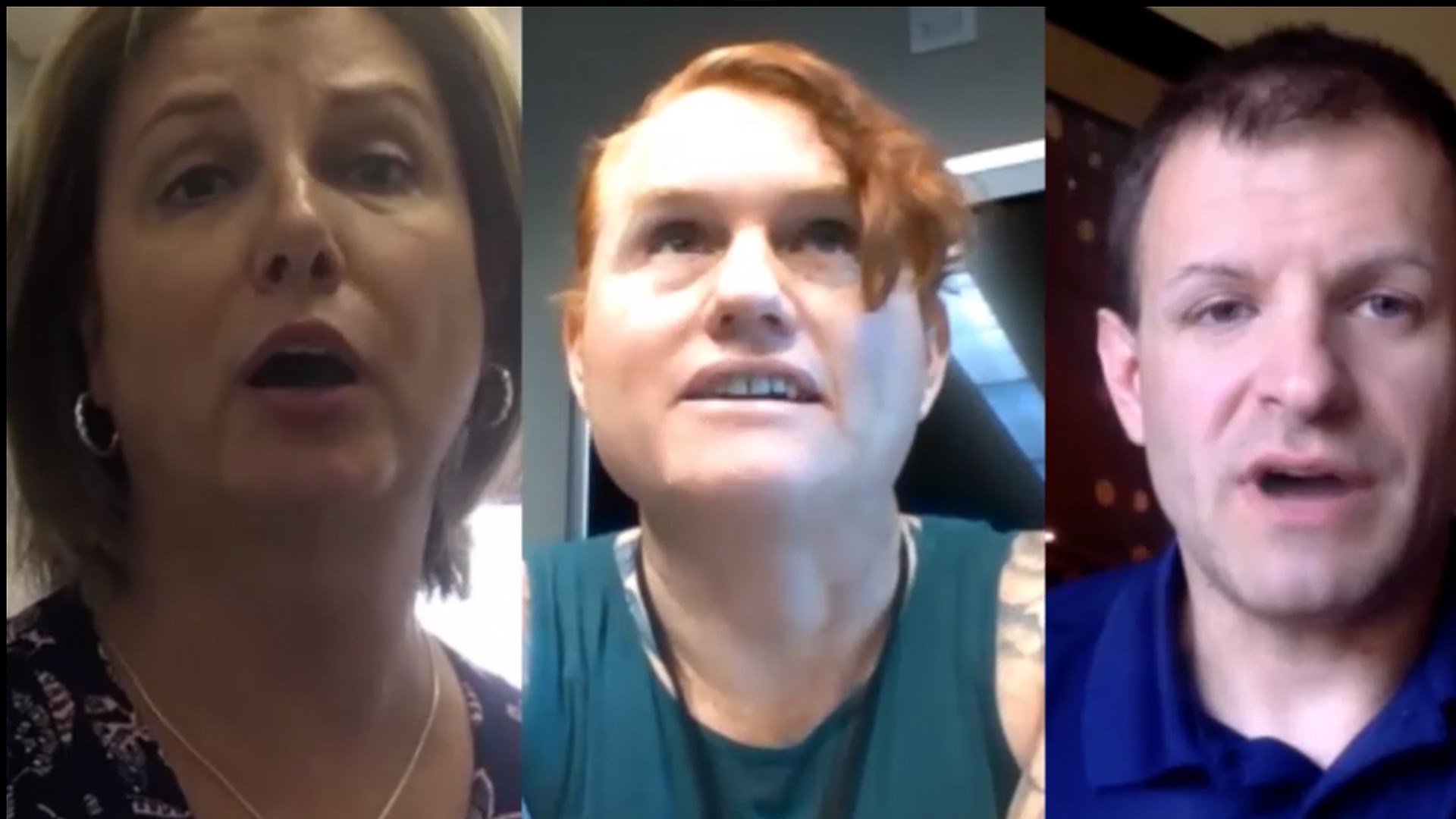 As the head of SPART*A, an advocacy group for LGBTQ+ military service members, Dremann spoke to numerous service members Wednesday about what to do in the wake of Trump's sudden tweets. "I will continue to emphasize, 'Hey, we're already doing our jobs. Continue to do that and do it until the military tells us we're not allowed to do it anymore.' So that's where we're at."
Brynn Tannehill, a former Navy lieutenant commander who left the service to transition and now serves on SPART*A's board of directors, pointed out that service members fear for more than just their day jobs.
"These people are scared. They're losing their careers, their livelihood, their healthcare, their ability to support their families, their ability to support their units," Tannehill said.
Even beyond the Pentagon, commanding officers across the military were reportedly shocked by Trump's sudden tweets. One of Fram's former commanders called him to offer his support, while Dremann said his commanding officers urged him to "remain calm."
"They support me completely with regards to what's going on," Dremann said.
West Point, the nation's oldest military preparatory academy, even felt the effects of Trump's apparent policy change.
"We're hearing over and over that their chain of command — the commanders, officers and NCOs above them — are outraged. They are reassuring the service members, 'We will fight for you,'" added Sue Fulton, a former Army captain who is the first openly gay member of West Point's board. "These soldiers have been down range with their buddies who came out last year as transgender and they will have each others' backs, because that's what troops do."
"They're losing their careers, their livelihood, their healthcare, their ability to support their families, their ability to support their units."
In the White House press briefing on Wednesday, Press Secretary Sarah Huckabee Sanders said the president believed that the policy allowing trans Americans to openly serve in the military was "expensive and disruptive" and came to the conclusion that their presence "erodes military readiness and unit cohesion."
Foreign militaries that have let transgender personnel openly serve have experienced "little or no impact on unit cohesion, operational effectiveness, or readiness," a study by the Rand Corp. found last year.
The study also concluded that providing gender transition-related healthcare for trans service members would cost the military between $2.4 and $8.4 million annually — and that less than .1 percent of the military would likely seek surgery that could temporarily take them out of service. Meanwhile, the Military Times found that the military spends about $84 million a year on Viagra for its service members.
"I find it ridiculous," said Elaina Odom, an active-duty trans service member of 11 years who recently returned from the Korean Peninsula. "They said the same thing when they integrated people of color into the military, the same thing when women started having roles in the military. It's just the shape of progress."
Coincidentally, Trump's tweet banning transgender people from the military coincided with the 69th anniversary of President Truman scrapping segregation from the armed forces.
Odom was making coffee Wednesday morning when her phone began buzzing nonstop. Friends and fellow service members were calling to ask if Odom had seen the president's tweets. Reading them, Odom said, felt like "a punch in the gut."
"We already deal with it," Odom said. "People treating us like burdens, or some kind of evil thing. You lose hope after seeing things like that."
No matter how Trump's tweets eventually translate into military policy, they've already impacted trans people's lives.
One member of the Reserve Officers' Training Corps, a college senior in Florida who asked to remain anonymous, told VICE News they had originally planned to undergo gender transition-related surgery while in the military but now felt like they'd risk getting kicked out.
"If I want to actually get top surgery, I would have to tell them that it's like for a medical reason other than it be gender-related," the senior said. "Because [if] they say it's gender-related … then they're going to be like, 'Oh you're trans, then you're done.'"
Watch VICE News Tonight on HBO at 7 p.m. ET for more coverage on Trump's decision to ban transgender people from the military.
Sarah Burke, Gabe Connelly, Emma Fidel, Antonia Hylton, and Tessa Paoli contributed to this report.