Photo courtesy of Holy Yoga
Caroline Williams is sitting on her yoga mat in a Manhattan studio. She is about to begin filming for a yoga instructional video, the $10,000 cost of which is being paid for by 226 backers from her recent Kickstarter campaign.
There are no statues of Buddha in the background, or images of Shiva or Ganesh. Instead, next to Williams' mat is a Bible. She opens the video recording with a prayer, leading future viewers to dedicate this time to God, as in the Christian one.
"Child's pose is a good time to reflect with a scripture," Williams says to the camera, before reading Lamentations 3:19-32 from the Bible. Except for a few differences—the prayer, the scripture reading and the Jesus-focused affirmations from Williams—the instruction is regular old fast-flowing, muscle-stretching, bum-tightening yoga.
To be specific, this is Christian yoga. And it's a thing.
Yoga is a complicated subject in the Christian community. Some have called it demonic and see its Hindu roots as incompatible with their faith, even going so far as to take legal action againstschool districts with yoga programs. Other Christians see yoga, especially the western version, as spiritually benign, a harmless exercise to improve flexibility and strength. Then there are people like Williams, who blend their Christian faith into their yoga practice.
"Since 2005, there has been a huge increase in Christian yoga," said Renee Prymus, the managing editor of the website Christians Practicing Yoga, noting that around that time three Christian yoga training organization opened in the US. "Christian training schools keep popping up, which tells me it continues to grow," she added.
---
Watch: the charity that funds yoga memberships for people in recovery.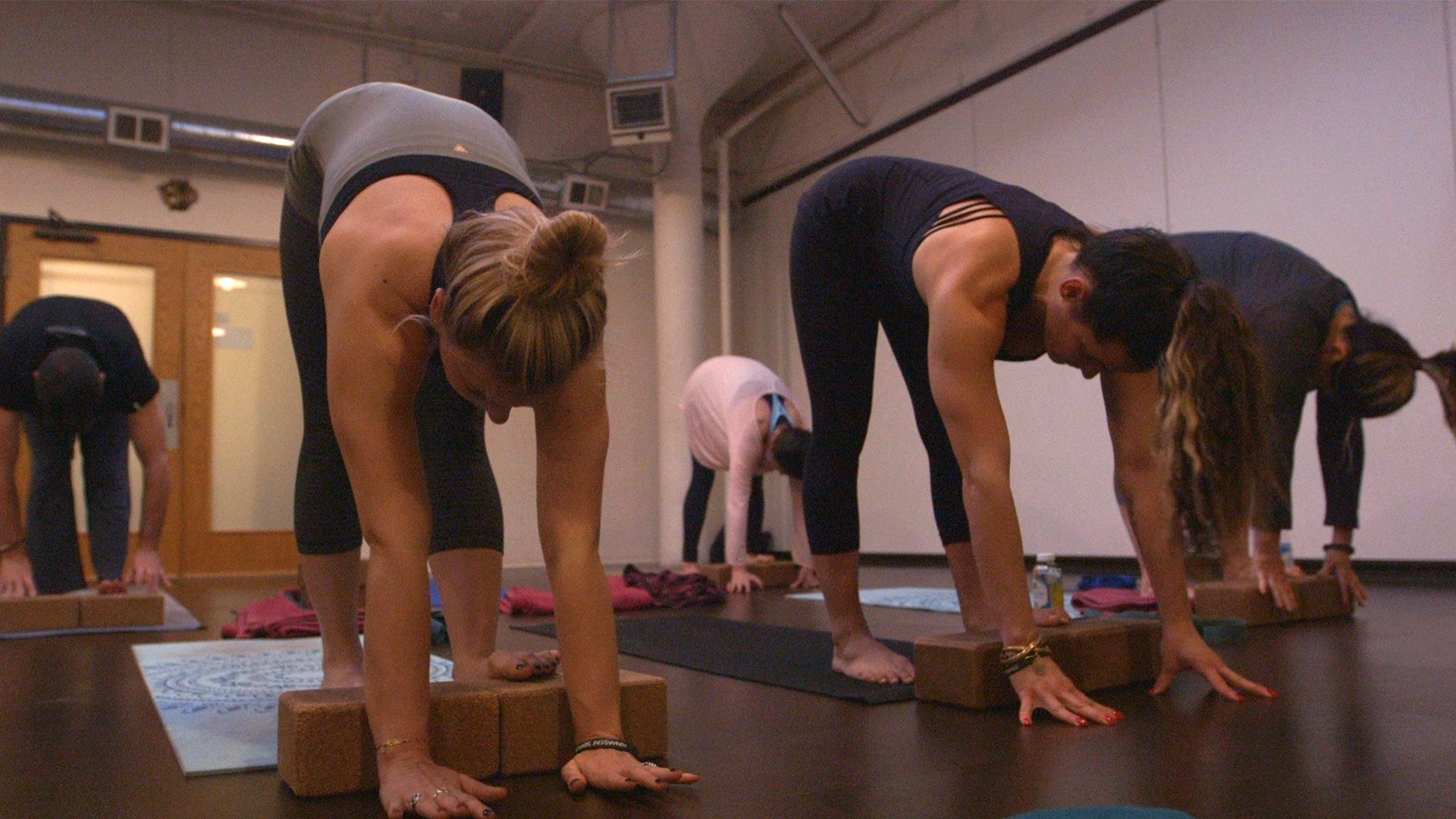 One of those schools is the "Gospel-centered" Holy Yoga. The school has trained 2,200 instructors in 13 countries since it opened in 2006, and interest is "exploding," according to Sue Bidstrup, who oversees enrollments there. So far this year, Holy Yoga has experienced a 15 percent growth in new trainee instructors, she said. The training program involves a six day yoga retreat and a nine week online course where students can anticipate "time on your mat, in your Bible, in prayer and meditation," according to the website.
Exactly what can make yoga Christian is undefined. It can look like Williams' DVD with prayer and scripture readings. Christian worship music might be played during a class. Some put yoga poses to traditional Christian prayers or incorporate a whole Bible study into a class. Holy Yoga doesn't present trainees with a Christian yoga formula but encourages each certified instructor to incorporate Christianity (or not) as they see fit.
In classes at BodyInUnity, a "Christ-centered" and donation-based yoga studio in Florida, poses are named in English rather than in sanskrit, and wisdom affirmations associated with yoga are reframed with a Christian perspective. "There's a lot of urban myths about yoga and I wanted to make it more user-friendly to Christians, specifically," said Kristen Johnson, from BodyInUnity.
One reason Johnson wants to see more Christians doing yoga is poor health in the American church, which numerous studies show is disproportionately impacted by obesity. One 2011 study from Northwestern University found that young adults who attend church or bible study once a week are 50 percent more likely to be obese by middle age. "The healthier [Christians] are the more they can take care of others," said Johnson.
Christian yoga doesn't just add, but it also takes a few things away. The word or sound "om," a mantra that is typically chanted at the end of a yoga class with the goal of connecting to others and the universe, is often missing from Christian yoga. The Christians Practicing Yoga website advises that the meaning and implications of "om" should be understood rather than uttered just because "it's 'cool' or 'what people do' in a yoga class." The website offers "Shalom," the Hebrew word for peace and wholeness, as an "om" alternative. You won't find "om" at the end of Williams' DVD and Holy Yoga training leaves it out. In the video "To Om or Not to Om," Holy Yoga founder Brooke Boon said there isn't anything inherently wrong for Christians to let out an "om,", but the mystery of it can create more questions than answers. "From our perspective, prayer does the same thing," she said.
This dance around yoga reflects the debate within the Christian community on if and how it can fit into a faith other than Hinduism (some Muslim clerics have their own beef with yoga). In a blog posttitled "Christian Yoga? It's a Stretch," outspoken pastor Mark Driscoll described yoga as a "system of belief that is unchristian, against Scripture, and thus demonic in nature." He went on to write that whatever way you dress yoga, including Christian yoga, it cannot be divorced from its Hindu roots.
And Suhag Shukla, the executive director at the Hindu American Foundation, would agree. "If you believe there is only one way to relate to God, you are going to come to a point of contradiction" with yoga, she said. Christianity is a monotheistic religion, whereas Hinduism is panentheistic with millions of gods.
But it isn't just Christians that might be ignoring the foundations of yoga. That is the case for many people who make yoga a $16 billion a year industry in the US, according to Shukla. In 2010, the association launched the campaign "Take Back Yoga" to reemphasize that even the most secular of yoga classes have fingerprints of the Hindu faith. As for Christians who put their own spin on yoga, Shukla said she felt pity rather than anger. "It is coming from fear and insecurity and a resistance to experience," she said.
According to Laurette Willis, it was yoga that led her away from her Christian faith and into the New Age movement of the 1970s, leaving her a lonely addict 22 years later. For Willis, yoga is lumped in with channeling, tarot cards and visiting psychics, which are all big no-nos for Christians. "What I say about yoga is it is not to be construed with exercise," she said.
A few years after she returned to her faith and gave up yoga, Willis created PraiseMoves, which she calls a "Christian alternative to yoga," rather than Christian yoga. However, at times, the 150 postures in PraiseMoves can look a lot like yoga. For example, cobra pose or bhujangasana is called the vine, a reference to a Biblical analogy where Jesus referred to himself as a vine. Willis created other poses herself, some of them modeled on the 22 letters of the Hebrew alphabet. During each pose, a corresponding Bible verse is recited by the class (for the vine pose it is John 15:5 where Jesus says 'I am the vine; you are the branches…').
So far, there are 300 PraiseMoves instructors around the world in what Willis refers to as a fitness ministry. The organization recently developed a Christian version of Zumba. "PraiseMoves is disguised as exercise," said Willis, "but it is really a way for people to have a closer relationship with God."
Correction 9/6/2017: An earlier version of this article incorrectly described the Hindu religion as polytheistic. It is generally considered to be panentheistic.
Follow Serena Solomon on Twitter.