Image: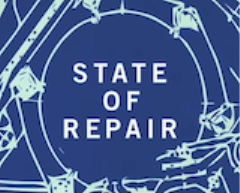 State of Repair is Motherboard's exploration of DIY culture, device repair, ownership, and the forces fighting to lock down access to the things you own.
Montana lawmakers and farm industry lobbyists descended on Whitefish, Montana, last week to discuss, among other things, the right to repair. Billed as an open debate between pro- and anti–right-to-repair advocates, the live panel discussion was more a one-sided discussion of the evils of letting people fix their own stuff.
The right-to-repair discussion was a small segment of the 112th Montana Equipment Dealers Association (MEDA) annual conference, a gathering of farming equipment manufacturers, dealers, and other agriculture industry types to discuss topics of the day and relax on the lake in a resort town. It should be noted that the Equipment Dealers Association is a lobbying group that represents John Deere, Case New Holland, and other agriculture industry manufacturers and dealers, who have largely been responsible for imposing repair restrictions on tractors and other agricultural equipment.
Local Montana radio personality Aaron Flint hosted the event and broadcast it live on his Montana Talks radio show. Flint kicked off the discussion by reminding people that right-to-repair legislation had recently been defeated in the Montana Legislature. "You had folks saying, 'I just want the ability to repair my own equipment just like I've always done,' but the nature of the equipment has changed over the years," he said.
Montana attempted to pass three different versions of right-to-repair in the past few years and none have passed. State Senator Ryan Osmundson, a farmer himself, had proposed draft legislation to help make it easier for people to fix their own equipment after his constituents sounded the alarm. He later let the legislation die.
"I dropped that bill and that brought out a lot of folks that were concerned about that, and rightfully so," Osmundson said on the panel. "And the Association actually came to me and said, 'Hey, we're working on this issue and we're trying to get these diagnostic tools that you're asking for to the consumer.' And so, through that and through the discussions I had with the Manufacturers Association, I went ahead and did not move that bill forward."
Deere in particular has promised it would make repairing its tractors easier by providing some access to parts and repair guides and has used that as ammunition to get right-to-repair bills killed; as of February this year, it had not actually begun offering new repair resources.
Osmundson and others said that much of the proposed right-to-repair legislation is too simple and naive for the complicated world of farm equipment. "There were things in that legislation that were…I mean, they had to sell parts at cost," Osmundson said. "I mean, as a business owner, I know that doesn't work."
Flint also decried right-to-repair legislation for being government interference in the market. "There were provisions being inserted that were basically government-mandated price controls where they were forcing private companies to give their supplies at cost," Flint said.
These are pretty standard anti-repair talking points that simply don't reflect what right to repair advocates have been asking for.
Those familiar with the legislation told Motherboard that right-to-repair legislation never attempted to force manufacturers to sell anything at cost. "Right to repair does not mandate price controls—it requires manufacturers to provide access to repair materials at a fair and reasonable cost, which would give farmers repair options and inject competition into the repair market," U.S. PIRG Right to Repair advocate Kevin O'Reilly told Motherboard in an email. "This is just more smoke and mirrors from the parties that are making money hand over fist while farmers struggle to fix their tractors."
Brad Griffin, the managing director of MEDA, told Motherboard in an email that a version of the

right-to-repair bill

that Montana's Senate Business Committee contained language that would force manufacturers to sell parts at cost. The text of the bill said that manufacturers have to sell parts at fair and reasonable terms and defines that as "costs and terms that are equivalent to the most favorable costs and terms under which an original equipment manufacturer offers the documentation, part, or tool, to an authorized repair provider, less any discounts, rebates, or other incentive programs."
"This definition means dealer cost, so Senator Osmundson was correct," Griffin said. "This was removed by an amendment on the Senate floor before the final vote, but the fact remains that the bill as passed by the Senate Business Committee contained the above language."
Montana legislator Katie Sullivan, who authored the bill, told Motherboard that Griffin and Osmundson were wrong. "I believe my right to repair bill was misrepresented, not only to the legislators attending the event, but statewide on a radio show," she told Motherboard in an email. "This is unfortunate and does a disservice to the voters and the many Montana farmers who came out to support the right-to-repair bills."
John Deere has repeatedly promised to make it easier for farmers to fix the tractors and other equipment they purchased from the company. Despite protests to the contrary, it's still difficult and expensive to do repairs that were simple a generation ago. It's such a persistent problem that there's a booming market in 40-year-old pre-electronic tractors.
The right-to-repair is having a big year. States, cities, and even the country are considering laws to make it easier for people to fix their own stuff. Microsoft recently caved to pressure from investors and announced it will support the right-to-repair. In Washington, the FTC has committed to supporting right-to-repair and Biden signed an executive order aimed at making it easier for people to fix their own stuff.
In Montana, politicians and lobbyists gathered an attempt to stem the legislative tide. "It's clear that this event was more about opponents of Right to Repair making their case than an honest discussion of the policy. But I'm glad that representatives from the Montana Farm Bureau and the Montana Grain Growers were there to stress the ways that repair restrictions prevent farmers from getting the job done," O'Reilly said. "I can tell you this: we aren't golfing with manufacturer lobbyists at mountain resorts, we're talking to farmers to learn the truth. Lawmakers should do the same."
Griffin told Motherboard he felt the interests of Montana's farmers were well represented at the conference. "We had representatives from the Montana Grain Growers Association, the Montana Stockgrowers Association and the Farm Bureau," he said. "The intent of the conference was to continue the process of educating our customers about what diagnostic tools are available from OEM's and our dealers to our farmers and ranchers."
Sullivan didn't buy it. "The manufacturers keep telling us they are solving the problem, but the farmers say they aren't seeing solutions," she said. "In the end I am going to believe the actual farmers of Montana, not lobbyists."
Update:
This story has been updated with comments from the MEDA and Montana legislator Katie Sullivan.