Good morning, Los Angeles!
In addition to being the home to the Hollywood (Hollyweed?) sign, lakes and reservoirs, hills and canyons, more juice bars than can be counted, and, of course, a generous dose of smog, LA's also known for another less-celebrated but very prevalent attribute: its strip malls.
Yes, LA's landscape is also notably painted with many brush strokes of small, side-by-side businesses laid out in "strips" (surrounding parking lots, thankfully). And they're not just tanning salons and law offices to help you get out of DUIs, either; LA's strip malls are home to some of its very best places to eat excellent dumplings, super-fresh sushi, affordable brunch food, and more. Here are 15 spots that you can't miss when in LA—even if you might not spot them when you first drive by.
Sushi Gen: This hole-in-the-wall sushi restaurant has been holding it down for non-baller sashimi lovers in Little Tokyo since 1980. While there may be a wait to eat, we assure you that the quality of their fish is definitely worth it.
Sapp Coffee Shop: You're not here for coffee—you're here for jade noodles with roasted pork, duck noodle soup, and of course their specialty dish, boat noodles. 5183 Hollywood Blvd, Los Angeles, CA
Baroo: Don't let the label "freestyle experimental kitchen" spook you; Baroo is one of the most low-key and approachable restaurants in LA. Chef Kwang Uh's serves things that sound traditionally Korean, like kimchi fried rice, and then things that sound more Korean-ish, like a ragu with gochujang gremolata and aged Parmigiano-Reggiano. 5706 Santa Monica Blvd, Los Angeles, CA
Pho Filet: Unless you are Vietnamese or have eaten in the home of a Vietnamese friend of yours, chances are that you've never had true, full-bodied, homestyle beef pho. Fortunately for you, this noodle shop in the San Gabriel Valley that only uses filet mignon and freshly-made rice noodles is the next best thing. 9463 Garvey Ave, South El Monte, CA 91733
Spicy City: This Szechuan restaurant on the second floor of San Gabriel Valley's biggest strip mall is usually not as packed as the other trendier places nearby, but the food is just as good. You'll be full for life with an order of their cumin lamb, cold noodles, spicy eggplant, and garlicky green beans. 140 W Valley Blvd #208, San Gabriel, CA
Luscious Dumplings: As this neighborhood gem's name indicates, the thing to order here are dumplings and lots of them. Whether you get an order of steamed pork and shrimp dumplings or pan-fried fish ones, you will most likely eat least two dozen by yourself since they are just so damn good.704 W Las Tunas Dr #4, San Gabriel, CA
Joe's Falafel: Whoever says LA doesn't have decent falafel has clearly never been to this hole-in-the-wall that's hidden in North Hollywood. However, while the falafel is crispy and amazing in its own right, the homemade laffa bread they use in their sandwiches definitely deserves an honorable mention. 3535 Cahuenga Blvd W, Los Angeles, CA
Lemon Poppy Kitchen: When you're not in the mood to brave the lines for popular brunch spots located at other more glamorous parts of town, this northeast LA gem has your back. There's something on the menu for everyone—freshly baked biscuit sandwiches, cauliflower hash, sweet potato grain breakfast bowl—but the specialty are plachintas, a Romanian flatbread stuffed with cheese and veggies. 3324 Verdugo Rd, Los Angeles, CA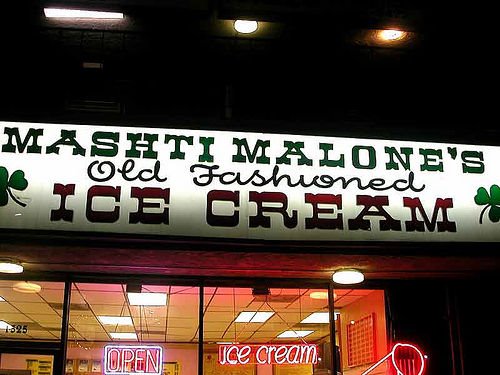 Mashti Malone's Ice Cream: Nestled deep in Hollyweird, this ice cream shop specializing in Persian-inspired flavors like rose water, pistachio, and saffron is the spot to hit whenever you are in the mood for fresh ice cream that will never be too sweet. Pro tip: The wafers for their ice cream sandwiches are baked in-house and are delicious. 1525 N La Brea Ave, Los Angeles, CA
Mario's Peruvian & Seafood: Mario's has been doing Peruvian since way before it was cool, and you will be able to taste their experience through every bite of their ceviches, saltados, and aji chile-based sauces. To wash it all down, make sure to order a glass of their chicha morada, a refreshing, cinnamon-spiced blue corn drink. 5786 Melrose Ave, Los Angeles, CA
Trois Familia: This French-Mexican spot sounds weirder on paper than it is IRL. But if mashups like chorizo crepes and churro french toast don't sell you on the new culinary genre, nothing will. 3510 Sunset Blvd, Los Angeles, CA 90026
Bhan Kanom Thai: This little shop filled with regional Thai desserts like grilled coconut milk rice cakes and pandan custard will satisfy even the most ravenous sweet tooths. Their Thai-style shaved ice with candied basil seeds is also extremely refreshing on a hot day. 5271 Hollywood Blvd, Los Angeles, CA
Mapo Kkak Doo Gee: When craving Korean food but not feeling like eating half a barbecued cow, this tiny restaurant in Koreatown is the spot to hit up. They specialize in homestyle Korean dishes like braised black cod and stir-fried pork belly in spicy gochujang sauce, and they also might have the best banchan—those little dishes filled with pickled everything that magically show up to your table—in all of Koreatown. 3611 W 6th St, Los Angeles, CA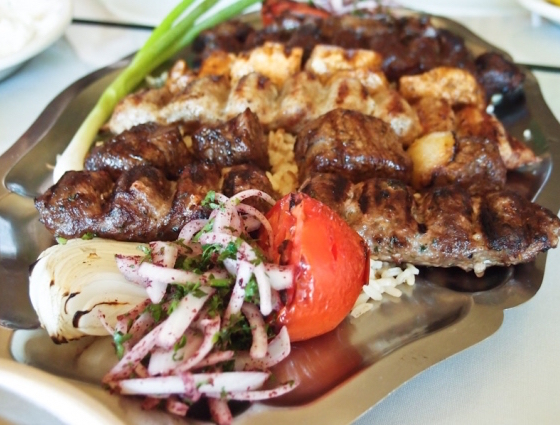 Marouch Restaurant: Lebanese cuisine doesn't get much fresher than the colorful mezze at Marouch. Go ahead and stuff yourself with as much warm pita bread smeared with their muhammara, hummus, and baba ghanoush as you want. 4905 Santa Monica Blvd, Los Angeles, CA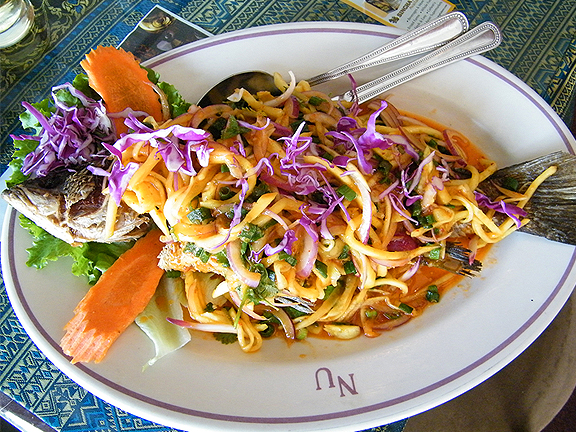 Jitlada: This Thai restaurant was the first in town to get Angelenos addicted to the numbing pleasures of southern Thai cuisine. While it has now oddly become a place to stargaze for local celebrities, their dishes (like the fried morning glory salad with chopped shrimp) are as banging as ever. 5233 W Sunset Blvd, Los Angeles, CA 90027
For the best dive bars, fancy restaurants, tacos, and more in the City of Angels—check out the complete MUNCHIES Guide to Los Angeles.
A version of this post first appeared on MUNCHIES in January 2017.