For her 2014 tome Masturbation in Pop Culture, Lauren Rosewarne, an expert on pop portrayals of sexuality, identified over 600 modern film and TV scenes that either depict or reference self love. Male or female, shamefully or shamelessly depicted, at first blush the clips seem to run the gamut. But while many make open reference to a variety of sex toys targeted at women and built for the female anatomy, almost none make reference to sex toys targeted at men or built for the male anatomy—save for sex dolls, cartoonish inflatables like Bud Bundy's "Isis" on Married… With Children oruncanny valley fleshy imitations like Bianca in Lars and the Real Girl. Without fail, they're almost all meant to be sad sex substitutes for creepy men.
These depictions are part of a prevailing dim view of the historically limited world of male sex toys. But recently this image has become outmoded. Within the past decade, male sex toys have come into a renaissance of design, quality, and diversity, fueling rapid growth (at some stores, sales are up by 1,000-percent over the past decade) from a changing demographic of men, and shaking off much of their old stigma.
As Claire Cavanah, co-founder of the sleek and popular sex-positive toy retailer Babeland, puts it: "It's a good time to have a penis and prostate when it comes to sex toys."
There's not as much information out there on the history of male toys as there is on the ancient origins of toys for females. Yet it's safe to say that by the mid-to-late 20th century male toys were often shady, poorly crafted, and targeted at men with performance issues—think penis pumps—likely limiting their wider appeal.
The market got a boost following the 1995 creation of the Fleshlight, a masturbation sleeve that tried harder than prior toys to mimic the feel of human orifices using better materials. "They made masturbation with a toy popular among straight men," says Leo Debois of adamstoybox.com, a male-focused toy retailer that launched in 2013. "That's an entry point to everything else."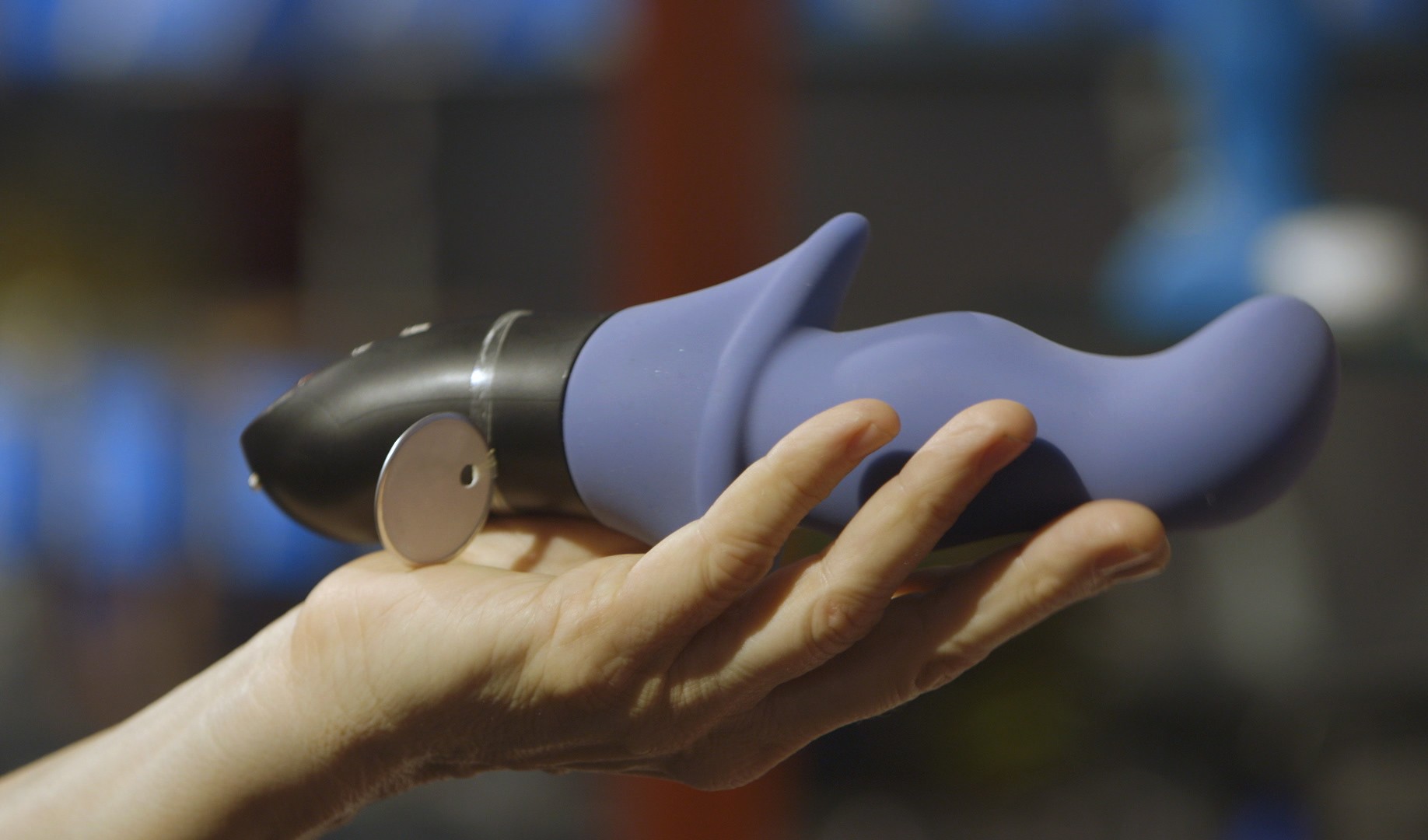 Yet the Fleshlight only did so much. Shifting attitudes, better materials, and positive portrayals (like the Rabbit vibrator on Sex and the City) brought female toys into the mainstream around the millennium, fueling innovation. But male toys didn't catch that wave. Recent studies suggest that many (or most) men, like women, have used sex toys—but they used vibrators, often built for and marketed to women, and usually on partners, less often for solo masturbation. According to Cavanah, by the mid 2000s Babeland (like many shops) only carried a few male masturbators, like the Fleshlight and cock rings, the latter mostly marketed to gay men.
Things got interesting around the turn of the decade, though. Masturbation sleeve maker Tenga, launched in 2005 in Japan, started to get a foothold in the US with products using innovative textures to move beyond mimicking flesh, and pushed sleeker, more modern designs. Meanwhile a host of developers realized what men playing with vibrators had long known: dicks like vibration. They started incorporating vibes into everything from cock rings to masturbation sleeves, creating new bestselling toys. Vibration opened up a new world for couple's toys as well, which could be used to simultaneously stimulate the happy bits in two people with the same or different anatomies.
The same period also witnessed what Steve Thomson of LELO, a meticulously-designed luxury toy brand from Sweden, calls "The Great Prostate Rush of 2010—a bona fide run on the anal bank," in which consumers, especially heterosexual men, began to demand more stimulation for the p-spot. Long embraced by men who have sex with men as something like the male anatomical equivalent of the g-spot, heterosexual guys began to realize they could trigger independent or stronger orgasms by embracing this old-yet-new erogenous zone—a recent LELO survey found that 71 percent of straight men in relationships had tried or wanted to try prostate stimulation.
"[There] was a clamoring of brands to produce new and better prostate massagers," Thomson tells VICE—from larger toys to vibrating devices triggering a hands-free anal orgasm; Babeland went from stocking two prostate toys in 2008 to 23 today. "When the dust had settled a couple of years later, the quality of male anal sex products was better by orders of magnitude and the landscape of male sexuality looked completely different," says Thomson. While sales figures for masturbators or cock rings have increased modestly in recent years at many outlets, almost across the board prostate massager sales have boomed massively.
Wild innovation in prostate massagers also points to a willingness to abandon the old male toy quest to replicate sex—a fools errand sex writer Lux Alptraum argues harshly limits their possible forms and sensations. Beyond prostate toys (and the B-Vibe, which replicates something akin to anal rimming) this impulse is exemplified by Hot Octopus's much-lauded Pulse, a penis sheath using an oscillating piston rather than a typical motor to provide a unique form of vibration focused on the frenulum that triggers a hands-free and (for many men) unique orgasm. Sir Richard's ELEMENT MS likewise abandons old design to focus on the shaft, augmenting rather than replacing sex with new physical sensations for both parties involved.
Abandoning the quest to replicate human anatomy and embracing liberalized design dovetails with a move away from scandalous packaging and provocative designs to sleek modernism—things the average consumer wouldn't be ashamed to own. Thomson thinks it was around 2014 when these trends hit critical mass, redefining the total male toy market. Debois started adamstoybox.com the year before because his team saw this growing and evolving male toy niche and believed someone needed to service it specifically. They've seen 60 percent sales growth year-on-year ever since they opened, which seems apt to continue.
Some developments in male toys may stem from the overall growth of the $15 billion per year sex toy market, which optimists think could increase to $50 billion by 2020—symbolic of a continued march of increasing acceptance of wider views and experiences of sexual pleasure. But there's been a special shift amongst men as well. One recent survey indicates that today up to 78 percent of men would consider buying a solo toy and 70 percent disapproved of stigmas around male toys. Retailers say the consumer base is getting younger and less embarrassed and sees toys as less linked to performance issues. Ariana Rodriguez, the products editor at industry publication XBIZ, thinks the focus on nuanced, accepting views of sexual pleasure in the media, especially lifestyle and health and wellness publications, has done a lot to push back on stigmas—which might explain why male toy users in one study had better sexual health habits than others.
"There are more resources available online that are promoting the sexual health and pleasure benefits of prostate play" as well, she says. "Movember, for example, provides a great opportunity to publicly explore and discuss p-spot stimulation while promoting prostate health."
Prostate toys have also likely benefitted, Debois believes, from a wider understanding and embracing of both homosexuality and sexual fluidity, such that typically hetero men no longer fear they'll go gay if they embrace butt stuff. Likewise better packaging and marketing, Cavanah and Thomson agree, has done a lot to assure men that buying toys doesn't make them seedy.
Despite these advances, Rodriguez thinks there are still twice as many female-targeted products on the market as male. Debois estimates female toys are still a decade or more ahead of men's. And Alptraum correctly notes that many toys still focus on replicating human anatomy and forget the importance of design and the diversity of pleasures male anatomy can experience. These products, like the updated Fleshlight models, still take pride of place in industry awards shows and mainstream media coverage and command major consumer loyalty and market space.
It's unclear whether the recent deluge of innovation will hold strong long enough to close the male-female toy gender gaps. Perhaps genderless toys focusing on malleable and distinct pleasure independent of the user's anatomy, like those LELO is working on, could lead the way in doing so. And thinking about toys and sensations independent of gender could well prompt all manner of new innovations.
For now, it's probably enough for people with male anatomy to embrace all the wondrous new options that've come online for them in just a few short years. Today's male toys already offer an entirely bold new world for most men. The more we explore it, the more we can break down stigmas, provide user feedback to guide innovation, and come like we've never come before.
Follow Mark Hay on Twitter. 
Special thanks to Billy Procida for appearing in the video above. Billy is the host of The Manwhore Podcast. Follow him on Twitter.