Welcome to Sean McIndoe's weekly grab bag, where he writes on a variety of NHL topics. You can follow him on Twitter. Check out the Biscuits podcast with Sean and Dave Lozo as they discuss the events of the week.
The third star: Team Italy scores a goal at the World Championships—Um, guys? I don't think you're hockeying correctly.
The second star: Jared Boll is laughing with you, not at you—The Predators ended up getting the last laugh in game three, but Boll's reaction to seeing his team take the lead after he drew an instigator penalty was…interesting.
The first star: David Poile would like you to stop playing X-Man—Be sure to stick around for the update.
The issue: Ryan Johansen called out Ryan Kesler after game two, accusing the Ducks' agitator of dirty play, saying that "it sucks when you have to pull a stick out of your groin after every shift," and adding that Kesler's "family and friends watching him play, I don't know how you cheer for a guy like that." The outrage: He's not wrong. But he's not supposed to say it. Is it justified: This is the kind of thing that we typically see a few times every postseason. Things happen on the ice, tensions run high, and eventually the unthinkable happens: Somebody actually says something interesting.
At that point, everyone falls into one of two camps. The first is the old school, where you're shocked and offended that anyone would say anything ever. This is the side that believes that if you have a problem, you deal with it on the ice. A small handful of guys, like Jonathan Toews and Jaromir Jagr, have been given a hall pass to occasionally express an opinion, but everyone else is expected to stay down and stay quiet.
The other side thinks that guys like Johansen speaking their minds is great. Athletes in every other sports do it, and when they do it inevitably it sparks more interest among fans. Surely the hockey world, with its notoriously boring personalities and cliched sound bites, could use a little more post-game bad blood.
The problem with Johansen's mini-rant is that it landed pretty much right in the middle of the two sides. He said something beyond "get pucks in deep", so the old-timers are mad at him. But as far as trash talk attempts go, this one didn't really land. The bit about family and friends was a nice touch, but other than that, the whole thing sounded a lot more like a guy whining about not getting the calls than anything else.
The fact that Johansen said so little and still drew the ire of the traditionalists is pretty much all you need to know as to why we so rarely hear players say anything at all. If we're going to have this argument every few weeks, here's hoping the next guy to speak up actually goes full pipe bomb and makes it worth our while.
Obscure former player of the week
With the Vegas Golden Knights expansion draft just a few weeks away, it's fitting that we're being treated to a Western Conference final that features two relatively new teams in the Predators and Ducks. So today, let's bestow obscure player honors on a player that links those two teams and their expansion histories: Russian goaltender Mikhail Shtalenkov.
Shtalenkov became an international name in 1992, when he was the starting goalie on the gold-medal winning Unified Team at the Olympics. He was picked by the (then) Mighty Ducks a year later in the fifth round of their first ever entry draft, a few spots ahead of future all-star Miroslav Satan. Already 27 years old when he was drafted, he made his NHL debut that season, playing ten games for the Ducks. He'd see part-time duty with the team for the next four years, playing a career-high 40 games in 1997-98. He went back to the Olympics in 1998, winning silver as Russia's starter.
That same year, the NHL welcomed its 27th team when the Predators were born. Nashville took five goalies in that year's expansion draft, including Mike Richter (yes, really), and future starter Tomas Vokoun. They also took Shtalenkov, making him the first ever link between the Predators and Ducks.
Sadly, Shtalenkov wouldn't get to work on his Hockey Tonking, as he never played a game in Nashville. He was part of a five-player deal with the Oilers, where he'd share starting duties with Bob Essensa before another trade to Phoenix. He'd last 15 games as a Coyote before another trade, this time to Florida for Sean Burke. At the end of the 1999-2000 season, he headed back to Russia to finish his pro career.
Shtalenkov later went into coaching. A few years ago, he was briefly part of a weird news story in which he was apparently reported missing by his wife, but later turned out to be fine.
This week's debate: The Ottawa Senators are two wins away from the Stanley Cup final. But are they a boring team?
In favor: Good lord, yes. Game one on Saturday was nearly unwatchable. Game two was only marginally better. Off the ice they make for a great story, but when it's time to play the games this team can be tear-your-eyes out dull.
Opposed: Well, hold on. You're just cherry-picking a few bad games. They sure weren't boring when they went out and blew the doors off the Penguins in the first period on Wednesday. And what about that 6-5 OT thriller against the Rangers? The Senators aren't boring all the time.
In favor: Sure, but "not boring all the time" isn't exactly a ringing endorsement. So sure, congratulations on having played one entertaining period in the first three games of the series. You're still boring.
Opposed: But there's more to an entertaining game than goals. Just about all of Ottawa's games during this run have been close, with seven of them going to overtime. Not to go all hockey hipster on you, but I'll take a tight 2-1 game over a sloppy 7-3 one any time. And besides, even if they are dull, who cares? They're winning. Like Bobby Ryan said earlier this week, "ratings be damned".
In favor: And he's right, from Ottawa's perspective. Nobody is blaming them for playing a system that works. This league has spent 20 years watching this style take over the game and never does anything about it, so good for the Senators if they can exploit that. They're even starting to embrace the whole "boring" thing, which is sort of cool. But none of that means that the rest of us want to watch.
Opposed: That's fair. But still, any team that has Erik Karlsson can't be all…
Senators fan: EXCUSE ME BUT I COULDN'T HELP BUT OVERHEAR YOU TALKING ABOUT MY TEAM SO I AM HERE TO YELL ABOUT THAT.
In favor: Whoa.
Opposed: Hey man, can you turn the volume down a little bit?
Senators fan: NO SIR I CANNOT AS OTTAWA FANS ARE VERY SCREECHY RIGHT NOW.
In favor: Yeah, we've all noticed. But do you really have to interrupt us in the middle of…
Senators fan: YOU HAVE SAID SOMETHING BAD ABOUT THE SENATORS AND I AM HERE TO THROW A TEMPER TANTRUM ABOUT IT.
Opposed: I'm not sure we even said anything all that bad.
In favor: Yeah, we all acknowledge they're a good team on a great Cinderella run. It's just that they're kind of boring sometimes, and most fans seem to prefer…
Senators fan: LEAVE MY WONDERFUL PERFECT TEAM ALONE OR I WILL HAVE TO FIGHT YOU.
Opposed: Dude, chill out. Your team is in the conference final. People are going to talk about them. You guys are going to need to be able to handle some occasional criticism.
In favor: Yeah, seriously. You Senator fans have generally been pretty cool over the years, but during this playoff run you've all gone super-sensitive about every little thing and it's getting kind of weird.
Opposed: Maybe just take a few deep breaths and see if that…
Senators fan: THE TORONTO MAPLE LEAFS HAVEN'T WON A STANLEY CUP SINCE 1967.
Opposed: Yes but… wait, what does that have to do with anything?
Senators fan: ABSOLUTELY NOTHING BUT NO SENATORS FAN CAN GO MORE THAN FIVE SENTENCES WITHOUT MENTIONING IT OR WE DIE.
In favor: I always wondered what was up with that.
Senators fan: IF YOU DIDN'T VOTE ERIK KARLSSON FOR THE HART TROPHY YOU HATE PUPPIES.
Opposed: That's not true.
Senators fan: WE ARE CANADA'S TEAM NOW AND EVERYONE MUST LIKE US. THE PRIME MINISTER MADE A LAW.
In favor: That isn't how things work.
Senators fan: CHRIS NEIL FOR CONN SMYTHE. BOB COLE IS MEAN AND BAD. ALFIE DIDN'T MEAN TO SHOOT THAT PUCK AT NIEDERMAYER.
Opposed: Yeah, sure, we get it, but it's… wait, that was five sentences without bringing up the Leafs for no reason.
Senators fan: I… WAIT… I LOST COUNT AND … [explodes into fine mist, spraying stale Beaver Tail shrapnel everywhere]
Opposed: You have to admit, that last part was kind of exciting.
In favor: It really was.
The final verdict: This entire section is all Toronto's fault somehow.
Classic YouTube clip breakdown
Hey, speaking of the Maple Leafs…
One of the running themes of the Senators/Penguins series has been the budding rivalry between Phil Kessel and Dion Phaneuf, who mixed it up several times on Wednesday night. This is, of course, not the first time their paths have crossed. The two were the building blocks for Brian Burke's stint as GM in Toronto, and came to symbolize all the good and bad of that particular era. Eventually, both were traded away. But for several years, they were easily the two best known Toronto Maple Leafs in the world.
So today, let's travel back five years to watch as the two stars share a light-hearted bonding moment between teammates.
It's January 2012, and the NHL is in Ottawa for all-star weekend. Phaneuf and Kessel have both made the team, so they're in town to do a little pre-game promotion work. Standard stuff. I'm sure it will be fun.
Phaneuf is doing a sit-down, and our clip begins when he somehow hears Kessel approaching behind him. You're expecting me to make some sort of lazy "Phil Kessel is so fat you can hear him walking" joke, but I'm above that. There will be no weak and tired Kessel conditioning punchlines here.
"Oh, he's eating a cookie!" Um, OK, maybe Phaneuf didn't get the no-conditioning-jokes memo.
Phaneuf invites Kessel to join him for the interview, dropping a "You just interrupted it" in the process. Did that seem a little angry to you? It did to me. That Phaneuf is such a card, when he decides to playfully tease a teammate he really commits to the character.
"We better get you on the bike if you're going to keep eating these cookies, that's your fourth one today." See… playful? I think this is playful. Please tell me this is playful.
Kessel tries to claim that it's only his first cookie, at which point Phaneuf goes full-on dad mode while busting him with a detailed list of times and locations. I was fully expecting him to explain that he's not mad, just disappointed.
Anyway, now that Kessel's been thoroughly cookie-shamed by his friend(?), I'm sure we'll get to the friendly banter.
See, here we go. Kessel relates a funny story about being asked who'll choose the music for the all-star locker room. "I told them you." See, that's nice! "And I said you're the worst DJ in the league." Oh.
"Hey, you can go get your ipod," Phaneuf replies. "I know you're extremely cheap, but…"
OK, I'm going to just jump in right here. Do…. do Phaneuf and Kessel hate each other? I mean, do they legitimately want to fight right now? I think they might.
Just for context, Phaneuf being the Maple Leafs' locker room DJ was kind of a thing in Toronto for a while after Burke somehow used it as a way to praise his leadership skills. So this is Kessel coming in and just firing directly at the thermal exhaust port. These guys are not messing around.
By the way, can we give Kessel some credit for holding his own here? He's never been viewed as an especially intimidating guy, but he's pulling off a pretty decent "I'm going to stand right over you and keep eating my cookie and what are you going to do about it?" move here.
That face where you realize your fun sit-down is about to turn into a fist fight.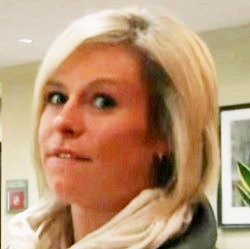 A flustered Phaneuf tries to resume the interview, but Kessel is still hovering semi-menacingly in the background. The interviewer asks if he'll be in the hardest shot competition, at which point Kessel comes storming back for more, asking if "You mean that muff of a shot?" I don't even know what that means, but it sounds bad.
At this point, Phaneuf calmly gets up, grabs Kessel in a headlock, drags him down the hallway and throws him down that escalator.
Wait, I'm being told I imagined that. What Phaneuf actually does is offer up a plaintive "Phil is all over me today. I don't know why… he's angry today". Which is probably the safe play. Would you want to mess with this guy?
I feel like we have to score that bout for Kessel. Phaneuf got the early takedown and landed some shots, but ran out of gas at the end and left himself open. I'm going split decision for Phil, but I'm willing to hear other viewpoints.
By the way, you may be wondering how we got this clip of the Maple Leafs' two most important players coming to within a few seconds of roundhouse kicking each other in the temple. Did some fan film it with their phone and upload it to social media? Is it security cam footage that the hotel didn't dispose of properly? Oh, no, it was uploaded by the official Maple Leafs YouTube account. And then they gave it this title:
The 2011-12 Maple Leafs missed the playoffs for the seventh straight season, in case you were wondering. No idea how that happened, with all that dressing room chemistry.
Epilogue: They eventually made up.
Have a question, suggestion, old YouTube clip, or anything else you'd like to see included in this column? Email Sean at nhlgrabbag@gmail.com .