Aaron Doster-USA TODAY Sports
The Stanley Cup Playoffs are the busiest time of year for everyone in the hockey universe.
The players are subjected to a two-month grind and the media has to feed the beast on a daily basis. Arena workers, some of whom are pulling double duty with the NBA playoffs, are putting in overtime. The people who work for teams doing things like booking travel and coordinating schedules have to be ready for multiple scenarios as series conclude. Everyone has more to do during the playoffs.
Well, almost everyone.
While mid-April is the start of a hectic stretch for most, it seems that referees, along with the NHL's Player Safety and Hockey Operations departments, have already checked out for the off-season. They still don their uniforms or suits, but they may as well be on a beach. The work that was getting done during the regular season is piling up during the postseason, and no one at the league office seems to mind. They're still around, but they're long gone.
So: who out of those three groups is doing the very least in their jobs? I've ranked them in descending order, from the busiest, and therefore least damaging, NHL employees to the worst.
3. Officials
If you've watched a full NHL season, you know that the standard of officiating changes from the regular season to the postseason. A penalty is a penalty in the regular season; in the postseason, a penalty is a penalty depending upon the score of the game, time remaining, how many power plays a team has had, and which Fall Out Boy song played during the most recent stoppage. These are the excuses we've come to accept from officials as beaten-down consumers of the NHL product.
It seems like that standard has fallen even lower during this year's playoffs.
There are certain penalties referees have always had to call, like the delay of game for puck over the glass. That one remains a staple, but other usually sure things, like high-sticking infractions, have disappeared. Referees apparently have become so derelict in their duties that eating a stick is no longer an automatic penalty. Now it depends upon all those contingencies that used to apply only to hooking and tripping.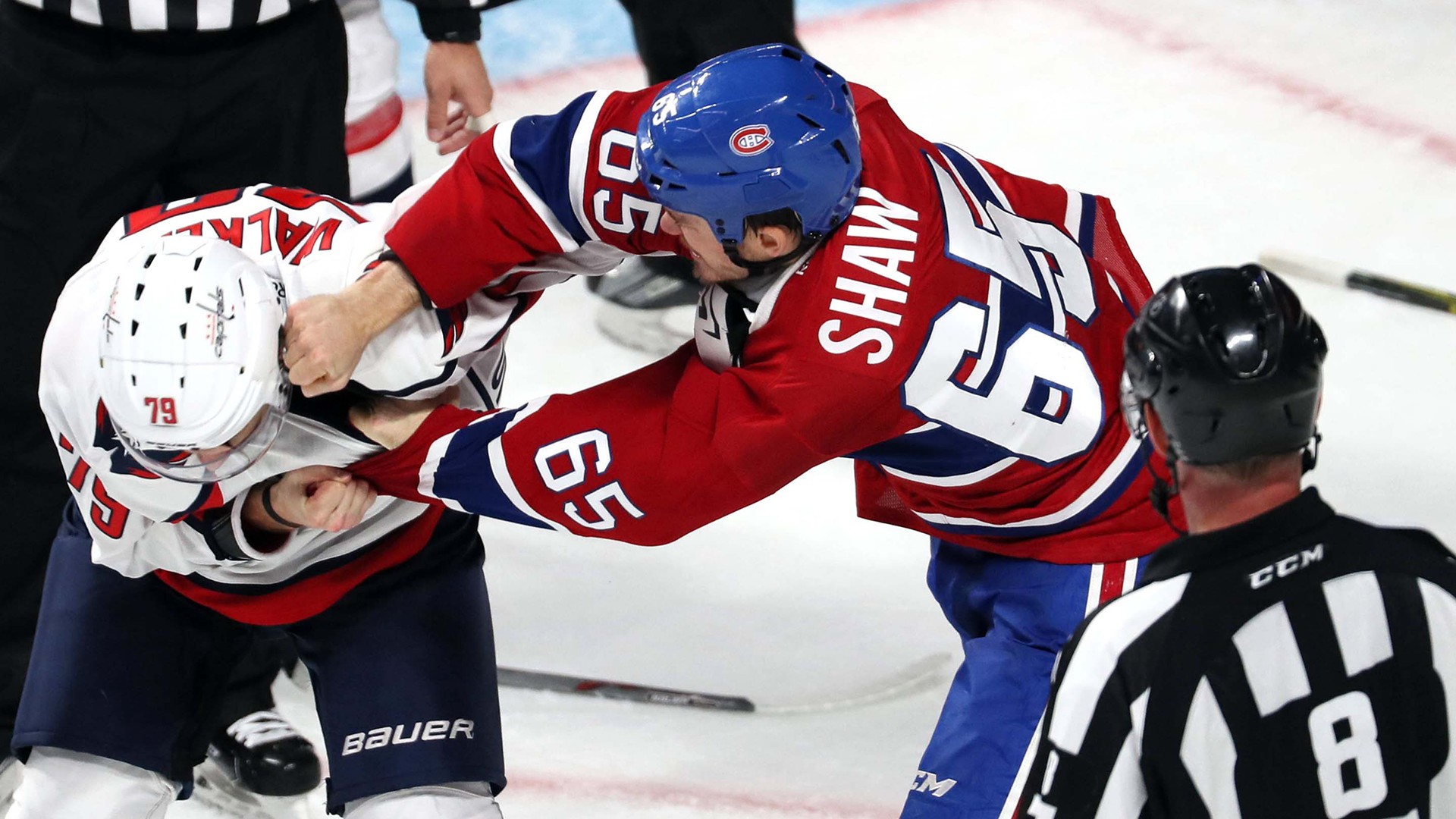 Go through some of the non-calls in just the conference finals: Nashville goaltender Pekka Rinne playing the puck outside the trapezoid, Ryan Johansen cross-checking Ducks defenseman Josh Manson through the boards seconds before the Predators' tying goal in the final seconds of regulation in Game 4, and, most recently, Tommy Wingels delivering an elbow straight to the face of Scott Wilson.
As bad as officials have been, though, they at least have put in some work during the playoffs—or at least, they've put in more work than the next group on the list.
2. Player Safety
We're still working along the lines of the same unspoken agreement we have with the officials, but instead of game situations dictating penalties, it's star or series status that determines if an illegal play will merit supplemental discipline. If you sense that referees don't want to influence the outcome of games with a two-minute penalty, that feeling is 30 times greater for people doling out suspensions—or not, as the case may be.
It's either that, or NHL players have been so well-behaved in the playoffs that there has only been one suspension-worthy offense in 79 games. Who can be sure which is the truth?!
That single suspension was the result of DOPS succumbing to pressure last month to give the Blue Jackets' Matt Calvert one game for cross-checking the shoulder/neck/head area of Tom Kuhnhackl during the final minute of a blowout. They let it leak through friendly media types that there would be no punishment, but then had a change of heart and decided on having a hearing for Calvert.
The latest outrage took place on Sunday afternoon. It was a 7-0 game between the Penguins and the Ottawa Senators when the Senators forward Tommy Wingels, with intent and malice, delivered an elbow to Pittsburgh forward Scott Wilson's head. The violation was as clear as day, but DOPS decided against suspending a depth forward for an elimination game. If that doesn't get you out of bed on a Monday morning to work, not much will.
But even with referees turning a blind eye to crime like a corrupt cop in a mafia movie and Player Safety more interested in doing literally anything besides holding a hearing, only one person has made the NHL look worse over the past six weeks.
1. Colin Campbell
I mean, who else would it be, really?
Hockey Operations, not Player Safety, handles things like Anaheim Ducks captain Ryan Getzlaf shouting a homophobic slur at someone on the ice during Game 4 of the Western Conference Final last Thursday. We're all adults here, so: the word in this case is "cocksucker." The NHL was vague when it came to explaining the specifics of the incident, and we don't know who was on the receiving end of the word. What we do know is it was serious enough that an on-ice official (this is why they are third on this list) felt compelled to report it to the league, and the league felt it was worth a $10,000 fine.
In a similar situation during last year's playoffs, Andrew Shaw of the Chicago Blackhawks received a one-game suspension for screaming the word "faggot" at officials.
As my Twitter mentions this past week so tactfully explained, there is no other interpretation when it comes to the word Shaw used but, as numerous internet people insisted on pointing out, the act of sucking cock is not limited to men; women do it, too. Therefore, Getzlaf screaming "cocksucker" on the ice was not a gay slur, and that's almost definitely why the 64-year-old Campbell deemed the word "inappropriate" instead of "homophobic." In conclusion, per these Twitter linguists, everyone who is mad should find a safe space in Cucktown or whatever.
Even if you believe that Getzlaf's word exists in an ambiguous place, you can't tell yourself that's what happened here. An official heard the word and felt it was used in a manner that rose above the Motherfucker/Asshole Standard and deserved punishment. And the only way that word would deserve punishment in the eyes of the NHL is if it used as a homophobic slur. Therefore, it absolutely has to be treated exactly the way Shaw was treated last year.
That doesn't just mean the NHL dropped the ball by failing to suspend Getzlaf one game; it dropped the ball by not using the incident as a chance to educate Getzlaf, other players, fans, and really anyone about that specific word and why it's on the same level as the word Shaw used. It's clearly needed.
I had never thought of this word as anything but your average swear word. But it's not. It's more than that. And maybe Getzlaf didn't know that, either. We'll never know based on his apology, which is the kind you give when you accidentally say, "Shit, we're out of fucking beer?" at a children's birthday party:
"Obviously a situation like that, where I'm on the bench by myself, frustration set in. There was obviously some words said, you know, not necessarily directed at anyone in particular. It was just kind of a comment. I got to be a little more responsible in the word I choose."
"Definitely as a father, as somebody that takes a lot of pride in this game and the respect for it, it's tough to see somebody refer to it as what TSN did. I didn't mean it in that manner in any way. For that to take that route was very disappointing for me. I do accept responsibility and I accept the fine. We talked to the league and I understand that it's my responsibility to not use vulgar language. Period. Whether it's a swear word or whatever it is. We've got to be a little bit more respectful of the game, and that's up to me. I accept that responsibility and we'll move forward."
So while Shaw showed genuine remorse for what he did, Getzlaf had a more "boys being boys" vibe to his postgame apology, and that was only an option because Campbell and the NHL didn't do their job. Instead of someone pulling aside Getzlaf and saying, "Hey, I know what you think you mean when you say that, but if just one person feels you're demeaning a homosexual man (or a straight woman, really) when you say that, you need to knock that off," the NHL simply washed its hands of it and moved forward.
And that's Campbell's fault. Yeah, there are other people who share blame, but Campbell had the opportunity to raise the issue and decided against it. Maybe it's because he's like most straight men and has never given that word and its repercussions a second thought. You won't find a better argument for having more diversity inside NHL offices to raise these sorts of issues, before they become a public embarrassment, than that.
Want to read more stories like this from VICE Sports? Subscribe to our daily newsletter.