Illustration by Sara Agustina
The lie that female students have an inside track to getting good grades. The false notion that they "have it easier" because they can pass a test just by flirting. The fact that they're often asked, "Why did you get drunk if you didn't want to be touched?" That women are the ones often assumed to be fault for not having screamed or run away from harassers or assailants. The smear that they're exaggerating or somehow just being overly sensitive when a professor's comment about their body makes them sick to their stomach.
These toxic realities are familiar to women at colleges around the world, and in the Colombian university system, the depths of the problem are only just being uncovered. A three-month-long investigation by VICE Colombia revealed glaring patterns in how these issues are addressed—and not addressed—in higher-education, despite violence against women being part of day-to-day life in the country's colleges and universities. Along with a cesspool of verbal attacks, we also found evidence of physical, psychological and sexual violence that breaks spirits and puts an end to individual students' academic lives, while somehow leaving the institutions and their staffs intact and even unscathed. The results of the investigation are disturbing, to say the least. At one major engineering school, Santander Industrial University (UIS), a third of female students reported being sexually assaulted. At National University (Universidad Nacional de Colombia), among the most prestigious public universities in Colombia, an internal survey revealed by VICE found that of 1,602 female students surveyed, 54 percent were victims of some type of sexual violence endured within the institution or at one of its related events. But sexual assault, abuse, and other acts of violence against women seem to be peripheral concerns for school officials. The demands made by activists aren't really heard and addressed. The victims aren't properly cared for. And the government hasn't intervened to get a handle on the situation. Over the course of three months, with the support of the Latin American investigative network Connectas, and thanks to a grant from the International Center for Journalists (ICFJ), a team of journalists from VICE Colombia tasked themselves with understanding the conditions that allowed these problems to fester. To do this, we reviewed the rules of 30 of the country's schools, talked with victims, confronted administrators, and interviewed professors, investigators, and activists familiar with the dynamics at play.
---
Watch the episode of our HBO show that includes a segment on the campus rape crisis.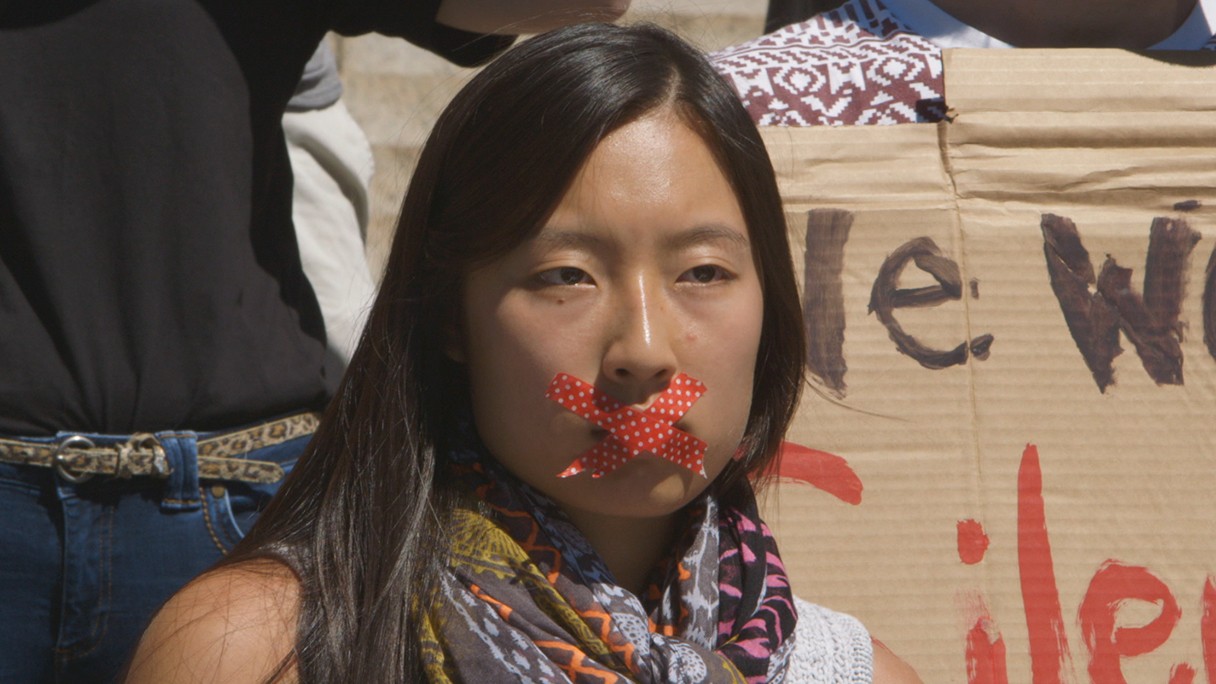 ---
VICE also asked for explanations from the Education Ministry and visited schools in cities like Bogotá, Medellín, Cali, Bucaramanga, and Barranquilla. There, we discovered cases of faculty who continue to teach with impunity despite complaints having been lodged against them; cases of victims who've spent years knocking fruitlessly on the doors of university administrators to demand attention and justice; and accounts of enormous but inefficient bureaucracies that, despite an abundance of rules, haven't managed to contain the problem.
At the Santander Industrial University (UIS), one of the most respected engineering schools in the Colombia, VICE found cases of two professors who continue teaching despite having been openly accused of assault. In one case, a professor in the School of Languages at UIS has been accused and investigated on three separate occasions over the past 14 years. One of those cases remains active, and yet somehow he remains in the classroom. The statistics at this school in particular are especially alarming. In 2014, an investigation concluded that one in every three women at UIS had been a victim of sexual violence. Half of those cases were said to have occurred on the university campus, and the majority involved degrading, sexist comments made toward women, as well as sexual innuendoes on the part of professors dangled in exchange for better grades. Already in 2017, there have been four reports of sexual assault at the school. In the University of the Valle, another major public school, VICE identified multiple professors who've been protected by the university despite being repeatedly called out by students. The frustration about the attitude of the university administration has led to a surge in the number of student-directed initiatives to report the problems. In Ibagué, at the University of Tolima, administrators fired a teacher who revealed a sexual assault and abuse scheme directed toward the female cleaning staff. At the University of the Atlantic, a professor abused a female colleague who, left without significant help from the school, has to continue seeing his face to this day. Besides shining a light on individual cases, our investigation has made some headway in revealing why assault and sexual abuse are so common at these schools. VICE gathered statistics on these issues, and one initial revelation was that there is somehow no official entity keeping a registry or database mapping the magnitude of the misconduct in the country. The Colombia attorney general's office only monitors cases of alleged assault against students in general: 10,830 over nine years. At Antioquia University, according to a survey conducted years ago, one in every four students knew someone who had experienced sexual violence. In just one year, the University of Caldas recorded 84 cases, and the University of Manizales concluded in a study that just 7 percent of cases were reported and just 30 percent of those were addressed.
---
---
But the most powerful discovery came at the National University. The 2016 internal report obtained by VICE surveyed 1,602 female students at the Bogotá campus, 54 percent of whom were victims of sexual violence. One hundred and five of them reported having been raped and another 33 described having been raped on more than one occasion. Nevertheless, among all the victims of any type of violence, just 54 reported it to the school thanks in no small part to a culture of indifference from on high.
The investigation also assembled a case against the Education Ministry, which to date has not presented a policy on the issue for institutions of higher education and, for that reason, must be at least partly responsible for the state of affairs. VICE confirmed that the Ministry contracted a group of experts two years ago with the purpose of preparing a policy with a focus on gender and with directives for containing violence against women, but it wasn't made public for apparently political reasons. The report, which was obtained by VICE, is currently shelved at the Ministry. Similarly, VICE reporters closely reviewed the regulations of the country's 30 top-ranked universities. Only two, the National University and the University of Valle, had specific policies with respect to gender equality and sexual violence. The discoveries compelled the University of Valle to convene a gathering of students and to accelerate the process of developing a policy against sexual violence and for attending to victims. Also at that school, a man accused of harassment* met with the victim, asked to be forgiven, and they agreed he would promote and attend an event at the university about gender-based violence. In Bucaramanga, at UIS, a professor alleged to be a repeat offender is being investigated, and student pressure, finally, is being felt. For its part, the University of the Andes, one of the most important schools in Latin America, announced it will outline new policies on these issues sometime this year.
*Correction 10/19/2017: A previous version of this article mischaracterized the incident in question as involving a man licking a woman's face without her consent. In fact, it was a case of verbal sexual harassment.