This past weekend in the nation's capital, LGBTQ advocacy organization the Human Rights Campaign (HRC) had its National Dinner, a fundraiser to support their efforts to defend the rights of gender and sexual minorities. Among the attendees were California Senator Kamala Harris, 2016 presidential candidate Hillary Clinton, Orange Is the New Black actress Uzo Aduba— who also spoke at the event— and more. However, not everyone in the LGBTQ community felt welcomed at the event. Members of the DC-based LGBTQ activist group No Justice, No Pride protested, citing the HRC's problematic relationship with Wells Fargo as the reason for the demonstration.
No Justice, No Pride is a small grassroots-led organization that attracted national attention after protesting Capital Pride festivities in June when members physically blocked floats during the parade in D.C., forcing organizers to reroute the procession. They protested Wells Fargo and other corporate sponsors for Pride, a time meant to celebrate the past achievements of LGBTQ people and reflect on current challenges. According to No Justice, No Pride, they make it a priority to empower voices that they say are marginalized within the wider LGBTQ equality movement that privileges members who are cisgender, heteronormative and white.
During the HRC's National Dinner, No Justice No Pride and a second queer activist group, Trans Woman of Color Collective, blockaded the entrance to the HRC fundraiser using bike locks and PVC pipes. The demonstration lasted nearly half an hour, and none of the demonstrators were arrested. Many were wearing zombie costumes since the event was on the heels of Halloween and a nod to the HRC's perceived horrors from it corporate ties. According to a post-event press release from No Justice No Pride, protesters demanded that the HRC end its partnership with Wells Fargo—which experienced a separate scandal over fake accounts openings— because of the bank's investments in private prisons, predatory lending practices, and financing of pipelines on Native land.
The HRC is standing their ground and believes that big businesses have an important role in fighting anti-LGBTQ discrimination. "The National Dinner is our biggest fundraiser of the year, and especially in the age of Donald Trump, Mike Pence and their hateful agenda, the event is more important than ever," an HRC official told VICE Impact who spoke on background.
"There is a critical role that corporate support has played for LGBTQ equality whether it's in Texas where the corporate coalition that came together really helped to defeat the awful anti-transgender legislation, or in North Carolina before it where corporations stood up to fight against House Bill 2 and Governor McCrory," the official said.
---
Watch some more video on VICE: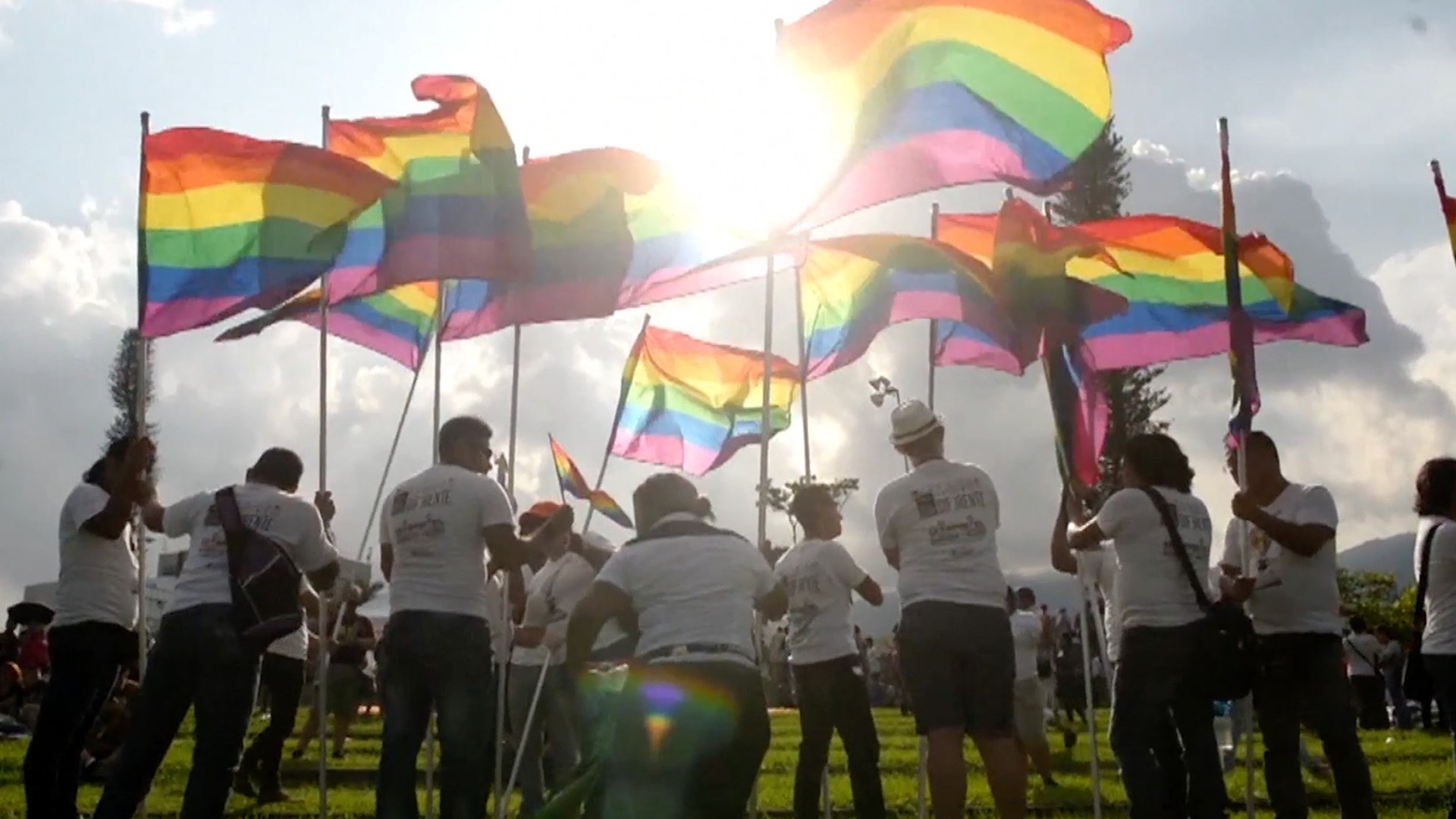 ---
In a time when there are clear antagonists within the federal government looking to deny rights to LGBTQ people in the military, in schools, and the lives of everyday citizens, it's important for gender and sexual minorities to use every means of activism possible. VICE Impact reached out to Emmelia Talarico, Chair of No Justice No Pride's Steering Committee, via email to learn more about the end goal of the protest and what's next in achieving LGBTQ equality.
VICE Impact: How did the HRC respond to your demands at the protest?
Emmelia Talarico: HRC did not have any formal response to our demands, but we were able to interact with many of their staffers and supporters during the action. While we faced many blank stares and upturned noses, some attendees seemed genuinely interested in our critique, and concerned about HRC's partnership with Wells Fargo. We've also heard from a handful of HRC staffers who have reached out to us (and wish to remain anonymous), who share our concerns about HRC accepting funding from, and promoting, Wells Fargo.
Our hope is that as the nationwide movement to divest from Wells Fargo continues to grow, HRC will reconsider their relationship with Wells Fargo
What was the response from other members of the LGBTQ community?
Considering the fact that this action was somewhat spontaneous, and was only planned a few weeks in advance, we're very pleased with the support we saw from the local community. We also saw lots of support online from folks around the country, who shared our outrage that HRC continues to sell out our communities to oppressive banks like Wells Fargo.
We know that within trans and queer communities - especially trans and queer communities of color - there has been a festering resentment of HRC's narrow agenda and prioritization of cozying up to corporations. People seemed excited to see folks actually taking action against HRC.
What is the solution for the HRC to be more inclusive of LGBTQ minorities? How is their relationship with Wells Fargo hindering that inclusion from happening?
HRC's relationship with Wells Fargo sends a clear message to those negatively affected by Wells Fargo's actions that HRC does not see them as part of the communities they represent. This includes undocumented folks, Native peoples, Puerto Ricans, and everyone touched by Wells Fargo's predatory policies and fraud. HRC divesting from Wells Fargo would give them a chance to say what lots of folks have been saying within trans and queer communities for years: that it's not possible to separate trans and queer liberation from broader struggles against injustice.
I'd say most of our members and supporters are less concerned with HRC becoming 'inclusive' of marginalized communities, and more concerned with HRC creating more space for leaders that come from within marginalized communities to pursue their own goals and agendas.
"It's not possible to separate trans and queer liberation from broader struggles against injustice."
How do you plan to advance your movement forward?
This protest is a microcosm of a broader struggle. For decades, the LGBT movement has cast aside the most marginalized in pursuit of 'equality' for the most privileged members of our communities. Our hope is that No Justice No Pride's actions begin to wake the LGBT establishment up to the fact that there is a new generation of trans and queer folks with bigger, broader and more radical dreams of liberation.
No Justice No Pride isn't just looking to disrupt and critique. We're also working locally to fill in the gaps that other LGBT groups overlook. This year we've worked hard to promote a platform for the local government to fulfill its promises to trans people and actually enforce some of its more progressive non-discrimination policies. We've also joined and supported the Sex Workers Advocates Coalition here in D.C. to support legislation that would decriminalize sex work in the district.
"Our hope is that No Justice No Pride's actions begin to wake the LGBT establishment up to the fact that there is a new generation of trans and queer folks with bigger, broader and more radical dreams of liberation."
What do you have to say to LGBTQ people who may think your actions against a pro-queer non-profit are counterproductive?
People say, "Why don't you target the 'real' enemies?" This is misguided. In this political climate it's critical that we're clear about who supports us and who does not. We need to be clear about who says they support the marginalized, and who actually - in their actions - provides this support.
Some like to call what we're doing 'in-fighting'. But that's not what this is about. This is about recognizing where the LGBTQ movement has failed. And who it has left behind. And applying pressure so that a new, stronger, more radical movement - that recognizes who has yet to benefit from the marriage-and-military-service focus of the LGBT movement - can be born.
This interview has been edited for clarity and length.