Photo via Democratic Socialists of America on Facebook
Democrats won off-year elections across the country last week for many reasons, but let's pause for a second and give Bernie Sanders some credit. Among the historic victories Democrats earned in Virginia, New Jersey, and elsewhere were a handful of out-and-proud actual socialists who won local office. It could be a precursor to an upsurge in leftists scoring bigger wins in next year's midterms, but it's both a validation of Sanders and proof that the movement he built during the heated 2016 primaries isn't going away anytime soon.
Other than Sanders himself, the most powerful socialist in America might now be a 30-year-old Marine vet named Lee Carter, who unseated Jackson Miller, one of the Republican leaders of the Virginia House of Delegates. He decided to run after he injured his back while working in 2015. "The treatment I got at the hands of my former employer, and at the hands of the Virginia's worker compensation commission was so horrible that I thought, I can't stand for this, I have to step up," Carter told me over the phone.
But he also took inspiration from Sanders's 2016 presidential campaign, he explained, which he saw as "a concrete example of how taking a strong inclusive message of economic empowerment can motivate people who have never been that interested in politics before to get up and get involved."
Carter attributes his nine-point victory to his campaign's ability to inspire the formerly uninspired. "We were going out with a strong economic message and talking to people at their doors, and telling them that there's a reason to believe that this election can make your life better in real measurable ways," he said. "We were able to get folks who have become disillusioned with the political process, people who vote infrequently, people who don't vote at all, typically, to go out there and stand in line at the polls on a 40-degree, rainy, miserable day."
---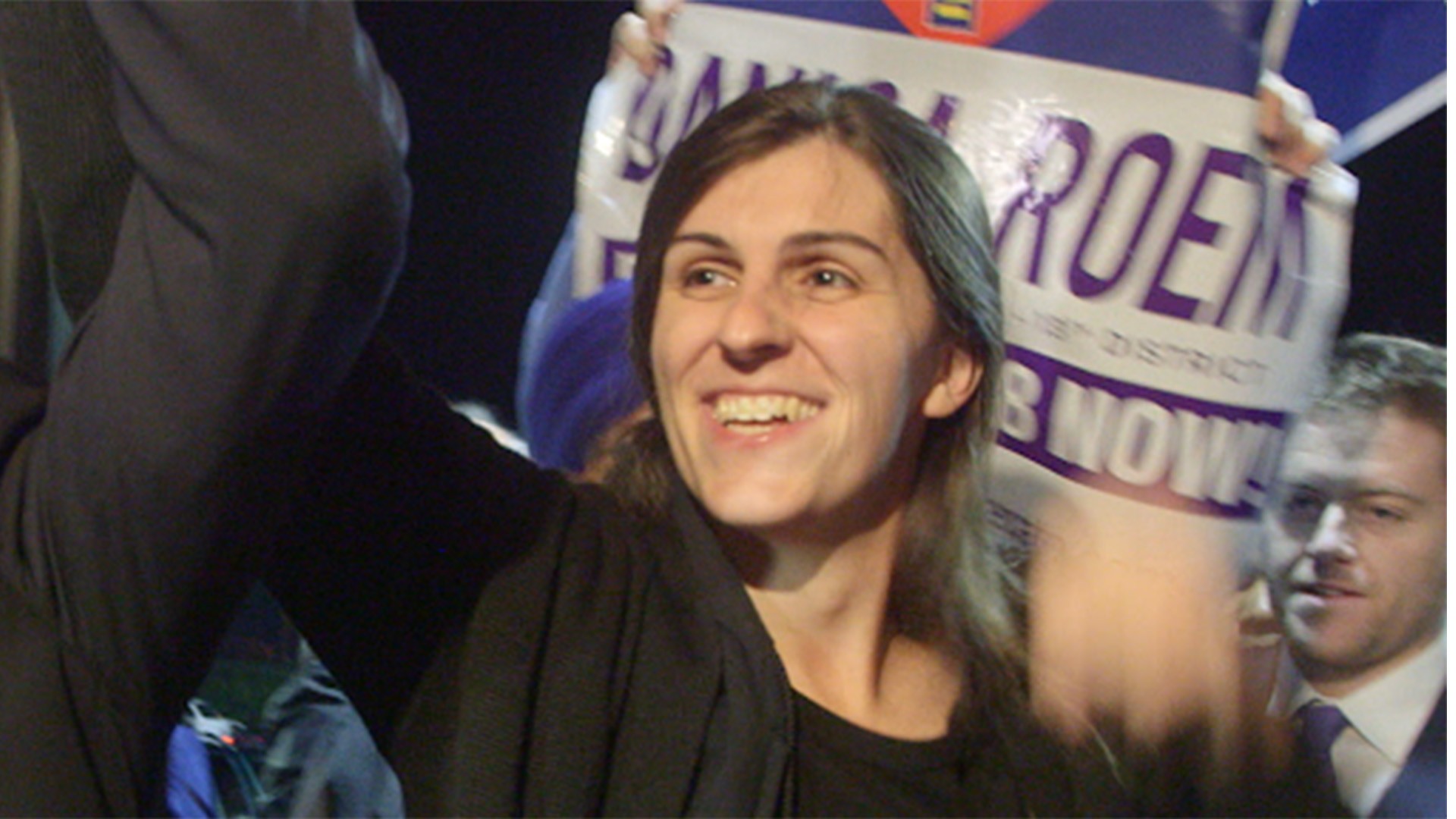 ---
Carter is one of the 15 members of the Democratic Socialists of America who were elected to local and state government last Tuesday. (Full disclosure: I am also a member of the DSA.) The DSA's success indicates a shift in the way Americans understand socialism—it was not too long ago, in a pre-Bernie Sanders America, that "socialist" was a smear, used against Obama by his adversaries. But Sanders embraced that label, and to the terror of conservatives, more and more Americans are OK with saying they support socialism—and, apparently, voting for socialists.
Vanessa Agudelo, a DSA member who won a seat on the Peekskill, New York, City Council last Tuesday, told me she "was very much inspired by Bernie Sanders and the movement he created."
"After he had the primary taken from him I realized that the only way we would be able to successfully change the system would be from the bottom up, starting local," Agudelo, who ran as a Democrat*, explained to me in an email.
Tristan Rader, a former field director for Sanders, was another DSA member to nab a city council seat, this one in Lakewood, Ohio. "Bernie won here by 10 percent during the primaries, so I knew that I had a pretty warm welcoming, a sort of community as a DSA member, and a democratic socialist," Rader, told me. "We unseated two democratically endorsed incumbents. So, pretty huge change in this community and government."
Carlina Rivera, a Democrat elected to the New York City Council from Manhattan, joined the DSA last April, while she was campaigning for her seat. "[I was] looking for their endorsement, to be very honest," she explained, but when she began to attend meetings, she found a very supportive community.
"When you're talking about running for office and campaigning, people are already trying to tell you that your ideas are too radical. You're not even elected yet and people are already saying, You know you're never going to get that done," Rivera told me over the phone. She found that DSA members encouraged her to stick to her convictions, and proved that there are many people who want to see leftist ideals enacted on a legislative level.
Fifteen socialists winning relatively minor offices is a long way away from seizing the means of production, but it's hopefully the beginning of something larger. Carter, who like many socialists wants a federal single-payer healthcare plan, told me that in the meanwhile, he wants to "step up and do it at the state level," as well as advocate for Medicaid expansion. "Medicaid expansion is step one, it's a very very important one. It's also important to recognize going into the fight that it is not the end goal," he told me.
And at a minimum, these new generation of candidates seems determined to embrace progressivism more aggressively than most Democrats. To Rivera, who was inspired by Sanders, his 2016 campaign was a rare moment where a politician ran on a platform that actually spoke to her. It "was about climate change, mass incarceration, racial injustice and healthcare for everyone," she said. "It's going to make me a better council member."
Follow Eve Peyser on Twitter.
*Correction: An earlier version of this article stated that Agudelo ran as an independent. She ran as a Democrat. We regret the error.