Lloyds Bank bought itself into the political centre of the Conservative Conference by running an exclusive VIP area for government ministers. Lloyds Banking Group paid the Conservatives to run the "Parliamentary Lounge" for top Tories during the conference, but denied this was tantamount to a cash-for-access deal.
Ordinary Conservative delegates find space to relax between debates, speeches and fringe events in busy conference centre cafes and bars. But the "Lloyds Banking Group Parliamentary Lounge", which was plastered with logos and branding from the bank, gave Ministers and selected MPs a separate place to relax, plug in their laptops and phones and eat some snacks courtesy of the bank. It's like an "executive suite" at a football stadium – giving some of the party elite a chance to enjoy conference away from the crowds of adoring, selfie-demanding fans. It also created a space for Lloyds' own staff to meet top Tories – at a time when the bank is still struggling with multiple scandals.
The Conservatives sell sponsorship of conference lounges to companies wanting to "promote their businesses". Older brochures called the lounge a place where "the Cabinet, Government Ministers and senior Party Officials" go to "relax or grab a quick snack".
Sponsors are given "access to the lounge". Neither Lloyds nor the Conservatives would say who got lounge passes, but members of the government were clearly visible entering the lounge. I tried to monitor who went in and out for a bit, but started to feel like a stalker. But in passing I saw several ministers walking in.
---
WATCH: Rants n Bants at Conservative Conference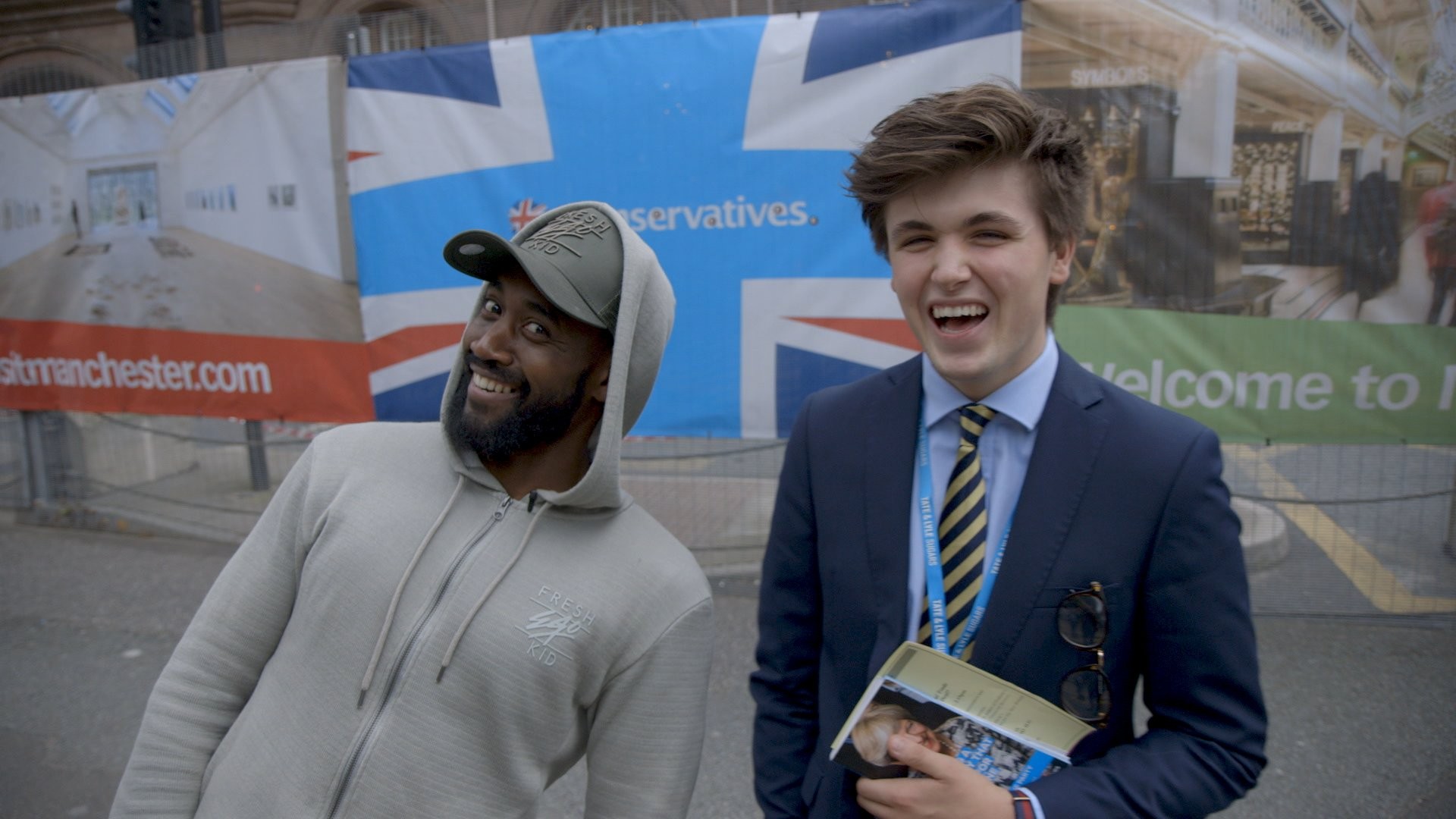 ---
Chancellor Phillip Hammond emphasised the need for big business money to fight Labour in his Conference Speech, saying, "I want to thank our financial supporters as well: we need your support more than ever as the union barons mobilise their power behind Corbyn." Lloyds are now putting their money into the party, alongside the many individual City figures who fund the Conservatives.
Hammond also talked about the "financial crisis" which "has scarred our country very deeply". Lloyds is one of the banks behind that scarring: the government had to bail out Lloyds with £20 billion in 2008 to stop it collapsing, part-nationalising the bank. Lloyds only fully returned to the private sector this May, when the government sold its final shares.
Lloyds is still embroiled in some of the scandals exposed during the financial crisis. This July, the bank had to put aside another £1 billion to cover compensation claims from customers who were mis-sold "PPI" insurance. So far, it's paid out a staggering £18 billion to customers who were wrongly sold unsuitable PPI. Lloyds has also had to put aside £100 million to compensate small businesses which lost their firms when fraudsters working in the HBOS bank in Reading – which was absorbed into the Lloyds Banking Group – systematically cheated them out of money.
Angry victims, including TV presenter Noel Edmonds, are fighting Lloyds in Court for much greater compensation.
Lloyds Lounge gave the bank "access" to the Tory VIPs' lounge. In return, the bank paid for a place for those VIPs to get away from the rest of the Tory party.
The entrance to the Parliamentary Lounge was guarded by G4S security guards, who kept out ordinary members. It functioned like the roped-off area in a nightclub – albeit with less velour and harsher lighting. I took an un-arranged recce of the lounge, and it was not a den of luxury: the vibe was quite business-like, with white office chairs and tables sitting on a green carpet, as well as some softer furniture. The services it offered – laptop charging, coffee bar, meeting space – were in short supply at a busy conference, but separating rank and file Tory delegates from Tory VIPs seemed to be the prime function.
I asked both the Conservative Party and Lloyds Banking Group whether this was a "cash-for-access" arrangement. Neither wanted to make any public statement. However, City sources pointed me in the direction of Lloyd's "Helping Britain Prosper" agenda. The bank feels it has a responsibility to talk to politicians on a cross-party basis to promote informed debate about the major economic and social issues of the day.
And where better to promote such issues than an exclusive, sponsored VIP lounge for government ministers?