Photo credit: Josh Edelson/AFP/Getty Images.
As apocalyptic images of wildfire ripping through California's wine country continue to emerge, perhaps none is more symbolic of a devastated wine industry than the "boiling river of wine" spotted flowing through Paradise Ridge Winery in Santa Rosa. In addition to the thousands of home destroyed and at least 31 people dead (as well as hundreds more missing), years of carefully farmed and meticulously aged wine have been reduced to a smoldering, subterranean purple cauldron—with its exact point of origin unclear.
Rene Byck is the owner of the Paradise Ridge Winery, and runs day-to-day operations there along with his sister Sonya. While most of their grapes were spared, Paradise Ridge's winery was almost completely swallowed up by the flames of the Tubbs fire, as shown in a Facebook post from the winery's account.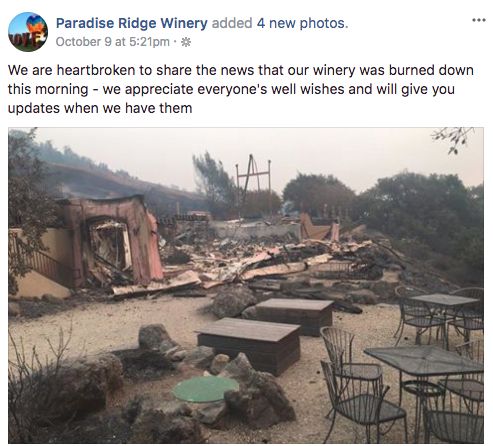 Byck shared the following video with MUNCHIES, which captures hot, bubbling wine flowing beneath the ground's surface.
Byck says he has no idea how, exactly, the bubbling cauldron of wine was formed beneath his property.
"I don't know," Byck told MUNCHIES. "I actually took a video of it and tried to figure out what the heck it was. It was obviously wine, but I don't how it would have gotten to where it was; it's not an area where water drains from the winery. It was a weird thing; I don't know if it's still there or why it was bubbling. I don't have an explanation for that."
Paradise Ridge is one of many wineries that have been razed by fire in Californian wine country, due in part to warm, fast-moving winds and an abundance of dry vegetation.
"The winery is gone, the winemaking facility is gone, but as bad as it is, it's our business and not our home," Byck says. "There are a lot more people who've lost almost everything. We have an employee that lost her home and now that the winery's not there—she's an event coordinator—she's worried if she's going to have a job, because we won't have a place to host events for a couple of years. Those are the people, to be honest, are the ones who've really been affected by the fire."
Byck added that he's expecting a "regular harvest next year" and emphasized that "what people enjoyed about the winery can either be rebuilt or is intact" and that two buildings remain standing. But that doesn't me that he, or other Napa winemakers are out of the woods just yet.
"An artist who was on our property yesterday put out a smoldering thing that basically was about to burn one of our two standing buildings," Byck said. "There's still plenty of smoke in the air and active fires."