Earlier this week, Grand Theft Auto V publisher Take-Two Interactive killed the popular modding tool OpenIV with a cease-and-desist letter, which cited concerns that modding opens the door to player harassment in the game's online mode.
Players who already have OpenIV should still be able to use it, but Take-Two's decision basically killed one of the community's favorite modding tools, which for many players is the reason they still play the game today.
Now, the Grand Theft Auto V player community is fighting back. Shortly after Take-Two took down OpenIV, the community began leaving overwhelmingly negative reviews of the game on Steam.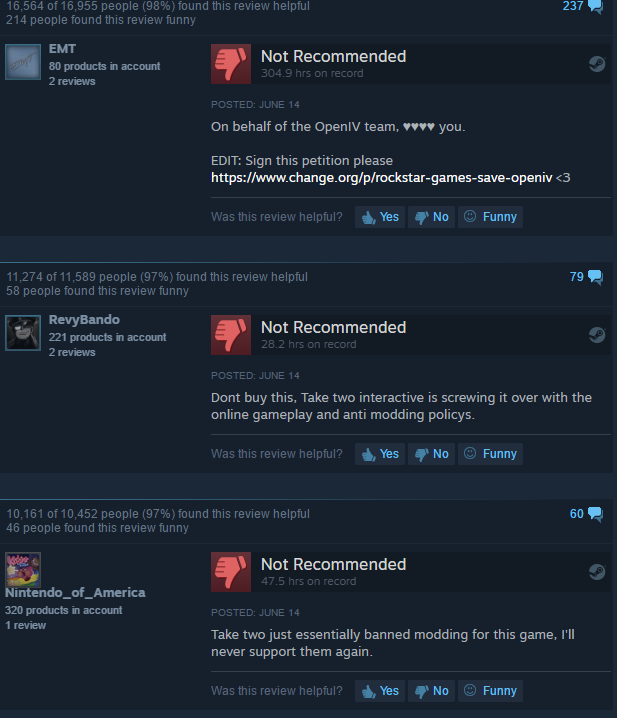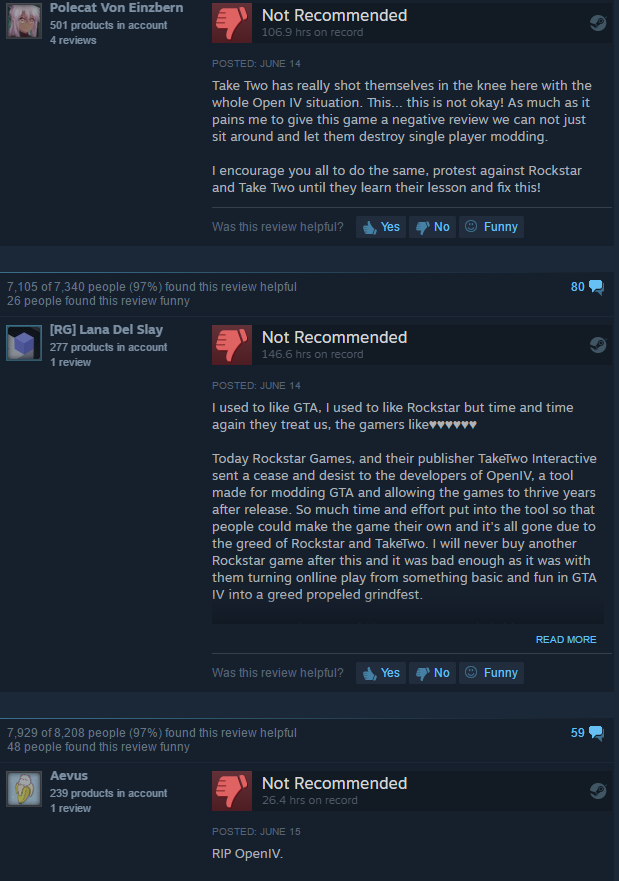 At the time of writing, Grand Theft Auto V had 219,539 Steam reviews, which were "mostly positive." But its recent 30,203 Steam reviews are "overwhelmingly negative." Grand Theft Auto V has been one of the most popular games on Steam since it released in April 2015 (it still is), and across all platforms it has sold a staggering 80 million copies.
"I am actually shocked how many people support OpenIV is this situation," OpenIV lead developer Yuriy "GooD-NTS" Krivoruchko told Motherboard over Skype. "I only hope for Take-Two and Rockstar to understand that OpenIV and modding is good thing for their game and business."
"Take-Two's actions were not specifically targeting single player mods," Rockstar Games said in a statement. "Unfortunately OpenIV enables recent malicious mods that allow harassment of players and interfere with the GTA Online experience for everybody. We are working to figure out how we can continue to support the creative community without negatively impacting our players."
Following the blowback from the modding community, Krivoruchko took to Twitter and GTA forums to explain that the folks behind the modding tool had decided to stop distribution of OpenIV and effectively comply with the letter.
But players and modders haven't taken kindly to the news, which they claim has doomed GTA modding. The general consensus seems to be that folks just want Rockstar to pay attention to the fact that they really like OpenIV and other mods and want them to continue. In a way, mods are a celebration of the game itself.
The Rockstar letter cites player harassment as the rationale for the cease and desist letter, but Krivoruchko noted that OpenIV doesn't allow players to go online when any OpenIV mod's installed. Although he said he plans to comply with the order to shutdown the modding platform, fans of OpenIV continue to bombard GTA's Steam store page with "overwhelmingly negative" reviews of the game.