Charles McGee at the opening of Charles McGee: Still Searching; photo via Sal Rodriguez
Stepping into a gallery displaying an artistic career that spans seven decades is overwhelming. How do you put the entire life and work of an artist into a single room? That's the challenge contemporary art gallery Library Street Collective took on when they approached Detroit arts icon Charles McGee about a retrospective of his work.
Titled Still Searching, the exhibition consists of work ranging from the 1960s—a decade of work and experiences that McGee himself would describe as one of his favorites—to pieces created within the last few years, illustrating McGee's continued energy and focus to create. Many of the works were sourced from museums and private collections.
"The curatorial process became the biggest challenge," says Anthony Curis, founding partner of Library Street Collective. "We built out an 8,000-square-foot gallery space specifically for this exhibition and never imagined that we'd run into spatial limitations. There were literally too many important works from significant moments in [McGee's] career."
McGee was all smiles at the opening earlier this month, excitedly shaking hands and enjoying the limelight. Those in attendance were equally thrilled by McGee's presence as his public appearances have become an increasingly rare commodity.
At 92-years-old, McGee is frail, having fought off health issues over the years, but his motivation to create and his wit remains unblemished by age. "I wanted to do this because art is something very dear and precious to me," says McGee. "I hunger for it. I do it because I'm mandated to do it. I don't feel like it's something that was just happenstance, you know?"
The retrospective exhibition comes on the heels of McGee's latest piece to date. Dubbed Unity, the massive 11-story mural covers 118' by 50' and is a continuation of McGee's obsession with inclusion, style, and representing movement with both shapes and high contrast in black and white.
The mural and exhibition were funded via a public arts partnership between Library Street and downtown Detroit real estate heavyweight Bedrock.
The mural represents a super sized return to downtown Detroit for McGee; a series of his murals dotted the Detroit skyline in the early 1970s and acted as unofficial precursors to an era of street art that had yet to arrive.
Today, the 14 murals are badly faded, covered by ads, or completely gone. They were part of an ambitious public arts project to beautify downtown Detroit. Artists like David Rubello, Steve Foust, John Egner, McGee and others were involved. Just a few blocks from his new Unity mural, a McGee mural from 1974 mural is still intact. The untitled work is a vivid geometric pattern that manages to still feel current today.
In spirit, it's the perfect complement to fellow Detroiter and influential African-American artist Alvin Loving's Message to Demar and Lauri mural, which was created around the same time and originally measured an impressive 20,000 square feet. Today, the wall it used to call home is completely blank but shows a faint trace of Loving's design.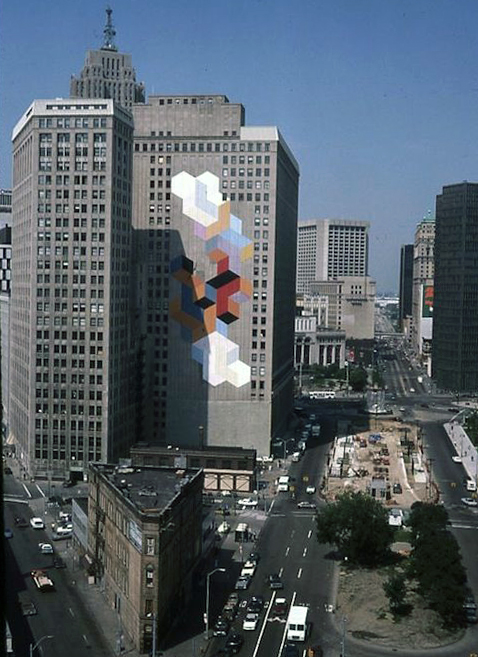 For a duo of African-American artists from Detroit like Loving and McGee to embrace geometric, often abstract contemporary design was groundbreaking. In the early 1970s, African-American artists were often encouraged to pursue a figurative art style that represented the black experience. Both artists bucked expectations and public pressure, creating a style built around individual representation of style versus an artistic voice that attempted to speak for an entire community.
With McGee's latest mural and retrospective, the artist continues to buck expectations, proving that growing old doesn't mean slowing down. Even at 92-years-old, McGee marches forward as a maverick in the Detroit art world and beyond, setting the scene for future generations to come.
Charles McGee: Still Searching is on view at Library Street Collective through July 1.
Related:
80-Year-Old Artist 'Hilda' Shines in a New Documentary
David Shrigley Turns His Absurd Comic Eye to 1960s Op Art
From Black Flag to Charles Manson, Raymond Pettibon's New Museum Retrospective Has Something for Everyone