Photo by Garrett Ellwood/NBAE via Getty Images
It all started with a spreadsheet. Kind of. Alfonzo McKinnie's two-year journey from lightly regarded college basketball player to member of the Toronto Raptors is a wild one, and if it were not for a few good breaks, an insatiable work ethic in the face of adversity, and a few lines of code, it may not be on the precipice of such a remarkable conclusion.
Coming out of Green Bay in 2015, McKinnie hardly received a second thought. After two years at Eastern Illinois, he'd been forced to redshirt a year, then tore the meniscus in his right knee twice. It rendered him a fifth-year senior who, while solid in a fluid role, had little momentum on the draft circuit. What McKinnie did exceptionally well that season, though, was pull in offensive rebounds, grabbing 10.7 percent of those available when he was on the court, something he'd always done well.
Some 4,000 miles away, Christophe Ney was putting together a spreadsheet of all Division I seniors, scouring the recesses of the basketball world in hopes of finding someone under the radar. Ney, the head coach of the recently promoted East Side Pirates of Luxembourg's second division, was hoping to land an import player for his small-market club, and he wanted someone with a strong offensive rebounding rate and solid outside shooting. Teams in that division can roster up to three imported players, but Ney was hoping to pool his modest budget for imports into one impact signing, and his spreadsheet was the best first-pass he had available to him.
McKinnie, though, wasn't a shooter. Over his college career, he'd posted only an average true-shooting percentage, knocking down 35.1 percent of his threes on fewer than one attempt per game. He was also a shaky free-throw shooter, something Ney recognized as a harbinger of overall shooting ability.
"He was one of the players that came out of these criteria," Ney says. "But in the beginning, I was not really following up on him because he had a poor free-throw percentage and this was more or less a red flag."
---
---
By summer, McKinnie was light on offers he was excited about and working out at exposure camps in Las Vegas, considering staying at home in Chicago to await a better opportunity. A scout Ney had worked with before saw McKinnie at a camp, thought he popped, and gave Ney a call to suggest acquiring the hyper-athletic wing the spreadsheet had only been somewhat fond of.
A few conversations later, McKinnie was off to a place he couldn't pick out on a map, tasked with being the best player on the team and taking on a massive leadership role as the club's lone American.
"I had to really grow mentally and expand my role as a leader because I was the only American, so all the guys pretty much looked at me to lead the team and do a lot of stuff that I wasn't used to," McKinnie says. "I took it as a learning experience, and I actually learned a lot from being in Luxembourg."
The results were fairly incredible: McKinnie averaged 24.6 points, 15.9 rebounds, 1.8 assists, 1.9 steals, and 1.5 blocks in the regular season, improved his free-throw shooting, and got to the line at will. In the playdowns, he did even more, hitting 21 of his 56 3-point attempts on the way to averaging 30.4 points over 10 games. Things didn't entirely work out for the Pirates, who wound up back in the third division the next year, but McKnnie shined and several of his teammates got deals in the country's first division the following season.
It's here, though, where McKinnie had a bit of self-doubt creep in. He tried to leverage his strong season in Luxembourg into a higher-profile opportunity in a bigger European league, but a German A-division team told him he should aim a little lower, a huge blow after such a strong season.
"It kinda took me down a little bit," McKinnie admits. "But at the same time, I took that as motivation for me to work on my game even more and try to show people that I really can play on the next level."
McKinnie finished out the year with Rayos de Hermosillo in Mexico, again displaying elite offensive rebounding and improved marksmanship on a small number of threes. From there, it was time to head back to Chicago and train, the next step for his career entirely unclear at this point.
Enter Mike Naiditch, now McKinnie's agent, who, like Ney, had made note of McKinnie at Green Bay (while watching someone else) but nothing more. Naiditch had been asked to help find a late replacement for practices as the United States embarked on its first official FIBA 3-on-3 circuit, and with practices being held in Chicago, Naiditch fired up a RealGM search for players in the area. When he came across McKinnie's name, he thought it looked familiar, found it on a list of names of interesting players he keeps on his Blackberry, and made the call.
McKinnie was skeptical, but the 3-on-3 sessions were being run by Chicago Bulls assistant coach Randy Brown, so McKinnie thought it was worthwhile.
"Ahh, man, it was crazy because I actually got asked about it a couple times before I even said yes," McKInnie says. "I look at 3-on-3 as just going to the park and playing or you're playing in practice or something. I never looked at it as an official sport that I would go and play. The third time that I got asked to play, it was coach Randy Brown who was the one who was gonna run the practices… and I just looked at that as an opportunity."
Teamed up with DeAndre Liggins and a pair of other Illinois players, the 3-on-3 team took off, winning the national tournament and earning the right to represent the country. They traveled to Mexico, Abu Dhabi, and ultimately won silver at the World Championships in Guangzhou, China. McKinnie also won silver in the event's dunk contest.
He'd made a fan in Brown, and when the Windy City Bulls of the G-League held their usual open tryouts, the Bulls made sure McKinnie was in attendance. (That McKinnie paid $150 to try out is a well-told story at this point, though it was fairly clear beforehand that, barring a terrible workout, the Bulls intended to try to slide him onto the roster with one of their available local tryout slots.)
Once McKinnie landed on the G-League roster, everything seemed to fall into place. Any residual loss of bounce or explosiveness from the knee surgeries dissipated completely, McKinnie filled the power forward position without issue, and his strengths from previous stops—most notably his finishing and offensive rebounding—carried over. After a few weeks, McKinnie had played his way from sixth man to starter. A few weeks after that, he was named a G-League All-Star (and participated in the Slam Dunk contest there, too). By season's end, McKinnie was averaging 14.9 points and 9.2 rebounds, posting a 57.5 true-shooting percentage, and earning an invite to the annual G-League Elite camp for those players considered to be in closest proximity to the NBA.
"It would be very hard to find someone I liked better than him in the D-League last year," Raptors 905 general manager and Raptors assistant general manager Dan Tolzman says. "Every time I saw him, there was just something about the guy. He plays the right way, he defends, he gives so much constant energy, he doesn't give up on plays. If a ball swings to a guy that he can't get to, he still closes out to try and make it a difficult shot for him. It's just stuff like that."
The momentum continued with several calls for free-agent minicamps. Toronto was McKinnie's last stop on that tour, and despite heavy fatigue after weeks of traveling for workouts, he impressed.
"You go to a minicamp, you like some players, and he was one of those we liked," Raptors president Masai Ujiri says. "He's athletic, plays hard all the time. It seems to me that maybe he can figure out how to be a two-way player, and that's kind of what intrigued all of us."
---
---
When the whirlwind of the camp circuit wound down, McKinnie was looking at 17 offers for one of the new two-way contracts in the NBA. Those deals would see him spend up to 45 days on the NBA roster during the G-League season, earning up to an estimated $279,000 (he made $13,000 last year). Some teams were even higher on him, though, and McKinnie had standard NBA offers, too, with varying guarantee amounts. He had even committed to one already before the Raptors swooped in, throwing him $100,000 guaranteed on a two-year contract, making their development sales pitch, and giving him the inside track on one of the team's remaining two roster spots for the coming season.
"I really thought that Toronto was the place for me to play Summer League with, just because from the minicamp, I felt a connection from everybody, a couple of the guys who are playing with us now, the coaches, coach Casey, and Masai," McKinnie says. "I didn't think like [Ujiri] was just selling something. In my mind, I really believe what he was saying."
If Las Vegas Summer League was any indication, McKinnie is going to fit in fine. He was an immediate hit from a personality and work ethic standpoint, and while he didn't shoot the ball particularly well over four games, he looked comfortable at the small forward position alongside the Raptors' other youngsters. The story is not over, yet, though, and McKinnie's keenly aware of the work still to be done to turn what amounts to a well-paid camp invite into a realization of his childhood dream.
The Raptors want to move the 6'8", 215-pounder back to the wing, where they think his athleticism and energy can make him a higher-end defender. His stroke looks solid, but he'll have to start knocking down corner threes to have a chance of sticking in the NBA (he shot 30.8 percent on threes in the G-League). He's not a finished product. He's also still just 24, and given the substantial improvements he's made at each stop, it's not difficult to look at his last two years, look at what the Raptors might be able to do from a player development perspective, and see a productive NBA player.
"If he can get his 3-point shot going, his size, athleticism is a real asset," Raptors' Summer League co-coach Jama Mahlalela says. "You look at him, you say wow, that's an NBA body. You look at him on the court, wow that's NBA skill, that's an NBA release on his shot. There's a lot of exciting things that come with him. Now I think it's sort of about how do we fine-tune those and make him an actual functional piece in our organization? He's someone we're really looking forward to."
Tolzman likens the situation to when he and Ujiri were together in Denver and had DeMarre Carroll on their roster on a similar deal, only to eventually waive him and see him flourish in Utah. They're not the same player, but it's a similar situation of untapped potential, a player with a lot of obvious tools who is close to breaking through.
---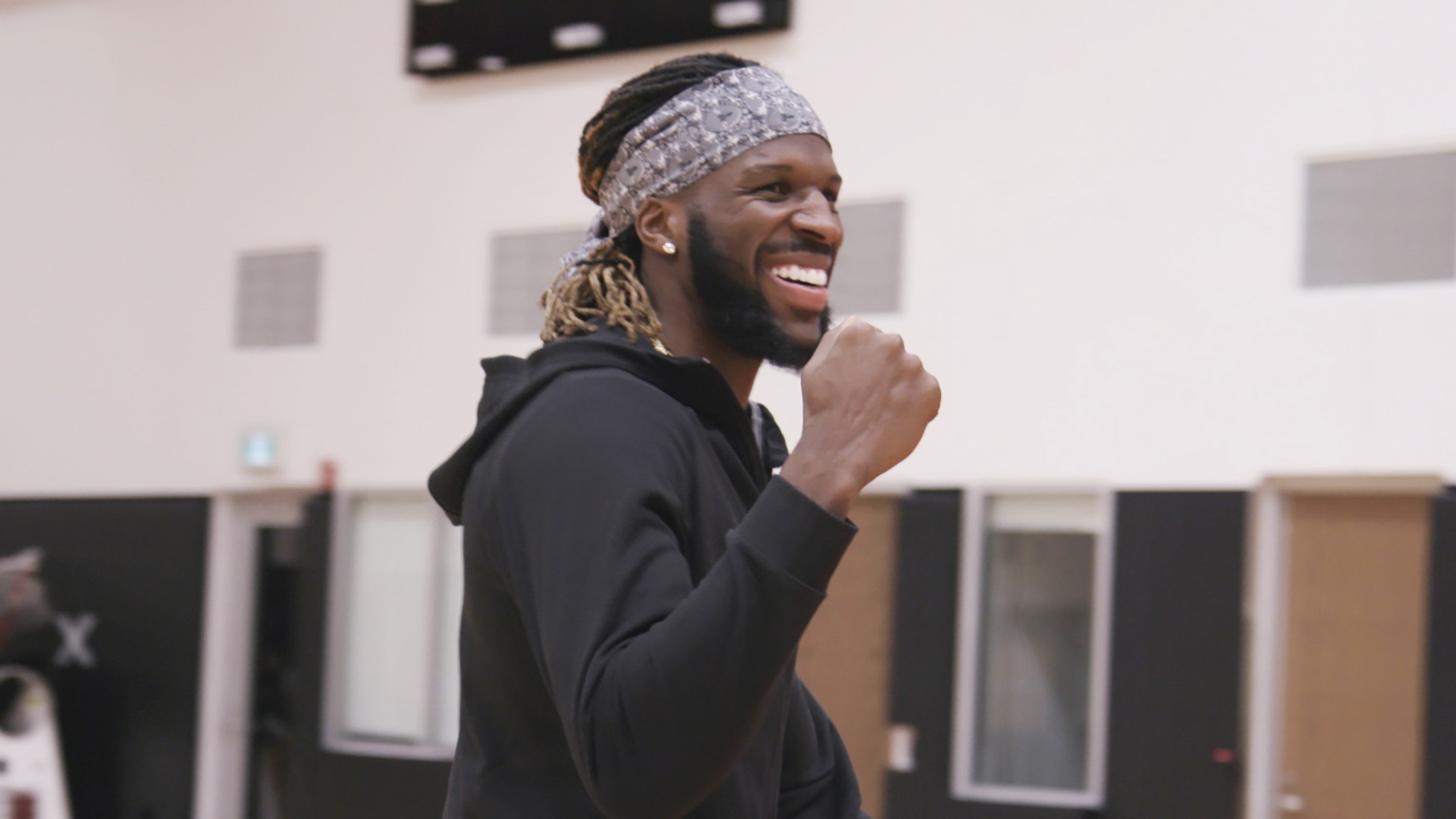 ---
"Alfonzo reminds me so much of [Carroll] in the minicamp where he's a shot away from being everything else," Tolzman says. "It's an intriguing combination of things that he does with his energy. It's one of those things where we've seen so many other guys figure it out, and I've seen Alfonzo make enough threes from the corners that it should be able to become consistent from there, and then anything above that. It's like, P.J. [Tucker], he figured out at what, 27 or 28? Some guys just take longer on the curve.
"Alfonzo's one of those guys, whatever his backstory was to get him to this point, that's history. He's here now and we really like him. If he does what we think he can do, there's no reason he won't be a Raptor."
(In a somewhat ironic twist, my report that McKinnie had signed was trumped by reports of a Carroll trade moments after. McKinnie's younger brother actually sent him a screenshot of the Carroll news before seeing the McKinnie news and sending him a screenshot of that.)
---
If the entire journey seems unlikely, well, it has been. Particularly so for Ney, who was just trying to find someone relatively inexpensive who would agree to play in Luxembourg's second division, not unearth a future NBA player.
"I mean, I knew he was a really great player and that he was a lot better than the league he was playing in. It's a really great story, and I really hope it works out well for Alfonzo," he says. "What I can say is everywhere that he went, the progress over the season was amazing. Now, the NBA contract, it's a logical conclusion to what's happened over the last 12-to-18 months. I hope it will continue like this for him with the Raptors."
For McKinnie, multiple teams showing interest and attempting to land him has been a dramatic change of course. From a lightly recruited high school player, to a nondescript NCAA career (dunking on Shawn Marion was perhaps his most notable college moment), to the far recesses of the international basketball scene, to a walk-on spot in the G-League, and finally to half the NBA trying to get him into their organizations has been quite a ride. The story is anything but over, but he's on the precipice of starting its most important chapter.
"Going into the summer with different NBA teams knowing my name, man, the journey," McKinnie says, breaking off for a moment. "My words get mixed up. I'm just so happy to be here right now. It's all surreal right now, to be honest. I get on every social media outlet and it's just like, my mentions and notifications are blowing up and you just see how much everybody supports. It just feels great. I'm just ready to continue it and try to be an official Raptor.
"It would be the best blessing I could have ever got. The best thing that could ever happen to me."