The 16th installment of the historic fighting game world championship, Evolution (a.k.a. EVO), is just around the corner, featuring nine main stage games, each with their own rivalries. The players we see duking it out in the many top 8's come with years of history in their respective communities. For many viewers, EVO is their one opportunity to peek into the world of fighting games. For those viewers, who want to drop in on the FGC for a weekend but also want some context for the drama of EVO competition, we've prepared this Guide to Evolution 2017 to help them get their bearings.
Unlike many other genres of competitive games, fighting games have always been about location. Dating back to the days of arcades, where communities weren't even capable of watching one another's matches very often, fighting games are inextricable from where they're being played. This, combined with the fact that online play is still regarded as a second-rate option for high-level play, has meant that regional communities form the backbone of every healthy fighting game.
Each area and their communities for each game have developed identities, not only in the temperament of their players, but also in their playstyle within the games. For example, New York's fighting game communities are characterized by lots of noisy cheering and chatter, contrasted against very deliberate play. Conversely, California's many communities tend to be characterized by a more relaxed in-person atmosphere, but with very aggressive playstyles (i.e. the "rushdown" style).
This leads to small scale dramas, like Northern California vs. Southern California beef, or even global drama, like the east vs. west Street Fighter rivalry that has persisted for decades. While I'll touch on more of the specifics for each game, just know that the flag next to each player's name represents more for their community at large than a port of call.
Each game has dozens of top players who look to challenge for a prestigious top 8 placement at EVO. Here are the players with the most substantial storylines heading into this year's tournament.
Unlike most games that grace the main stage at tournaments like EVO, KoF hasn't seen the majority of its high level play from Japan or USA. KoF is most avidly played in China and Latin America. KoF machines dominated the South and Central American arcades, as well as the relatively few arcades that existed in China in past decades. It's no surprise, then, that the best North American KoF players live close to the border. Reynald, the EVO 2013 underdog champion, as well as Romance and NYC expat NerdJosh are just a few of the incredibly strong representatives who reside in the southwestern corner of the USA.
Chinese tournament mainstays Xiaohai and Dakou plan to make cases for the eastern playstyle; and while Korea has always had a strong hand in the scene, it has been reduced lately with MadKOF appearing as the main Korean contender for top 8. The big surprise, this year, is Sanwa's first ever-sponsored player, a Japanese competitor by name M'. KoF XIV has a lot to live up to, following the outstanding KoF XIII top 8 in 2013, but this year's diverse field seeks to do just that.
Guilty Gear, as with many "Anime Fighting Games" is so heavily dominated by Japan that the competition between regions within Japan make up substantial community-wide storylines. Each area of Japan has a few Guilty Gear-specific arcades that house most of the top talent. The Mikado arcade in Kanto is where the largest number of the best GG players go to hone their craft, but Omito from western Japan, and Tomo from even farther western Japan have upset the otherwise quiet balance of Japanese GG.
American competitors do challenge the Japanese supremacy, though. For each of the past two years where GG had a main event slot at EVO, a lone American made it through to represent on the main stage; Zidane in 2015 (who sadly is not returning this year) and MarlinPie in 2016. This year, the strongest American contenders going into the event are KizzieKay, KidViper, and, attending thanks to the generosity of FGC legend Justin Wong, LostSoul.
BlazBlue is truly the most "anime" of all anime fighters. Featuring an unthinkably large cast and an even larger number of game mechanics, it is another anime fighting game where the top talent comes from Japan. While the Japanese players capable of threatening a top 8 placement are too many to name here, perhaps the most terrifying are Fenrich and Monster. Fenrich has seemed nearly unbeatable in the most recent version of BlazBlue, after coming off a victory at the Japanese championship Arc Revo, and Monster has been one of a very small number of people to successfully take sets off of him.
The hierarchy of American players is well-established. The two most highly regarded players in the country are New York-based competitor and tournament organizer SuperKawaiiDesu, playing the neutral game specialist Izayoi, and Southern California native Breaker Dave on the character who is "Harder Than College" Arakune. While other American competitors certainly compete with the two of them, they are by far the best chances at preventing a full Japanese sweep of top 8 placements.
Injustice 2 may be a new game, but the storylines picked up right where Mortal Kombat XL left off. The story in the spotlight with NRS games will always be SonicFox. After joining Echo Fox's new fighting game super-team, he seems primed and ready to take his fourth consecutive main stage EVO championship, following his wins in Injustice in 2014 and MKX in both 2015 and 2016. But, recent results show that there's more to the story than that.Players like WhiteBoi and Dragon have consistently placed very well, especially at the recent major, CEO; Additionally, with his new sponsorship and victory over SonicFox at CEO, Slayer also looks to prevent Fox from taking another win. While America is where most of the highest level of NRS competition comes from, I would be remiss not to mention TekkenMaster, the Bahraini underdog who took SonicFox to the last round in last year's exciting MKX grand finals.
Those familiar with competitive Melee are no doubt aware of the Smash "gods" that dominate most tournaments. The half-dozen or so players who sit on top of the world are nearly untouchable. Most notably, the Swedish powerhouse Armada and the Floridian tank Hungrybox have won almost every tournament they've entered in the past year. While Hungrybox's record over Armada has looked strong recently, the entire community knows that both of them are spending much of their time preparing for EVO specifically studying one another.
Leffen seems like a shoo-in for top 8, having performed so consistently since his American visa was granted nearly a year ago. Mang0 is always an x-factor, especially at EVO where his track record has been so strong in the past; it feels easy to call him for top 8, but he's also the most vulnerable of these top players to swings in performance. Beyond them, the tier of so-called Demi-Gods is hotly competitive. NorCal's Shroomed and Mang0's long time friends and training partners, Lucky and S2J, have been the recent standouts of these players, but Arizona's Axe and high variance Ice Climbers players like Chu Dat always have upset potential.
Smash 4 sits in an interesting place as far where top level players come from. While most of the top players are American, the few who seem most likely to win the championship at EVO aren't. Specifically, Zero, the Chilean player who did not drop a single set in a tournament for nearly a year after the game's launch, remains poised to claim a big win. His fiercest rivals to arise in the last year, Ally and MKLeo, also reside outside of the USA. Beyond the three of them, last year's EVO runner-up, Kameme, is making a return to the states, but nearly everyone else in the top tier running is American.
New York/New Jersey is the home to a few of the strongest challengers, like Dabuz and Nairo, but SoCal's presence in Smash 4 can not be overstated. Not only are many of the Americans threatening Zero, MKLeo, and Ally are from the LA area, but those three players have each spent time training with the players in that region. Smash veteran Larry Lurr (formerly DEHF [Does Everyone Hate Falco] from his Melee days), as well as the upstart Void dominate their scene.
Historically, Tekken exists with Starcraft and League of Legends in the list of games where seemingly every god of the game hails from Korea. It seems like a near guarantee, at this point, that JDCR and Saint will place top 2 at EVO. While many other Korean players rank among the best in the world, the Echo Fox representation is simply too strong. Going into EVO, the question is "Can anyone beat them?"
Which isn't to say that American players have been slacking off. Atlanta, in particular, has a very strong contingency of Tekken players. Anakin, Speedkicks, and the self-proclaimed mouth of the south, Pokchops, look to go far in bracket, alongside the east coast's finest NycFab and the west coast native Princess Ling. All eyes, players and spectators alike, will be on the Foxes.
Going into Marvel vs. Capcom 3's final year on the EVO stage is bittersweet, but the entire community is expecting to see one thing: The battle of the Morrigans. Since ChrisG's stunning performance at EVO last year, he has remained nearly untouchable, but Vegas native and fellow Morrigan main RyanLV has stepped up to challenge him. Since the beginning of the calendar year, RyanLV has lost fewer than five tournament sets, going on to win major title after major title. In fact, nearly all of the sets that he has lost were to ChrisG, someone who he has also proven capable of beating multiple times.Despite the ubiquitous expectation of a Ryan vs. Chris grand finals, this is Marvel after all, and anyone can get it. Long time killers like RayRay and Clockw0rk are looking for their final shots at a championship after years of just missing it (RayRay placing second in 2015 and Clockw0rk missing top 8 with numerous consecutive 9th place finishes), while returning champions like Justin Wong and FChamp hope to beat out Chris for a chance at a second EVO. Which isn't even to mention the rise of the new school Zero players like Jibrill and JoeyD or the recent standouts like Apologyman and Terry Bogard. UMVC3 and its community will not leave the main stage without their final hurrah.
The Street Fighter community is truly global. While the EVO champion has come from east Asia nearly every year since 2002 (the only western champion since then being the French star Luffy in 2015), the top 8 consistently features top players from all around the world. Unsurprisingly, the list of players I think most likely to place top 8 this year come from all around the planet.
Perhaps the most interesting thing to look for this year is how Japan compares to America. While that matchup historically favored Japan, American players look to upset that this year for the first time in over a decade. American players like NuckleDu and Punk have recently outperformed their Japanese counterparts, but it would be a mistake to count out the very strong presence Japanese players will bring to EVO this year. Can this finally be the year of an American EVO champion in the main event?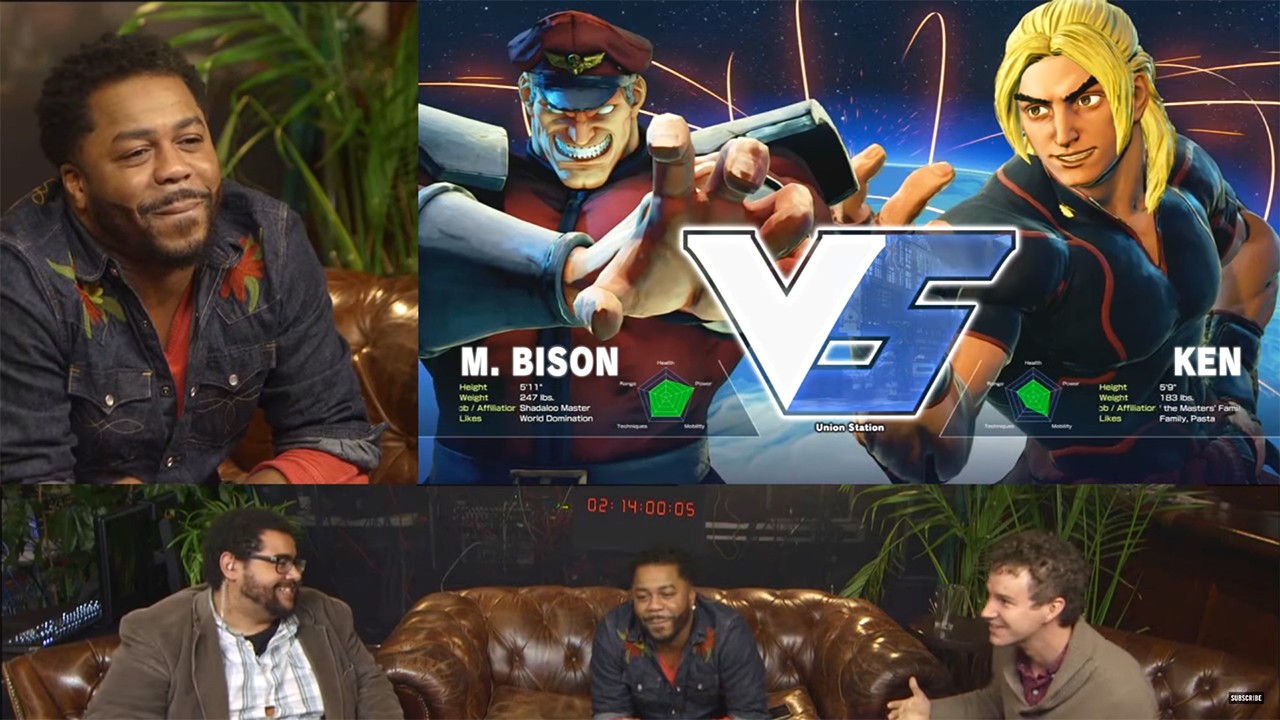 Thousands of people are flying out to Vegas this weekend to prove that they're the best, or at least to play with the best. Each and every one of them comes with their own story, inevitably wound up with dozens of others also in attendance. The players listed above are the ones most likely to get their stories retold once the events comes to a close, but there is far too much interesting stuff going on to cover it all here. More than likely, the most fascinating thing to happen this weekend won't have to do with anything here; someone will come out of the woodwork and prove that everyone was wrong to underestimate them.
But that's the best part of the FGC. The stories are always changing because the community never stops evolving, and the spirit that brings thousands together every year doesn't dissipate once the announcer yells "K.O."