All photos by the author.
Pots of hangover-reducing sancocho and deeply flavorful res guisada simmer in Asty Time's kitchen, and the savory aroma of sofrito—a fragrant slurry composed of sauteed garlic, onions, bell peppers, celery, oregano, green onions, cilantro, soy sauce, and lime, that's a linchpin of Dominican cooking—permeates the space.
You'll notice it at the door of the small Southwest Detroit Dominican restaurant where it greets you along with animated and loquacious co-proprietor Asty Acosta. The walls in the shop that he runs with his wife, mom, and nieces still hold bright murals of pyramids that the previous owners (from Honduras) put up, but Acosta filled the shop with enough Dominican flags and waist-high baseball trophies that you'll know where you are.
And he'll probably talk with you about baseball—the Dominican Republic's national sport—and tell you about how Toronto Blue Jays' star Edwin Encarnacion and the team's other Dominicans request his food when they visit the Detroit Tigers.
The whole experience at Asty Time is, in a word, charming. And its customer base is growing as fast as friends tell one another about it. But it hasn't gotten the same kind of loving press as some of its downtown peers.
That's at least in part because the neighborhoods in which Detroit restaurateurs open has a lot to do with the amount of coverage they receive. The bulk of copy on the city's restaurants is devoted to those in the greater downtown or other areas that wealthy developers are gentrifying. The outer neighborhoods are generally lower-income, and its restaurants are largely black- or immigrant-owned. Stories on chefs who open shop in these areas and have no celebrity ties are much rarer. But it's the flavors of the Dominican Republic, Senegal, Jamaica, Mexico, the South, Syria, Beirut, and all the immigrant- and black-owned restaurants in the neighborhoods, many of which predate Detroit's gentrification, that in many ways make Detroit's food scene worth talking about.
To understand the phenomenon, it helps to know Detroit's general narrative. The city's comeback got a lot of attention in recent years, but there's a "Tale of Two Cities" story that emerged. In it, the "comeback" is largely benefiting wealthier newcomers, while the neighborhoods' residents still face many of the same economic challenges as in past decades. Perhaps the best summation is the Guardian's 2015 story under a headline of "The two Detroits: a city both collapsing and gentrifying at the same time." If a chef wants to land on the media's radar, it sure helps to be a part of the Detroit that's gentrifying.
But Acosta's sofrito-driven Dominican recipes are evidence that there's more to the city. Same with the vibrant yellow marinades and condiments of vinegar, mustard, and sauteed onions that enliven the salty, meaty Senegalese plates at Maty's African Cuisine in Old Redford. It's Detroit's only Senegalese restaurant, and serves dishes with elements of West African, French, and Caribbean cuisine. In his small, basic space, Chef Amade Gueye marinates whole chickens in a mix of mustard and vinegar, then stuffs them full of garlic, onion, and parsley. The birds are first deep fried, then grilled over charcoal, leaving the meat moist and acidic with crisp, dry, and slightly charred skin.
There are connections among Maty's recipes and those of northwest Detroit's Jamaican restaurants, which are perhaps the most underrated component of the city's restaurant community. Mama Rose at the Jamaican Pot—a tiny carryout shop on 8 Mile Road—prepares what's among the city's best dishes in the brown stew chicken, a bright composition of super-tender chicken that's redolent of ginger, garlic, and scallions.
Jamaica Jamaica, Rono's Caribbean Family Dining, and other Jamaican restaurants have supplied Detroit with its jerk chicken and ackee and saltfish for decades. But Nezaa Bandele—a Jamaican-born woman who launched the Paradise Natural Foods vegan pop-up—says Detroit rubs off on the city's Jamaican restaurants, leading to "Jam-erican" dishes. She once told me that Detroit absorbs cultures in a way that other cities don't, producing its own distinct flavor. "The culture of Detroit is Detroit," she says. You'll see that effect in certain oxtail dishes, or barbecue jerk chicken.
If there's an unofficial city cuisine, it's soul food. And there's no better representation of how Detroit approaches it than along the McNichols soul strip, a cluster of soul restaurants on McNichols in Northwest Detroit. That's where Sweet Soul Bistro's Toya Green opened shop instead of downtown because she says she wanted to plant "a diamond in the neighborhood." The Motown-inspired eatery gets clubby as the evening grows late, but otherwise lives as a soul bistro that made its name on dishes like her slightly sweet and spicy Aretha Franklin Catfish Bites, Stevie Wonderful Wings, and honey glazed salmon.
Green's deep yellow-orange, rich, cheese-heavy mac and cheese could be the city's best, though some might argue that the crown belongs to the Southern Smokehouse across the street. The Southern Smokehouse chef/owner Dwayne Hayes trained in the locally-legendary and now-closed Golden Mushroom's kitchen before returning to the neighborhood he grew up in to open Southern Smokehouse with his 14 siblings. The formal training shows in dishes like the red wine–braised oxtails, which he cooks down with plenty of herbs.
On the west side, some of the town's best rib tips—incredible hunks of charred, sweet rib meat that are pink from hanging in a smoker for hours—are made by Quentin Pearson at Sterling's Old Style BBQ. For years he rotated among restaurant and prison kitchens. But a strange chance encounter reunited the talented chef with his long lost son, and that led to Pearson opening a barbecue spot in a former Wendy's owned by his baby mama's grandpa, who runs an adjacent church. Pearson considered the chain of events such a blessing that he left behind the life of crime for the restaurant. He now employs young men who were recently released from prison and are looking for something better than the streets.
You could be forgiven, if you read a lot of national coverage of Detroit, for thinking that the city's barbecue starts and stops with Slow's, a fashionable, reclaimed wood-clad restaurant that opened in 2005 in the now-gentrified Corktown neighborhood. It doesn't. Park's Old Style Bar-B-QBarbecue, which opened in 1964 in the North End, moves around 3,000 pounds of ribs weekly. Park's and another old school barbecue shop, Vicki's BBQ & Shrimp, trade in vinegary sauces that aren't quite Carolina-style. They are, perhaps, Detroit-style.
---
WATCH: The Pizza Show: Detroit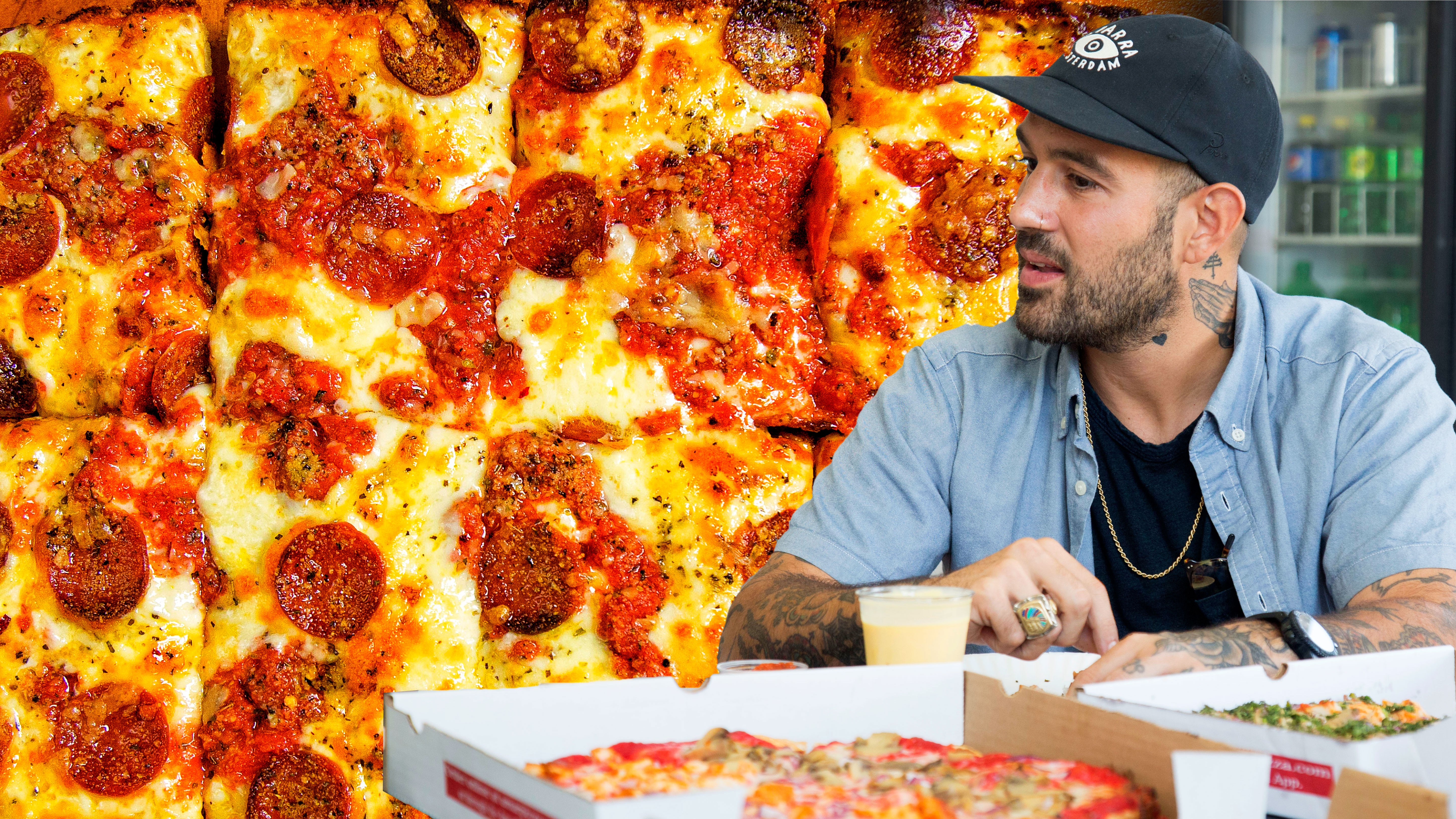 ---
A few miles south of Sterling's, along Warren Avenue in Dearborn and Detroit, is where Lebanese, Iraqi, and other Middle Eastern immigrants built what I contend is the region's best food neighborhood. That's where the James Beard Award-winning Lebanese restaurant Al Ameer makes some of the city's best kebabs and kibbeh. It's also where Syrian chef Chamo Barakat landed after leaving Aleppo. At his restaurant Al Chabab, he introduced metro Detroit to dishes like the umami-rich mohammara, a deep red paste of Aleppo peppers, pomegranate, walnuts, Aleppo pistachios, olive oil, and spices.
Dozens of Lebanese bakeries populate the stretch, but the best sfeeha—meat pies—are cooked in Prince Bakery's ovens, in which the heat exceed 750 degrees. The sfeeha's crust isn't unlike a Neapolitan pizza's, but instead holds a big, red, moist Lebanese meatball packed with sauteed onion, garlic, tomatoes, and a seven-spice blend of salt, black pepper, cardamom, cloves, and more.
The next neighborhood over is Southwest Detroit, where Asty Acosta's neighbors are mostly Mexican restaurants. Among the best is Los Gallos in Southwest's industrial west side, at which Jalisco-native Ricardo Hernandez runs huge, smoky grills holding whole birds that painted thick with an intense, bright adobo sauce.
Acosta and Hernandez each moved to Detroit from their respective home countries to work in the auto factories, but they moved from the line to the kitchen and are adding to the city's culinary depth. And—more than ever in 2018—it's these kind of stories that need to be included in any complete portrait of Detroit's food community.