One of the images used by III% Alberta on Facebook.
In December, I received a rather unexpected phone call from a notorious far-right figure.
"What's shaking, man?" asked Beau Welling, the leader of the armed patriot group III% Alberta, before launching into what can only be described as a sales pitch. "There's a huge, huge opportunity to help thousands and thousands of lives… this is a massive, massive thing, this is a huge program…. It could be a huge story. It'll go national in an instant."
Welling had heard that I was looking into a housing project his group was attempting to get off the ground. I had gotten word the group planned to launch a recovery home system in Edmonton called The Freedom House Canada Recovery Homes. The leader of the anti-Muslim militia told me that he expected this project to turn around the public's perception of the group.
You can read an in-depth profile of the group below.
Using charitable actions as a public-relations exercise is not new to the threepers, other far-right groups in Canada, or really any other extremist group. Dr. Barbara Perry, one of Canada's leading researchers on the domestic far-right, said that this strategy has been around forever.
"I don't know if we've seen too much of that here in Canada but it's always been a part of the strategy associated with folks in the US. It's sort of this rebranding, it's in line with their broader philosophy," Dr. Perry told VICE.
"Normally their rhetoric would be enhancing the community by getting rid of people who weren't like us, but this in this sense it's about building community to strengthen it to presumably better resist the incursions of all those immigrants and Muslims and all those people they fear."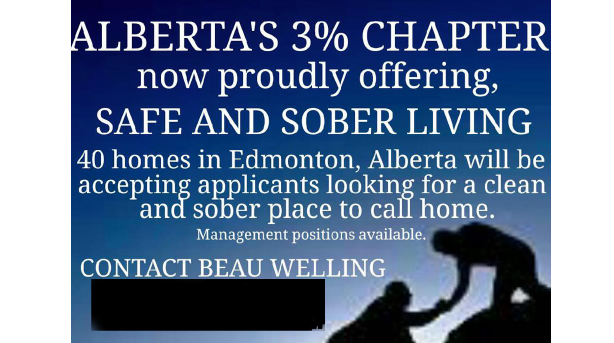 A recovery home is a privately-owned group home for residents recovering from drug addiction. Less regulated than government-run rehab or detox centres, recovery homes aim to offer shelter, food, stability, and usually abstinence-based counselling. With overdose deaths in western Canada showing no signs of slowing, the recovery industry has been under a closer microscope.
After several months, the threepers' recovery home plan seemed to fizzle out—but after a significant effort. The group consulted with existing recovery homes—VICE spoke with one that was contacted by the threepers for consulting work but did not want to go on the record. Inside their closed Facebook page, the threepers held auctions among themselves—selling bikes, knives, and whatnot—with the money going to the group homes. Welling and the other members leading on this project also had a entire proposal drafted to transfer "43 rental properties" over to the threepers for "a systematic recovery program managed by III% Alberta under the supervision of Beau Welling." You can read the document in full below.
The threepers claimed they offered homes; required a 30-day, 60-day, or 90-day commitment; have 24/7 security; offered camps that included survivalist training; and charged $500 to $1,200 a month. As Welling didn't answer follow up questions, how much of this is real and how much of it just bullshit is not clear (Welling is known to exaggerate). During its initial push though, it's clear from posts in a closed Facebook group that while Welling talked a lot about helping people, positive media attention for his group was very important to him.
"This is a great huge project to get involved in and will put us huge into the public's eye and media as the great awesome helpful never standing alone citizens we are," Welling wrote. "…Guys this is huge, and will definitely put us into the media and public spotlight on a huge, huge positive nite [sic.]"
The tactic of using charitable action like this is pretty straightforward: organizations that hold extremist views use it as an attempt to water down or cleanse their image. A clear example comes from the Soldiers of Odin, who, in 2016, were doing street clean ups and raising money for food banks while also spreading anti-Muslim rhetoric and marching the streets. The actions garnered the SOO positive media attention from some outlets, many of which failed to mention that the group was founded by a self-described Finnish white supremacist. In late 2017, La Meute, a far-right group in Quebec, attempted to work with a Montreal foundation that raises money for at-risk kids but were turned down.
European groups are far more explicitly racist than their Canadian counterparts, but this is something we see more and more across the pond as well. The neo-Nazi group National Action (working with the Polish Narodowe Odrodzenie Polski) formed a white-only homeless shelter. Looking back several years you can find that even the KKK did this type of action in the 1960s. As recently as 2012 the KKK attempted (and failed) to adopt a highway.
These types of "charitable" endeavors also work as a recruiting tool; in particular, allowing them access to people from vulnerable communities. The idea of a far-right group running a recovery home, working with recovering drug users, and recruiting out of it was described as "frightening" by Laurie de Grace, the executive director of Our House Addiction Recovery in Edmonton.
"I don't know if you've heard this but they always say with addiction that people stop developing their emotional age at the time they start using," de Grace told VICE. "If people start using drugs at 12 or 13, emotionally they're very young. So when you think the adult brain isn't fully developed until the early 20s most people with addictions they started using young, so think about how vulnerable and impressionable they are."
On the phone, Welling told me they'd already acquired numerous homes and had been given millions of dollars in funding. Welling did not respond when asked to prove these assertions and VICE was unable to find any documentation suggesting this was true. But while it would be difficult for them to pull this off, recovery home systems in Canada are notoriously lax, so it's not completely out of reason.
While the recovery homes plan was an ongoing point of conversation for months in their closed Facebook groups throughout 2017, the project was last mentioned in January 2018. Beau also stopped returning my calls and messages requesting comment. The death blow to the idea seemingly came when the group launched a GoFundMe page asking for $150,000 but only three people donated to the cause to the tune of only $300.
This paltry 0.02 percent of money raised indicates that Canadians still aren't latching onto far-right groups in the way the organizations are hoping, said Perry.
"They failed in their crowdfunding efforts, quite spectacularly, and I think that is an indication that it is no more palatable," she told VICE. "That Canadians are able to see through their disingenuousness of their attempts."
It seems that this time Canadians didn't "drink the kool-aid" but it's only a matter of time until the far-right groups hand us another cup.
Sign up for the VICE Canada Newsletter to get the best of VICE Canada delivered to your inbox daily.
Follow Mack Lamoureux on Twitter