Photo by Carlos Osorio - USA TODAY Sports
Nobody alters the NBA's trajectory like LeBron James whenever he changes teams. These decisions blocked out the sun in 2010 and 2014, and the same thing is expected to happen this summer. I have no idea what LeBron will do, but here are six plausible, fascinating, and somewhat transformational scenarios that may or may not be on the table.
6. Philadelphia
I don't think it makes sense for LeBron to sign with the Philadelphia 76ers. Here's why. That column was written before Bryan Colangelo "resigned," and in addition to that mess it just doesn't make sense for one of the best players ever to team up with two inexperienced phenoms that have combined to win one playoff series. The same can be said about Kevin Love and Kyrie Irving four years ago, but A) James had a much longer runway in 2014 than he does now, B) those two already had five All-Star appearances between them, and the well-worn experience of being a franchise player for their own franchise, and C) their skill-sets complemented LeBron's game in obvious ways.
Joel Embiid and Ben Simmons do not complement LeBron's game in any obvious ways, and if he goes there it's probable they lose all or some of the outside threats (J.J. Redick, Marco Belinelli, Ersan Ilyasova) that James needs to be at his absolute best. Plus, losing in five games at full strength to a Boston Celtics team that didn't have their two best players—in a series that highlighted how much more accessible Jayson Tatum and Jaylen Brown are in the modern NBA—isn't the best look. Philly falls into this conversation because they are not bad, have cap space, and Simmons is represented by Klutch Sports.
If more teams had the financial means to afford LeBron without gutting their roster (like, say, the Washington Wizards, New Orleans Pelicans, or Portland Trail Blazers), the Sixers wouldn't be as attractive as they're currently made out to be. But, to their credit, they've developed intriguing franchise pillars, with max cap space and a few tradable assets, at a time when just about nobody else can say the same. That's good for them, but LeBron probably doesn't want to babysit their core all year and then watch them struggle through growing pains in the postseason.
5. Build a Contender in Los Angeles
If he's moving on from Cleveland to become the nucleus of another super team that has more than a puncher's chance to beat the Golden State Warriors, LeBron may want to construct it from scratch. Instead of fitting into what the San Antonio Spurs, Houston Rockets, or Celtics already are, on the Los Angeles Lakers he can wed supreme off-court benefits with an on-court product that's respectable enough to win it all.
Houston and Boston are the two best options if he seriously wants to win a title next season, but L.A. gives him the blank canvas no other cap sheet can. My favorite framework almost definitely won't happen because it may be mathematically impossible, but there seems to be a path for LeBron to sign with the Lakers, team up with Paul George and a third All-Star without forfeiting every young building block the Lakers already have.
It'll require a lot to get there, including a commitment from ownership to potentially make extraordinary luxury tax payments for years to come, the willingness of another team to part ways with a top-flight player, and several other variables to break in the right direction at the right time. But it's not impossible.
The first question is who should the third star be, and which teams are in a position to trade one? As far as fit goes, Damian Lillard is an ideal candidate. He can drill off-the-bounce threes at a high level, run uber-efficient pick-and-rolls, isolate, stretch the floor, and defend better than he gets credit for. But Lillard is too expensive on his current contract for the Lakers to afford him, George, and James in a practical way.
Kawhi Leonard would be even better, but the Lakers don't have the best assets in a deal to acquire him, and San Antonio is more likely to offer a supermax extension than give up on someone whose ceiling is that of the second-best player in franchise history. They're constructed to contend right now. Anthony Davis feels moored to New Orleans for the time being, and it's doubtful Tom Thibodeau would exchange Jimmy Butler—even at the risk of losing him for nothing next summer—for the type of youth movement that would put him in the hospital. Blake Griffin is a pricey injury risk with a game that doesn't quite fit beside LeBron on the biggest stage, even as a third option. Russell Westbrook is waaaaaaaaaaaay too expensive, and can't be traded until September 29th—the one-year anniversary of his supermax extension.
---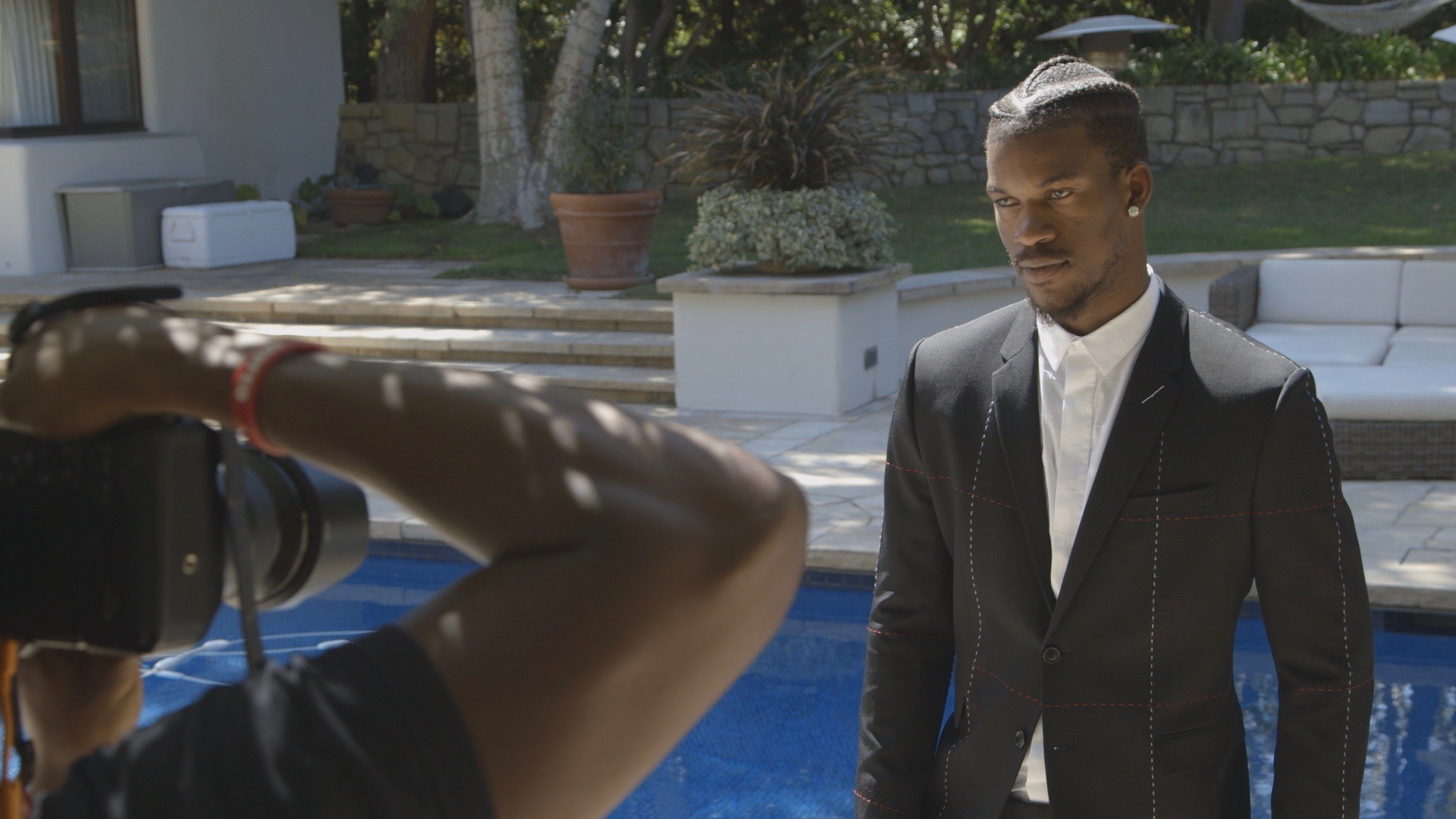 ---
So, for all intents and purposes, that leaves just one other perennial All-Star who'd conceivably be available and have L.A.'s attention: John Wall. The 27-year-old is due a relatively affordable $19.1 million next year before his massive contract extension kicks in, is a Rich Paul client, and can probably be had for one blue-chip prospect, and a pick plus salary filler.
For Wall and Jason Smith's expiring contract, Los Angeles can send Lonzo Ball, Luol Deng, and their unprotected first-round pick in 2020. That may not sound fair on the surface, but the opportunity to get off Wall's cap-crippling extension before it kicks in should be viewed as a godsend. They get to build around a Ball-Bradley Beal backcourt that makes a ton of sense on paper and will keep the franchise relevant in an optimistic way for the foreseeable future. They aren't ever reaching the Finals with Wall as their best player, and can still easily make the playoffs in 2019 with Ball in his place.
Another complication raised by this scenario is Wall can't be traded until July 26th (the one-year anniversary of him signing the supermax extension), but if the timing of each transaction is CBA friendly, the Lakers should be able to roll out a LeBron, George, Wall, Brandon Ingram, Kyle Kuzma lineup that, by season's end, may be the NBA's most formidable five-man unit. George is an unmissable sidekick who can shoot, defend multiple positions at a high level, run his own pick-and-rolls, and score in isolation with a physical makeup that's far more helpful against Golden State than Kevin Love ever was.
Wall is a bit more awkward and doesn't immediately make sense. He's never succeeded off the ball in the same way Lillard or Kyrie Irving have. But he's also a long, switchy guard (probably the best rim protector at his position) who creates easy opportunities in the half-court, places constant pressure on defenses in transition, and won't feel the same physical stress as a tertiary option that he had as a high-usage primary ball-handler in Washington.
Supplementing those three franchise players with Ingram and Kuzma is Jaws-anthem terrifying. The former scored 32 points in what was easily the best game of his career against the Warriors last season, has All-Star potential, and should go to an even higher level in Year 3 if surrounded by so much selfless talent. He gives L.A. the type of upside James has never really known. Kuzma has defensive warts but can stretch the floor and scored at least 25 points a dozen times as a freaking rookie last year.
Depth will be an issue, but getting veterans to take a paycut for the chance to live in Los Angeles and catch passes from LeBron James should be a tad less complicated than cracking The Da Vinci Code. This team may not have enough shooting to win it all and it'd be fascinating to see if L.A. would take on the $170 million left on Wall's contract in the event James would otherwise sign elsewhere. (Wall's 15 percent trade kicker disincentivizes the Wizards from exploring a trade like this, but some or all of it can be waived if both parties agree to do so.)
The Lakers can technically keep Ball, stretch Deng, and still have enough cap space to sign James and George after they renounce all their free agents, but is LeBron less interested without Wall? Perhaps! Either way, this feels like the type of supporting cast James can work with, on the Lakers or anywhere else.
4. Play for Pop
LeBron mentioned the Spurs a few times, directly and indirectly, throughout the Finals. He brought up the desire to be around cerebral talent after Game 3 and Game 4. Here's what he said after Cleveland was eliminated.
"I made the move in 2010 to be able to play with talented players, cerebral players that you could see things that happen before they happened on the floor, and your teammate can do the same throughout the course of a season, throughout the course of a game, throughout the course of a playoffs, throughout the course of a Finals. So when you feel like you're really good at your craft, I think it's always great to be able to be around other great minds as well and other great ballplayers, in my instance, and other great just, I think, studies of the game itself. That's never changed. Even when I came here in '14, I wanted to try to surround myself and surround this franchise with great minds and guys that actually think outside the box of the game and not just go out and play it."
And after Game 3, where he mentioned the Spurs after being asked about the minimal margin for error a team needs to beat the Warriors.
"Well, I can take you back kind of to the battles I had with the Spurs when I was in Miami. You just knew that they wouldn't beat themselves. You just knew that like every possession we were playing San Antonio when I was in Miami, you just knew if you made a mistake, Manu, Tim, Tony, Pop will make you pay. At times they did make us pay, and then you sprinkle in what Gary Neal did to us one game, what Danny Green did to us one game. Then Kawhi, you just couldn't—you could never relax. When you have great basketball players but also that can also think the game and be very cerebral about the game, that's what adds the level of stress, because you know that you can never, ever relax. And you should never want to relax. It's The Finals. It's the playoffs. Even though this is a regular season game, you should always want to be on your toes. That's what the part of competition is about. So it adds to the level of stress. When you have Timmy D. and Manu and Kawhi and Manu, and now Draymond and Klay, Steph and K.D., and then you sprinkle in Iguodala and Livingston and all those guys as well, it adds a level of stress. Because you know that you can never relax. You know if you relax, they make you pay, and making you pay could cost you a game."
It's a slight leap of faith to suggest these comments mean anything, but nothing that comes out of LeBron's mouth this time of year should be viewed as irrelevant. Several things need to happen before San Antonio can clear enough cap space for him. They need to renounce Tony Parker, hope Rudy Gay, Joffrey Lauvergne, and Danny Green opt out of their contracts, and find suitors willing to take on Patty Mills and Pau Gasol without taking any money back in return.
If that all somehow works out, the Spurs can sign LeBron, keep Manu Ginobili, and still bring back Kyle Anderson, Davis Bertans, and Bryn Forbes. That "if" at the beginning of the previous sentence is the size of a mountain, though. From there, Kawhi Leonard's health, LaMarcus Aldridge's fit, and how James would deal with an established culture that quashes the mollycoddling he's somewhat accustomed to, are all significant questions.
Let's say he goes there, everything works out, and the Spurs win the 2019 NBA championship. What happens if LeBron wants to stick around and Leonard still wants the supermax extension he deserves? That's possibly $100 million, alone, for those two and Aldridge, with the tax somewhere around $131 million and a dozen roster spots to fill. But you can't consistently compete for a championship in today's NBA without a high payroll. As Adam Silver pointed out as his annual Finals press conference, it's no coincidence that the Warriors and Cleveland Cavaliers have two of the highest in the league, and are backed by owners willing to go pretty deep into the luxury tax.
Even though San Antonio is a small market, breaking up a champion—or even just a team that knocks on the door—over a financial bottom line would be ugly. LeBron, healthy Kawhi, and Aldridge provide more than enough talent to make Golden State sweat, and I haven't even typed the words "Gregg Popovich" yet.
Dejounte Murray (who also shares LeBron's agent) would be entering his third season as arguably the best defender at his position. Any progress on his outside shot would make the Spurs that much more formidable. Again, James stressed "margin for error" multiple times throughout the Finals, how even the slightest mistake can lead to devastation. (This will always be a make-or-miss league, but it's quick death against the Warriors when a miss is born out of system-less offense, by players who, deep down, think they're going 1-on-9 every time they touch the ball.) The Spurs don't really make those types of mistakes because they know the institution they play for will hold them accountable. The Spurs play smart, and James is the smartest player alive. This would be a perfect match.
3. Start a Dynasty in Boston
This is almost too strange to fathom. From LeBron's own history against the Celtics to his frosty relationship with Kyrie Irving, picturing him jump to the franchise he battled for most of his prime—and vice versa—would make brain fluid leak from the ears of most NBA fans who're old enough to remember the 2010 playoffs. For this to become a reality, James would need to opt into his contract and probably be swapped for Gordon Hayward (the Cavs should be willing to take that contract back; at the very least, Hayward is a valuable trade chip who can kick-start their rebuild in one form or another). It's all just so completely savage on multiple levels.
But the pros outweigh the cons for both parties. First, James gets to stay in the Eastern Conference and avoid a pre-Finals showdown against the Rockets or Warriors. Second, he joins a team that's not only ready to contend for a championship as early as next season, but was specifically designed to compete against a team like the Warriors. Brown, Tatum, and Al Horford are three pieces who make LeBron's life easier on offense while shaping literally the best defense in the league. Here's something James said in Cleveland before Game 4:
"How do you put together a group of talent but also a group of minds to be able to compete with Golden State, to be able to compete for a championship? That's what GMs and presidents and certain players—it's not every player. Every player does not want to—sad to say, but every player doesn't want to compete for a championship and be in a position where every possession is pressure."
The Celtics can not only switch everything on one end then throw out two or three reliable shot creators on the other, but nobody on their roster is scared of anything. They thrive in huge moments. James knows that firsthand, from witnessing all the incredible shots Irving made as his teammate to getting dunked on by Tatum in the fourth quarter of Game 7.
It's all just so completely savage on multiple levels.
There are even more benefits, though. James took plenty of possessions off last season, but for a player who led the league in minutes the past two years, his playing time would drop significantly in Boston, on a team that may very well finish with the NBA's best record and home-court advantage throughout the playoffs even if he didn't go there. Already the most physically fit player in the world at 33 years old, LeBron would no longer need to rest on the court, and his energy level come playoff time would be even higher than it just was. It's fair to assume his defensive effort would intensify to the point where it positively impacts every play in every minute. That's a humongous bonus, and a general reduction on his minutes may sharpen his prime and lengthen his overall career.
There will be a time when James isn't the best player on his own roster, and no team would make him more comfortable with that reality than Boston, where championships would still be an annual expectation and sensible goal.
2. James Stays in Cleveland
In early April, LeBron told Cleveland.com's Joe Vardon that "family" and "winning" were the two most significant factors that will ultimately determine where he is next season. All speculation about his next destination is impossible without knowing the degree to which leaving the Cavaliers will displease or disrupt the former, though.
Does his family want to live in Los Angeles, Texas, or Ohio? With one of his sons heading into the eighth grade, as ESPN's Dave McMenamin noted on a recent episode of Slate's Hang Up & Listen, maybe LeBron will opt into his contract, play one more season in Cleveland, and then re-enter free agency in 2019, when more teams have cap space and more All-Star-caliber free agents flow into the marketplace. Doing so may appease his family, allow them to mentally prepare for an inevitable departure, and let LeBron have his cake and eat it too.
This theory is filled with assumptions and unknowable variables, and coming off a Finals in which his team was swept, with an inflexible roster that's unable to make sweeping changes for the better, the "winning" aspect of LeBron's claim would almost surely go unfulfilled for at least one more season.
The downside is obvious. As currently constructed, the Cavs are nowhere good enough to win the championship. Moves can be made—how about Kevin Love, the No. 8 pick, and Cedi Osman for Lillard?—but none are likely to reinvent that roster in ways that are necessary to defeat the Warriors, or even the healthy, maturing Celtics.
If no trade is made and the Cavs use the No. 8 pick to infuse some versatility with Mikal Bridges, Kevin Knox, or Michael Porter, re-sign Rodney Hood, and convince a useful piece (like Will Barton, Avery Bradley, Luc Mbah a Moute, Kentavious Caldwell-Pope, or Tyreke Evans) to climb aboard for their taxpayer mid-level exception (which is about $5.3 million), Cleveland will be better equipped (though still not all the way there) to seriously compete against the Warriors, Celtics, or Rockets.
The luxury tax bill would be massive, but what if some team (like the Memphis Grizzlies or Dallas Mavericks) is willing to trade their first-round pick down for the eighth pick and something like George Hill's expiring contract? Lessening their talent would probably reduce the chance James will stay in the first place, but you never know! Crazier things have happened!
Either way, the Cavs won't be favored to win it all, and by going that route LeBron essentially throws away his 16th season then looks to 17 and beyond to step back into legitimate Finals contention. That sounds like a nightmare, but may be what's best for everyone.
1. Houston Rockets
I covered this possibility last summer, and assuming his family is okay with a move to Houston, it still makes the most sense for him to opt in and get traded there. The Rockets went punch for punch with the Warriors and barely came up short. Adding the best player alive to that recipe wouldn't guarantee a title, but, assuming they find a buyer for Ryan Anderson's contract, match Clint Capela's offer sheet, and re-sign Trevor Ariza, it's hard not to call them the favorite.
Championships aren't LeBron's sole motivation, and perhaps he'd view jumping to a 65-win team a bit too "hired gun" for his taste. But if his family is okay with a Texas adventure it's hard to see why he'd pass on a chance to dethrone Golden State by joining a team that's already better equipped than any other in the NBA to do just that. Chris Paul is one of his best friends, and given James Harden's age (he turns 29 in August), going back-to-back wouldn't be out of the question, either.
If LeBron is out for revenge, the Rockets are the perfect vehicle to get some.