Screenshot via Lil Tay's Instagram
You know who Lil Tay is, even if you're not exactly sure how you know. The foul-mouthed nine-year-old has risen to viral fame thanks to her bizarre Instagram videos and convoluted feuds with other nu social media personalities; she has the stature of a rising reality TV star who has never appeared on reality TV. Cherub-faced with bleach-blond hair, she struts in front of the camera, yelling at her "haters" about how expensive her fancy cars are, clumsily showing off stacks of money and revving up said cars while shouting things like, "Your favorite rapper ain't doing it like Lil Tay," or, "Y'all grown-ass men hatin' on me," punctuated with the occasional enthusiastic, "I'm only nine years old!" The self-proclaimed "youngest flexer in the century" has 1.8 million followers on Instagram. It's safe to say that not all of them are exactly rooting for her.
Once you get past the shock of seeing a nine-year-old scream curses, you can focus on why Lil Tay actually evokes uneasiness—you can't help but wonder if she understands what she's getting herself into. She is obviously, painfully, too young to be doing this. How will this possibly end well?
Lil Tay's "career," if you want to call it that, is a case study in how the next generation of famous-for-being-famous celebs come up. She got her first taste of viral success through beefing with prominent YouTuber RiceGum, and soon graduated onto more high-profile feuds, like the rather one-sided attack on the up-and-coming 15-year-old rapper Bhad Bhabie, a.k.a. Danielle Bregoli of Cash Me Ousside meme fame. (If you're completely at sea, I'm sorry you're so old!) In April, the nine-year-old posted a video on her Instagram of a spat she got into with Bregoli, which currently has 11.4 million views. In the video, we see Bhad Bhabie, restrained by bodyguards, daring Lil Tay's friend, a YouTuber named Woah Vicky (real name: Victoria Waldrip) to fight her. Waldrip, a white vlogger who's achieved minor viral notoriety for claiming to be black, stands next to Lil Tay with a sheepish smirk as Bregoli taunts her. (The fight, according to Bregoli, was provoked by Waldrip calling her best friend the N-word.)
---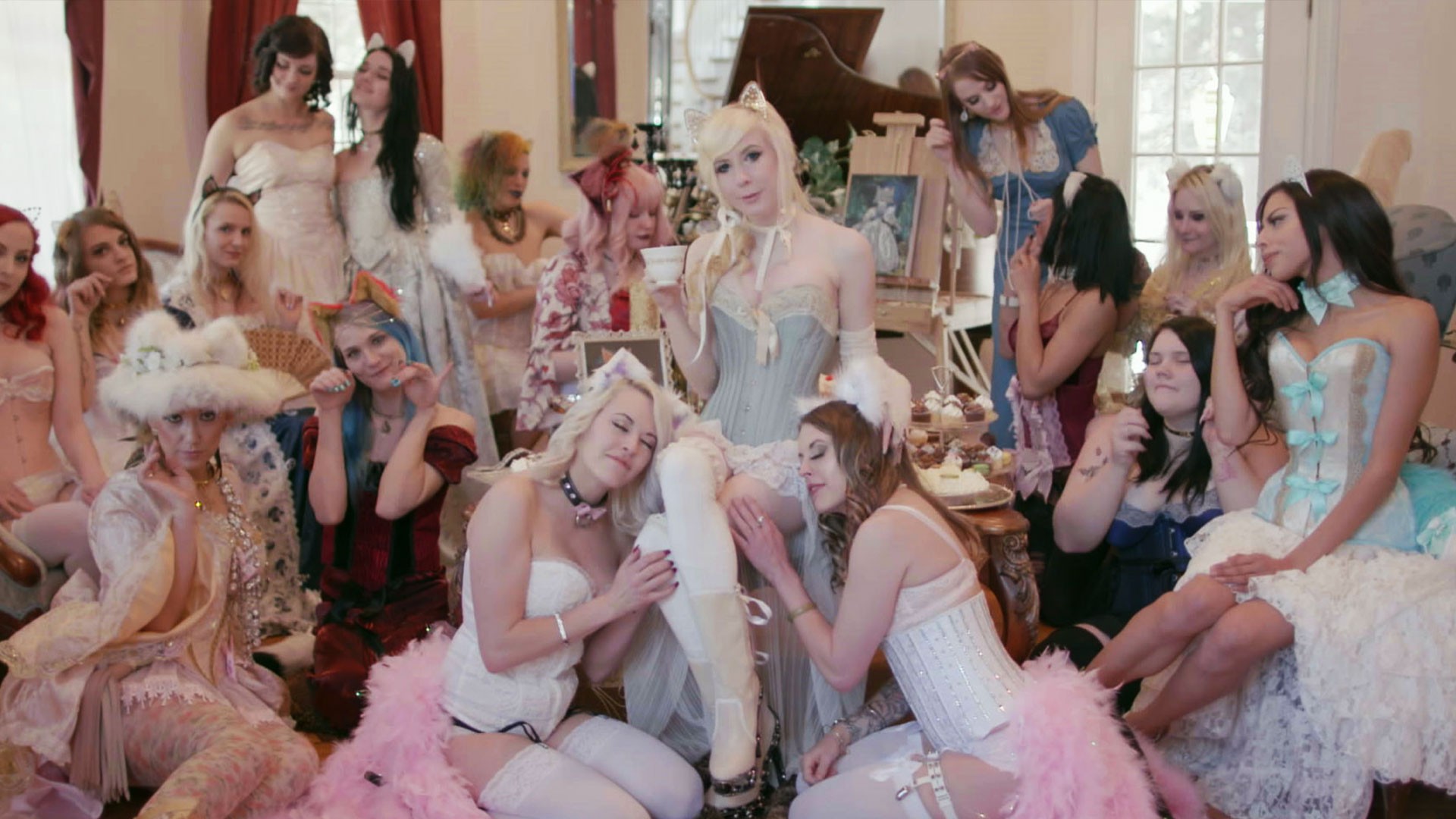 ---
The Lil Tay–Bhad Bhabie feud is not particularly fun or funny, even though it's attracted adult rubberneckers of all sorts. It's only received as much attention as it has because it involves a bunch of tweens and teens being overly aggressive and maybe racist. It should be noted that Bhad Bhabie has turned her viral stardom into a more traditional music career. She's touring around the country, her new song "Gucci Flip Flops" is an undeniable banger, and she seems to have moved on from Lil Tay. Meanwhile, the nine-year-old (or whoever is telling her what to do and say) remains fixated on Bregoli.
In Lil Tay's most recent Instagram post, she sits in a bathtub in a pile of $100 bills. "CASHMEOUSSIDE BROKE AND WASHED UP 😂😂😂(She blocked me cuz she she salty I make more money and I'm 9)," the caption reads. (Bregoli wisely declined to comment on this.) If the two girls weren't already famous, Lil Tay's enduring obsession with Bhad Bhabie would be understood as a standard case of online harassment, not an entertainment product. Yet here we are.
In the style of Logan Paul and Woah Vicky, Lil Tay has used the attention economy to her benefit. It doesn't matter whether you create a likeable character, you just have to be louder and nastier than everyone else. What makes Lil Tay different from your run-of-the-mill YouTube brat, of course, is that she's nine years old, four years shy of the minimum user age for Instagram, YouTube, and other social media services. It's not even clear how much agency she has—does she want to be doing this? Is she informed enough about the world to give her consent? Where are her parents?
Which brings us to Angela Tian, Lil Tay's mother. She's a Vancouver–based real estate agent—which explains the lavish houses in the backdrop of some of her videos. She was forced to resign from her job after Lil Tay went viral, when her boss noticed his car in one of Lil Tay's posts, used without his permission. Tian has yet to speak on the controversy her daughter's videos have generated; but the National Post was a given a series of messages that Tian sent to her former boss on WeChat in which she defended her daughter. "Some people don't get the joke," she reportedly wrote.
She claimed that her teenage son is directing Lil Tay's videos. "At one point, she seemed to address her daughter's critics, saying that what they were involved in was show business — 'comedy' and 'acting,'" reported the National Post .
In one sense, Lil Tay is obviously a performer and therefore not so different from child actors—who themselves can be sexualized by adults or abused—but the worlds of Instagram and YouTube are subject to even less supervision than Hollywood. (Even more disturbing than Lil Tay are "bad baby" videos, where children pretend to poop themselves and have the poop rubbed in their faces.) On social media, there is less of a line between actors and the roles they play. Some adults—from Logan Paul to Rachel Dolezal and even Tomi Lahren—have found a way to turn that dynamic to their advantage. The secret they've learned is being well-liked or good or even interesting has nothing to do with being popular. A hate click is still a click, an angry comment still counts as engagement. If the haters come, fans are bound to follow.
Exchanging some portion of your dignity for fame is an old trade. But it seems like Lil Tay is getting an extremely bad deal here. Her mom has lost her job already. Lil Tay herself will almost certainly be doxxed and have to suffer untold amounts of infamy and the hate mail that comes with it. And after all that, what will happen if the kid grows up a little and decides she doesn't want to be famous anymore? It might be a joke, as her mom says, but it doesn't seem like the funny kind.
Sign up for our newsletter to get the best of VICE delivered to your inbox daily.
Follow Eve Peyser on Twitter and Instagram.