Kim Klement-USA TODAY Sports
Kim Klement-USA TODAY Sports
The third star: These Habs fans at the draft – Look on the bright side, at least they can probably remember Montreal's last Cup.
The second star: This kid at the John Tavares meetings – I mean, he's 100 percent a plant by the Islanders or Maple Leafs, right? He has to be.
The first star: This baby enjoying nap time – This baby can stickhandle in his crib, which means he'll grow up to be an NHL player. Most babies can only cry all night and then soil themselves, which means they'll grow up to be Senators fans.
The issue: The Hockey Hall of Fame announced its class of 2018 this week, one that included players Martin Brodeur, Martin St. Louis, Jayna Hefford, and Alexander Yakushev. The outrage: It also included Gary Bettman, who was elected in the Builder Category. Is it justified: Bettman is, to put it mildly, a divisive character in the hockey world. And rightly so—from work stoppages to player safety to the quality of the on-ice product, there's plenty to criticize under his watch. I've done more than my share. In fact, when it comes to being critical of Bettman and the work he's done in his 25 years running the NHL, I'll put my track record up against anyone's.
But here's the thing: Based on what the Builder category is meant to represent, Bettman is clearly a Hall-of-Famer. It's not even close. We're talking a Wayne Gretzky-level lock. There's a good case to be made that Bettman is the single most influential person in NHL history.
Has all of that influence been positive? Not remotely. The pushback around Bettman's concussion stance has been especially strong. But we're talking about a Builder category that includes people like Harold Ballard. The honor has always been largely about how large a shadow a person cast over the game. And nobody's shadow has been bigger than Bettman's.
The only real problem you can have here is the timing. For one, Bettman is still very much active, with no signs that he'll be leaving the job anytime soon. Players have to be retired for three years before they make the Hall, so it seems unfair that Bettman can waltz in while he's still working. But that's how the Builder category works. It always has. So that objection doesn't get us anywhere.
But there's another angle that I do think hits home, and it centers around the other Builder honored this year: Willie O'Ree, who finally made at the age of 82. The first black player in NHL history had been long overdue—years at least, maybe even decades. He deserved this moment. And ideally, he deserved to have as much of the spotlight as possible as the only Builder to go in. Instead, his moment gets overshadowed while we all argue about Bettman.
Except, maybe it doesn't have to be that way. The Hall of Fame might choose the inductees, but the rest of us get to choose how the conversation about them goes. So you know what? Forget about Bettman and the debate over his induction. Let him have it. We've got more important things to talk about. This is no longer the Outrage section, because we've got nothing to be outraged about. Instead, we've got this…
The HHOF Actually Got Something Right
Hell yes, Willie O'Ree.
It should have happened years ago. But it's happening now, when O'Ree is still in good health and can enjoy his moment. That's a crucially important element, and the HHOF has messed it up before. Not this time. That's something worth celebrating.
If anything, the delay in inducting O'Ree ended up serving a purpose. It was inspiring to see how the chorus to finally honor O'Ree has grown over the years. A decade ago, his name rarely came up in HHOF speculation. Eventually, he'd get the occasional mention. In recent years, the calls got so loud that the day began to feel inevitable.
And all along, hockey fans who were hearing the name for the first or second or tenth or hundredth time were learning about his story, if only to understand what everyone else was angry about. That's not the way a history lesson should be learned, but it got us where we needed to be. O'Ree is a legend today, the way he always deserved to be. And now he's a Hall-of-Famer too.
Let's let P.K. Subban take it home:
Congratulations, Mr. O'Ree. Few have deserved this honor as much as you did.
Obscure Former Player of the Week
Brodeur made the Hall of Fame in his first year of eligibility, almost certainly as a unanimous pick. He was the 20th overall pick in the 1990 draft. The player taken ahead of him at No. 19, Keith Tkachuk, didn't get the call, but still might someday.
So today, let's bestow Obscure Player honors on the player taken ahead of both guys, at No. 18 in that 1990 draft. This week's player is Shawn Antoski.
Antoski was a 6'4" winger who'd put up nearly a point per game in the OHL while racking up 201 PIM. Back in the early 90s, that made him just about irresistible to NHL teams, and the Canucks happily grabbed him with their pick. He played just a handful of big league games over the next three seasons before graduating to mostly full-time duty in 1993-94. He played 55 games, scored one goal, and had 190 PIM while fighting guys like Tony Twist and Sandy McCarthy.
He was traded to the Flyers midway through the next season, and had a career-high 64 games and 204 PIM in Philadelphia in 1995-96. He signed with the Penguins that offseason, and was quickly traded to the Ducks.
In 1997, Antoski was involved in a serious car crash. He suffered a fractured skull, and while he'd eventually recover, the accident spelled the end of his career, and led to some difficult years as he struggled with depression. He went on to create Fear Nothing, a nonprofit that advocates for mental health. His story is pretty cool.
Also, he was a deceptively good climber and not a guy you wanted to throw a water bottle at.
I was watching soccer the other day. That's not something I do very often, but it's summer and there's no NHL and my brain needs to watch people try to put something in the other team's net in a game that's going to end 1-0, so here we are.
In this case, it was the end of Wednesday's World Cup game between Germany and South Korea. The game turned on a late goal which was initially called off due to offside, but then allowed after a replay review. Cool. As far as a I can tell, they got the call right.
But something stood out about the process. When it became apparent that they were going to go to replay, the official started drawing a box in the air, Uma Thurman-style. It took me a second to realize he was signaling a replay screen. Huh, I thought. Is that a normal soccer thing?
Yes, as it turns out. And not just in soccer. Apparently this is a thing in lots of international sports, including cricket and rugby.
I don't think I have to tell you that this is a great idea, and the NHL needs to immediately steal it.
Right now, the NHL doesn't have a signal for replay reviews. Instead, the referee just kind of looks confused for a bit, and then wanders off in the general direction of the penalty box. Half the time, the announcers have to guess what's going on. As a fan, you might not know what's happening until they cut to a shot of the ref on the phone.
That's no good. We need a signal. And as it turns out, the answer has been out there all along.
Think about how much more fun this would be. First of all, we'd get to watch the referees do something that would probably make them uncomfortable, which is always good entertainment. You can already picture every referee halfheartedly making a little rectangle, except for Wes McCauley who'd go all Marcel Marceau on us. You could make the coaches do it too, whenever they wanted to signal for a challenge. And of course, if it was an offside you'd make the linesmen draw a little tiny screen before they watched the replay on an iWatch.
Do it, NHL. Steal the signal that every other sport apparently already has. Draw the screen.
Classic YouTube Clip Breakdown
The clock is ticking on John Tavares. The pending UFA spent the week listening to offers from suitors around the league, and on Sunday he can officially sign with a new team. But he could also agree to return to the Islanders, who've reportedly offered him an eight-year deal. This is it. The moment when Tavares's time as the Islanders' franchise player either comes to a crushing halt, or extends into an uncertain future.
So today, as we wait for the verdict, let's look back at how it all began (the clip, much like the Islanders, is dysfunctional, so you've go to go to YouTube to watch it. Sorry.).
It's June 26, 2009, and the hockey world has gathered in Montreal for the entry draft. The Islanders are on the clock with the first overall pick, and they're about to unveil their selection. It's a big moment.
Also, this video promises to take us "behind the scenes." I hope teenage Tavares doesn't get too crazy!
We open with Garth Snow, looking roughly 40 years younger than he did last season, announcing the pick. It's easy to forget now, but there was some genuine suspense around the 2009 top pick, with rumors that the Islanders might want Victor Hedman or Matt Duchene.
Snow totally plays into that—note the little dramatic pause before he drops the name. NHL GMs, this is how you handle the first overall pick. I'd like to see somebody go even further. Take your time. Try to get a chant going. Look around the crowd, then point out the player personally. Pull a Bobby Clarke and forget the name. Let Garth be your guide.
We cut to Tavares, who looks exactly the same as he does today. Seriously, he hasn't aged a minute. I think John Tavares might be a host, you guys.
We get a quick shot of Tavares saying hello to the Islanders' draft party, which for a moment looks like it's just an empty room before we realize he's talking into a camera that's broadcasting back to the arena. Note: This is the last good news that Islanders fans would see on a scoreboard for the next decade.
Next up is Tavares getting a congratulatory call from Rick DiPietro, which pretty much perfectly captures the yin and yang of the modern Islander fan experience.
Did anyone else see this and feel vaguely surprised that Rick DiPietro was still an Islander in 2009? He's one of those players we all remember, but whose specific era is impossible to pinpoint. I feel like you could tell me that DiPietro played his last game as an Islander any year between 2007 and 2016 and I'd be like "Yeah, that sounds about right."
Next up is a call from Kyle Okposo, which Tavares hilariously begins with "Hey bud." I'm glad I'm not the only one who uses that as their go-to greeting for any person they have absolutely no recollection of ever speaking to before.
"I'm excited." Yeah, we can all tell.
The camera swings over at the 1:04 mark and it briefly looks like we've panned to a second John Tavares doing interviews. There's two of him! I'm telling you, he's clearly a host. Somebody slice into his arm before he signs a new contract just to be sure.
That press conference shot of Tavares with an Islanders' logo hovering over one shoulder and a Maple Leafs' logo hovering over the other is what we in the business call ironic foreshadowing.
Speaking of the Leafs, I just want to point out that this was the same draft in which Brian Burke stared down booing Habs fans and shot down the Senators' trade offer. I miss the Burke-as-GM era so much.
We cut to some autographs, and then the traditional awkward photo shoot, which includes Tavares having to sit on top of a hockey net in his dress pants. Then we see Tavares congratulating Hedman, who leans in and whispers "See you in nine years" before confused Islanders staff whisk him away.
We get some footage of Tavares being interviewed, which briefly threw me off because I missed the jump cut and thought he answered the question "What does it feel like to hear your name chosen number one" with "A little bit." Now I kind of want to see hockey players start doing that. "What do you have to do in the second period to turn things around?" "Probably nine."
Hey look, it's Tavares and Hedman holding up fingers to signify where they were drafted, and Duchene holding up fingers to show how many teams he'll play for from 2017 to 2019.
Tavares heads up to the family area, and we get another one of those swing cuts that makes it look like there's more than one of him. I wonder if anyone at this week's presentations tried to slip in a "Freeze all motor functions" just to see what would happen.
My favorite moment is the family photo, in which a desperate photographer is trying to get "big smiles" out of Tavares, who is clearly not capable of that. He's trying, god bless him, but it's just not working for him, and the photographer ends up openly laughing at him.
Next comes what has to be the most awkward moment for any new draft pick: Meeting the team's fans. In what has to qualify as a bad omen, the first guy Tavares sees is rocking a Mike Comrie shirt. Tavares greets him with the same enthusiasm he had for Kyle Okposo. There's at least a 60 percent chance he thinks it is Kyle Okposo.
Where do you think Tavares ranks on the scale of people in the world who wouldn't want to be hugged by a random stranger? Like, is he first, or just tied for first?
And that's it. We close with Tavares reflecting on the day, and making that face where your programming glitches and you suddenly have a vision of what the next nine years will look like: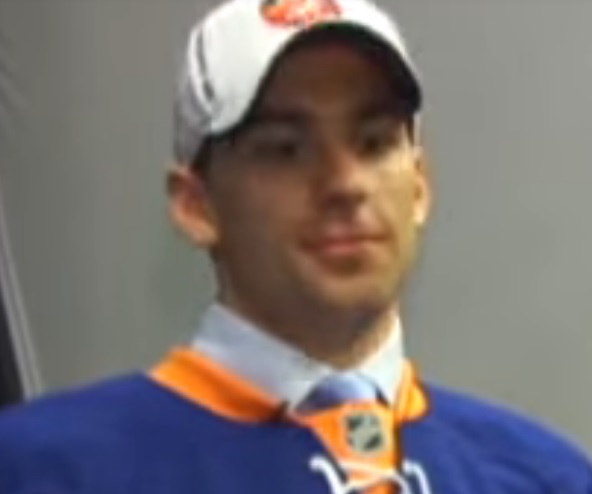 Have a question, suggestion, old YouTube clip, or anything else you'd like to see included in this column? Email Sean at nhlgrabbag@gmail.com.