Photos courtesy of IFC Films
Welcome to "Reel Women," a column highlighting important women in the world of cinema, from on-screen characters to real-life filmmakers.
Few songs have been able to emulate that euphoric bliss of being in love combined with the relief and disbelief of finally having found someone as "At Last," most famously crooned by Etta James. "At Last" is not an anthem for the lucky in love, those who get their happily ever after early and easy with their high school sweetheart. "At Last" is for those who have felt the depths of loneliness, who were sure love was never going to happen for them, until bam—one day it happens, at last, and the surreal, unfamiliar feeling makes you pinch yourself. The rush of strings paired with James' escalation as she sings "and life is like a song" with unadulterated glee is one of the most coveted feelings in life.
Though Etta James, and specifically "At Last," is a motif running through Let the Sunshine In, the latest film from French auteur Claire Denis, it's not necessarily the feeling attained throughout the movie—at least not genuinely. For Isabelle (Juliette Binoche), her life plays this song often, but her life is not like a song—not in the way James sings about, anyhow.
Isabelle is a talented and successful painter, but she hasn't found much success in the love department. The film opens with an awkward sex scene, during which Isabelle fails to come, while her rather unattractive lover grunts his climax on top of her. That lover would be Vincent, a married banker (played by director/actor Xavier Beauvois), who belongs in a rotation of men who won't commit to Isabelle. It's especially cruel, then, that the first time we hear "At Last" in the movie—a cheesy jazz rendition softly playing at a bar—Vincent is telling Isabelle, "You're charming but my wife is extraordinary." "A pain at times, even exhausting" he continues. "But extraordinary. But you charm the pants off me." As if that would cheer her up.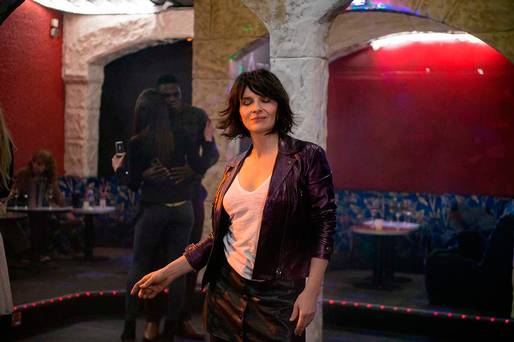 In the next scene, we see Isabelle alone in her apartment, where a painting of Etta James hangs, as she talks to herself in despair: "Being a backstreet lover is just unbearable. Is this my life?" Isabelle is met with disappointment time and time again throughout the movie. "I want to find love," she says. "One real love."
By the third time we encounter Etta James, it seems Isabelle has found that euphoric feeling. "At Last"—the proper Etta James version—plays in the club when she meets a new man, Sylvain (Paul Blain), and they dance in a bubble of bliss. It feels like a great cinematic meet-cute. One would think at last, her love has come along. But love doesn't come so easily for Isabelle, whose most frequently stated sentence is "I'm tired" ("je suis fatiguée"). Even with Sylvain, loose threads soon come undone, and Isabelle starts to question the relationship after a man asks her why the couple don't meet each other's friends (we all know getting to know your partner's social circle is an important step in a relationship). Those who are familiar with Claire Denis, who I would call one of our greatest living filmmakers, would be aware of her nihilistic streak.
Let the Sunshine In is a happy-go-lucky comedy compared to some of Denis' past works, especially the bleak cannibalistic affair that is Trouble Every Day (briefly referenced in a painting hanging on Vincent's wall), but this is not your typical rom-com, either—Denis would never go the typical route. Co-written by Denis and Incest novelist Christine Angot, Let the Sunshine In (titled Un Beau Soleil Intérieur in French) explores the psychology of Isabelle as she finds her way from one lover to the next, including an actor who says his "daily grind is a pain," her ex-husband François, with whom she shares a child, and a maybe-not-so-platonic friend, played by Claire Denis regular Alex Descas. At the end, there's a cameo from Gérard Depardieu as a medium who says that none of the lovers we saw on screen were the "one" for Isabelle. He expects someone "meatier, weightier, sturdier" will come along—is he proposing himself?
Isabelle's search for love lacks the satisfying ending of a typical romantic movie, but there's a sense of learning, and even a sense of optimism, however hokey Depardieu's medium feels (maybe this is the optimist in me speaking). Binoche, now 54, is also given the kind of arc typically reserved for much younger women. She is a mother, but she isn't defined by it; she's still a woman dating around, still searching for what she wants. This isn't an easy film to yell "yasss queen" at, even though there's a satisfying scene where Isabelle turns down the banker when he comes over unannounced exclaiming, "I felt like banging you."
Denis avoids "easy" and doesn't settle for "typical." What the film does beautifully, though, is fully adapt Isabelle's point of view, sometimes in shocking candidness (she tells a friend she can only finish with the banker if she tells herself "he's a bastard"). In many of the dating scenes, Binoche's face is shot in close-up, a canvas for micro-expressions that, when read closely, reveals a woman trying to keep it together as she reacts to the incredulity of the men in her life. Even when her love life starts to feel completely hopeless, Isabelle seems to hold out hope.
Will she ever get to sing "at last my love has come along," for real this time? It's uncertain as life itself, but it's certainly nice to think so.