When Randy Bryce knocks on a door or rings a bell, loud barks erupt. It seems like there is a dog at every house in this working-class neighborhood adjacent to downtown Racine, Wisconsin. The animals sound more ferocious than friendly, but Bryce's smile persists through the noise as he greets the strangers opening the doors like they are his best friends. This is his plan to defeat House Speaker Paul Ryan in next year's midterm election: door by door, individual vote by individual vote.
Racine County is a textbook example of income inequality. In the city bearing the county's name, the poverty rate is 21.9 according to the Census, up from 13.9 in 2000; abandoned storefronts downtown are not unusual. But the county also contains wealthy towns like Wind Point where the poverty rate is 3.1 percent and the median income is $96,016, more than double the city of Racine's $41,455.
When I'm watching Bryce knock on doors, it's a mild fall night by Wisconsin standards. Bryce, stocky with a black handlebar mustache, is sporting jeans and a blue shirt with sleeves rolled up to the elbow. It's an outfit for a candidate running as a regular guy, a workingman. Midway through most of his pitches, the dogs appear calmer. Most of the voters (all of whom were on a list of Democratic-friendly addresses) admit to not knowing him but politely accept the literature with excitement in their voices to learn that someone is taking on Ryan.
After a few doors, he discovers the first person who knows him—sort of. "My mom is an English professor and she called me and told me about you," the woman says. "You are the ironworker. I'm in the union too." She berates Donald Trump, Ryan, and the "Republicans destroying the country." They talk for 20 minutes as Bryce nods and peppers her disdain for Washington with invitations to join his effort to kick Paul Ryan out of the beltway.
If only he could clone her, it'd ensure that the Democrats' progressive populist fantasy in Wisconsin would come to life. When Bryce announced this summer he was challenging Ryan, he instantly became the Democratic Great White Working Class Hope. He's a union ironworker, the son of a cop, an Army vet, a cancer survivor. His mom has multiple sclerosis and featured prominently in Bryce's campaign announcement video, a slickly produced, emotional appeal that featured shots of southeastern Wisconsin farmland and Bryce in his trademark jeans and T-shirt. "Let's trade places, Paul Ryan—you can work the iron, and I'll go to DC," he says in it, as strings swell. That video went viral, making Bryce a darling of liberals from New York to California.
Republicans insist that if Ryan runs, the hype around Bryce won't be nearly enough to result in a win over Ryan, who on Thursday denied rumors he was thinking about retiring. "He has become a legitimate challenger but I don't think he will be able to pull it off," said Brian Martinez, chairman the Young Republican Club of Racine and Kenosha, two counties in the district. "The speaker has had way too many connections with the community. I know Democrats who are going to vote for Paul Ryan. Randy Bryce was a nobody up until that video came out and he just blew up literally."
That blowing up has come in the form of celebrity shoutouts (including Chelsea Handler and Cynthia Nixon), endorsements from the progressive Working Families Party and Bernie Sanders (who defeated Hillary Clinton in the district in the 2016 primary), and a haul of $1 million in campaign donations in the third quarter, more than double of what he raised in the second quarter.
"Well he can waste $1 million if he wants to," said Don Taylor, who served as chairman of the Waukesha County Republican Party for 30 years before stepping down four years ago. "I think Paul Ryan is safe."
Ryan has out-fundraised Bryce by a comfortable margin and has more than $10 million cash on hand; he won last year's election by 35 points. Bryce has never won elected office, though he's tried before. That's not to say he can't win, but even after talking to both sides and voters in the district, I still don't know whether Bryce fans are being seduced by a deceptive dream where they see everything through a blue tint. Is Bryce a miniature white working class version of Jesse Jackson in 1984—an uplifting but doomed campaign—or Barack Obama in 2008—the real deal?
The enthusiasm over his candidacy is undeniable, but to win, the growing disgust with Republicans and Washington must mature into the kind of fever and upset that sent Republicans into congressional power in 1994. That was only time in the 20th century that a House Speaker was defeated. Not only did Republicans take back the House, but Speaker Tom Foley, a Democrat from Washington State, fell victim to the throw-the-bums-out midterm mentality, becoming the first speaker to lose a seat since Pennsylvania's Galusha A. Grow's loss in 1862.
"There seems to be more momentum on the Democratic side this time around, than some of Ryan's earlier elections," Barry Burden, a professor of political science at the University of Wisconsin-Madison, told me. "Ryan has an albatross around his neck as part of an unpopular government in an unpopular party under an unpopular president, and any reasonable Democratic opponent is going to get some mileage out of that."
---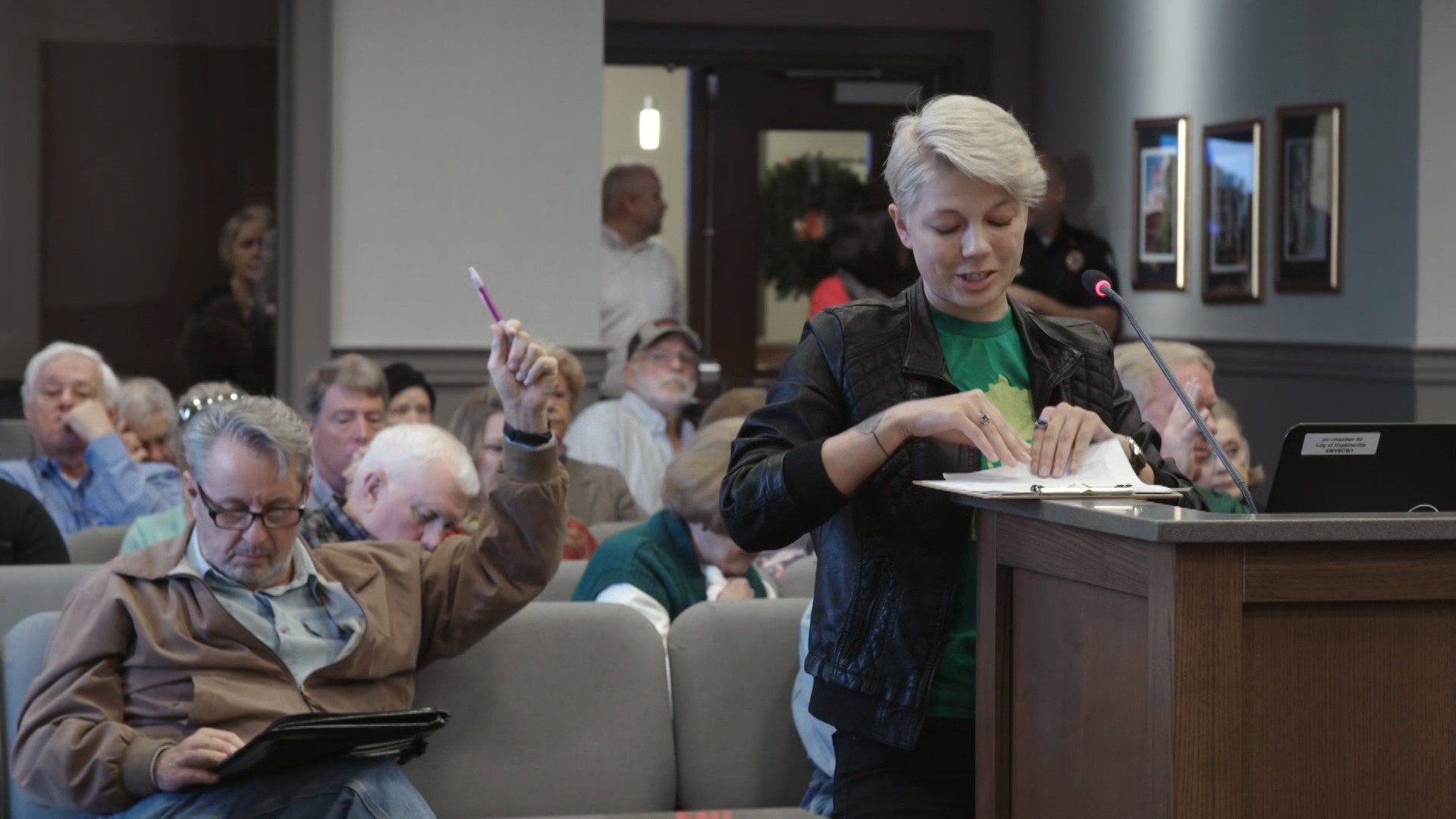 After several blocks of houses, Bryce reached the International Brotherhood of Electrical Workers union meeting, where he engaged a receptive crowd. It was not easy finding a Paul Ryan fan here. "I mean he's never here in the district," says Carl, 37, who has been in the union for ten years. "He is pretty much a corporate puppet."
Carl, who voted for Hillary Clinton in 2016, liked Bryce but worried that he doesn't have much of a chance against Ryan's machine. Though a Bryce-commissioned poll recently showed that the Democrat was only down 6 points to Ryan, there's reason to be skeptical: Trump won Wisconsin's First District by 10 points, and Ryan far outperformed him in a 35-point blowout.
Steve, 55, a union member who voted for Bernie Sanders in the primary and Trump in the general election, had a view that seems to be pretty common: He had not heard of Bryce until the event, but was excited to see someone taking on Ryan. "I'm pretty happy for anybody to challenge Ryan," he said. "I think he hurt the state, he hurt the workers. I have to get more information about Bryce."
Bryce was raised in 1970s South Milwaukee by his mother and his stepfather, a Ronald Reagan-loving Republican cop who has undergone a political transformation thanks to Randy's gradual urgings—Richard Bryce voted for Obama in 2008, his stepson's most successful political persuasion project.
Years ago, Bryce dreamed of following his stepfather in a career in law enforcement, and he enlisted in the Army after high school. After three years, he returned home and landed a job as an outreach specialist for an organization focused on homeless black veterans. "I saw how we were treated by somebody like Reagan, about how we went from heroes to being zeroes," he told me. "When I started working with homeless veterans, my eyes really opened up. When you look at society and you scratch that surface a little bit, you see what's hidden under the dirt. That's where my views started to develop.
"There was one man who was at a shelter, and we were introduced. And he told us he was what was called an atomic soldier—atomic warrior," he went on. "He was in the vicinity when they tested the atom bomb. And he pulled up the back of his shirt and it looked like somebody poured acid on him. We couldn't get him any help whatsoever, because this man had to prove that this happened specifically when they were testing the atom bomb. And we were unable to prove that."
Bryce began sharing those stories with his stepdad, who initially was not terribly moved. "My dad's views were based a lot on peer pressure from the people he worked with, because the police union had been traditionally conservative."
It wasn't until Bryce became active in union politics that his stepfather began taking his views more seriously. In the early 90s, Bryce became an ironworker through a family acquaintance and grew active in the union. By 2006, he was on its executive board, and the growing economic catastrophes of the Bush administration became his best weapon in bringing his father to the Democratic side.
"It was my understanding of the economy that helped turn my dad around," he says. "I kept hammering away at it that trickle-down economics doesn't work and he saw that it didn't."
Bryce has had a worse record when it comes to convincing voters who aren't his family. He has run for local offices three times in five years and has a record of 0–3. When I asked about his losses, he had ready-made excuses for why he was defeated in races for school board, state senate, and state assembly: "Well, the state assembly race was right after Scott Walker was elected governor, and the assembly minority leader, Peter Barca, was like, 'Randy, you should run for assembly.' And right away I said, 'Sure,' not even knowing what I'm getting myself into," he told me. "I also ran all races while working a full-time job as an ironworker, so it was basically part-time campaigning."
Bryce is a full-time candidate now with a staff of five. He is also getting advice from consultants such as Bill Hyers, the campaign manager for New York politicians Senator Kirsten Gillibrand and Mayor Bill de Blasio (Hyers oversaw the production of the campaign announcement video). That outside support—along with the money that's poured in from deep-blue parts of the country—could cause him some problems down the line.
"It's something both candidates have to tread on carefully," Burden, the professor, told me. "They need to raise money from outside just to be competitive. However they have to be seen as not ignoring the district if they are traveling the country raising money."
Bryce faces another hurdle by the name of Cathy Myers. She is a 55-year-old school board member from Janesville, Wisconsin, Paul Ryan's hometown. She's trailing Bryce both in terms of media attention and fundraising—she has raised less than $100,000 to his more than $1.4 million, according to OpenSecrets.org—but she insists she can appeal to voters in the same way he can.
"I'm a high school English teacher, buddy," she told me, laughing. "I'm not exactly living high on the hog. But it's a great soundbite that he's a working-class guy and he talks about how he wants Paul Ryan to come out and work the iron. I want Ryan to face a group of high school juniors. You know? What we all do is hard and we are middle class people and I think that I have the same sort of middle class average person credentials as he does."
To Myers, the rush to embrace Bryce and overlook her candidacy smells like the same Democratic "fix-is-in" affinity that many think propelled Clinton's victory over Sanders in the 2016 Democratic primary. Myers supported Clinton, but told me, "One of the problems that happened in the last election was that we didn't have a fair primary."
Bryce aides told me Myers is to their candidate what Paul Nehlen and Nick Polce (Republican primary challengers to the speaker) are to Ryan: rivals who simply aren't on his level. Bryce's strategy is to ignore Myers. When I asked about her, he would not even say her name, but kept repeating: "I'm focused on Paul Ryan. That is my opponent."
Bryce's new fame has come with people digging into his background and monitoring him closely, with the Milwaukee Journal-Sentinel running stories about him being delinquent on child support and tweeting a risque joke about Ivanka Trump and Canadian Prime Minister Justin Trudeau. Myers has criticized him for both those things. "He has a bad history with women," Myers said. "I think it's going to backfire."
The only moment I witnessed Bryce slightly lose his cool came when I asked him about Myers' comment. "That I have an issue with women? That's absolutely ridiculous. I mean I'm a working guy. And I had issues with bills, yes Now as far as getting behind in child support, I've had a great relationship with my ex-wife. I got a place that's like two blocks away from where the house was that we lived together when we were married, so that I could be close… I mean there have been times that I gave her money that didn't go through child support."
Bryce also cites his strong support for women in the union. It doesn't seem likely that Myers will win regardless of her tactics, but her attack is a preview of what a close midterm race against Ryan will look like—which is to say, it could get ugly.
---
Any candidate running such a long-shot race has to believe in miracles, and here's the story of why Bryce does:
In the 80s, when he was in his 20s, he started suffering from a pain so fierce that he couldn't even comfortably lay down or walk without severe aching. After weeks of suffering, he finally visited a doctor and the news wasn't good: He had testicular cancer.
He didn't have insurance—this was before he was in the union—so Bryce become a guinea pig at the Medical College of Wisconsin. "Doctors cut out the tumor and studied it, he told me. "They later did a lymph node dissection. They cut my stomach open and removed some lymph nodes to see if the cancer had spread that way. And luckily it hadn't."
The catch was doctors told him to forget about ever producing a kid.
Years later he and his ex wife conceived a son, Ben, who is now 11. He may not beat Ryan, but he's not going to listen to anyone who says he can't.
Correction: An earlier version of this article incorrectly that William Pennington was the last Speaker to lose a reelection bid.
David J. Dent, an author and associate professor at New York University, holds a joint appointment at the Arthur Carter Journalism Institute and in the Department of Social and Cultural Analysis. He is editor of the blog bushobamaamerica.com and the author of In Search of Black America.