In President Trump's first year as commander-in-chief, U.S. military activity intensified in nearly every theater of war he inherited, a VICE News review of publicly available information on military operations shows.
In fact, Trump, once a vocal non-interventionist, has been very busy on the war front. In Afghanistan, he recommitted to the 16-year war, arguing more troops were needed to bring the Taliban to the negotiating table. In Iraq and Syria, he made good on his campaign promise to "bomb the shit" out of ISIS, attacking the terror group's strongholds at record rates and driving them from Iraq. And Trump has expanded the battlefield in newer conflicts, giving the Pentagon more freedom and troops to fight al Qaeda and its offshoots.
Despite lambasting his predecessor's military strategy, Trump has broadly followed it, favoring a mix of airpower and small deployments — often of special operations forces — while working beside local forces. But Trump has been far more aggressive than President Obama. He's overseen a massive surge in airstrikes, rapidly increased military action in previously limited conflicts like Somalia and Yemen, and pushed to raise troop levels in Afghanistan, Iraq, and Syria.
"There's no doubt there's been an increase in airstrikes across the board," said Thomas Joscelyn, a senior fellow at the Foundation for Defense of Democracies, a nonpartisan think tank.
Trump's aggressiveness has come to define his first year at the helm of the military, and it rests largely on one significant change: On the advice of his generals, Trump stripped away Obama-era civilian oversight and regulatory efforts. As a result, commanders have been able to carry out operations with more speed and less bureaucracy, a combination that military officials say allows them to more effectively fight the war on terror but that human rights experts and counterterrorism analysts warn comes at a deadly price to civilians.
"The new administration has shown a distinct readiness and willingness to use force and a very bellicose approach to counterterrorism in different parts of the world," said Alex Moorehead, the director of Columbia University's Project on Counterterrorism, Armed Conflict and Human Rights. "A loosening of the rules on drone strikes, increased numbers of strikes, increased numbers of casualties, and increased secrecy give rise to very real concerns about Trump's policies."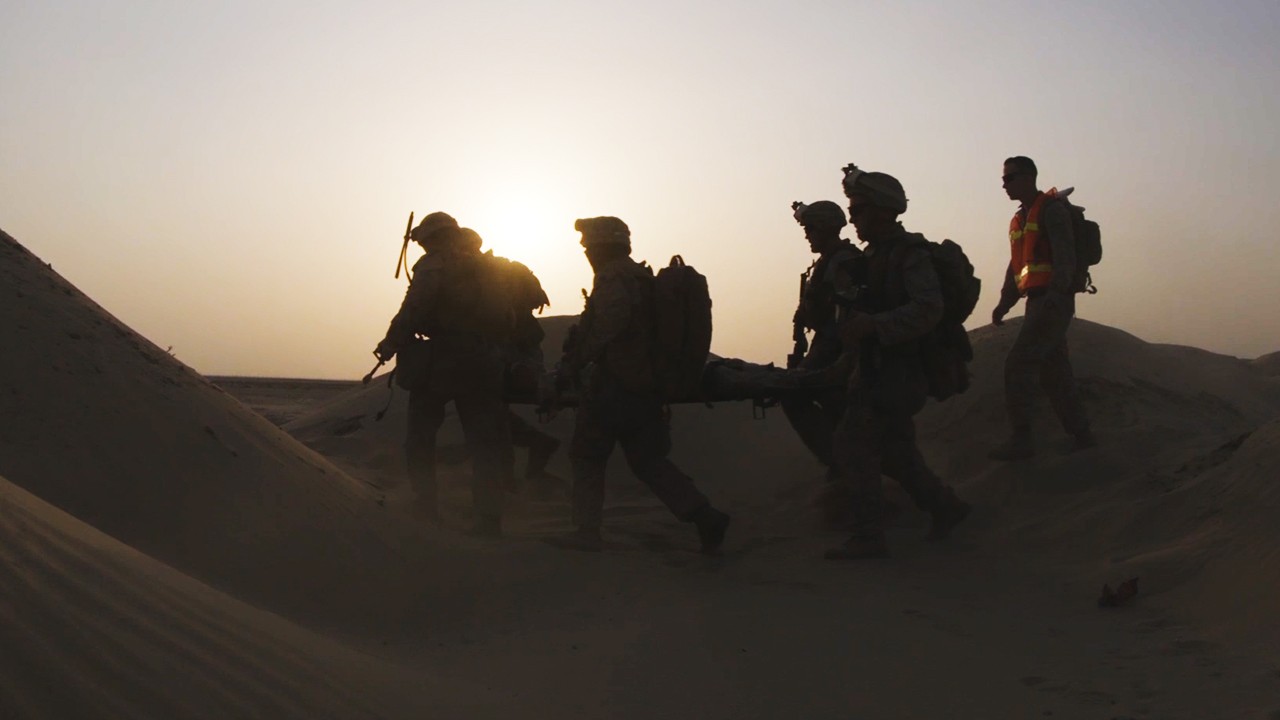 The White House directed all requests for comment to the Department of Defense. Military officials have said the shift to battlefield commanders is a net positive, and that the changes in authority have been overstated.
"Commanders carry out their operations in accordance with the Law of Armed Conflict and take great care to apply rigorous standards to their targeting processes to ensure they hit their targets and minimize the risk to civilians. Those standards are never loosened," Maj. Adrian Rankine-Galloway told VICE News.
It can be hard to gauge where the United States is actually at war. Congress has not formally declared war since 1942, and since 2001 U.S. presidents have relied on the Authorization for Use of Military Force, a wide-ranging bill passed right after 9/11 that allows them to expand the war on terror without congressional approval. As a result, the military has a presence pretty much everywhere, increasingly under the secretive banner of Special Operations Forces.
To get a better sense of the war on terror under Trump, VICE News examined U.S. military operations overseas using data from the Department of Defense, news reports, and independent monitors. We focused on five countries — Afghanistan, Iraq, Syria, Somalia, and Yemen — where the U.S. is engaging in what experts call "active kinetic operations," or in the simplest terms, where the U.S. is actively fighting. Across these conflicts, we found increases in bombs, troops on the ground, and both servicemember and civilian casualties.
What follows is by no means a comprehensive list of all military actions the U.S. took in 2017; many operations are "advise and assist" missions while others are secret altogether. But it's a broad overview of where the U.S. is waging the war on terror and how those conflicts have escalated since Trump took office.
Fighting back his "original instinct" to "pull out" of Afghanistan, Trump ultimately fell in line with his predecessors and the D.C. foreign policy establishment. In August, he outlined his plan for the war-torn country, recommitting the U.S presence there and adding 3,000 new troops — bringing the official total to roughly 14,000 — with the goal of strengthening the Afghan government's positions enough to bring the Taliban back to the negotiating table.
Airstrikes on Afghanistan also took on a new level of intensity, and the sharp rise revealed a more aggressive approach. Trump lifted restrictions on potential targets, and the U.S. military is now striking some of the Taliban's core sources of revenue, such as poppy farmers and drug traffickers.
Under President George W. Bush, the goal was to kick out the Taliban, remove any safe havens for al Qaeda, and reinstate a legitimate Afghan government. Today, U.S. goals are far more modest, but the challenges are greater than before and experts aren't convinced the renewed effort will lead to a successful U.S. exit anytime soon.
With the ISIS caliphate near collapse, the U.S. ramped up its airstrikes in Iraq and Syria, under the umbrella of its coalition-led effort, known officially as Operation Inherent Resolve. In 2016, Obama gave the military the green light to accelerate its campaign on ISIS "on all fronts," and under Trump the campaigns took on new speed and ferocity. In August, U.S. jets dropped more munitions on the two countries than in any other month in the last three years of fighting, according to Air Force Central Command.
The surge proved successful, though at a tremendous cost for hundreds of thousands of civilians. The American-led coalition and Iraqi forces drove ISIS from Iraq by December, a major victory after three years of brutal war, and made major territorial gains against the terror group in Syria.
But victory doesn't mean a trip home for U.S. troops. The military was keeping 8,892 troops in Iraq as of Sept. 30 — the highest number in at least five years. Few of them are likely to leave even after ISIS withdraws since they're needed to make sure the terrorist group doesn't make a resurgence and to prevent the return of latent sectarian violence.
Deployments in Syria tell a similar story. U.S. troop counts sextupled on Trump's watch, largely in support of the U.S. coalition-led offensives against ISIS in areas like Raqqa and Deir-e-Ezzor.
And the Defense Department hasn't been totally transparent about how many forces the U.S. actually has on the ground in Syria. On Dec. 6, the Pentagon admitted that thousands more troops had rotated through both Syria and Iraq than previously acknowledged, far surpassing authorized quotas.
Few battlefields have seen as stark an escalation under Trump as Somalia, where the U.S. has focused primarily on striking al Qaeda offshoot al-Shabaab, and more recently ISIS. The Bureau of Investigative Journalism, an independent monitor that tracks U.S. airstrikes, reports a minimum of 33 strikes on Somalia since Trump's inauguration, a surge the bureau's Jack Serle described as unprecedented and somewhat inexplicable.
"Why they're doing it now remains a mystery," he told VICE News in November.
Samantha Reho, a spokeswoman for U.S. Africa Command, which oversees operations in Somalia, declined to provide details on the rise in airstrikes. "What I can tell you is that we have repeatedly stated that the U.S. will take all appropriate and effective measures to protect the United States, its partners and interests, and deny safe haven to terrorist groups," she said.
Troop count has also spiked in Somalia, where it more than doubled year over year to 289 as of Sept. 30, according to the Defense Manpower Data Center. That number is on the conservative end — officials from Africa Command acknowledged in November the latest number is closer to 500. The deployment of these troops means the U.S. is nearing the sort of presence not seen in Somalia since the "Black Hawk Down" disaster of 1993.
Retired Brig. Gen. Donald Bolduc, commander of Special Operations Command Africa from 2015 until June, said in November that the U.S. troop footprint grew as the military deployed small teams to partner with Somali forces.
The increased U.S. presence has already come at a cost, most notably in reports of botched missions, American forces implicated in civilian deaths, and airstrikes that forced Somalis to flee their homes.
In Yemen, a country deep in the throes of civil war and an unfolding humanitarian disaster, U.S. strikes have surged, focusing primarily on al Qaeda in the Arab Peninsula (AQAP) and an ISIS offshoot U.S. Central Command says doubled in size in 2017. Both groups have used the impoverished country's chaos to their benefit, growing and recruiting in recent years.
The threat of AQAP was a concern under Obama and led to 37 U.S. airstrikes on Yemen in 2016. But the terror group has been downright hammered under Trump, who launched at least 125 airstrikes against AQAP and ISIS-affiliated militants last year, according to BIJ.
That's because the terrorist group is one of the most capable of conducting attacks on America, according to Central Command. "The pace of strikes is a function of our increased understanding of AQAP and ISIS-Y networks and operations," said Col. John Thomas, a CENTCOM spokesman.
Despite the U.S. tripling the number of strikes on AQAP and ISIS militants in 2017, the top U.S. counterterrorism expert recently told the New York Times that the terror group's ability to attack the U.S. and its interests remains intact.
None of these increases cover special operations forces, which are key to U.S. counterterror efforts all over the world but whose impact is often hidden. Officially, there are very few U.S. troops in Yemen, for example — just 14 as of September — but we know at least some special forces are aiding anti-terror efforts there.
Much like his predecessor, Trump has embraced U.S. special operations forces, setting a record for use of the elite troops in 2017. This shadow war of secretive missions plays out across as many as 149 countries and is growing especially in Africa, where special forces are engaging in nearly 100 operations at any given time. In Libya, where Obama once controversially claimed U.S. military intervention didn't require congressional approval, special operators have been repeatedly spotted on the ground, though in what capacity the Pentagon won't say.
In Pakistan, too, the CIA is expanding its drone strikes against al Qaeda and the Taliban, launching eight strikes against terrorist targets in 2017, according to the Foundation for Defense of Democracies' Long War Journal.
Special operations forces are known for their high success rate and light footprint, but members of the military community, including Gen. Tony Thomas, the current commander of Special Operations Command, worry the reliance on them has become "unsustainable."
During his eight years in office, Obama leaned heavily on U.S. airpower, overseeing more drone strikes in his first year as commander-in-chief than Bush did over his entire presidency. Amid heavy criticism over the wars in Iraq and Afghanistan, airstrikes allowed for a more agile, often cheaper, and less clearly controversial option than deploying U.S. troops — a strategy Trump appears to have embraced and expanded.
Yet such an increase in airpower has its risks, said Ali Soufan, a former FBI agent focusing on counterterrorism. "You cannot win hearts and minds if you're bombing the heck out of these civilians," he said.
And one thing's clear from 2017: Trump's iteration of the war on terror has come at a heavy cost for civilians.
"There's a real concern about increased civilian casualties in places like Yemen and Somalia as well as in conventional conflicts like Iraq and Syria and Afghanistan," said Moorehead, the Columbia University counterterror expert.
Maj. Josh Jacques, another spokesman for Central Command, said the military remains committed to avoiding civilian casualties. "We take allegations seriously, and we consider new information when it becomes available to ensure a thorough and continuous review process," he said.
Accurately tracking civilian deaths across these conflicts poses a difficult task for the military, but in Iraq, Syria, and Afghanistan, the numbers are clearly trending upward, and critics worry the Pentagon isn't doing enough to investigate them. At the same time, the gap between civilian casualties the Department of Defense acknowledges and what independent monitors are reporting has grown wider, according to Chris Woods, the director of Airwars, an independent monitoring group.
A New York Times investigation published in November found that 1 in 5 coalition airstrikes in Iraq between April 2016 and June 2017 resulted in a civilian death, a rate 31 times higher than the Pentagon had disclosed.
In Afghanistan, the U.N. reported a surge in civilian casualties attributable to U.S. and Afghan airstrikes through September, rising by more than 50 percent over the previous year.
In places like Yemen and Somalia, we have a more limited picture of civilian casualties caused by U.S. airstrikes, not to mention those killed in the even more secretive operations in countries like Niger and the Philippines. The Pentagon does not release airpower summaries for these countries to the same degree of detail that it does for operations like those in Afghanistan, Iraq, and Syria.
As Trump heads into his second year as commander-in-chief, experts worry that the Pentagon's expanded freedom coupled with more aggressive air campaigns could exacerbate the mistakes of his predecessors, creating not just more victims but more enemies, too.
"When we are only engaged in trying to suppress these organizations, it creates a bigger and bigger group of people that are willing to look the other way, instead of working with and trying to help root out these kinds of groups," said Karl Rethemeyer, a leading terrorism expert. "What our long-term studies have suggested is that in many cases you end up just encouraging them to engage in more violence over time."