Image via Twitter/@JoelEmbiid
Less than a week before the 2014 NBA Draft, Joel Embiid underwent surgery on his broken foot, causing him to fall to the Sixers at #3 and miss the next two seasons entirely. "When I had the surgery, I couldn't do anything," he told Billboard a few months after the draft. "I was just laying in bed all day. I figured, Twitter was my activity."
He may not have stepped onto the Wells Fargo Center court until 2016, but he immediately took the NBA by storm on social media, inventing trade rumors and predicting an MVP win within two years. His Hakeem Olajuwon-inspired play would later win over the entire city of Philadelphia, but his Twitter antics first put him on the map for basketball fans everywhere, the majority of which hadn't seen him play yet.
Never one to preach subtlety, the Cameroon-native and former University of Kansas product took to social media to attempt to score a date with a couple celebrities. His sights were first set on Kim Karadashian, but a fan quickly notified him that she was in fact married to alleged "voice of his generation" Kanye West. After six days of deliberation, Embiid announced to the Twitterverse that he was "moving on from kk to Rihanna," setting off a three-plus year back-and-forth ( largely without the forth) between the popstar and the Sixers center.
Rihanna, no stranger to the NBA, followed Embiid on Twitter almost immediately after he very publicly asked her out on a date to Giorgio's in Los Angeles, though the photoshopped pictures of her wearing his jersey were just the beginning. Only a day after the initial tweet, Embiid began including their celebrity couple name #Johanna at the end of most of his posts.
Apparently, after a full month of this, Embiid let the world know (presumably) Rihanna's response: "This is the truth… I was trying to get with this famous girl and she said "Come back when you're a All Star" bruhh."
Fast-forwarding three and a half years and hundreds, if not thousands, of pitchers of Shirley Temples to today, Embiid is not only one of the league's most popular players, but also one of its most dominant. Averaging 23.7 points (14th in the NBA), 10.9 rebounds (7th) and 2.0 blocks (7th) per game, his freakish athleticism and highlight reel dunks have become one of the best stories over the last couple of years. While he was denied an invitation to the All Star Game last year despite winning the popular vote, he is a near lock for this year.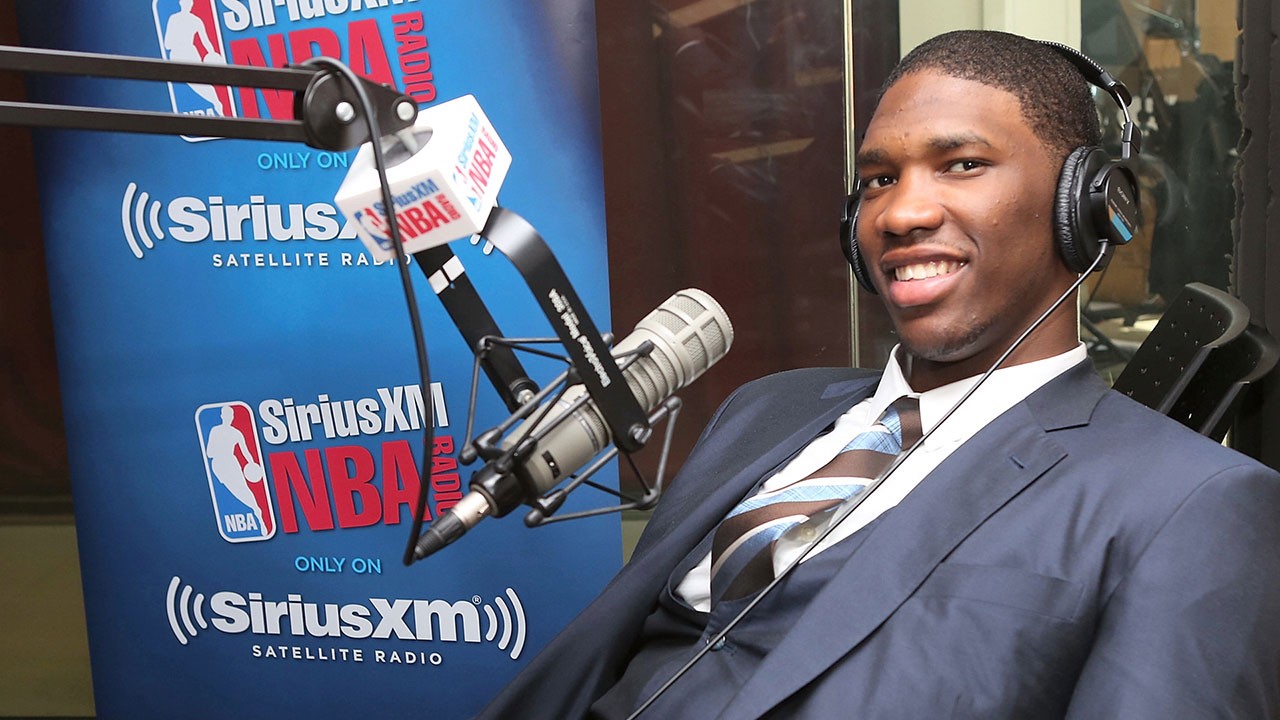 So assuming that it was in fact Rihanna who promised him a date if he became an All Star, we decided to comb through every tweet, Instagram post, and interview with Embiid to present the definitive timeline of the couple's (fake?) relationship, starting from his Kim Kardashian rejection all the way through his ESPN interview with former Destiny's Child member and Rihanna bestie Kelly Rowland on NBA Draft Lottery Day in 2017. It's been a long road to Johanna's Giorgio's dinner date, but he's never been closer to making it happen.
The First Rejection (July 14 – July 22, 2014)
BREAKING NEWS: I'm moving on (July 22, 2014)
A New Hope (July 22, 2014)
"First Date" (July 22, 2014)
Photoshop? (July 23, 2014)
I Don't Know What to Believe Anymore (July 23, 2014)
#Johanna (July 23 – July 25, 2014)
Rihanna Follows Embiid Back (July 25, 2014)
Another Woman? (July 28, 2014)
#Johanna Returns (July 28 – August 3, 2014)
In Your Dreams (August 4, 2014)
What Are We? (August 4, 2014)
Yes ___ No ___ Maybe ___ All Star _✓ _ (August 17, 2014)
2k Couple (August 26, 2014)
"Second Date" (December 3, 2014)
Happy Birthday! (February 20, 2015)
Sparks Are Flying! (May 3, 2015)
Trust the Process (June 21, 2016)
They Actually Met! (October 18, 2016)
Coming Back When He's an All Star (December 28, 2016 – January 13, 2017)
It's Not Rihanna?! (January 13, 2017)
Lost the Popular Vote (January 26, 2017)
Hit Me Up! (March 13, 2017)
If You Wanna Be My Lover, You Gotta Get With My Friends (May 16, 2017)
The 2018 NBA All Star Game ballot is now live. If you want to help Joel Embiid finally get his date with Rihanna, trust the process and tweet "Joel Embiid #NBAVote."