Welcome to The Outlet Pass, a weekly roundup of observations, questions, and predictions from Michael Pina's NBA notebook.
1. Why is Boston's Offense Suddenly so Bad
Over the past three years, the Boston Celtics ended each regular season with the third, fifth, and second highest assist percentage in the NBA, respectively. Ball movement was their soul, and—arguably even more so than a well-connected defense—best reflected how Brad Stevens wanted his teams to operate.
Now 51 games into his fifth season as head coach, Stevens's Celtics rank 14th in assist percentage, and a disturbing 22nd since New Year's Day. Boston owns the NBA's fourth-worst offense over its last 15 games, with only two teams finishing inside the three-point line on a higher percentage of unassisted baskets.
How they got here, and it that relates to a path towards less selfish tendencies, is a slight Catch-22. Like most teams, the Celtics are less efficient whenever their most gifted player is on the sideline—according to Cleaning the Glass, Boston's offensive rating is 13.7 points per 100 possessions better with Kyrie Irving than without, which ranks in the 99th percentile (!) compared to every other point guard who qualifies.
But one consistent trend has been how Irving's presence affects their assist rate, which is never higher than when Irving is on the bench. This is not a criticism. It's also not a coincidence. During his magical run to a fifth-place finish on the MVP ballot last year, only 9.1 percent of Isaiah Thomas's possessions were isolations, according to Synergy Sports. Irving is nearly at 16 percent right now. The Celtics will sometimes feed their All-Star starter just above the elbow, then move fatalistically, deep down knowing how the play is meant to unfold.
Additionally, 64.2 percent of Irving's field goals are unassisted, while Thomas was only at 56.5 percent. It's not just Irving, though. Last year, eight Celtics had at least 60 percent of their two-point baskets come by way of an assist (not including Al Horford and Gerald Green, who were at 59 percent). This year only Aron Baynes, Semi Ojeleye, and Daniel Theis are above that mark.
Stagnancy affects everything, from where the offense fires away (a higher percentage of Boston's field goal attempts are from the mid-range this season) to how frequently it allows them to get quality shots/draw fouls around the rim. The Celtics are playing slower, sliding away from the analytics-friendly shot chart they spent the last few years warming up to. (They ranked sixth in the percentage of their shots that were layups last season. Right now, they're down to 23rd.)
The easy explanation for all this change is a shift in personnel—Kelly Olynyk is way, way, way better suited for how Stevens wants to play than Marcus Morris—and just, like, the fact that they're super young and stretching a ton of inexperienced players in roles they otherwise wouldn't have on a top-ranked team. In 2018, only Theis, Horford, and Irving are shooting above 39 percent from behind the three-point line.
Rozier and Jaylen Brown were each 13-for-46 heading into Monday night's game against the Denver Nuggets, while Morris, Tatum, and Smart were a combined 30 percent. When your entire team is stuck in a slump, not only will your offense understandably suffer, but the floor will cramp against defenses that can just switch and help without fear of getting torched from deep.
Compounding the issue is a roster that, outside Irving, only enlists two perimeter-oriented shot creators, in Rozier and Smart. But that duo is noticeably less stoic than last year, thrilled with the first decent shot they see and content with doing a favor for the opposition, especially if their man goes under a screen or gives them the type of space that suggests a pull-up three is exactly what they want to see.
Some of it might be due to an understandable lack of trust, being that so many Celtics logged zero minutes beside one another (or any other NBA players, for that matter) before this season began. Even Horford, someone whose general demeanor suggests he's never burned the roof of his mouth on a hot slice of pizza, has rushed some shots this year (his odd pull up in transition from just above the free-throw line at Oracle on Saturday night is in some ways a perfect encapsulation of Boston's problems).
But Smart has proven his worth as an intelligent pick-and-roll playmaker, while Rozier is dynamic enough to slither through the first layer of any defense to open up opportunities for teammates elsewhere on the floor.
The patience seen above is exactly what Boston needs more of when Irving isn't in the game. Shane Larkin passes up a decent look early in the possession, relocates to the opposite wing, then nails a three.
In the six-pass sequence below, the ball swings from side to side. Just about everybody on the floor drives and cuts with force and makes Denver guard multiple actions before Theis steps out to knock down the open three.
Tatum will be instant offense in due time—picture him with a post game!—but as a 19-year-old rookie he isn't ready to commandeer a second-unit by himself. Lately he's drifted into these predictable, archaic one-on-one confrontations that don't suit what his current role should be. Expanding his game is nice, and encouraging him to attack mismatches is great, but too often he does so without rushing the rim and forcing help.
Irving is an illusionist who can basically take whatever shot he wants and have it be graded on a scale from "that probably should've triggered the sprinkler system" to "please pass me a bible." His three-point rate has never been higher and Boston boasts a top-five effective field goal percentage when he's on the floor.
But just because Batman exists doesn't mean every police officer in Gotham can retire. The Celtics should still make more of an effort to run their motion-based offense, use pick-and-rolls to set up other pick-and-rolls, attack closeouts, and get back to the inside-out tactics they had a decent amount of success with last season.
Their offensive woes aren't a debilitating concern because so much of them go back to poor shotmaking in a small sample size. Their three-point percentage will regress (Boston remains one of the 10 most accurate shooting teams from deep in the league, and they made 17 threes in their most recent game) and things will naturally open up once Gordon Hayward returns next season, solidifying at least one All-Star on the floor at all-times.
In the meantime, it wouldn't hurt for them to get everyone involved a bit more than they currently are. It's easier said than done, but ultimately necessary if they want to get back to the conference finals.
2. Dejounte Murray Hitting the Offensive Glass
Dejounte Murray's stock will never be lower than it is today. He's shooting 44 percent from the floor and rarely acknowledges the basket's existence when dribbling behind the three-point line; the San Antonio Spurs struggle to generate quality looks when he's on the floor and they really struggle to score at the rim.
My response to that: Buy all the Murray stock you can afford, then sell your X-Box and buy some more.
It may take some time for the 21-year-old to develop a reliable outside shot, but he has intangible qualities—mostly connected to his wingspan and defensive anticipation (among all players who average at least 15 minutes and have appeared in at least 10 games, nobody has a lower defensive rating this season—that rationalize Gregg Popovich's decision to bump him into the starting lineup.
Beyond the defense, my favorite rationale for being so optimistic is how he mitigates spacing concerns with relentless pressure on the offensive glass. The Spurs are known for retreating back on defense whenever a shot goes up, but their sophomore floor general is so atypically successful that Popovich has given him a permanent green light to wreak havoc inside and prevent his man (usually an opposing point guard) from leaking out.
When he's off the floor, San Antonio's offensive rebound rate is eighth lowest in the league. When he's on, the only teams that grab a higher percentage of their own missed shots are the Denver Nuggets, Oklahoma City Thunder, and Los Angeles Clippers.
Murray somehow tiptoes unnoticed into the paint while a shot is airborne before he pops up with the two broomsticks that sprout from his shoulders to, often with one hand, tip it back in.
It's an advantage that isn't Spursian, per se, but this organization is smart enough to harness what they have. Until Murray can impact the game in other ways, this is how he'll expend his energy. Good luck dealing with it.
3. Joe Ingles Won't Make the All-Defensive Team But He's Damn Good At What He Does
Most metrics frown at Joe Ingles's defense this season. He ranks 169th in defensive real plus-minus (Milos Teodosic, maybe the worst defender in the NBA, ranks 168th), opposing shooters are more accurate when he's guarding them, and his defensive point differential is worst on the Jazz. But Ingles isn't a bad defender, and there's one stat that reflects his impact when you watch him play.
When he's on the floor, Utah's defense allows 22.2 percent of their opponent's shots to be above-the-break threes, a number which climbs 2.9 percent when Ingles rests—a difference that, according to Cleaning the Glass, ranks in the 90th percentile. It's in this specific area that Ingles emerged as a seven-game-long fever dream for J.J. Redick during last year's first-round matchup against the Los Angeles Clippers.
Ingles is sticky. He doesn't cut corners and understands hard work before the catch makes whatever happens afterward that much easier. Look at the energy he doles out against Wayne Ellington, one of the league's most prolific three-point threats, before coming away with the steal.
In the play below, Ingles is completely unfazed by whatever Hassan Whiteside's doing, then gets the left hand up for fantastic contest.
He's a master at drawing cheap fouls on big men who're desperate to separate him from wings that sprint over for a dribble hand-off, and cleanly disengaging him from his man with a ball screen isn't easy. Ingles simply never tires at doing all the most thankless defensive tasks others either feel they're above or too exhausting to execute on multiple possessions in a row.
He won't make the All-Defensive team because he doesn't block shots, protect the rim, or have the ability to shut down the other team's top scoring threat for lengthy stretches at a time, but there needs to be some sort of trophy (maybe a bronze mosquito?) to award Ingles for laboring through games as consistently as he does.
4. Tyrone Wallace is a Right-Handed Southpaw
The Los Angeles Clippers played 18 different starting lineups last year, and in 2015 they only trotted out nine. We're still not yet at the All-Star break, but even before they completed the second-biggest trade in franchise history on Monday night, the Clippers already have 23 different starting fives this season. Their shot at making the playoffs should be over. Instead, L.A. is above .500 and only a half a game back of the eight seed.
Injuries to key players have helped create organic opportunities for rookies on two-way contracts and minimum deals. It's always wonderful to get completely anonymous contribution from an unlikely source—a band-aid that magically has the same healing effect as minor surgery—but Tyrone Wallace, the last pick in last year's draft who replaced Jamil Wilson earlier this month after his 45-day deal nearly expired, may be something more.
In the first dozen appearances of his career, Wallace has only played fewer than 30 minutes once; it took him three games (including a 22-point outing against the Golden State Warriors) to replace Jawun Evans in the starting lineup. Wallace's per game stats are solid, but even more impressive is how relaxed he looks with the ball in his hands (not the greatest surprise considering the 23-year-old had the third highest usage rate in the G-League before L.A. signed him).
Wallace is long enough to stick with Andrew Wiggins on an island and quick enough to trail Kyrie Irving around multiple screens without getting lost. He pursues/stays in front of the ball in a way that conveniently contrasts Teodosic and Lou Williams—again, maybe the two worst defenders in the NBA.
But aside from welcomed defensive versatility, Wallace is actually quite bold for a rookie. He's aggressive and steady at the same time, and, as a smooth southpaw, almost prefers to finish with his right hand, be it in traffic or off balance, whenever he can. Not many guards can overpower Jrue Holiday like this.
And then what's quickly become his signature play, Wallace has enough confidence to attack in transition until the defense forces him to back down. He's fearless and self-aware, with a firm grasp of his own limitations.
Doc Rivers clearly trusts the rookie; the Clippers have a top-10 defense with Wallace on the floor and rank in the bottom five when he's out. A lineup that we'll never see again, featuring him, Williams, Blake Griffin, DeAndre Jordan, and Wesley Johnson is savaging opponents by 32.3 points per 100 possessions (in an obviously small sample size), according to Cleaning the Glass.
Wallace is still learning how to defend off the ball. He overhelps in the paint and doesn't always realize it's his job to sprint out on a nearby shooter until it's too late. We'll see how his minutes are affected with Avery Bradley in the mix and after Austin Rivers gets healthy. But so far Wallace is the overlooked help the Clippers simply haven't been able to find. Even if he can't shoot threes, it'd be nice if he stuck around awhile.
5. Joe Harris is Not One-Dimensional
Several teams around the league could use Joe Harris (including *ahem* the Cavaliers). He's as consistent when left "wide open" behind the arc as they come, knocking down 48.7 percent of those tries.
Harris is also the fifth-most accurate shooter in the NBA on pull-up threes (minimum 30 attempts), and when he lets one go above-the-break the odds it drops are about nine percent above the league average. But even in a period that hoards spacers like bitcoin (apologies if this doesn't make sense; I don't understand bitcoin), there's only so much value in a one-trick pony, even if said trick is knocking down threes.
Shooters who can't/won't put it on the deck when a defender closes out hard can be easily neutralized. Harris is not in that club. Hiding relatively slow bigs on him isn't an option. He isn't afraid to catch a swing pass then attack the gap without hesitation.
His accuracy at the rim is up 12 points from last season, currently at an impressive 66 percent. And among all players who've driven the ball at least 150 times, Harris's field goal percentage is second to none. (LeBron James is the runner up on nearly four times as many shots). As we approach the trade deadline, the Nets may want to dangle his cheap, expiring contract for a late-first, early-second round pick—good luck!—or, more realistically, attach it to larger salary they could want to shed (i.e. DeMarre Carroll or Allen Crabbe).
If not, holding onto Harris and re-signing him to a long-term, below-market contract would be ideal. His skill-set complements Brooklyn's young core and can fit into just about any system. Elite three-point shooting will never go out of style, but Harris has quietly stretched his impact outside all his reputation suggests he can do.
6. How Else Can Oklahoma City Use Paul George?
Paul George was not voted onto the All-Star team—DeMarcus Cousins's ruptured Achilles paved his way—while a player Oklahoma City traded to acquire Paul George did make the All-Star game. Positional labels and annoying conference affiliations make it silly to say "Victor Oladipo is better than Paul George" off this fact alone, but the optics aren't great.
Despite having to adjust on the fly to a devitalizing dynamic he hasn't experienced since becoming a top 20 player, George is having a fantastic season that still wasn't good enough (sans Kawhi Leonard and with Jimmy Butler mysteriously labeled as a guard) to make the All-Star game.
---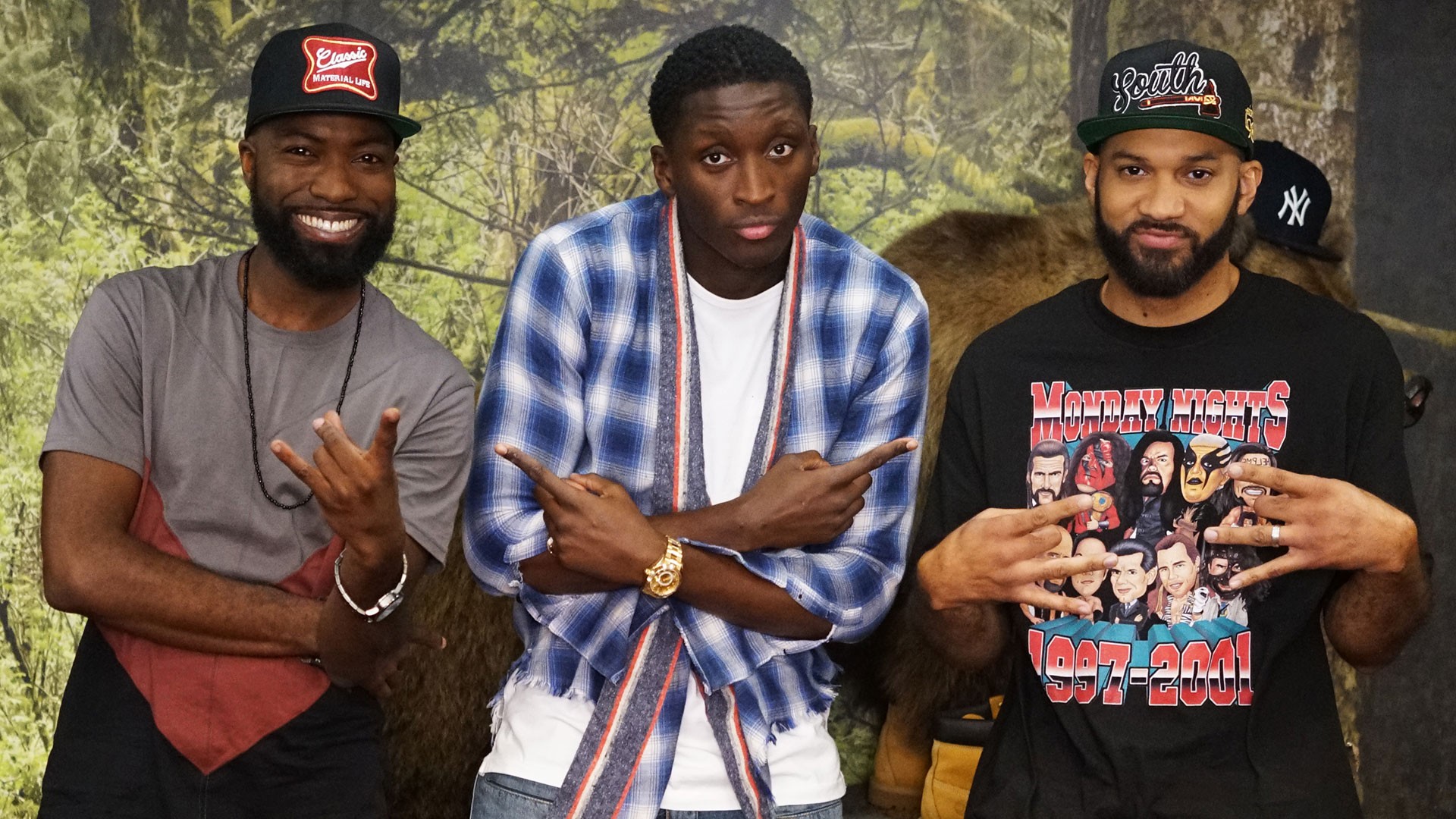 ---
Sadly, yet naturally, this leads us to wonder what else can be done. Why—apart from having the role he's most familiar with have to endure Hurricane Westbrook—was George not good enough to qualify for an exhibition his talent level suggests he should make every season?
This question is a tad irrelevant because Paul George is still fundamentally having a very Paul George (i.e. awesome) season, and over the last month or so appears to be settling in as the genuine franchise-altering star he is. George's Defensive Player of the Year candidacy is real. He's led the league in deflections all season and ranks in the 91st percentile as an isolation defender, per Synergy Sports, on a dominant unit.
He's the NBA's third-most accurate three-point shooter when left "wide open" this season, drilling an absurd 49.7 percent of 143 tries (by comparison, Steph Curry is at 49 percent on 147 attempts). It's random, but George has also been one of the best rebounders off his own team's missed free throws, per Cleaning the Glass.
After uncharacteristic early-season struggles from the mid-range, George has recently taken hold of one area on the floor he's long felt extremely comfortable, shooting an elite 45 percent over his last 20 games.
But beyond how he's shooting the ball, it's still worth looking at how he's being utilized on the whole. There's no denying how superb George has been as Westbrook's wingman—the Thunder outscore opponents by 8.2 points per 100 possessions when both are on the court—but this team is by far the worst in the league when he's on the floor without the reigning MVP by his side (for what it's worth, OKC's net rating when Westbrook doesn't have George next to him is +1.8 points per 100 possessions).
George is terrific moving away from the action, curling around Steven Adams to shoot off the catch, or firing one up off a flare screen set by Carmelo Anthony. But it'd be nice to see him used at the four more often than he has been (which is never).
Andre Roberson's season-ending injury decreases the chance of this happening anytime soon, but think about how difficult stopping OKC's offense would be if they had a smaller lineup (Ray Felton, Westbrook, Alex Abrines, George, and Patterson?) that let Westbrook manipulate defenders off the ball. Picture him setting a wide pin-down for George before he either fades into the corner or dives towards the rim. It'd make the defense feel like they were transported into a Busta Rhymes music video—something which actually happened on Sunday evening against the Philadelphia 76ers. (Ben Simmons has no idea where he his.)
Or how about having George set more ball screens? He's had some success this year slipping into space, but why not leverage his gravity on pick-and-pops to provide Westbrook with the split second he doesn't even need to enter the paint? If the defenders switch, there's a good chance either George or Russ will have a one-on-one advantage. If George's man has to corral Westbrook, he can toss it back for either an open three, or be presented with an opportunity for the pair to run an inverted pick-and-roll wherein Westbrook sets the screen.
(Assuming Steph Curry starts off guarding Westbrook in a potential playoff series, forcing the two-time MVP to defend pick-and-rolls as the screener's man is ideal. George is not LeBron James, but it still wouldn't hurt for the Thunder to practice that action in game situations more and more.)
George has been very good and his free agency should still be considered a humongous story. If they want to re-sign him this summer, Oklahoma City may need to find even more ways to take advantage of all George has to offer.
7. Washington's Center Position is Worse Than Thought
The Wizards were in trouble before John Wall's knee operation cratered their morale. Their defense ranks 24th in January, and last week I wrote about the submerged pile of refuse that is Ian Mahinmi's contract, and how the man attached to it is hemorrhaging more and more playing time as Washington's desire to go small—particularly when they trail—officially takes hold.
But Mahinmi isn't the only center in Washington who's seen his minutes dwindle in favor of a more modernized look. Marcin Gortat, who turns 34 in a couple weeks, is quietly struggling to provide the rock solid production this team has long squeezed out of him. After averaging about 30 minutes in Washington's first 20 games, Gortat is under 25 minutes in its last 15 (and about 20 over the past five).
When Kelly Oubre replaces Gortat in the starting lineup, Washington averages 118.7 points per 100 possessions, aka they are better than the Golden State Warriors. Bradley Beal, Wall (get well soon!), Otto Porter, and Oubre each excel at either making good things happen in transition, creating space in the half court, running a side pick-and-roll, drawing help or forcing the defense to rotate without any margin for error. As individuals, they have distinct strengths and weaknesses but function in harmony more often than not whenever they share the floor. The bad news is basketball games are played 5-on-5 and not 4-on-4.
As was the case last season as well, things really break down on the defensive end when Markieff Morris is their center. He isn't a great rebounder for his size, and doesn't appear to enjoy jumping or running or bending over for loose balls very much. All the good his steady jumper provides is negatively outweighed by sluggish movement on both ends.
In a recent game against the Detroit Pistons, Andre Drummond had a field day on the offensive glass when the Wizards opted to downsize. And then last Thursday night they were eviscerated down the stretch by Westbrook, whose ears bled everytime Steven Adams would set a screen that forced Morris up high to defend him.
As expected, opponents dine out at the rim when Morris is Washington's final line of defense; unless Gortat suddenly plays like it's 2015, an in-house solution may not exist. Jason Smith is untenable in anything but garbage time and Mike Scott is 6'8". From there we circle back to the trade deadline and whether they can acquire anyone of interest. DeAndre Jordan and Derrick Favors are obvious candidates, but Washington should have no motivation to move anything of value for an expiring contract who isn't good enough to put them over the top.
In a move that's pseudo forward-thinking but would put their luxury tax bill on a escalator to nowhere and feels unrealistic for a variety of reasons, they could package Gortat and Oubre—maybe alongside a protected future first-round pick—for DeMarcus Cousins's Bird Rights, with the intention of re-signing the injured All-Star center this summer.
New Orleans does this because they want to make the playoffs and are presented with a way to avoid committing tons of money to a health-related question mark while convincing Anthony Davis to stick around remains the only thing that matters. The Wizards do it because their own avenue towards upward mobility is confined to internal improvement from a core that, in all likelihood, won't ever ascend above what the Philadelphia 76ers, Boston Celtics, or Milwaukee Bucks have cooking over the next few years. Healthy Cousins, Wall, Beal, and Porter can potentially change that.
The fact that we just got that crazy speaks to how desperate the Wizards already are.
8. Al Jefferson: Still Kicking
Al Jefferson is 33 years old, in his 14th season, and guaranteed at least $4 million to play basketball during the 2018-19 season. He's also the inverse of a contemporary NBA big man, with skills that feel sedimentary when utilized in Indiana's offense. Somewhat miraculously, Jefferson is getting minutes for a decent team. A prehistoric 66 percent of Jefferson's shots are from the mid-range this year, which ranks him in the 100th percentile among big men who qualify.
He doesn't come out of the paint to defend pick-and-rolls, but when he does Indiana's defense looks like something that could inspire the next season of American Crime Story. It's messy. Jefferson subsists on the same diet of push shots, jump hooks, and up-and-under craftsmanship that he forever has; seeing him on the court in games that aren't already decided feels very Back to the Future.
With Myles Turner back, Jefferson has returned to the bench, but it's still interesting to think about that 10-game stint. There was no rule saying Nate McMillan had to play Jefferson 12-18 minutes as the backup center. Thad Young could've done it with Bojan Bogdanovic at the four (something the Pacers haven't really tried this year). Maybe rookie T.J. Leaf could've showed more of what he's made of…?
But Jefferson's minutes weren't the complete disaster one might expect them to be. The Pacers went 6-4 with him playing a meaningful role. Granted their schedule was soft and they lost to just about every team they would've anyway, but it was cool to see a relic hold his own and help his team as best he could.
9. The Most Logical Dumb Trade in NBA History Needs to Happen
Joakim Noah for Luol Deng. Do it now!
10. Devin Booker's Defense
Devin Booker thought he deserved to make his first All-Star game because "opinions over statistics," which, sorry but no. He's a splendid offensive basketball player whose playmaking ability has improved noticeably in his third year.
Booker is still a young 21 (his birthday is the day before Halloween) and ranks tenth in scoring with the league's sixth-highest usage rate. Combine that immense responsibility with below-average teammates surrounding him at every single position and it's astounding to see his True Shooting percentage actually climb from 53.1 to 57.1 this season.
But defense matters. And Booker's work on that end too often veers into a tier of embarrassing that rivals this gentleman shattering a $42,500 bottle of champagne. How do you let P.J. Tucker, a former teammate, blow by for a layup like this? Booker will periodically gamble for a steal in the backcourt and put his teammates in an unnecessary 4-on-5 or 4-on-4 situation, or bite on a pump fake and force a preventable help rotation.
He'll execute well enough for the first ten seconds of a possession and then melt into a puddle for no discernible reason. He plays as if there are no consequences for his inexplicable actions. Already owners of the worst defense in the league, Phoenix is 2.1 points per 100 possessions worse with Booker out there.
It doesn't sound it, but let the record show that I am extremely pro-Booker. I also think qualifying for the All-Star game in his third season should be the least of his concerns; if his career continues to climb the steep ramp it's currently on, he'll eventually treat All-Star invitations the way Meryl Streep views Oscar nominations.
Until then, constructing good habits, valuing every possession, and taking it personal whenever his man scores a basket are more critical spaces for Booker to develop, ameliorate his reputation, and alter the narrative surrounding his status as a franchise pillar.
Phoenix's defensive rating in January is an odious 116.1, and 29 percent of Booker's total points this season were tallied in games where the Suns lost by at least 11 points, per NBA.com. The team's struggle isn't all on him, but it's impossible to say right now that he isn't part of the problem.
11. Dwight Howard is on a Freaking Tear
Dwight Howard is not the bouncy hummer he once was. He wasn't in serious consideration for the All-Star team, let alone the MVP conversation, and his name rarely, if ever, comes up when discussing the game's best centers like it once did. Can he win his fourth Defensive Player of the Year? Nah.
In what appears to be his need to fit in as a (extreme air quotes coming right up) "stretch big," Howard has started to regurgitate jump shots that make the backboard wince (Hornets play-by-play man Eric Collins referred to one that actually went in as "a little Scottie Pippen action" in a recent display of peak optimism).
But—stop me if you've heard this before—that doesn't mean he's bad! By some measures this has been a bounce back season for the future Hall of Famer, whose Charlotte Hornets have performed like a 50-win team with Howard on the court. Before it ended on Monday night, he had an eight-game streak of grabbing at least 15 rebounds, which was the longest the NBA's seen in three years, and something only four players have done in the past decade.
His presence around the rim still means something, as Josh Richardson can attest as he rushes the layup seen below. For approximately the 10 millionth year in a row, opposing offenses starve at the rim when Howard is on the floor.
His effort and energy have been impressive all year long, during a season in which the 32-year-old has yet to miss a single game. He's still quick off the floor to tip in his own misses and swat opposing floaters into courtside seats (he has 20 blocks in his last four games!). Howard also bumps cutters off their line with a subtle brutality that can only be afforded by 14 years on the job.
Look at this recovery last week at the end of a tight game against his former team.
This dude is still a very good basketball player, and even with Cody Zeller on the mend, the Hornets badly need him to keep up what he's doing if they want to make a serious run at the playoffs—highly unlikely, especially after the Pistons made their move last night, but still.
12. Kevon Looney Is…Agile?
Heading into this season, Kevon Looney's game reminded me of honey dripping down the side of a rock. The bits and pieces he saw the court were the antithesis of Golden State Warriors basketball: rigid and awkward. But Steve Kerr has not only found time for the former first-round pick, but stubbornly crammed him into the team's switch-friendly defensive strategy.
It's forced Looney to get out on the perimeter, stand on an island, and stifle some of the better ball-handlers alive. And…he hasn't been that bad! Jordan Bell's injury increased Looney's role, and he's steadily increased his comfort level and activity when switching out onto most guards.
He won't win every one-on-one encounter (Jamal Crawford recently made Looney look like he was walking in high heels on a beach), but has actually made nifty/speedy foes like Chris Paul and Terry Rozier work much harder to create space than they probably expected.
At 21 years old and an unrestricted free agent this summer, Looney's using every opportunity he can to audition for 29 teams around the league. His performance in this crucial area dramatically increases the chance of at least one giving him a contract.