Photo: Shutterstock
If you are struggling with any of the issues raised in this story, please contact the Butterfly foundation for eating disorders on 1800 33 4673
Type the phrase "pro-ana" into Tumblr and a warning page appears asking "is everything ok?" But with another click you're greeted by hundreds of pictures of dangerously underweight bodies, paired with personal tips on how to starve harder. The phenomenon is simply referred to as "pro-ana," meaning pro-anorexia nervosa. And while it's not a new story, some people might be surprised to know that pro-ana sites have only flourished since the early 2000s.
I was curious about who this new generation of bloggers were so I contacted a few, and strangely they all seemed to be teenagers based in the UK, including Haley*.
Haley publishes both her current weight and goal weight on her profile. She also posts lots of "thinspo" (meaning thin-inspiration) photos of knobbly kneed, thigh-gappy models and responds to encouragement to keep on track with her weight loss. The personal notes on her thread are the most disturbing. She talks about wanting to be left alone so she can starve in peace, and wanting a buddy who can stop her from eating. She meticulously documents when she's binged, and how she hides food left by her worried family.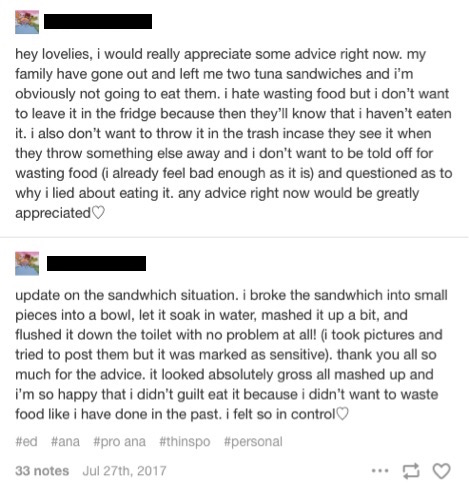 This blog felt like it was more for her benefit—a way of getting approval for the choices she was making than anything else. But why did she feel the need to create something so public? Something that was designed to encourage other people to develop an eating disorder? And was there any understanding of what she was contributing to?
I reached out to her and tried to get some answers.
VICE: Hey Haley, could we start with some info about you?
Haley: Well, I left school back in September because of personal reasons, but I'll be joining college this September. I'd been struggling with ednos [eating disorders] for about two years when I heard about thinspo blogs. I was just amazed at how many people were going through the same stuff as me. I felt really supported because it's a bit of a taboo subject to talk about with friends and family. And here was a place I could post stuff that helps me to achieve my goals.
That's something a lot of people talk about—how "supportive" this community is. But how do you think encouraging dangerous behaviour is supportive?
It's tricky to give a straightforward answer to this. Someone who has an eating disorder or any other mental illness doesn't always have their head on straight. When I post thinspo, I'm doing it for myself. The attention my blog gets, and all my followers is something that I use to motivate me. I don't always think about the effect it has on other people, so when I answer questions on my blog, I'm just telling others what I personally do.
You're quite young, have you thought about what sort of impact your eating is going to have on your life when you're older?
Only that being skinny will make me happy.
Do you ever worry about any aspect of your health?
No. When I've purged or restricted I've never stopped to think about how it's going to ruin my teeth, or do damage to my body in the long term. When I'm giving advice, I'm not thinking about how it can damage someone's health. The way I see it is if you're already adamant that you are going to lose weight no matter what it takes, then you might as well get positive feedback from the community because it feels nice.
Does this validation from other users ever feel a bit fake?
I know most people in this community are very tough on themselves, so I believe they are pretty honest with me. They don't have to say these nice things. If I were to tell a family member that I feel fat and ugly, they're hardly going to turn around and agree with me because they love me and wouldn't want to hurt my feelings.
Can you describe how you felt the first time you saw a thinspo blog?
Guilt. I felt so guilty for being so fat, stuffing my face, and then complaining about being fat. I would go through cycles of restricting, binging, and eating normally and when I started regularly looking at thinspo blogs, I felt so guilty for eating normally.
Have these blogs worsened your eating behaviour?
That's a hard question to answer because if I'm looking at it from a pro-ana perspective, I would say they've helped me. I was already suffering from low self-esteem and a very unhealthy relationship with food. When I discovered this community, it made me feel less alone. It has affected my normal eating habits though, so from an outsider's perspective, I guess it's made things worse. I think I'd still be struggling whether or not I had discovered thinspo blogs.
Do your family know about your blog?
Absolutely not.
What would they do if they found it?
My mum knows that I struggle. She used to constantly offer to make me food, but obviously I refused. I think she's sort of given up with it and isn't too worried or anything since I'm not underweight at the moment.
You're still in your teens. Do you know if there are many others out there running blogs like this who are your age?
Not everyone with an ana/thinspo blog publicly states their age. Most of the people who do are usually older but there definitely are people with blogs who are my age and younger which is devastating. I've gotten messages from people younger than me who want to know the basics of how to lose weight through starvation, and it breaks my heart.
Do you give these people tips?
If I'm aware of their age, and they're too young, I suggest they talk to their family about it. But if I'm honest, I have given advice to people even if I was unaware of their age.
So if they are above a certain age, you feel it's ok to give pro-anorexia advice?
I mean, I know it doesn't matter how old someone is. If you're giving advice that worsens someone's mental illness, it's pretty wrong. But I just feel like if I give advice to an older person, it's okay because I'm young and I don't have as much responsibility for things. I guess that's pretty fucked up, but so is my brain.
How do you feel about the body positivity movement? Have you looked into that at all?
I think that's it's absolutely amazing! There was short-lived moment where I truly was positive about my body, but it went away in a flash. I really admire people who are body positive because life's too short to be worrying about your weight 24/7. I know that's hypocritical for me to be saying, but I've never really been able to take my own advice.
Can you see a time when you would delete your blog?
Sometimes my eating disorder becomes overpowering and I have to take a break from it. I've binged twice today so I'm back to punish myself by looking at thinspo and will push myself harder tomorrow.
If you are struggling with any of the issues raised in this story, please contact the Butterfly foundation for eating disorders on 1800 33 4673 or call Lifeline on 13 11 14. A listing of similar helplines in other countries can be found here.
Words by Maggie Coggan. Follow her on Twitter
*Name changed to protect the anonymity of an underage person.