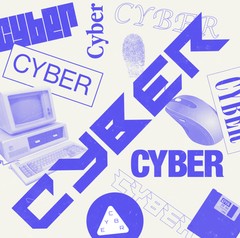 Hacking. Disinformation. Surveillance. CYBER is Motherboard's podcast and reporting on the dark underbelly of the internet.
Fascists love to perfect a look. Hugo Boss' Nazi Uniforms, the striking headquarters of the Italian Fascist party, and the sleek presentation of Islamic State's Dabiq all have one thing in common—they're visually striking.
So too with today's extremists. Neo-Nazis from Atomwaffen Division to the Order of the 9 Angles have a certain aesthetic flair. And that's largely down to a few influential artists. VICE extremism reporter and Cyber host Ben Makuch recently

went in search of

"Dark Foreigner:' The Artist Who Fueled a Neo-Nazi Terror Movement."
Also on the pod this week is a special announcement—I'm taking over for Macuch as the host of Cyber. It'll be the same show as it was before, but with a slightly different voice. In the coming weeks we'll talk about the weaponization of app data, the perils of two-factor authentication, and the new cyber mercenaries making the lives of activists and journalists hell.
And as always, we end the show talking with Lorenzo Franceschi-Bicchierai about all the wildest tech stories from the past week. Lorenzo talks about the

1,069 bitcoin mining rigs

destroyed by Malaysian police, Israeli

spyware

defeating Windows zero days, and what it's like when

Iranian hackers

try to take over your social life.
Subscribe and never miss an episode of Cyber. It's available on

iTunes

,

Google Podcasts

,

Stitcher

, or anywhere else you get your podcasts.