Joe Nicholson-USA TODAY Sports
When FC Kansas City forward Sydney Leroux walked off the field following a 1-0 loss to Sky Blue FC late last month, she was visibly frustrated at what just took place.
Eight months earlier, Leroux had given birth to her first child, Cassius, and after being away from the game for more than a year, she was still returning to her former elite form. Not an easy process, by any means, which is why an unusual supporter was waiting for her on the sideline to offer a few words of encouragement: her opponent in the match, Sky Blue defender Christie Pearce.
"I was talking to Syd after the game—her first 90-minute game [of the season]—and she said it was tough," Pearce said later, standing on the Yurcak Field pitch in New Jersey. "I told her, 'Don't be so hard on yourself. It's a process. Your body went through a lot. You're up late at night. You've just got to be mentally strong, and do what you can do when you're out on the field.'"
Pearce speaks on this topic with unparalleled authority: before officially retiring from the U.S. national team this February, the 42-year-old former captain earned 311 caps, the majority of them coming after the birth of her first child, daughter Rylie, in September 2005. (Her second, Reece, was born in March 2010.) She managed to play in more than 3,000 minutes during the 2008 calendar year—the first U.S. player to accomplish that feat of stamina. In 2009, she led and coached Sky Blue FC to a championship in the now-defunct Women's Professional Soccer league; she was three months pregnant with Reece for the title game.
Pearce wasn't the first U.S. player to return to the field following childbirth—that would be Joy Fawcett in 1994, followed by Carla Overbeck, Kate Markgraf, and others—but her success and longevity in the sport showed that women could not only play after childbirth; they could come back stronger and fitter than ever. Today, there are a number of working moms on the U.S. national team and in the NWSL. The 2015 World Cup–winning team had three mothers on the roster, including Pearce. And when Kansas City learned last year that Leroux and her teammate Amy Rodriguez were both expecting (Rodriguez with her second child), they made alternate plans for the 2016 roster—but 2017 was built around the two stars.
"The moms kind of stick together," Leroux said, explaining that she's leaned on Pearce and Rodriguez a lot. "We've said, if you haven't gone through it, you don't know how hard it actually is, to be able to juggle all of that. So it's nice to have friends that are in the same boat I am."
For every USWNT star in the NWSL, however, there are a dozen players who haven't been called up to the national team, with all the benefits and security that can bring; in addition to larger salaries subsidized by U.S. Soccer, national team players receive paid maternity leave and childcare support, neither of which the NWSL itself officially provides. And that's why, while Pearce is undoubtedly a trailblazer in women's soccer, the career arc of players like North Carolina Courage forward Jessica McDonald may matter even more in the years ahead.
For years, McDonald was the only mom in the league to not also be on the USWNT—an experience she describes as difficult, but one that has inspired her to push for changes so that more women can follow her path if they want to.
McDonald turned pro at a tumultuous time for her sport in the U.S.. She was picked 15th overall by the Chicago Red Stars in the 2010 WPS draft—a team that would suspended operations after that season, in a league that would shutter in 2012. McDonald also injured her knee during her rookie season; between that and the state of women's pro soccer, she doubted whether she'd be able to play again.
Ultimately she spent 18 months rehabbing her knee and trying to get back to the game. Finding out she was pregnant in the midst of that complicated her timetable to return, but she was determined to raise her child and continue pursuing her soccer career.
"Both of my parents were both multi-sport athletes," McDonald said in a telephone interview. "Their mindset was, be an athlete as long as possible, up until they became parents. And so they dropped their dreams for their children. And I'm not sure how I feel about that, as their child—that they just gave up what they wanted to do because they became parents."
McDonald gave birth to her son, Jeremiah, in 2012, and was soon playing overseas for the Melbourne Victory FC in Australia. Her quick comeback was helped by having been able to train through her eighth month of pregnancy, and she was fueled by a desire to show the world that women can play soccer while having a family just as well as a man.
When the NWSL began in 2013, McDonald signed as a free agent with the reincarnated Red Stars. She would spend the next few seasons bouncing around—from Chicago to Seattle, then Portland, Houston, New York. But more challenging than the moves was the money.
There is a huge chasm between the NWSL salaries of national team members, which can reach six figures and even more under the new collective bargaining agreement, and those of players who aren't allocated by U.S. Soccer. The current maximum salary for non-allocated players is just $41,700, while the minimum salary is $15,000—and both figures represent significant increases from when McDonald and the league were just getting started.
And unlike the USWNT, NWSL players aren't unionized and do not have a collective bargaining agreement that could mandate protections and benefits for parents. Pearce, by contrast, talked about how important the three months of maternity leave she got following the birth of each of her two children.
Without financial security, McDonald says, playing in the league while raising Jeremiah was "ten times harder." Most players simply put off starting families until after their soccer careers are over.
"For me as a mom, not an allocated player, there have been some years that have been a difficult journey, because NWSL doesn't really support mothers," McDonald said. "It's not like in any of the contracts I can get child care squeezed in there, because they just don't support it. And so that's another thing that can change. And if that changes, I think more mothers will be able to survive in this league if you're not an allocated national team player."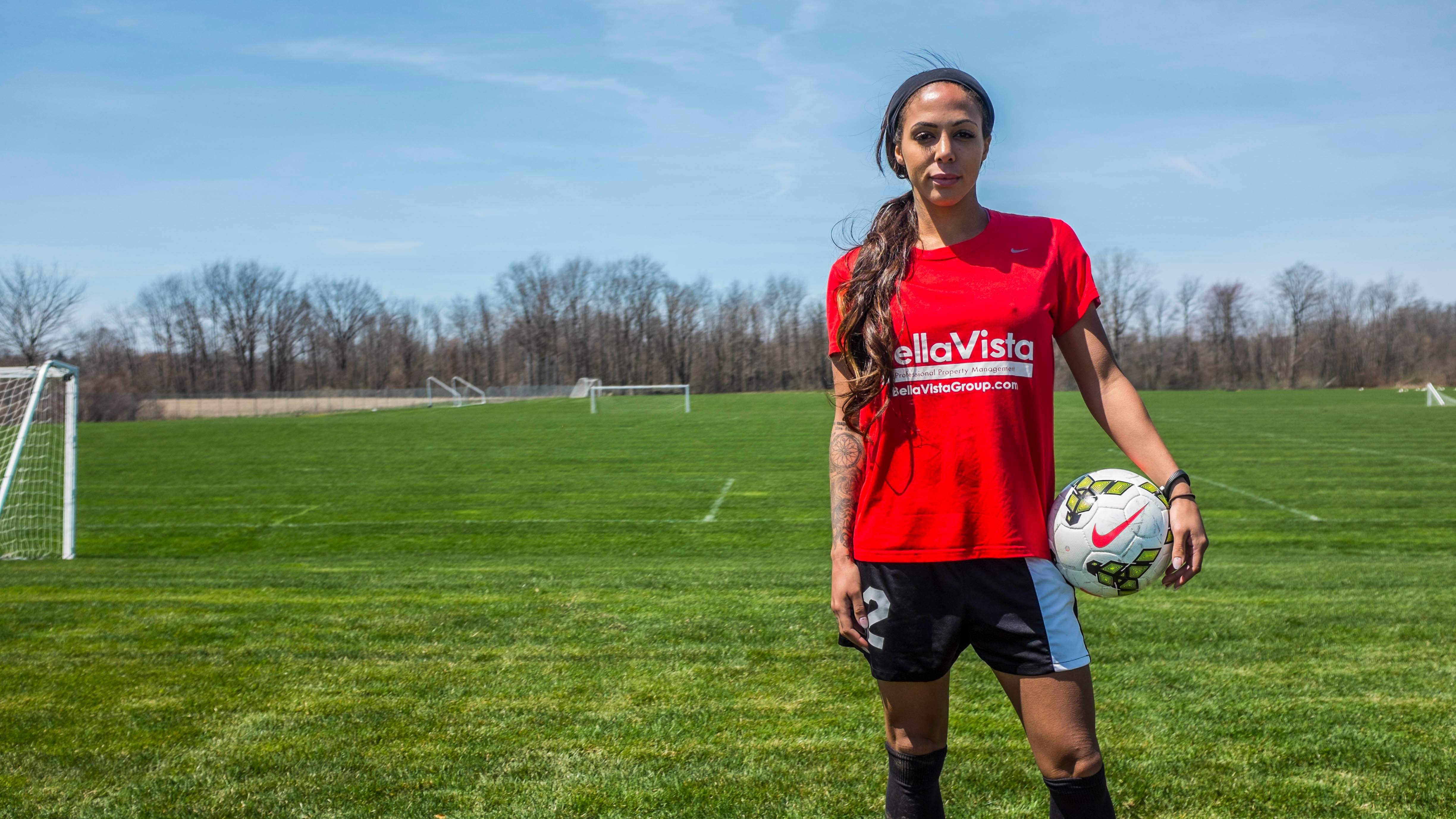 Other challenges simply come with the territory when you're a pro athlete, male or female. Trades and transactions, for example, can mean moving your family to another state at the drop of the hat, and McDonald's career has taken her and her son all over the country. When people ask Jeremiah where he's from, he says "New York," where McDonald played last year with the Flash before the franchise moved to North Carolina.
"He understands that Mommy goes and plays soccer," McDonald said. "He understands that part of it. And we've moved around so much that whatever ball life throws at us, he manages so well. He's five years old now, and it's so cool to see him brighten up every time we go to a new place. He absolutely loves it."
Despite all the challenges of having a kid while playing professional soccer, McDonald believes that it helped her, too.
"My body is completely different—I look different—in a way where I feel so confident," she said. "I haven't had any injuries since I've had my kid, so I think it's changed my body externally and internally. I don't know what it is, but I hadn't felt so great, body-wise, until I had my kid. I look more in shape, and I feel more in shape. And speaking from a confidence side, it's changed me in such a positive way."
While it's still relatively rare for elite athletes to compete during and after pregnancy, a number of those who do seem to share similar experiences to McDonald, such as Pearce, marathoner Paula Radcliffe, and heptathlete Jessica Ennis-Hill—they've come back fitter, stronger, and better than ever. Some have even suggested that pregnancy itself might provide a performance boost, though the science is still too early to say one way or the other.
McDonald is having some of her best years as a pro. Last year, she scored ten goals for the Flash in a championship-winning season, and then realized her dreams of making the senior national team with a call-up in November, earning her first cap in a friendly against Romania. More recently, she became the NWSL's all-time leading scorer with her 33rd NWSL goal Sunday night in Boston.
Going forward, McDonald intends to be an active member of the planned NWSL players association, and push the league to provide more financial support for players who choose motherhood and don't want it to force them into early retirement.
But whether a player is allocated or non-allocated, in a union or not, the fact remains that becoming a parent is a life-changing, and at times incredibly difficult, process. Before she gave birth to Cassius in 2016, Leroux wrote a post on her blog titled "Pregnancy Is Tough." She revealed that her pregnancy was unplanned, and that she had found out about it during USWNT training camp before Olympic qualifiers.
"I truly wish I could be one of those pregnant women who wake up every day happy, and feeling that 'pregnancy glow' but I don't always feel that way," she wrote. "Most of the time I'm just in pain."
Leroux says that she catalogued her challenges because she wanted people to "know the bad and the good of pregnancy." She remains strikingly honest about how having a baby has affected her life. She still wonders what the future holds for her on the field, and what she can accomplish.
"My body has changed," she said after the Sky Blue match in April. "It hasn't gone back to what it was before. And who knows if it ever will. But I have to learn how to work [with] the new body that I have. So, I'm still learning."
Pearce has all the confidence that her former USWNT teammate will be able to get there. "After four or five months, you feel like you can reach that fifth gear," she said. "I don't remember when it was exactly, but you train hard and then one day, you can just open up—and you'll see Sydney open up soon … It's a slow process. You're not yourself, you have to remember that. But I told Syd: in a couple games, you'll be your old self."
Want to read more stories like this from VICE Sports? Subscribe to our daily newsletter.