You never meet anyone at a service station.
But we met them. Boy, did we meet them. White haired couples celebrating their ruby wedding anniversary overlooking the recycling bins outside Nando's; stubble-headed teenagers lolling sulky on the wooden benches beside the brown scum lake; single men dressed in tracksuits browsing the sweets aisle of WH Smiths, beside a £6.99 bauble with a tin of Vaseline inside; a broken down CNN van reporting on Brexit; a couple spitting out a burrito behind a log because "it tastes of dog biscuits"; bikers; truckers; vintage car enthusiasts; cleaners; toddlers; and a couple eating carrot batons while spotting red kites. They were all there. And so were we.
That's the thing about service stations – they are everywhere and nowhere; a non-place we've all been and nobody remembers. But what would it be like to spend 24 hours in one of these modern hinterlands, these palaces of anonymity? To eat breakfast, lunch and dinner in the same service station, to sleep beside that same motorway, to exist in a bubble that should be, by design, temporary? There was only one way to find out.
Beaconsfield Service Station is, let me be clear, a nice service station. I've drunk tea in roadside cafes that looked like a velvet-upholstered abattoir pulled out of David Lynch's imagination. But Beaconsfield is, almost, picturesque. There's a lake. It's about two metres deep and somebody's thrown one of the chairs from Wetherspoons into the shallow end, but it's still a lake. And yes, you didn't misread that: Beaconsfield has a Wetherspoons. It's called The Hope and Champion. Beaconsfield Services also has picnic benches, a scattering of woods, an Indian takeaway, a carvery, a set of seven concrete benches by the coach park all facing the entrance to the service station, a Patisserie Valerie, a Nando's, a somewhat alarming number of ambulances parked outside and a shop called TopGift where you can buy a huge plastic spoon made in China decorated with pictures of red double decker buses and the Houses of Parliament.
It also has an ibis budget hotel where Chris the photographer and I spent a wildly unromantic night in a room with a double bed and a single bunk bed about three metres above the sleepers below. It was £53 for the night and, if we could just find a third person, would work out to be cheaper than my actual rent. And they'd change the sheets.
After checking in we decided to "explore the grounds". This turned out to be a stroll past the many unlikely bits of graffiti carved into the trees surrounding a car park. "Joyce-T 4 Brennan", "Millwall", "Lions MP DC", "Pepsi" and my favourite "Forest Hill 12 Aprol Del + Brennan". I wonder if it's the same Brennan. I hope so.
Around the back of the service station, past the Nando's "outdoor eating area", on the other side of the instant coffee-coloured lake, we met Wolfy (possibly not her real name) and two friends, hanging out in the children's playground. The three of them had walked here over the fields from their school to hang out. Without a city centre to smoke, drink, snog and finger in, the teenagers of surrounding Beaconsfield congregate here, at a service station, to get their kicks. Or, in this case, their sits.
I love the idea of so many adolescences playing out in the immediate but unseeing company of lorry drivers, builders, commuters, business people and families on their way to caravan parks. This is teenagehood beyond the suburbs. Do things get sordid, I ask? Shagging in the bushes and dropping acid behind the bins? "Smoking weed is about the worst people get up to," answers Wolfy, her half-shaved head glinting in the sunshine.
Cheered by this glimpse into Buckinghamshire youth, we strolled back past the lake, past a woman in white posing by the handrail like it was a wedding shot, past a young man with caramel-coloured teeth vaping at a table on his own, through the concourse and out to the car park at the front. Here, we met a woman called Zoe, who was on her way to a detective dog handling course in Prestatyn. "I just was googling it one day and saw this course," she told me, finishing off her sandwich at a wooden bench. "I thought it might be interesting." The fact she was neither a detective nor with a dog didn't seem to matter to her – and why should it?
Just a few benches away were another couple, healthy, older, white-haired and bright-eyed, who were on their way to Malvern. "It's for newlyweds and nearly deads," laughed the woman, before pointing out a bird of prey soaring far above us.
Leaving them to their carrot batons and celery sticks, we walked on, to a young couple throwing crumbs into the shallow, shingle side of the lake. They were from Slough, but had come here "for a bite to eat" and to admire the koi carp. As far as service stations go, "This is quite a nice one, to be fair," the man told me. As I looked out across the blossom, the grass, the buds and the bright blue sky, I could see what he meant.
It was, by now, well into the afternoon, and time to go to the pub; the best thing you can do when you're hanging out next to a major arterial road. The man queuing in front of me complained that he couldn't get a pint of Fosters and a large white wine included in his meal deal. "I'm sorry, but because this is a service station, you can buy drinks, but we can't just give them away," explained the barmaid, her large slicked-on eyebrows knotting themselves into the frame of sympathetic concern.
---
WATCH: 10 Questions You Always Wanted to Ask… an Alternative Porn Director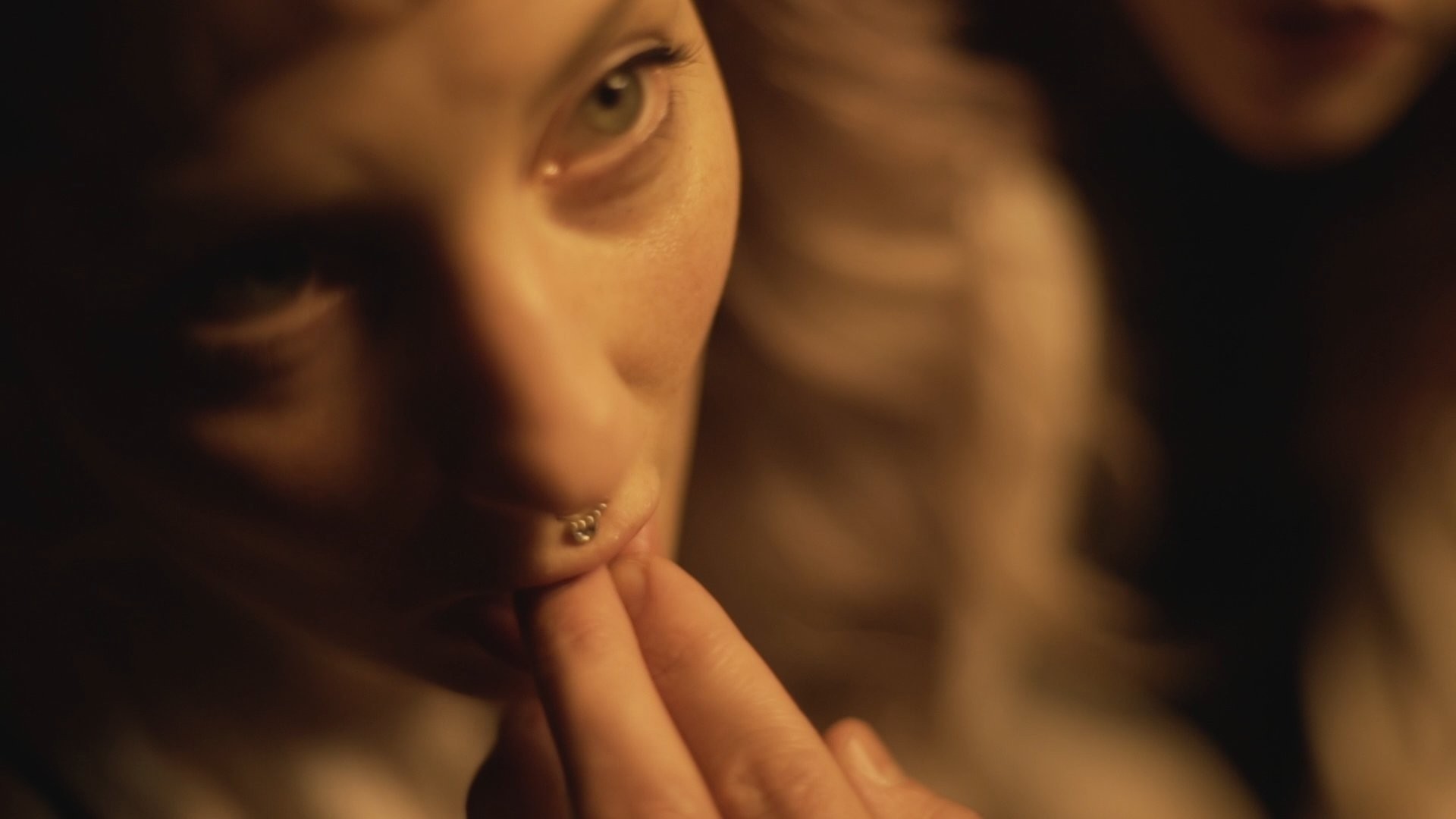 ---
Out in the sunshine, two American men drinking bottles of Peroni waited for the rest of their bandmates to finish at Nando's, while a woman with a blonde chignon and navy blue clipboard talked to a man whose pointed black shoes were honestly two feet long. I later heard the woman behind the bar laugh at how the Americans tried to leave her a tip of 32p on top of the Fosters tap.
"What do you think it would it be like to get married here?" I asked Chris, looking at the group of teenagers taking selfies around a pile of KFC. "Well, it would be easy to get to," he replied.
After a trip to the loo, past a framed picture of Benjamin Disraeli (not just Britain's only Jewish-born prime minister, but also a former Earl of Beaconsfield), it was time to take a wander past the Ecotricity electric car charge and bicycle rack (who, I wonder, cycles to a service station?) and talk to more teenagers. This time, they were all boys. Logan was halfway through a burger, Ben a McFlurry, while Jayden was, somewhat conspicuously, eating an entire packet of M&S parma ham, slice by pinky slice.
We also bumped into Ted and Steve, two middle-aged men waiting to get picked up and taken back to Chelmsford in their broken down van. Standing at the driver's door, the bonnet up, Steve shared my surprise at finding a fully functioning pub in a service station: "You either have a beer at home at the end of the day or you get dressed up and walk to the pub. You don't drive to the pub!" he laughed, his chin reflected in the windscreen.
Having, by now, quite thoroughly explored the car section of the service station, Chris and I decided it was time to scope out the big boys. Walking up the side of a huge red Symphony lorry, my sense of scale started to slide. It was like being a kipper, surrounded by whales – their huge foreheads, low headlight eyes and massive thundering sides. They'd driven here from Lisbon, Milan, Stockholm, the Netherlands, even Basingstoke. The Symphony driver, a small, thickset man with arm hair the consistency of a Brillo pad, told us that by 7PM the whole place would be rammed.
"This is one of only three service stations on the M25," he told me, leaning out of his window about eight foot above the ground. "It's not bad, but it's not great either. You have to pay £28 to park and there's no meal voucher like you get in other services. There's only two showers in the whole place and they're no bigger than me cab."
Lorries are also, he explained, vulnerable to thieves, so as a driver you're expected to stick with your vehicle the whole time. "You often see curtain-sided cabs with great slashes in them from people taking a look in to steal things. Diesel, mostly. There's a 600 litre tank in there," he said, nodding at the engine behind him.
Judging by the array of medical products on sale in WH Smiths, I wouldn't say the life of a long distance lorry driver is terribly healthy. Between the Imodium, Pro Plus, Anadin, Berocca and Gaviscon they seem to be either shitting themselves, exhausted, hungover, blinded by a headache or burning up with stomach acid like a pressure cooker. Still, as least there are vibrating cock rings on sale in the ibis toilets, if they do get lucky.
The place was, by now, bathed in an early evening light – long shadows fell across a group of motorbikers pulled up outside the front of the service station. One of these bikes – a man in leather trousers and a large red T-shirt told me – is £32,000. I stared, open mouthed.
Another bike was covered in the sort of smoke and ravens graphic design most usually seen on the arms of professional roadies. I then looked up and realised the owner had exactly the same design across his customised leather jacket. He must, I thought, be very proud. The two gangs of men, though strangers to each other, were standing around, leaning on their bikes, chatting and joking around like old friends.
"We could be in Scotland by now," said Chris, as we mooched past a man with severe facial scarring, feeding money into one of the games in the arcade.
But instead of zooming our way past Hadrian's Wall, we were, instead, about to have dinner. I have a confession: we did actually eat one dinner in Wetherspoons. But as we both forgot entirely to take any photos of that meal, we panicked and decided to eat a second dinner, an hour later, in Nando's. And thank god we did.
Personally, I was thrilled to sit down to a sunshine wrap as 30 men built like bomb shelters walked in, their shirts crisper than iceberg lettuce, to sit around a giant table in the corner. "We're an a capella group" the rugby player at the head of the table told me, with that winning humour of amateur sports people everywhere.
At this point, in possibly the most unlikely turn of events in the full 24 hours, four monks in floor length black robes walked in and started perusing the menu at KFC. Pretending not to stare, I slid into the Greggs next door to chat to Holly, the manager. It's an OK place to work, she told me. You have a few regulars who come in to stock up every morning, "with this being the last stop before London".
Last orders in a Wetherspoons in a service station are precisely as dim and weird as you would imagine. Aside from the barmaid, I was the only woman in there.
It was 11PM and six men in the corner were hunkering down over a Curry Club and those egg-shaped glasses of Stella; a man stared low-lidded at the blue glare of his laptop screen; two men upstairs discussed facelifts; the young blonde barman had a cigarette at a table outside, alone. Do you ever get any famous people coming here, I asked. "There's a footballer, I think," the barman answered, before picking up a claw-load of glasses and slowly walking back to the dishwasher.
Feeling our work here was – for now, at least – done, Chris and I walked like zombies to the hotel next door, both feeling that strange sort of exhausted that comes from being trapped in a small area, far from home, surrounded by strangers, breathing in petrol fumes and overstuffed with fast food. Our room was blank, silent, totally anonymous and I slept like someone on industrial-strength tranquillisers.
The next morning, I was woken, of course, by the sound of a revving engine. It took a few moments to remember that I was still in a service station and that I couldn't quite leave yet, having not been there for the pre-agreed full 24 hours. I'll be honest, even my love of these cathedrals to convenience was starting to fade by now. I was ready to go home. But first: breakfast – which in my case was a tub of instant porridge from Greggs, and in the case of the man in a full red tracksuit, like an athleisure Tibetan monk, a large sausage roll and a can of Coke. Pray for his colon.
The large television screen in KFC was wishing us a finger licking good morning and the smell of the noodle bar was making me actually retch. My stomach twisted a little further as we walked out through the fug of cigarette smoke outside, past the fat men hitching up their jeans outside Wetherspoons and the guy, who'd brought his own pint of milk, eating cornflakes out of a tupperware. But, at last, we were free. Free to make like the millions of other drivers, bikers, teenagers, mothers, paramedics and truckers who slide into this nowheresville every day and, well, leave. Drive on. Get going. Wave goodbye to the parking bays and self-flushing toilets and bottled water and vibrating massage chairs; relegate this roadside bubble to the rear mirror.
Next time you find yourself needing a piss, low on caffeine, hungry for a Wispa or in need of a plastic bauble full of Vaseline, remember: service stations don't just appear on motorway signs. They're there all the time. Night and day. The people who work there, the truck drivers who sleep there, the women who clean there and the men who eat there – they're there right now. And were there yesterday. And they will be again tomorrow. You just don't notice. Because you've moved on.