Photo by Brad Penner-USA TODAY Sports
Faced with difficult questions and a precarious financial situation entering a pivotal free agent season, the Toronto Raptors could have gone a number of ways at Thursday's NBA Draft. Some of those directions may have betrayed the tight-lipped franchise's intentions for July 1 in either direction. President Masai Ujiri and company never like to tip their hand, but by Ujiri's own admission, the draft is a deadline of sorts the team works with.
The morning after, there is little in the way of big-picture answers.
Once on the clock, the Raptors selected Indiana forward OG Anunoby with the No. 23 pick. It's terrific value and a consensus steal for a player who many pegged as a potential lottery pick and even a top-10 talent. It's a nice get and a pick Raptors fans should be excited about. It just doesn't reveal much about the plans to come.
There is a ton to like about Anunoby on the defensive end of the floor, where his 7-foot-3 wingspan and strong, game-ready frame help conspire to make him one of the most interesting stopper prospects in recent years. Anunoby profiles as a legitimate lockdown defender on the ball, with great physical tools, quickness, and the requisite explosiveness to keep up with just about anyone. In raving about Anunoby's defensive potential, head coach Dwane Casey compared him to unrestricted free agent P.J. Tucker in terms of his versatility, and Anunoby's ceiling on that end has drawn comparisons to anyone from Robert Covington to Al-Farouq Aminu to Kawhi Leonard. The Raptors have favored defensive potential over offensive polish in recent drafts, and Anunoby is the fully idealized pick in that vein—he's going to be a top-flight NBA-level defender, and he's probably a good one already.
---
---
Anunoby comes with shortcomings, as any 19-year-old sliding to No. 23 in the draft would. His offensive game is fairly limited, opponents will completely ignore him to start until he can punish them for it, and his shot may not extend to the NBA 3-point line thanks to a low release and lack of arc, at least without further work. This isn't meant as a full scouting report (you can find one here), but it's clear that Anunoby is a bit of a project at the offensive end. Even if the Raptors are optimistic about his development timeline, there could be some growing pains, and patience will be required.
That is magnified by the fact that Anunoby doesn't figure to be on the court for some time, costing him valuable months of development. Anunoby tore the ACL in his right knee in January, which may have been a big factor in his draft-night slide. He was unable to work out for teams during the pre-draft process (he was, however, measured at the combine), and some teams don't have the patience or roster spot for rehab out of the gate, or the risk profile to take a player with injury red-tape. The Raptors were at least able to interview Anunoby twice, once in Los Angeles and once in Toronto within the last week, and there's a certain point in the draft at which the reward outweighs any risk (it doesn't hurt that Ujiri has some of the strongest job security in the league and can be assured he'll get to see his dice-roll play out). Anunoby says he thinks he can be on the court by November, but even if Toronto is more cautious than that (Raptors 905 will surely figure into the rehab plan), the trade-off here appears worthwhile.
Patience has been par for the course for Raptors' selections under Ujiri, and it's a reasonable approach. Toronto is a good team, and late first-round picks can't and shouldn't be expected to make meaningful contributions right out of the gate, anyway. Pascal Siakam starting for half a season wasn't the game plan, and while it certainly didn't hurt in expediting his progress, a more methodical development approach is probably preferred.
The Raptors may need help at the forward spots depending on how the offseason shakes out, and Anunoby could be able to help there later in the year. The pick is more about what Anunoby will (or at least could) be a little down the line, as the Raptors continue to graduate prospects to bigger roles in the rotation and continue to lean heavily on their player development to provide an inexpensive back-end of the roster in support of a top-heavy, star-led salary structure.
There's no indication that will change. The Anunoby pick doesn't tilt the scales in either direction for this summer. If the Raptors are remaining competitive, taking a player who requires some patience to reach his ceiling but has a demonstrable Day One NBA skill to help out if needed is the right approach. If they take multiple steps back and blow things up to a degree, swinging for the highest upside available is the right call, and the team can afford to be even more patient with the best value play left on the board. Certain selections would have suggested a certain approach for the Raptors, but Anunoby betrays nothing, fitting either development path logically.
If there was anything telling about Ujiri's larger plans on draft day, it may have been the rare trade rumor rumblings that snuck out. It's no secret that Ujiri was exploring all options for the pick—he said as much Tuesday—but at different points on Thursday, the Raptors were said to be open to moving up, trying to move back, or looking to package the pick with Jonas Valanciunas. Doug Smith of the Toronto Star also reported that the Raptors had broached unloading DeMarre Carroll. Most of those conversations don't appear to have gained much traction, because draft-night trades are hard and probably because once the Raptors saw Anunoby slipping, the opportunity cost of dealing the pick became greater in their eyes.
---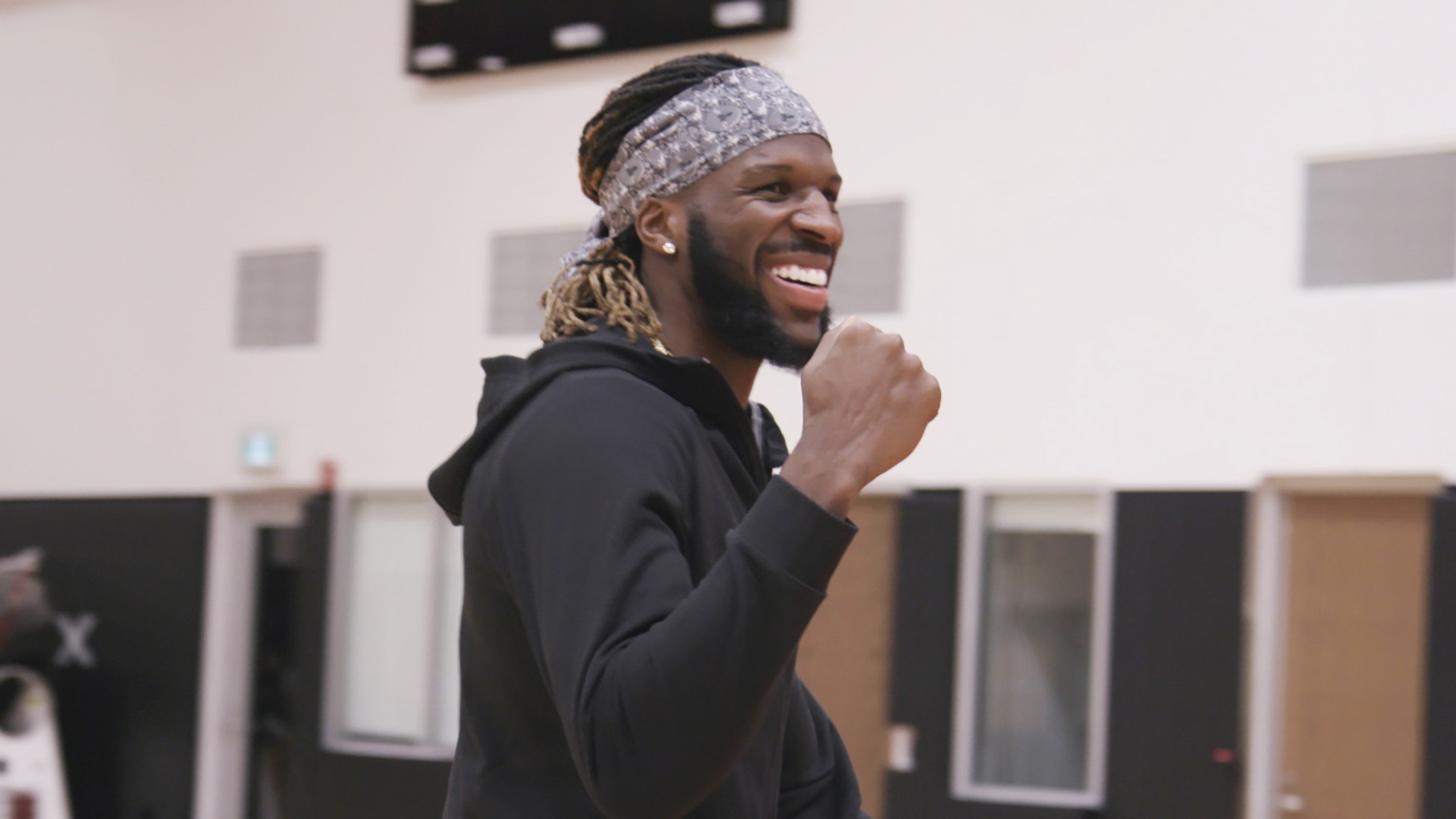 ---
The quiet shopping of Valanciunas and Carroll, strangely enough, points to the Raptors likely keeping the bulk of the rest of their core together. Or intending to. The Raptors are going to be facing a very difficult luxury tax situation if they want to retain multiple free agents, and unloading one of Valanciunas or Carroll, while a hit to the roster, would stand to create either enormous luxury tax savings or improve flexibility for shaping the team from here. The NBA decreased its estimates for the 2017-18 salary cap and luxury tax this week, and while that will probably help retain Kyle Lowry (who now has a slightly lower maximum contract and whose suitors will have a tougher time getting into cap space), it's a net negative for the Raptors overall, with far less of a cushion under the tax (or perhaps more importantly, under the $125-million luxury tax "apron").
Any ouster of Valanciunas or Carroll wouldn't so much be about the player but about maximizing the 15-man roster. Valanciunas and Serge Ibaka would appear to be redundant when it comes to their best individual deployments, and investing north of $35 million in centers who aren't a great fit together, with multiple other young bigs around, isn't the best allocation of resources in a soft-cap economy.
---
---
Carroll's skill set when healthy is more scarce on the roster, but his deal is the worst value on the team, and simply finding a home for him could have been a net win. The Raptors will probably continue to shop both quietly in the hopes of freeing up some flexibility, but it's worth remembering that they have all year to get below the luxury tax line (they'll want to avoid the apron regardless, but that's a different column). Wherever the information came from—and it almost surely wasn't Toronto—that the Raptors looked to move one of their higher salaries suggests they still intend to be aggressive on July 1.
Everything will flow from Lowry's decision, of course, and Ujiri's been clear the Raptors are prepared in either direction. The selection of Anunoby doesn't point one way or the other. It just fits in either scenario.