Tonight, over 61,000 people in New York City will fall asleep in a municipal shelter. Of those, roughly 15,000 are single adults, with an approximate ratio of one female for every three males; 15,200 are families of primarily female-led households, including nearly 23,000 children. About half of those children are under the age of five. Thousands more will sleep on the streets, although the exact number is hard to determine. The the Coalition for the Homeless -- a non-profit that works through litigation, public education, and direct services to benefit the daily lives of New York's homeless population -- is there to help them.
Cynthia English spent six years surviving on the streets before an encounter at a women's shelter in the Bronx in the mid-1990s with the Coalition that would change the course of her life.
"Not only did they welcome me as a volunteer, but also accepted me into the First Step Job Readiness Program for women," English told VICE Impact. "This program allowed me to reactivate my dormant job skills, and to learn new ones. I was once again employable."
In January 2017, she became a full-time employee of the Coalition as a shelter specialist. She's now responsible for ensuring that the nearly 500 shelters under the Department of Homeless Services (DHS) in New York comply with the policy-mandated standards of care. For instance, a routine shelter visit will check on the condition of bed linens, cleanliness of bathrooms, fire hazards, air circulation and temperature, and note anything of concern for health.
The Coalition has been the court-appointed monitor of the shelters for single adults since 1981, routinely inspecting facilities and providing recourse when complaints stack up. Last year, Mayor Bill de Blasio gave the Coalition access to monitor the family shelters as well. Despite a "Right to Shelter" -- a consent decree won by the founders of the Coalition to ensure anyone needing a bed in New York gets one -- clients of the Coalition continue to report squalor and harsh treatment in shelter life instead of respite. Many are denied shelter altogether.
"In the shelter system you are just another number."
"Over the last twenty years, I have met doctors, lawyers, school teachers and many other professionals who have become homeless for different reasons," said English. "No one ever imagines that it can happen to them. I can't recall ever meeting anyone who just woke up one morning and decided to be homeless."
---
Check out more videos from VICE: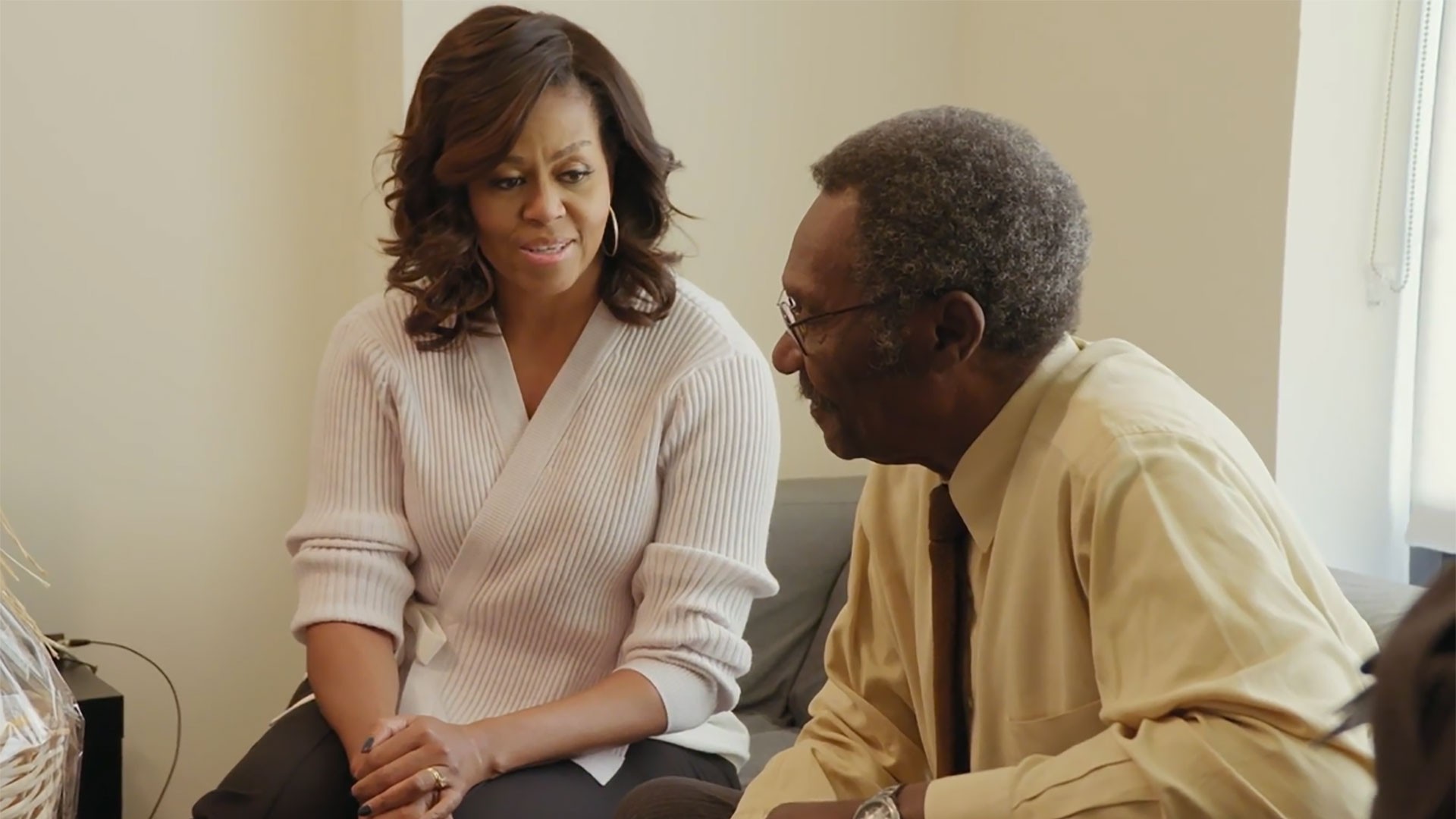 ---
"The shelter is a safety net on the way to affordable housing and the chance to work for a living wage," David Giffen, the Coalition's Executive Director, told VICE Impact, " both fundamental rights in a civilized society."
The Coalition's Crisis Intervention Program located in Manhattan provides more than 8,000 people a year with help accessing shelter, housing, benefits and grants for basic needs.
It was here, a year ago, that Shayla Marble arrived early one morning with her three young children. After a search on a library computer, Marble, now 24, was fed up with feeling caught in the shelter system with no clear avenue out.
"In the shelter system you are just another number," Marble told VICE Impact. "You have to be really proactive to get yourself out. If the Coalition didn't help me in the beginning, I'd probably still be in the shelter. They set you up and tell you what you need to do and I felt like I could handle it from there."
When she arrived at the Coalition's Crisis Intervention Program (open Monday through Friday for appointments and walk-ins) she was examined by staff, given a map of resources for food, clothing, housing and other services, and was eventually supported by her case worker throughout the year it took for her to find work and housing.
Today, the shelter system bloats with a near-record high population. Although a legal right to shelter exists, the city specifies eligibility requirements which often prevent people in difficult situations from securing a bed.
In 2016, a record 127,652 unique individuals (including 45,692 children) spent at least one night in the shelter system – an increase of 54 percent since 2002, according to the Coalition's 2017 State of the Homeless report.
The shelter Marble lived in for nearly a year with her three children housed over two-hundred other families. Many of the Coalition's clients report feeling the noose of eligibility requirements tightening around them and need legal assistance to fight for their right to a shelter to be upheld.
"Clients call us every day having problems with eligibility, and we advocate on those cases and communicate with the city's lawyers about how to reform the eligibility process," said Joshua Goldfein, staff attorney for The Legal Aid Society, a New York based nonprofit founded in 1876, that aids the Coalition in providing legal counsel to those in poverty.
"The most glaring misconception the public still has about homelessness is that all homeless people have brought their current situation on themselves."
The Coalition and The Legal Aid Society's agenda aims to ensure that Governor Cuomo and Mayor de Blasio follow through with their commitments to make more housing resources available to families in need. Of particular note are the 35,000 new units of supportive housing to be funded over the next 15 years: 15,000 units announced by the Mayor in November 2015 and an additional 20,000 announced by the Governor two months later.
"The state sat for a long time on a big pile of money to create supportive housing and we've finally broken that log jam," said Goldfein. "The governor has pledged to spend the money, and we need to make sure they do and provide the units." The funds appropriated in 2016 for this purpose amount to $2 billion.
Creating new housing is not the only way to reduce homelessness; it can be prevented in the first place. To this end, the Coalition for the Homeless and Legal Aid played important roles in the Right to Counsel Coalition (RTC), which can be credited with the city's new system, just being implemented, that ensures legal counsel to low-income households facing eviction. The RTC cites studies that estimate guaranteed representation for tenants could cut evictions by as much as half.
READ MORE: Sanctuaries Are Necessary for At-Risk Youths Searching for a Place to Call Home
"The most glaring misconception the public still has about homelessness," said English, "is that all homeless people have brought their current situation on themselves either through laziness, drug addiction or some other personal failure."
"We need people who are willing to understand that New Yorkers who are experiencing homelessness are not there because they want to be, and sometimes there's a lack of compassion, an idea that it's their fault," said Beth Hofmeister, staff attorney for Legal Aid. "I want to remind people that these are our neighbors who deal with systemic challenges that lead them to experience homelessness for a period of time. Have compassion and understanding for your fellow man."
If you or someone you know is experiencing homelessness or to find out how to help, visit the Coalition for the Homeless website.