Most of the 500 residents of tiny Tangier Island acknowledge that they're in trouble. For centuries, the island's sandy foundation has been causing the island to sink deeper into the Chesapeake Bay.
Since 1850, the island has lost two-thirds of its land mass because of erosion around its edges. And what's worse is that sea level rise brought on by climate change is now accelerating that process. Because of this, the U.S. Army Corps of Engineers predicts that the island could be uninhabitable within 25 years.
This is what President Trump heard about while watching a recent CNN News report on the island. He also heard that the island's residents overwhelmingly voted for him in the last election. So, on Monday, he picked up the phone and called the city's mayor, James "Ooker" Eskridge.
"He said as far as sea level rise was concerned, we would be here for quite a while," said Mayor Eskridge, who voted for President Trump. "It was encouraging just for him to say it."
What he didn't say is what he'd do to stop the process that's destroying the island. The island is disintegrating quickly, and climate change has sped up the loss of land, causing many residents to abandon their houses and move away. "In past decades, houses didn't have cinder blocks [under them]; people still had trees in their yard and they didn't have fish swimming around in their front yards," said Dave Schulte, a marine biologist at the Army Corps of Engineers who studies the island, when VICE News Tonight visited Tangier Island in October. At the time, many houses were surrounded by water, despite there having been no recent storms.
The aftermath of the Mayor's phone call with President Trump hasn't been rosy. Multiple news outlets wrote about the phone call, and residents on the island have been swarmed with emails, phone calls, and Facebook messages ever since — most of them nasty. "I mean people calling and saying they 'hope we all drown out here,'" Eskridge said.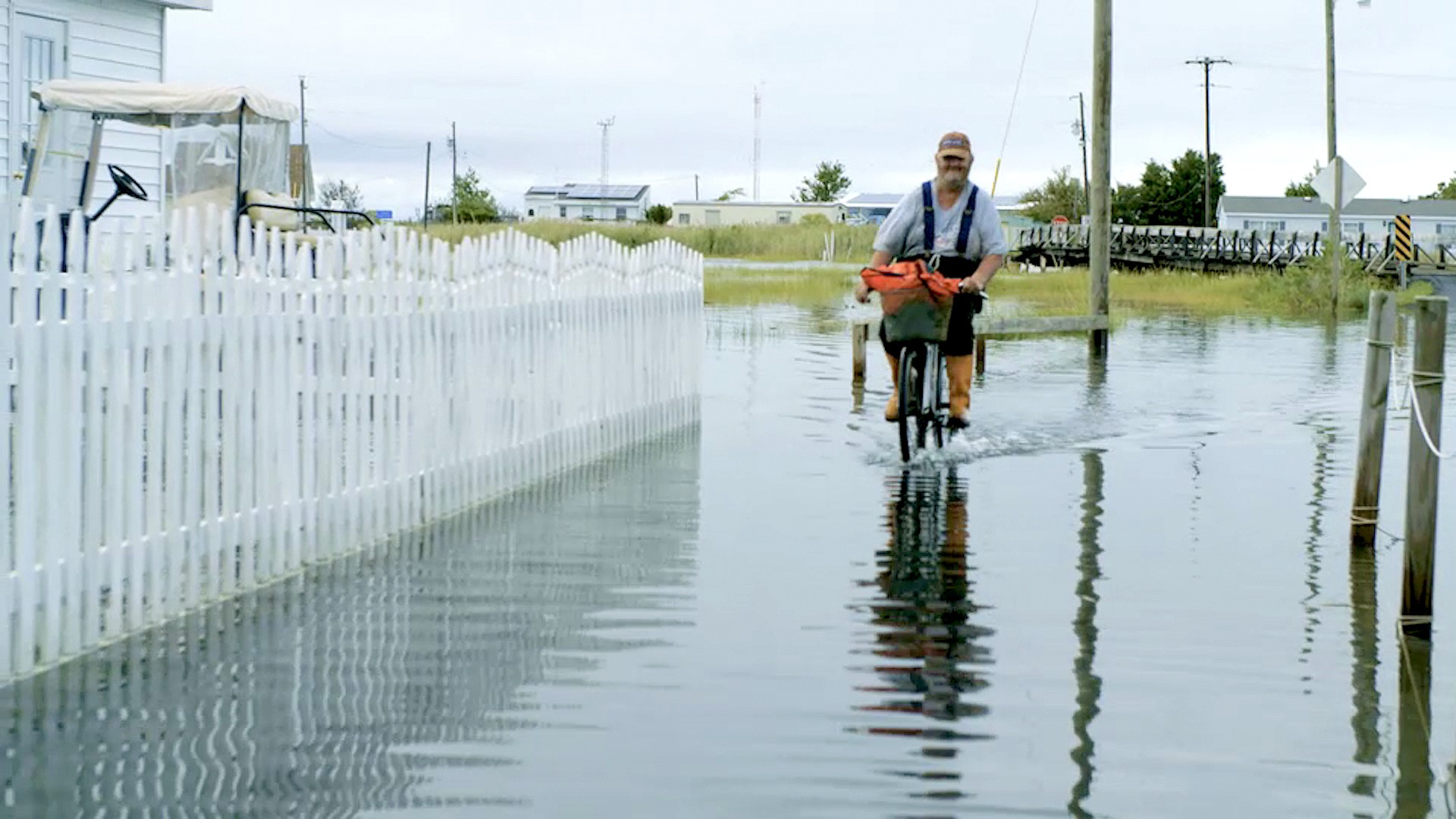 I was part of the VICE News crew that visited Tangier island in October. At the time, most of the residents in this small fishing community told me they would vote for Trump because they hoped he would get rid of environmental regulations surrounding crab fishing in the area — another big source of concern. The residents also said they were fed up with not feeling heard by mainstream politicians. So, despite Donald Trump's stance on climate change (he won't say whether he thinks human-induced climate change exists), they believed he would listen. They also believed that Trump would help them pay for a seawall that could cost upwards of $30 million.
During his call with the mayor, President Trump did not promise to build a seawall, nor did he connect the mayor with anyone who might help the community deal with erosion or sea level rise. Trump did invite the mayor to the White House, however. "I don't know if that will happen, but he said whenever I'm in Washington, to pay him a visit — to stop by." Eskridge said. "I'm hoping if I can actually sit down with him for a few minutes, you know, maybe we could work things out further and just fill him in on more detail about what we need, and what's going on."
For now, it's enough to know that the President is paying attention to the plight of Tangier Island. "I did feel heard by him," Mayor Eskridge said. "I mean, I didn't call him — he called me. So I'm confident that he did listen."