On Tuesday, Twitter user @JoshSobo bestowed a very special gift onto the internet. His dad, like so many other hapless dads out there bumbling around this world, hit him up after he found himself in an unfamiliar situation, looking for guidance.
The photo is amazing, especially considering my own dad only asks for my help when he forgets my childhood home's WiFi password, or accidentally ships a karaoke set from Amazon to my apartment. Josh's dad, however, happened to bump into one of the most famous musicians in the world and required some youthful assistance placing her. Still, what's more shocking is that not quite everyone knows who Cardi B is, despite her having a chart-topping song, a new album that went gold in a few hours, and a co-hosting gig on the Tonight Show that could put Jimmy Fallon out of a job.
And although the photo has already gone viral, racking up nearly 23,000 retweets and counting, there are still a whole host of unanswered questions we have about the incredible snapshot. Namely:
Where can I get those glasses?
No, not Josh's dad's, although his seem pretty hip for an older gentleman.
Are Josh's dad's eyes even open?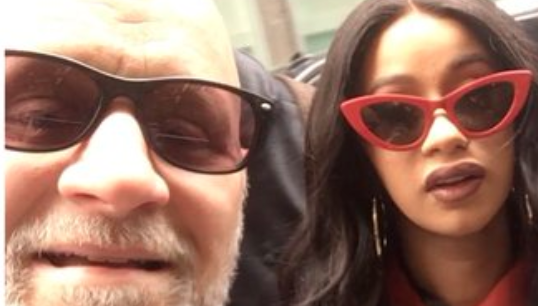 Upon further inspection, it looks like the man has both his eyelids shut. Which, all things considered, would make it relatively difficult to identify who the woman next to him was.
If he doesn't know who Cardi is, then why did he stop to snap a pic?
Did he just stumble on a famous-looking woman surrounded by an entourage, ask what her name was, and snap the photo like some selfie ninja? (He did know enough to spell her name correctly, which is more than some other fathers can say.) Or maybe Cardi was doing some man-on-the-street interviews outside 30 Rock as part of her Tonight Show hosting gig, and somehow Josh's dad heard fans yelling her name. Or maybe he is actually a Starbucks barista who made Cardi a drink, noticed the muffled conversation around her arrival, and then sprinted out to get a pic, unsure what the big deal was.
In any case, does he know what Google is?
Has he not heard "Bodak Yellow"?
The song plays on almost every Top 40 roughly every ten to 20 minutes. Josh's dad might not be a huge rap fan, but I would be baffled if he had never seen her name scroll across the radio screen in an Uber.
Does he know it's "who's," not "whose"?
We get it. You see a famous person, and you want to show your son you're "hip." Grammar isn't at the top of the priority list in the heat of the moment. But, still, fair question.
How on Earth do you even respond?
Josh, although we're extremely grateful for this incredible photo, you really need to let us know how you responded. Perhaps Josh called his dad immediately after receiving the text to get the full story and graciously explained that Cardi B is the woman of the moment, a former stripper turned Instagram celebrity who's now one of the most important female artists of our time, not to mention, a mother to be.
Though, if he really wanted to give the guy a good rundown, he could have just let Cardi's lyrics speak for her—"Is she a stripper, a rapper or a singer? / I'm busting bucks in a Bentley Bentayga / Ride through your hood like 'Bitch, I'm the mayor!'"
Sign up for our newsletter to get the best of VICE delivered to your inbox daily.
Follow Lauren Messman on Twitter.