Sandra Bullock attends the 2018 Oscars with a Time's Up pin. Photo by Frazer Harrison/Getty Images
In the wake of the allegations about Harvey Weinstein, Kevin Spacey, and other Hollywood figures and the news that Ashley Judd is now suing Weinstein for damaging her career, US filmmakers and lawyers are joining together to fight for legal reform to reflect their conviction that sexual harassment is caused by employment discrimination.
Director Maria Giese is part of a group of women in the entertainment industry who believe that Hollywood cannot absolve itself by firing alleged harassers, public condemnation, or the Time's Up and Me Too campaigns. The only way to root out abuse of power and harassment, they argue, is to enforce the Civil Rights Act to prevent discriminatory hiring practices against women. They are planning litigation against six major film studios—and they're willing to take it to the Supreme Court if necessary.
Giese believes the revelations, which have been coming thick and fast since the New York Times broke the Weinstein story in October last year, have been a fantastic diversion for Hollywood, conveniently moving the discussion of harassment away from tackling the root cause.
"I want people to see sexual harassment and abuse as a symptom of a central disease that is economic disparity," she tells Broadly. "I don't want the whole world to be swept up continuing to trade on these stories that are like jerk-off material. That's what people are loving, and I worry that it is taking the attention away from what really will create the change."
---
Watch: Rose McGowan on Sexism in Hollywood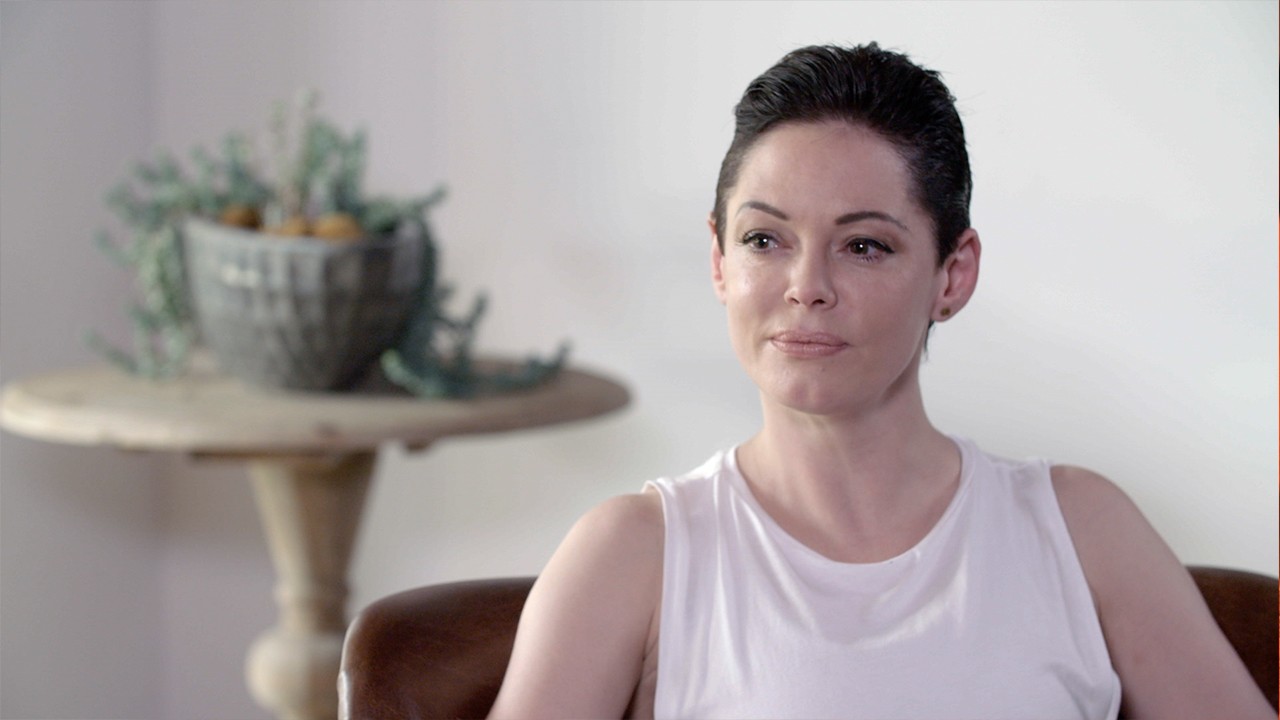 ---
When women are not hired or paid equally, Giese explains, the resulting economic disparity creates imbalances of power that lead to harassment and abuse—hence the campaign she is fervently fighting for. "My goal is to demonstrate that sexual harassment is one of the many destructive symptoms of employment discrimination, and then get that issue—Title VII enforcement in Hollywood and other legislative reforms to ensure equal employment opportunity for women in US entertainment media—into Congress."
ACLU Women's Rights Project director Lenora Lapidus agrees that the problem stems from inequality in the workplace. "A lack of women directors, producers, and writers, as well as studio and talent agency heads—all of that is sex discrimination because women are not being hired equally. It leads to other forms of discrimination within those male-dominated workplaces, including sexual harassment."
Sexual harassment is very clearly forbidden under Title VII of the Civil Rights Act, which considers two forms, "quid pro quo, a general example of which is 'sleep with me or I will fire you,'" Lapidus explains, "and then there is hostile environment, which means sexual harassment that is sufficiently severe or pervasive in a workplace to create a hostile work environment."
However, there are still problems with how the courts can interpret this law, and what therefore constitutes sexual harassment. "Even when there have been multiple instances, or very severe rape or sexual assault, judges may still decide that it isn't severe or pervasive," Lapidus says.
The current legislation has other weaknesses. Anyone filing a lawsuit under Title VII is required to be employed by a company with a minimum of 15 staff, which seems unnecessarily obstructive given that so many people in film work as independent contractors. There are also caps on how much money someone can receive in damages depending on the size of the company. For those employing up to 100 staff the limit is $50,000, and given that legal fees are usually several hundred dollars per hour, the cost of litigation can be prohibitive.
Giese helped the Equal Employment Opportunity Commission (EEOC) initiate an investigation into the unfair hiring practices of the six major film studios, which began in 2015. According to a report leaked to entertainment news website Deadline, they are in talks to settle with the EEOC, though the process remains shrouded in secrecy.
"In an ideal world it will lead to agreements between the studios and the EEOC about certain changes the studios would make to address the problem of the lack of hiring women directors," Lapidus says. If an agreement isn't reached, the EEOC may decide to file a lawsuit, but Lapidus thinks all parties would prefer to reach a resolution, "particularly at this moment in time it seems to clearly be in everyone's interest, studios included, to do the right thing."
But Giese wants to see the case in court—and even all the way to the Supreme Court, because "to suggest that the US entertainment industry resolve its own problems presents a total conflict of interest, because what you're really doing is asking the organization that's in violation to police itself," she says.
Our entertainment industry tells the stories that represent us.
Together with film producer Christine Walker, Giese created the Women's Media Summit, an event gathering some of the most influential activists in film, law, and academia to develop solutions for the gender inequality problem in US film and television. Its second edition took place last month, with panelists including Gillian Thomas, senior staff attorney at the American Civil Liberties Union' Women's Rights Project, and April Reign, who created the viral hashtag #OscarsSoWhite.
The summit has yielded practical initiatives such as the creation of a fund for women filmmakers and plans to produce a national campaign to educate the public on the issue of gender discrimination in Hollywood.
One major aim is to pursue legal action. For this, they've established a litigation committee headed up by Giese to identify legal options for women who believe they've been victims of employment discrimination. A few cases are already being handled by lawyers. "The purpose is not really to be punitive but to openly question in our courts how these unions, agencies, networks and all the other pieces that make up Hollywood function, how do they exist as gatekeepers to employment, and what needs to change so that women can get hired 50/50," Giese says.
One initiative that has put equal hiring in the spotlight is the inclusion rider, a contractual clause that Frances McDormand highlighted in the powerful finale to her Oscar acceptance speech. The inclusion rider's three authors, attorney Kalpana Kotagal, Dr. Stacy Smith, and producer Fanshen Cox DiGiovanni were also speakers on various panels at the Women's Media Summit.
The clause, that actors and writers can add to their contracts requesting that the studio hires a representative number of women, ethnic minority, LGBTQ and disabled people, was first proposed as far back as 2014, but McDormand's parting words led to search engine overloads and a subsequent adoption by Michael B. Jordan, Brie Larson, Bridesmaids director Paul Feig, and Pearl Street Films, Ben Affleck and Matt Damon's production company. Talent agency WME also plan to offer it as an option to all their clients.
"I think we're heading towards a place of widespread adoption," Kotagal tells Broadly. "Our hope, Stacy's, Fanshen's and mine, is that the adoption of the principles that are embodied in the inclusion rider will be widespread, so that the inclusion rider as a strategy for Hollywood is obsolete in a number of years."
These courses of action are all eminently practical and badly needed so that 50 percent of the workforce doesn't have to constantly fear sexual intimidation or losing their jobs. As Giese puts it, they're about fairness. "Our entertainment industry tells the stories that represent us," Giese says. "Hollywood really shouldn't belong to those very rich organizations, producers and people trying to advance their agenda. We have a right to contribute, and we have a right to say how we are being represented in commercials, movies, and TV shows."