The government is headed for a shutdown at midnight Thursday, and there's only one serious deal left on the table that could stop it — but it's imperiled by opposition from both the far left and the far right.
Dozens of Democrats are going to vote "no" because the bill does not protect Dreamers from deportation.
Dozens of Republicans are also going to vote "no" because the budget adds $130 billion in non-defense spending over the next two years without paying for it (many of these Republicans, however, are fine with the more than $160 billion in additional defense spending).
And President Trump is only reluctantly supporting the deal after threatening a government shutdown earlier this week because the budget did not include funding for his border wall or other changes he wants to the immigration system. Trump ultimately decided to support the deal because it greatly expands military spending.
Republicans and Democrats, even those opposed, believe it's more likely than not that the budget will pass, but the opposition coming from both sides makes it difficult to predict.
The budget will first come up for a vote in the Senate, where it is expected to pass after Sens. Mitch McConnell and Chuck Schumer came together on Wednesday to publicly pledge support for the deal. Some Republican deficit hawks like Sens. Bob Corker of Tennessee and Mike Lee of Utah are expected to vote "no," but the majority of the caucus will vote "yes."
The Democratic divide will be deeper. Schumer, whose Democratic caucus has been split over immigration since the government shutdown last month, has said he supports the new budget because McConnell has promised to bring immigration proposals to the Senate floor as early as next week.
Read more: The Nunes memo revealed nothing but really pissed everyone off
Many immigration advocates have said that such promises aren't nearly enough. But many Democratic Senators are not willing to shut the government down again to try and push Republicans to protect Dreamers. As a result, Schumer and other Democrats pivoted to increasing spending on non-defense programs like community health centers, infrastructure, emergency Medicaid funds for Puerto Rico, and funding the Children's Health Insurance Program for a decade.
"We believe strongly in the Dreamers, but we can't just let that occupy the whole stage," Schumer told the Washington Post last month in an honest appraisal of his priorities. "We have to fight for the middle class."
But many progressives feel that moderate Democrats are just not willing to fight for people of color and the undocumented. "It's latent racism within the Democratic Party," Adrian Reyna, the director of membership for the immigrant-rights organization United We Dream, told VICE News. "When it came to healthcare, all the Democrats were aligned; when it came to taxes, all the Democrats were aligned; but when it came to us, they weren't."
And that anger on the left has made budget passage in the House much more tenuous despite the threat of a government shutdown later Thursday. While Schumer supports the deal, House Minority Leader Nancy Pelosi is publicly opposed to it and gave an unprecedented eight-hour floor speech yesterday arguing that Dreamers should be protected.
"My hat's off to her," Speaker Paul Ryan said Thursday. "I would have gone to the bathroom well before that."
Immigrant advocate and Democrat Rep. Luis Gutierrez of Illinois said the speech was only "was a nice gesture" if it didn't come along with Pelosi trying to whip votes against the bill. And many other Democrats suspect that Pelosi only publicly opposed in order to assuage progressives but that she ultimately wanted the bill to pass and to avoid a shutdown. Even as Pelosi opposed the bill, many Democratic offices were sending around talking points Wednesday bragging about all the non-defense spending they'd secured and portraying the budget as a liberal victory.
Read more: Democrats are probably going to give Trump his border wall
Many Democrats in the House will need to vote "yes" in order to stave off a shutdown. That's because the conservative Freedom Caucus publicly declared their opposition to the budget deal last night, citing the increase in deficit spending. Democrats accused them of hypocrisy after voting for a $1.5 trillion tax cut in December, but there's still not likely not enough House Republicans to pass the budget on their own.
Watch for how many Democrats ultimately support the bill.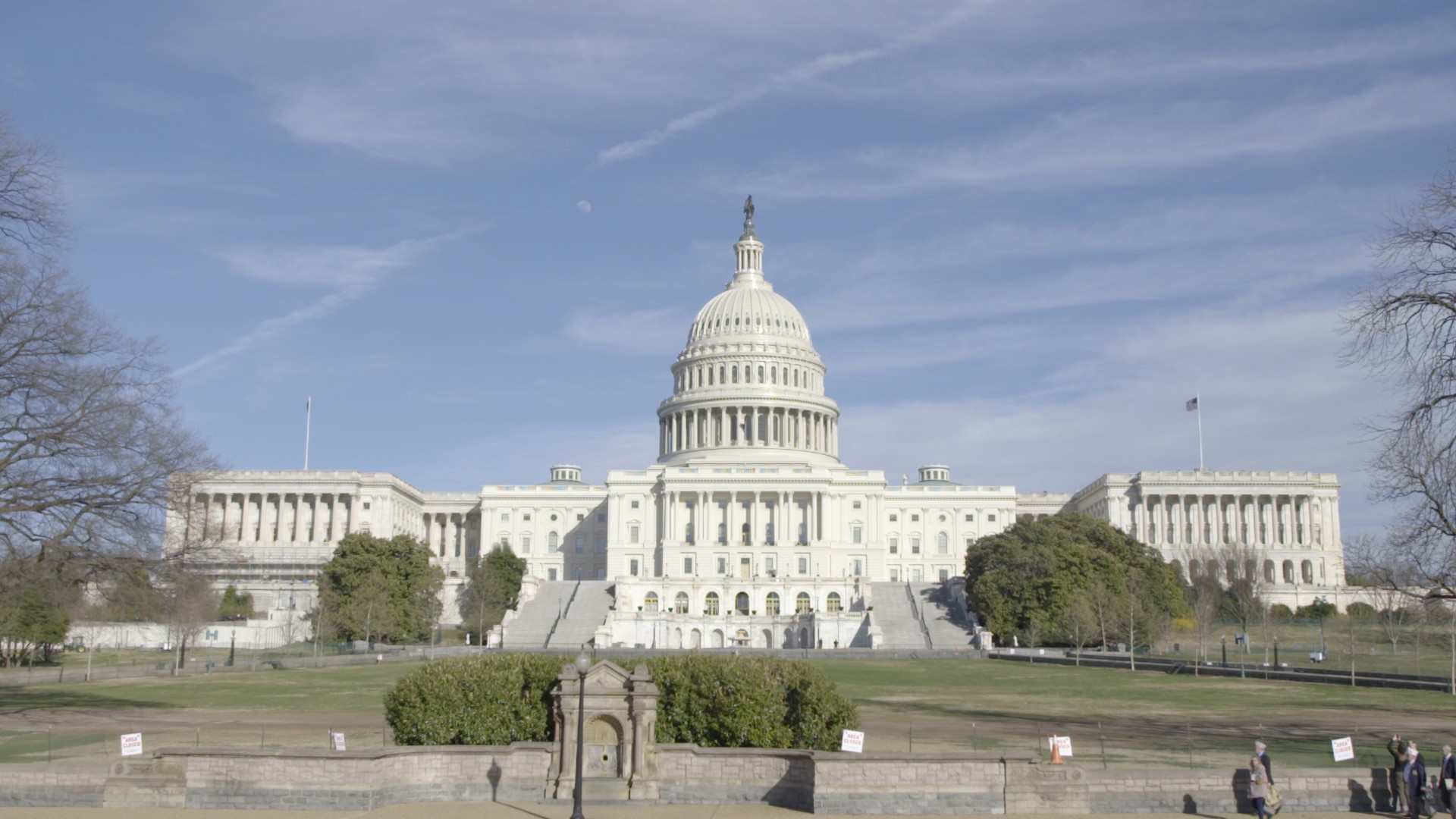 Cover: Senate Majority Leader Mitch McConnell, R-Ky., right, and Senate Minority Leader Charles Schumer, D-N.Y., make their way to the Senate floor after announcing a two-year deal on the budget earlier in the day on February 7, 2018. (Photo By Tom Williams/CQ Roll Call)