Photo: Dave Thompson/EMPICS Sport
To you, late October may mean fancy dress and trick-or-treat, but to me, an intellectual, it means: ten games in, table shaping up, Arsenal realistically out of the title race and managers getting sacked faster than you can say "Sam Allardyce Tempted Out of Retirement By Extremely Generous Financial Package".
You don't need any spooky post-Halloween weekend patter from me – what you need is another great round-up of all the goings-on in the Premier League.
"I never speak about injuries. Other managers, they cry, they cry, they cry when some player is injured. I don't cry." These are the words of Jose Mourinho, speaking after Manchester United beat Benfica a couple of weeks ago. "How does the dynamic change without Ibrahimovic, Marcos Rojo, Michael Carrick, Paul Pogba, Marouane Fellaini…" These are the words of Jose Mourinho – the very same – when asked how Harry Kane's absence through injury might change Manchester United's game against Spurs this weekend.
Make no mistake, this sort of shithousery from Mourinho is absolutely deliberate. He is the master of emotional manipulation, and we are the puppets dangling from his strings. Not only did he kick things off with some truly exquisite hypocrisy at Old Trafford, his team responded to accusations of dullness by manufacturing a turgid 1-0 win courtesy of a route-one goal kick and flick-on combo.
At the final whistle, Mourinho went straight to camera with a fourth-wall breaking shushing gesture, an act of self-awareness so sublime in its spitefulness that Mauricio Pochettino looked like he either wanted to grudgingly applaud him or charge into his technical area and kick him in the dick.
---
WATCH: Who Are the Football Lads Alliance?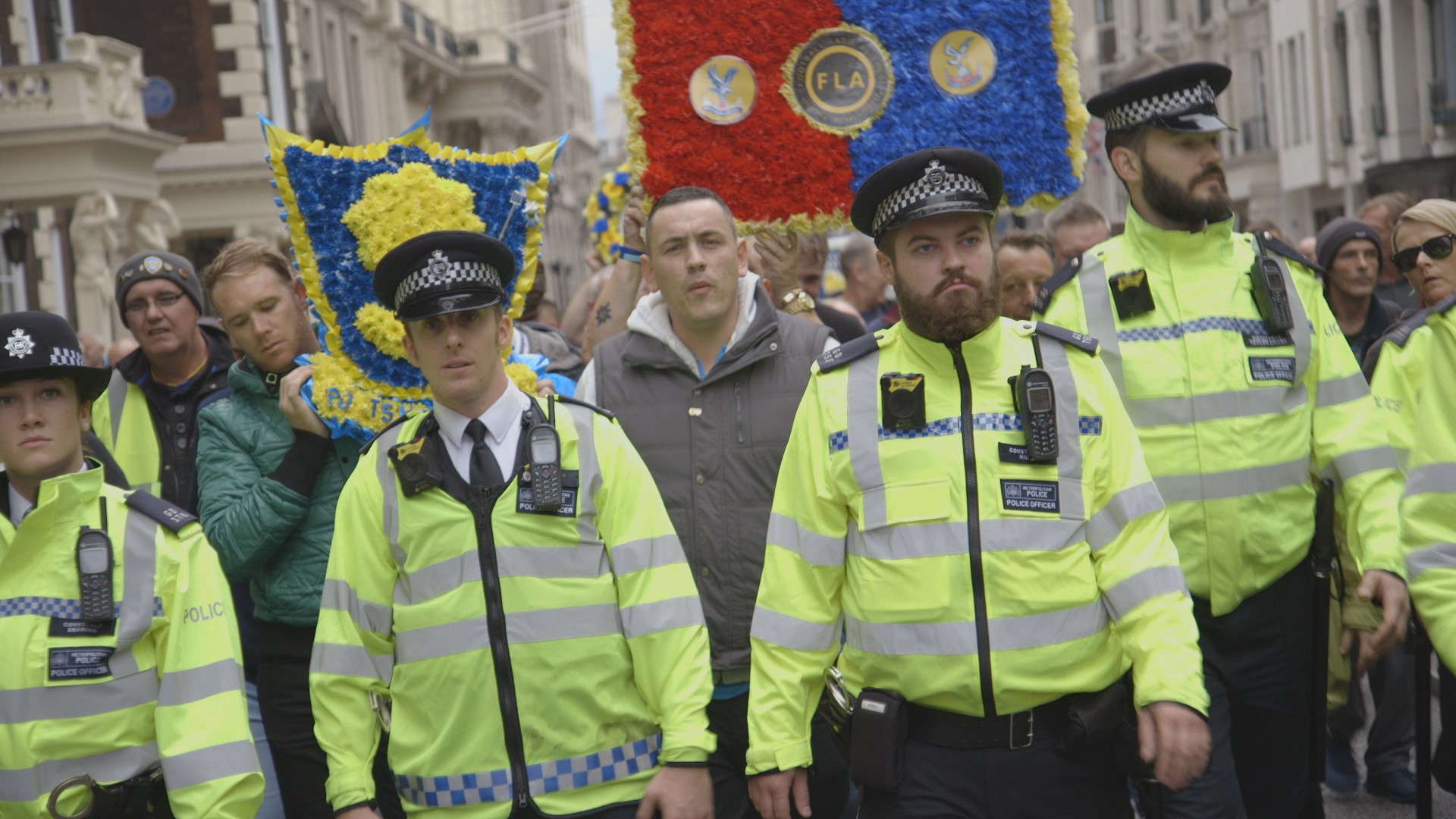 ---
Tottenham may have lost on Saturday, but many have heralded the game as proof of a new dawn at the club. With Mourinho forced to throw his whole bag of tricks at Pochettino and co. to get a result, the age of "lads, it's Tottenham" – the full transcript of a Man United team talk by Alex Ferguson back in his heyday – seems to be well and truly over. If Pochettino has had one defining success over the past few years, it has been ushering out the banter era at Tottenham; the era of Harry Redknapp's tax evasion trial, Benoit Assou-Ekotto claiming he didn't like football, losing 5-2 to Arsenal two seasons running and missing out on the Champions League despite finishing fourth (hat tip to Chelsea for that one).
Spurs may still be a little way off in terms of winning the league, but nobody can deny they are a serious proposition these days. Then again, Pochettino is not entirely immune to banter on the evidence of what happened two seasons ago, when Tottenham lost 5-1 to already-relegated Newcastle and ended up finishing a point behind Arsenal on the final day. More than the team playing brilliantly and winning silverware, Pochettino's most important job at Spurs is making sure that sort of ritual humiliation doesn't become a yearly occurrence again.
English Jobs for English Managers
As he waits for the impending managerial vacancy somewhere in the lower-mid table, Sam Allardyce has subtly reminded clubs of his availability by banging on about how great English coaches are. Ahead of this weekend's action, flanked by two of football commentary's most storied sexists in the form of Richard Keys and Andy Gray, Big Sam voiced the extremely Brexit opinion that English managers are "deemed as second class" in their own country despite being "highly educated, highly talented" men.
Bear in mind that this is the same Big Sam who was sacked from the England job for drinking a pint of wine, the man who once said the immortal words: "All this tippy tappa stuff everyone keeps going on about… is all a load of bollocks sometimes." If that didn't help the image of English coaching, neither did Steve McClaren's relegation with Newcastle, Tim Sherwood's gilet-throwing antics at Spurs or Alan Pardew's decision to make a joke about Harry Kane's mum on live TV.
Those are just a few of the recent managerial luminaries to be produced in England, but others include: John Carver (15 percent win ratio at Newcastle), Mike Phelan (25 percent win ratio at Hull) and Nigel Pearson (did well enough but also called a journalist "an ostrich"). Big Sam is one of the few English managers with a strong track record, and the others – Eddie Howe and Sean Dyche – both have jobs in the Premier League. Sam's outburst was presented in the context of Frenchman Claude Puel getting the Leicester job, a decision so outrageous to our native folk that Keysie tweeted: "RIP British coaching." Puel's first act this weekend was to get three points off Everton's David Unsworth, who is exactly the sort of English manager Big Sam and Keys want to see more of in the top tier.
In slightly better news for England, the national side lifted the World Cup on Saturday. The Under-17s World Cup, but still: no more years of hurt! The Under-17s join the Under-20s as World Cup winners, with the team three years their senior lifting their own mini Jules Rimet back in June. Add to that a victory for the Under-19s in their edition of the Euros, and it's a wonder there's anyone over the age of 21 left in the shite-as-ever senior team.
So what will become of Manchester City's Phil Foden, Liverpool's Rhian Brewster and Chelsea's Callum Hudson-Odoi, some of the standout players from the Under-17s tournament? Will we see them tearing up the Premier League for years to come, earning big money moves to Barcelona and Real Madrid, and eventually leading England's grown-ups to a glorious repeat of 1966? Judging by the usual standards of the Premier League academy process, their career trajectories will go something like: semi-successful loan to VVV Venlo, unsuccessful loan to Vitesse Arnhem, grim two-season loan at Colchester United, quiet move to Leyton Orient.
Still, good luck to them, and let's hope they bring football home at either Qatar 2022 or Chechnya 2026.