This article was originally published by VICE UK.
"The worst ever was when we were on the way back from the League Cup final. We'd just lost, and their fans were on the train," says Ollie, a Tottenham fan from a Jewish family. "It was me, my brother and my niece, who was about eight years old. It was quite traumatic actually – we nearly ended up in a fight with them; they started making gas noises and my brother just completely flipped. I was there like: 'There's an eight-year-old kid here, and you're making gas noises. What is wrong with you?'"
Ollie hardly struggles for examples of serious anti-semitism he has witnessed at football games. Which, sadly, is no surprise: for some fans, anti-semitic abuse is a familiar part of the match day experience. Asked how prevalent he personally thinks it is in football, Ollie says: "Yeah, it's rife. It's rife."
Anti-semitism is a timeworn issue in English football, even if it has been in the news this season owing to a (now defunct) Chelsea chant for Alvaro Morata. While it certainly exists elsewhere, it is predominantly a problem in London. The club on the receiving end is almost always Tottenham Hotspur, whose fans – as with the Morata chant – are often referred to by their rivals as "Yids". This is a term which Spurs supporters have now taken on as a form of self-identification, with the chant "Who are we? Yid Army!" one of the most commonly heard at the old White Hart Lane.
Beyond the anti-semitic abuse which dogs Tottenham on match days, especially when they go head-to-head with their three main London rivals, there is some historical precedent for the perception that Spurs are a "Jewish club". With thousands of Jewish refugees arriving in England from the turn of the 20th century onwards – many fleeing pogroms in Russia and Eastern Europe, followed by those arriving from Nazi Germany – north-east London became home to a substantial Jewish community and Tottenham the natural football club for them to support.
Anti-semitism being prevalent at the time (not that it went unchallenged), this inevitably led to their fanbase being subjected to anti-Jewish slurs as a form of antagonism. For the committed bigots on the opposition terraces, these would no doubt have been genuine expressions of hate. Accordingly, at some point, Jewish and non-Jewish Spurs fans together adopted the word "Yid" as a nickname, both as a form of mass solidarity and in an attempt – to use modern terminology – to reclaim something intended as an insult as their own.
Now, in 2017, there is much debate around the continued use of the word "Yid" among Spurs fans. While some argue it remains a term which has been positively reclaimed, there are objections to this, especially among the broader Jewish community. With a 2016 article from The Jewish Chronicle estimating that only around 5 percent of the crowd at Spurs are actually Jewish these days, many have asked whether the term is really theirs to re-appropriate. The issue is perhaps best explained by Stephen Silverman, a spokesman for the Campaign Against Anti-Semitism in the UK, who speaks to me on the phone at the end of the Jewish New Year.
"First off, the word 'Yid' is unequivocally one of the worst terms of anti-semitic abuse that you can direct at a Jewish person," Stephen says. "During World War Two, while Jews were being rounded up all over Europe and sent off to extermination camps, that was the word they were hearing and the word being directed at them.
"Now, there is literally only one context in which it is not considered grossly offensive and abusive, and that is when used by Tottenham fans to describe themselves – or so the rationale goes. However, there are issues with this. While the situation at Spurs came about in the 1930s and was seen as a way of showing support for Jews at a time when they were in great difficulty – a sign of solidarity, or a way of reclaiming the word, which back then was very noble – today the majority of Spurs fans are not Jewish, and so many of the people using that word aren't themselves Jews.
"More worrying is the response and behaviour that it triggers in other football fans. We've heard Chelsea fans sing songs about Auschwitz, and it doesn't even have to be in the presence of Tottenham fans – it can be on the way to another game. As well as that, there have been songs about Hitler gassing the Jews again, people simulating the sound of gas escaping, and it's just horrendous. The problem – whatever the motivations of the use of the word "Yid" by Spurs supporters – is that it muddies the water, and allows people to say: 'No, we're not anti-semitic, we're just talking about Spurs fans and they use the word themselves.' It's a wonderful cover for genuine anti-semitism."
Speaking to other Spurs-supporting friends about their experiences of anti-semitism, memories of games against Chelsea and West Ham crop up on several occasions. It's important to add that, while these London derbies have definitely borne witness to plenty of anti-Jewish slurs over the years, this is not a reflection on the majority of fans who support Tottenham's intra-city rivals, while both clubs have promised to take a hard line on the issue. That said, it's significant that football has struggled to shake off the burden of anti-semitism for as long as it has, this well after the demise of monkey chants, banana throwing and National Front literature on the terraces. For a hardened faction of football fans, songs about Hitler and the Holocaust are still seen as fair game.
---
WATCH: Who Are the Football Lads Alliance?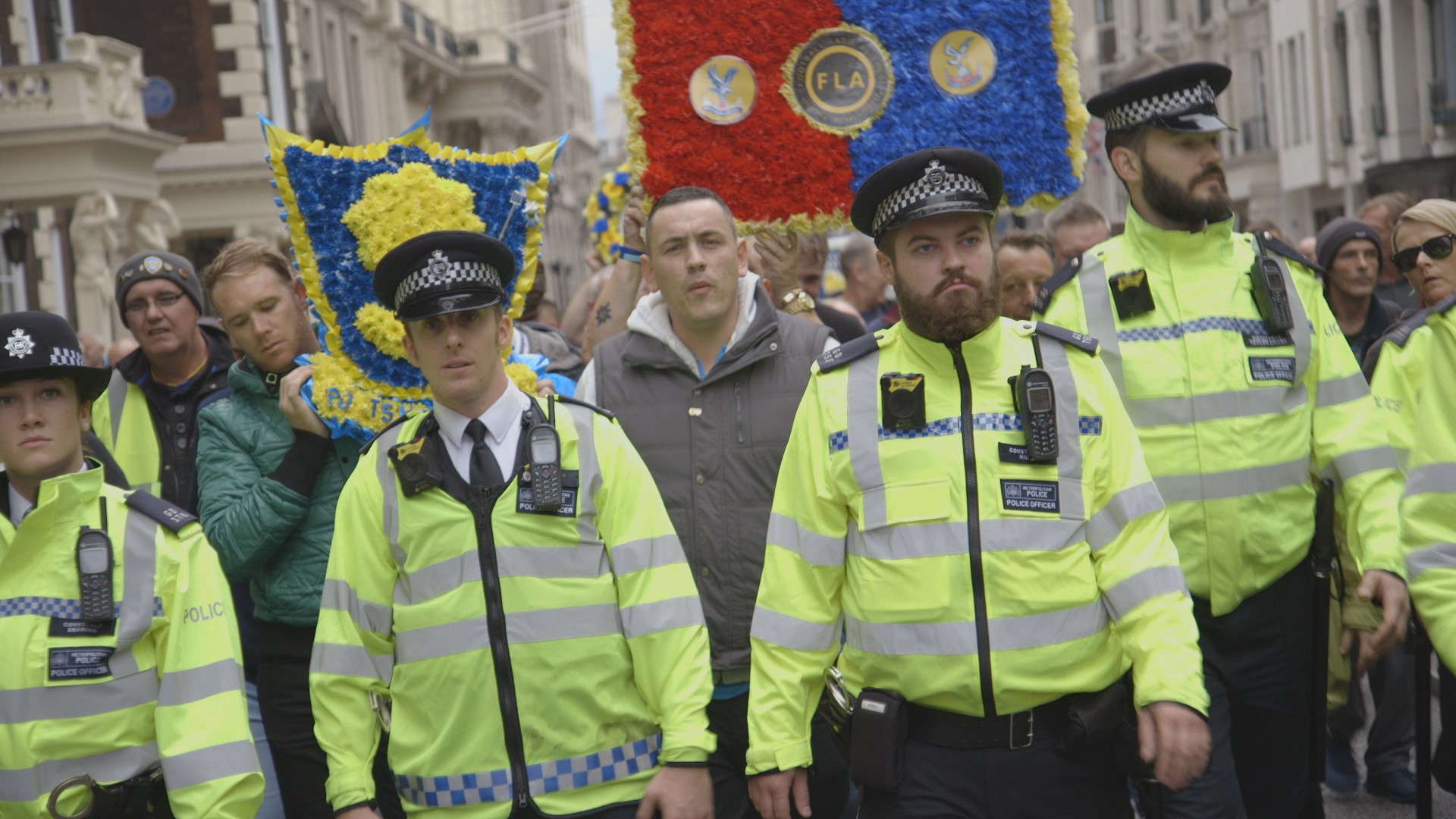 ---
Tottenham are not the only football club in Europe to attract anti-semitic abuse from their rivals. Perhaps the most famous example from the continent is that of Ajax Amsterdam, whose supporters call themselves "Joden" or "Superjoden" for broadly the same reasons Spurs fans call themselves "Yids". Other clubs that are subject to anti-semitic stereotypes include SK Slavia Prague in the Czech Republic and KS Cracovia in Poland, though the reasons behind this are varied. While the situations at Spurs and Ajax are broadly parallel – before the war, Amsterdam was known as the "Jerusalem of the West", owing to its sizeable Jewish community – the perception that KS Cracovia is a Jewish club seems to be down largely to anti-semitic provocation by their rivals, while Slavia's reputation supposedly has its roots in an insured friendly from the 1920s against, believe it or not, West Ham.
There have been some attempts to reclaim the identity of KS Cracovia, though how much solidarity is involved is up for question. Having tracked down someone with a social media account entitled "Jude Gang" – the seemingly pro-Jewish name of a Cracovia ultras group – it becomes clear that not all their fans see the Jewish connection positively. "Our local rival, Wisla Krakow, are calling us Jews. It is [an] offensive term, because we in Poland generally don't like Jews," they said. "The name Jude Gang is [a] response to this, but we are [a] Polish club with [a] beautiful patriotic history. We have nothing in common with Jews and it is only [the] name of [our] hooligans group."
Obviously there is considerable anti-semitic sentiment in these comments, though it is not entirely true that Cracovia have "nothing in common" with Krakow's Jewish community. Historically, the club welcomed Jewish players, one of whom is meant to have coined the name of their derby with Wisla Cracow "Holy War". Whatever his original intentions, the Holy War is now often presented as a clash between a traditional Polish Catholic club and a supposedly Jewish club – a common Wisla slogan is "Anty Jude" – despite the fact KS Cracovia's fans are predominantly Catholic Poles. Often violent and heavily policed, the Holy War's anti-semitic undercurrents clearly run along blurred lines.
For Slavia Prague, the Jewish connection is seen largely as a misconception, with an insurance wrangle over that game against West Ham allegedly enough, in the 1920s, for some rival fans at Sparta Prague to stereotype them as Jews. Nonetheless, anti-semitic abuse persists to this day, and while it is not necessarily being directed at Jewish fans it is, just as pertinently, intended to be insulting. While some have argued that anti-semitic terminology at matches should be taken in isolation as a form of thoughtless antagonism, the intention to insult using terms such as "Jude" is unequivocally anti-semitic, as is the use of the Star of David to brand opposition murals and so on; for both the Cracovia-Wisla and Slavia-Sparta rivalries, graffiti and counter-graffiti are ways to express both pride and contempt.
Again, this is not a reflection on the majority of Cracovia, Wisla, Slavia and Sparta supporters, and seems to be associated mainly with a hardcore following. The same might be said of the Feyenoord fanbase, though there has been disturbing footage of considerable numbers of their fans singing things like: "Hamas, Hamas, Jews to the gas" in reference to Ajax supporters. Hailing from Rotterdam, one of Holland's major port cities, the Feyenoord-Ajax rivalry (with the derby known as De Klassieker) is very much a tale of two cities; the hardy, working-class docking town against the bohemian culture capital of the Netherlands. For some Feyenoord fans, stereotyping their nemeses as Jews plays into this narrative. Accordingly, much like Spurs fans, Ajax supporters have attempted to reclaim their identity with the term "Joden" and will occasionally displaying Israeli flags.
---
WATCH: Football, Fascists & the Frontline
---
Speaking to Joram Verhoeven, a member of the Educational Projects Department at the Anne Frank House who has written a master's thesis on the anti-semitism of De Klassieker, it becomes infinitely clear why this issue does not exist in a football bubble. Anti-semitic language and imagery cannot be reduced to the identity politics of the game, and bitter tribalism does not simply exist for 90 minutes plus added time. "One striking conclusion regarding the situation in the Netherlands is that the continued occurrence of anti-semitic chants and songs has contributed to a negative connotation to the word 'Jew'," Joram tells me.
"Within the context of Dutch football, for example, the word all but equals Ajax, its supporters and the city of Amsterdam. Because of the rivalries with Ajax and its supporters, the word has become charged with negative and offensive connotations, which have carried over to the world outside of football stadiums. The word 'Jew' is more and more often used as a term of abuse, within the context of football and beyond, especially in regions with football clubs whose fanbases are at odds with Ajax."
So what do all these derbies have in common, and why do some fans still seek to stereotype their rivals as Jewish, beyond some sort of unthinking prejudice? All of these rivalries are urban by nature, all of them involve a capital city, and all of them seem to have at their heart a battle over identity and the concrete sprawl. With the Jewish population generally a small minority in these cities, casting a rival fanbase as Jewish could perhaps be an attempt to minimise their supporters; above and beyond offensive language and chanting, there is an inherently antisemitic sentiment behind this. In the "us" and "them" intrinsic to football fandom, the "us" in this case are urban top dogs and legitimate claimants to citywide support (or inter-city superiority in the case of Feyenoord), and the "them" is the other, implicitly marginal, somehow lesser Jewish community.
This is a seriously worrying mentality which has implications beyond football. While anti-semitic language on match day is hardly in line with prevailing opinion among fans, there are nevertheless some supporters who are committed to continuing with anti-semitic abuse and the discriminatory attitudes it helps to foster. More than that, there are no doubt those within the European game who not only take this stuff seriously, but would – if given the opportunity – like to weaponise this anti-semitism for ideological reasons.
Take, for example, an old thread on left-wing and right-wing football clubs from the neo-Nazi Stormfront forum, on which one contributor wrote: "Also added Jewish clubs… gives us an idea of who to hate."
More on VICE: