A large-scale search and rescue operation was launched Monday to find 10 U.S. sailors gone missing after the guided-missile destroyer USS John S. McCain collided with an oil tanker three times its size at the entrance to the Straits of Malacca – one of the world's busiest shipping lanes.
Ships and helicopters from Singapore and the U.S. are taking part in the operation. In addition to the missing sailors, five other people were hurt, with four of them being evacuated by helicopter to a hospital in Singapore with non-life-threatening injuries.
The collision with the Liberian-flagged Alnic MC happened at 5:24 a.m. local time while it was still dark. "Significant damage to the hull resulted in flooding to nearby compartments, including crew berthing, machinery, and communications rooms," the Navy's 7th Fleet said in a statement.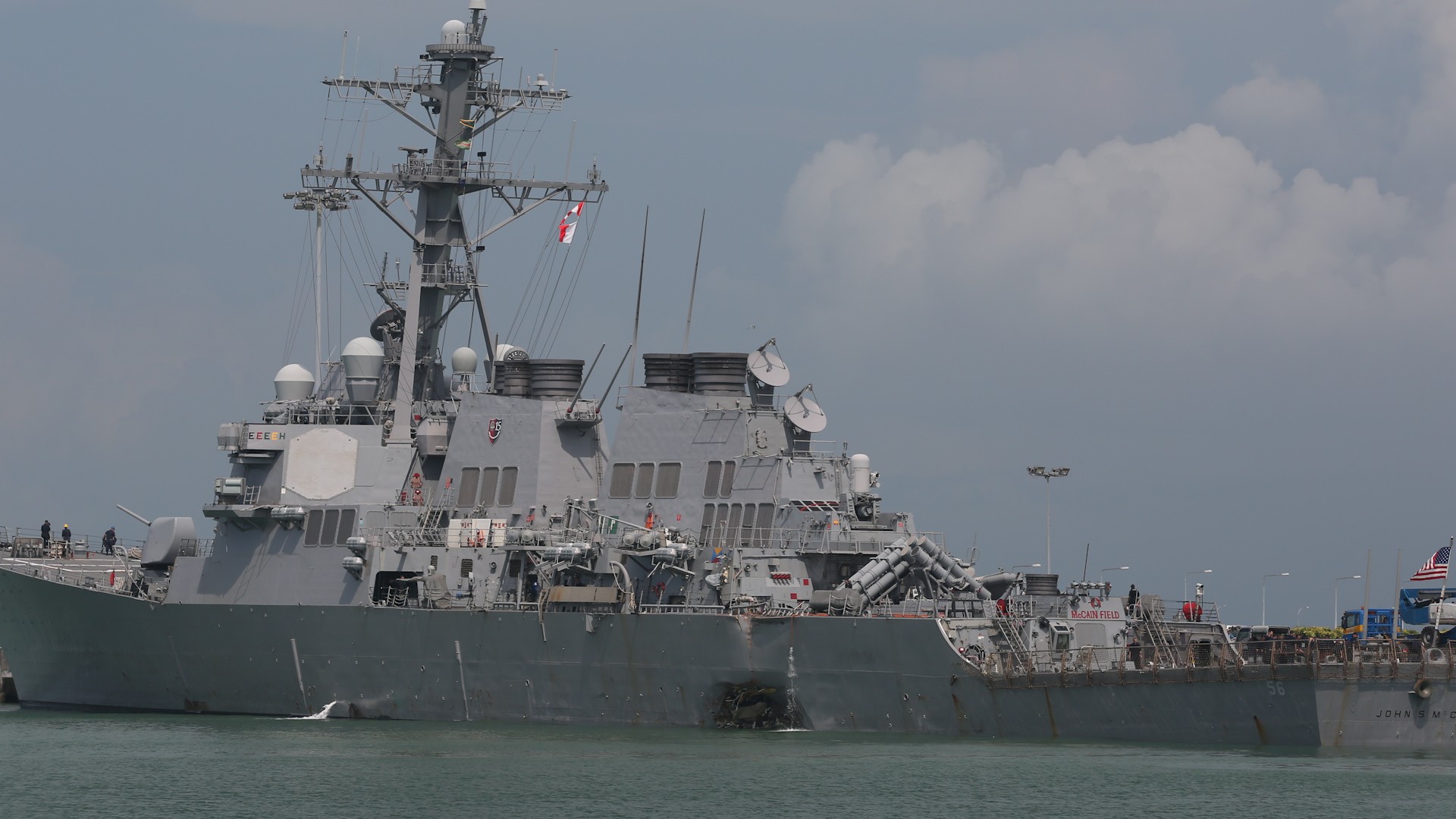 According to a marine traffic site, the oil tanker and the USS John S. McCain were traveling in the same direction, toward Singapore. The Alnic MC has a gross tonnage of 30,000 — compared with the destroyer's 8,300. There is no indication of how the collision occurred.
The USS John S. McCain has now made its way to the Changi Naval Base in Singapore, where an investigation into the crash will begin.
President Trump was criticized for his initial reaction to the news, telling a reporter who asked him about the accident: "That's too bad." He later followed up with a tweet about the rescue effort.
The collision comes just days after the release of a damning report on a collision in June, when the USS John S. McCain's sister ship – the USS Fitzgerald – collided with a container ship off the coast of Japan, resulting in the death of seven sailors. The report blamed poor seamanship by both crews, with the USS Fitzgerald's commander and two other senior officers being relieved of their duties.
With the USS Fitzgerald still being repaired and the investigation into the latest crash, the readiness of the 7th Fleet will be challenged at a particularly tense time in the region, given the continuing tensions arising on the Korean Peninsula and in the South China Sea, where the USS John S. McCain was on patrol Saturday in "support of security and stability in the Indo-Asia-Pacific region."