Image by Lia Kantrowitz
Across America, the Resistance is in serious trouble. Somehow, an alleged serial predator of teenage girls is back on track to win a US Senate seat in Alabama. A deeply cynical tax bill sticking it to the poor is on the cusp of passing in DC. Immigrants and refugees are under siege, with the Supreme Court allowing Donald Trump's Muslim ban to take effect. And Democrats are still a long way from winning back control of even one house of Congress, where sexual harassment is rife thanks to a culture of silence.
But thanks to sweeping Democratic victories up and down the ballot in New Jersey last month, at least one hotbed of anti-Trump sentiment is on the cusp of a local criminal justice breakthrough: legalized weed.
---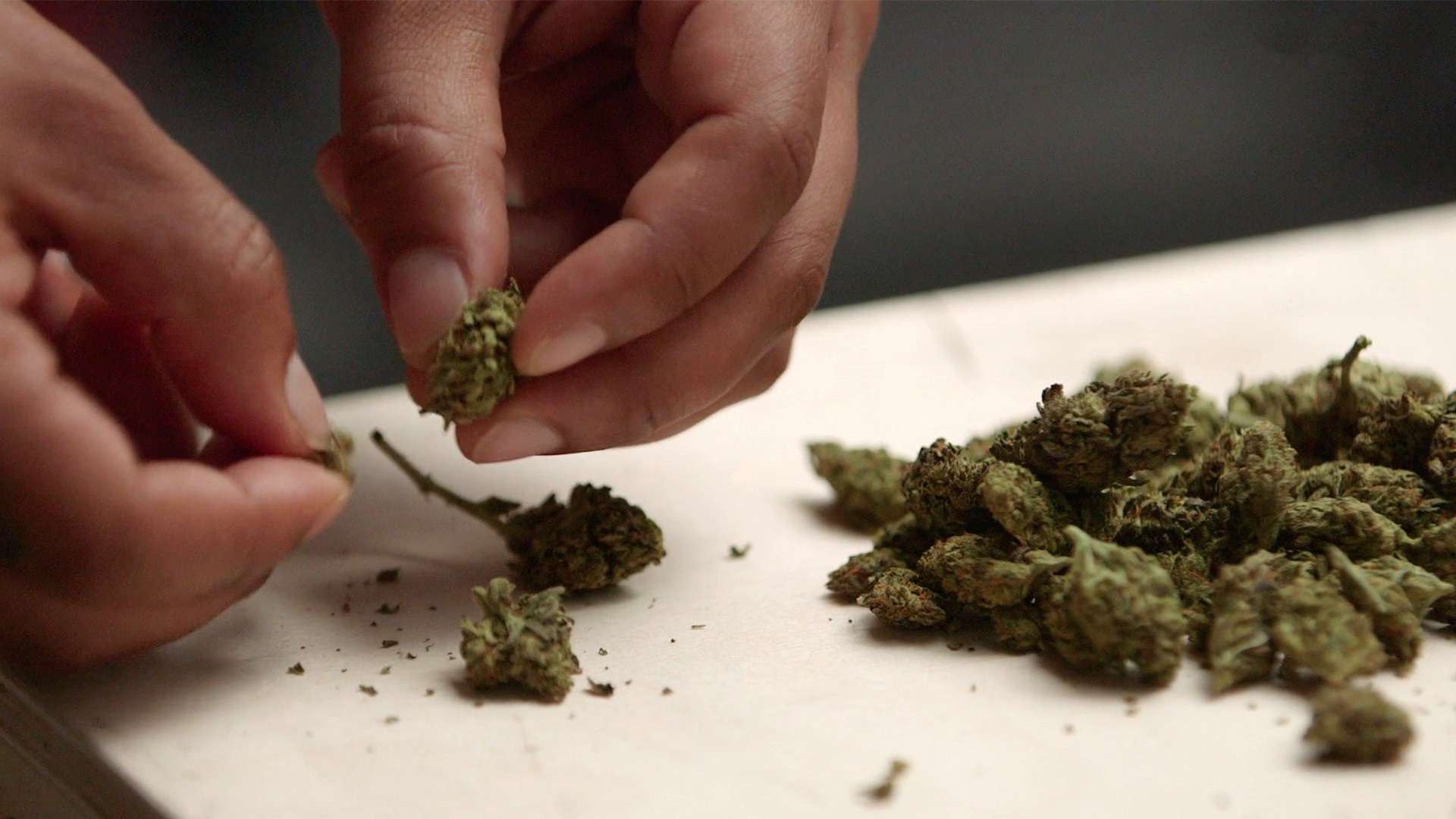 ---
In fact, state lawmakers plan to start moving on legalization as soon as Republican (and Trump lackey) Chris Christie hands over the keys to the governor's mansion next month. Christie has long opposed legal weed, arguing in May that the substance would "poison our kids," and that any revenue the state might collect from taxing its sale would amount to "blood money." But a Democratic-controlled legislature and newly enshrined Democratic governor Phil Murphy appear to be on the fast-track to finally passing the grass.
During his 2016 campaign, Murphy promised to sign a bill as soon as it arrived on his desk, and it looks like that could happen within the first 100 days of his administration. New Jersey would become the largest state on the East Coast to legalize recreational marijuana—and the latest after Massachusetts, where stores will start selling pot by July 2018. (New Jersey already allows medical marijuana and has six treatment facilities designated to facilitate its use.)
Legislators are not likely to run into a groundswell of opposition from the public, either: One poll earlier this fall found 59 percent of New Jersey voters favored allowing adults to possess marijuana legally.
As always, however, there are obstacles looming for reformers. Lawmakers are already haggling over tax rates, revenue collection, and license enforcement, among other pesky details that have derailed legalization efforts in states like Vermont. There are positive examples out West to consider, however: Revenue in Colorado is helping the state reduce homelessness and combat opioid addiction, while Washington sends upwards of 60 percent of its revenue to public health programs and community health centers. Still, excessively high tax rates could boost the black market in states with robust pot markets. And there's the X-factor of Jeff Sessions's Department of Justice, which may not be quite as hands-off during the legalization process as it was for states like Oregon under Barack Obama.
Democratic senator Nicholas Scutari, a longtime legalization advocate who sponsored New Jersey's medical marijuana law, introduced a bill in May permitting state residents age 21 and over to use small amounts of pot. Under the plan, New Jerseyans could carry, transport, or consume up to: one ounce of marijuana; 16 ounces or less of marijuana-infused product; 72 ounces or less of liquid pot, and seven grams of marijuana concentrate. They could also grow up to six "immature" pot plants, but, under the letter of the law, harvest their own bud at home. Customers would pay a 7 percent tax on marijuana sales in the first year pot was on sale in stores, and that would slowly escalate to 25 percent after several years of legalization.
The proposal would also immediately decriminalize possession of up to 50 grams of pot and limit fines to $100 and give the state's Department of Law and Public Safety the power to regulate licenses for growers and sellers. That alone would make a huge difference in criminal justice policy given there were 24,067 pot arrests in the state in 2013, up over 20 percent from 2000, when there were 19,607 arrests, according an ACLU New Jersey report this year. The same report found black residents were three times as likely to be arrested for marijuana possession as whites.
If nothing else, and despite all the national woe for progressive causes, reform in one of the country's most populous states would substantially reduce arrests in communities of color.
"Very likely New Jersey is going to be the first state to bypass criminalization and go straight to legalization," said NORML New Jersey* executive director Evan Nison. "New Jersey is still arresting people for possession and charging them with a crime."
Senator Scutari, for his part, has taken colleagues on fact-finding field trips to Colorado, and modeled his bill on states that have permitted recreational weed use for several years. "States that have legalized cannabis have not seen the doom and gloom scenarios that the critics had predicted," he (accurately) told reporters in May.
Jersey towns would have the option of opting out of the program and restricting dispensaries, although they wouldn't collect any of the state's pot profits. But many of the state's local officials, including some in Atlantic City, have strongly expressed interest in opening stores.
Deputy State Assembly Majority Leader Reed Gusciora, who co-sponsored Scutari's proposal several days later, will introduce a competing marijuana bill in the coming weeks, his office confirmed to VICE. That version would extend the phase-in time of legislation from one year to two years, and cap the number of dispensaries to one in each of the state's 40 legislative districts over the first two years of the program, with two per district by the third year.
"We want to concentrate them in urban areas and ensure that people will have access to stores in their district, but we don't want, say, three in a rural Hunterdon County," Gusciora chief of staff Brendan Neal told me. "There's no way we want more marijuana shops than Taco Bells—and there are 99 Taco Bells in New Jersey."
Unlike the typical situation in the US Congress, Jersey's lower chamber—the Assembly—could prove the trickier hurdle, as new Speaker Craig Coughlin, a Democrat, has so far declined to explicitly commit to legalization. "I want to make sure it makes sense," he said last month.
Still, under Gusciora's Assembly proposal, the state's existing medical marijuana facilities would be permitted to incorporate as separate businesses, which could potentially sell pot to the public four months after the law passes. According to Gusciora's office, the plan would tax pot sales at a lower rate than the Senate bill, and allow individuals to fully cultivate up to six pot plants at home, which legalization advocates generally support.
"Small home grows are allowed in most states including Colorado," said Nison. "You should be allowed to grow your own cannabis like you're allowed to brew your own beer."
Lawmakers will also have to hash out how pot revenue gets spent—which is where the real politics come into play. The state could collect $300 million per year in marijuana tax revenues, according to a report by New Jersey United for Marijuana Reform and New Jersey Policy Perspective, which legislators often cite. Other pot-friendly states set aside percentages of weed revenue for law enforcement, drug rehabilitation, and educational programs. New Jersey will likely do the same, although lots of cash could end up in the state's general fund.
"The tricky thing with New Jersey is that sometimes money ends up being moved around," Neal said. "We'll be looking to make those dedications clear."
If New Jersey legislative staffers close to the process were optimistic about the bill's chances, some investors argued the state could haul in more than a billion dollars annually once retailers get settled, which could boost tourism in Atlantic City and along the Jersey shore.
"When you look at the numbers including the population of New Jersey and the areas around it you're talking about a market about the size of California," said Leslie Bocskor, a Las Vegas investment banker at Electrum Partners. "You could see $200 million a month in revenue, maybe $2 billion a year two or three years down the road."
Cannabis-industry players are already scouting locations in Jersey City, Hoboken, Fort Lee, and Newark for potential storefronts. "New Jersey has a incredible opportunity to have a first-mover advantage in the Northeast, particularly the overflow they would likely experience from New York because of the extremely restrictive medical market there," said Derek Peterson, CEO of Terra Tech, a marijuana agriculture company.
Peterson suggested retailers might offer a mix of products available in other states—and that perhaps half would be raw flour and the other half ready edibles and concentrates.
Legalization in Jersey seems inevitable despite expected opposition from some lawmakers, new wave drug warriors, and, of course, Sessions, a Reefer Madness type who signaled he may crack down on pot as recently as last week. Then there's Christie, who will still be involved with the Trump administration's commission on opioid use even after he leaves office. Remarkably, he cited (questionable) research suggesting smoking weed can lead to opioid addiction in the commission's November report, while ignoring a bevy of studies finding medical marijuana is associated with a reduction in opioid overdose deaths.
Supporters scoffed at the threats. "It is a concern for businesses that may open in New Jersey, but we're going to move forward despite what's happening at the federal level," said Neal. "And Chris Christie likes being heard, but I don't know how much his opinion will matter since he has a 14 percent approval rating. Most New Jersey residents want to see him go."
*Correction 12/07/2017: An earlier version of this story neglected to clarify that Nison is executive director of NORML's chapter in New Jersey, rather than its national operation. We regret the error.
Follow Aaron Short on Twitter.