Tony Ferraiolo leads a group for gender-nonconforming youth. Photo via Tony Ferraiolo
Tony Ferraiolo didn't always have a healthy relationship with his parents. After coming out as transgender in 2004, he didn't speak to his mom or dad for five years because, at the time, they were unwilling to accept his gender identity. One year later, Ferraiolo mustered up the courage to schedule top surgery.
Shortly after, he said he felt compelled to help kids who found themselves feeling isolated or scared like he did as a teen and adult. He called up True Colors, an LGBTQ non-profit organization based in Hartford, Connecticut, to see where he could provide support.
Through True Colors, Ferraiolo mentored a young trans teen boy who didn't have much of a relationship with his dad. After a few months of building a trusting and supportive relationship with his mentee, Ferraiolo knew his efforts wouldn't end there.
About 150,000 American teenagers from 13 to 17 years old—or one in 137—identify as transgender, according to a recent report by UCLA's Williams Institute, an LGBTQ think tank. Transgender youth can face depression, suicide and substance abuse at higher rates than their peers. But with supportive parents and caregivers, transgender children can feel healthy and safe. In fact, the latest research from the National Gay and Lesbian Task Force and the National Center for Transgender Equality shows that family acceptance significantly shields them from such risks into adulthood.
And as trans and gender-nonconforming youth feel more empowered to come out at earlier ages, support groups, educational resources and more are increasingly emerging for their parents, where they can cultivate sensitivity to and acceptance of their child's experiences while reaching out to others with similar experiences.
In 2008, Ferraiolo and Dru Levasseur, a director of the Transgender Rights Project at Lambda Legal, founded the Jim Collins Foundation to fund gender-confirming surgeries. A year later, Ferraiolo created two youth groups based in New Haven, Connecticut: Translation, a group for transgender teens, and Create Yourself, an art group for transgender and gender-nonconforming children under 12. Then, a few months later, when he realized that the parents of the kids attending his youth groups didn't have a place to turn to for their own support, he came up with TransPact, a support group for parents.
"The fears are the same for the kids and the parents, but they're just coming from two different sides of the coin," Ferraiolo said. "When a kid walks into a room for the first time and sees 20 kids, they feel like, 'Oh my god, I'm not alone.' And when a parent walks into a parent group and they see 30 or 40 parents, they also feel like, 'Whoa, I'm not alone.'"
Finding trustworthy groups that teach parents how to support a trans loved one wasn't always easy. In 2012, when Krisztina Inskeep's 17-year-old son came out as transgender, she felt scared. As an open-minded educator living in Indiana, she was surprised at how little she knew about what that would mean for her teen. She looked online for help and found a few resources that outlined transgender terminology. Then she found PFLAG, a 45-year-old organization that unites LGBTQ people with families, friends, and allies through support, education, and advocacy. The organization encourages parents "to listen and follow their child's lead," said Liz Owen, their director of communications. And that's exactly what Inskeep did.
Today, Inskeep is a local leader in helping parents who were in her shoes raise their kids. Two years ago, she co-founded a private family support group in Indiana called Gender Expansive Kids and Company (GEKCO). Every member of the family is welcome to attend meetings so parents don't have to worry about child care. The families meet once a month for 3 hours; she said kids will play basketball or tag in the backyard while parents chat about their struggles and triumphs.
"We want the meetings to be a comfortable and welcoming place where everybody can be themselves and nobody looks sideways at you for being your true self," said Inskeep, who received the Indiana Benefit Leadership Award from Lambda Legal last week. "Our job as parents is to love and nurture our children and move forward with that strong love."
For some, however, the journey towards accepting and celebrating a transgender child can be a rocky one, which is why The Ruth Ellis Center, a Michigan-based youth social services organization, has a specific program based on work by the Family Acceptance Project, an LGBTQ youth research and public policy organization, to help divert LGBTQ youth from foster care.
The Ruth Ellis Center trained Michigan County Child Welfare officials who are investigating families that are suspected of neglecting their children because they are queer. The families are referred to counseling; in many cases, if parents are willing to participate, their children won't enter foster care. Jessie Fullenkamp, the education and evaluation director of the program, said the aim is to never berate parents or caregivers for not being fully accepting of their transgender or gay child right off the bat.
"It's about building a common definition of what safety means to them and their family," she explained. "To make sure they are learning about their child's gender identity or expression and why that is important and linked to their child's health and safety outcome."
---
Meet Vinnie, a 14-year-old trans boy whose North Carolina school has refused to change their policy on transgender students and bathroom use: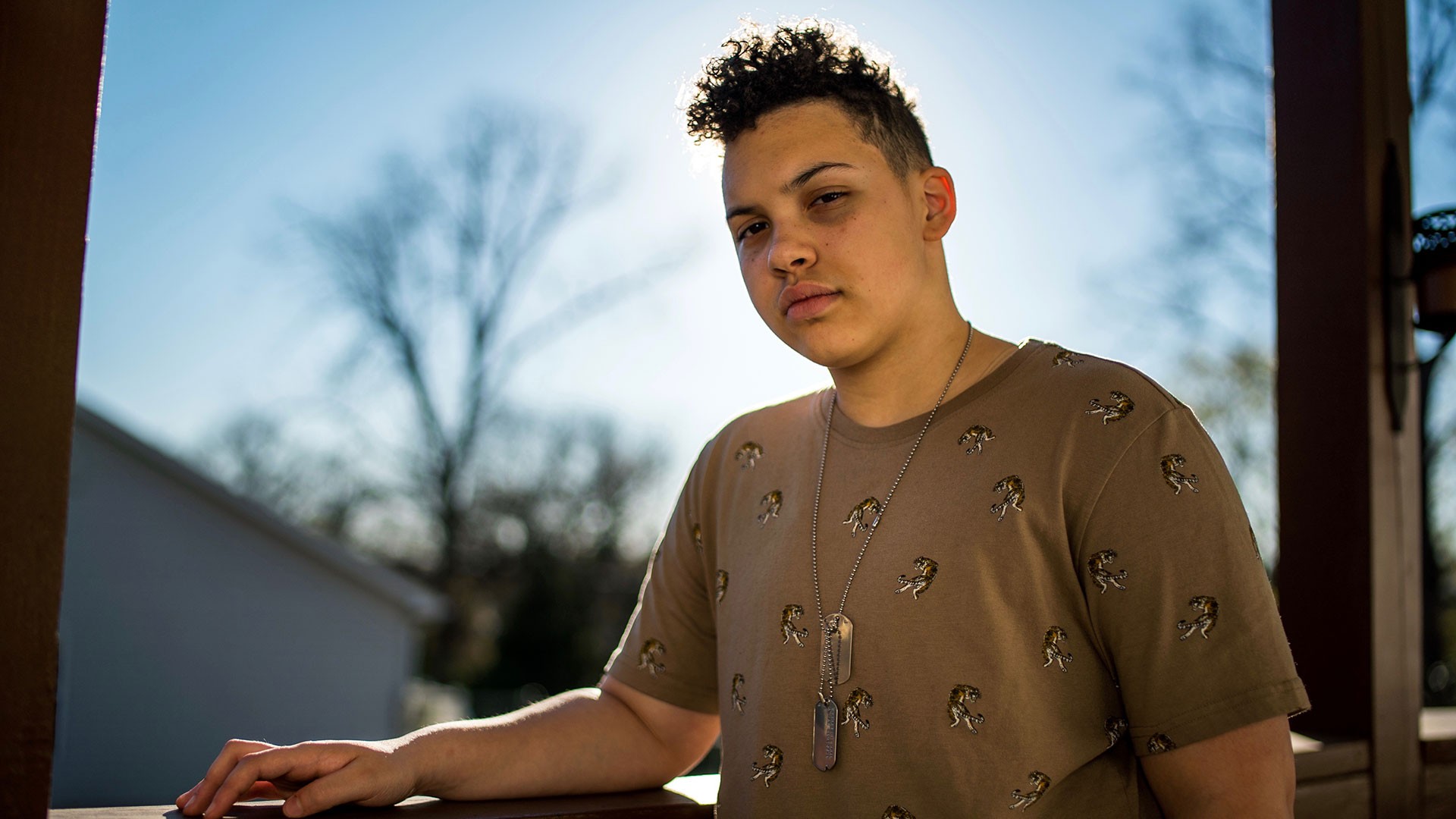 ---
According to Jean Malpas, director of the Gender and Family Project at Ackerman Institute for the Family, "everyone around the kid needs to feel like they have support on their own journey." Malpas, who recently gave a Ted Talk on the "gift of gender authenticity," believes that parents also go through their own transition when they learn to raise their gender expansive or trans children.
"What helps parents move from shock and grief to celebration and acceptance is community," he said. "Acceptance is protection for everyone involved in the child's life."
Based in New York City, the Gender and Family Project provides support groups for caregivers, grandparents, siblings and family members of trans and gender-nonconforming youth and young adults. There are play groups for children and tweens 5 to 14 years old and a support group for adolescents 14 to 18 years old. They also offer a Spanish-speaking caregiver support group for the community.
And thanks to Dr. Maya Adam of Stanford University's School of Medicine, there now exists a free online course called Health Across the Gender Spectrum, where parents can learn about the nuances of gender identity and the obstacles trans youth face.
About a year ago, Dr. Adam started interviewing families raising gender-nonconforming or trans children to learn more about their journeys. She used their narratives, and both the challenges and successes they faced, as curriculum for her course. It's comprised of compelling video stories and lessons narrated by trans kids as young as six and as old as 13.
Kids who haven't been drilled on how boys and girls should or shouldn't express their identity don't think that living outside of societal constructs is an "abomination." From my experience, especially in raising my 5-year-old daughter, I find that they actually think quite the opposite. To most kids, another child (boy, girl, trans, or otherwise) choosing to dress up like Elsa from Frozen is as normal as a girl playing with Teenage Mutant Ninja Turtle figurines.
Perhaps if more adults open their hearts and minds the way most kids do naturally, parents raising gender-nonconforming children will feel less alone or scared. If we foster a society where it's much easier and far less scary for parents to advocate for their trans kids, many lives would be drastically enhanced, and more significantly, saved.
"The stories of children are just naturally compelling. So if you can start to open people's mind through this easy entry point, it can open them to understanding more," Dr. Adam said. "Because most everybody in the world wants to protect our children and we all definitely want our children to be loved."
Follow Natalie M. Pattillo on Twitter.
Correction: This article previously misstated the dates when Tony Ferraiolo came out as transgender and had top surgery. He came out in 2004 and had top surgery in 2005.