Image via WIkimedia Commons
The Rohingya people of Myanmar (Burma) have long been referred to as the most persecuted minority in the world. As a majority-Muslim population in a majority-Buddhist country, they've been attempting to flee the ethnic cleansing campaign at the hands of the Burmese military for years. At its ambient level, the crisis was relatively easy for mainstream media and aid organizations to ignore. But a month ago, Arakan Rohingya Salvation Army (ARSA) insurgents attacked Myanmar police and prompted a massive surge in the number of Rohingya racing to escape military retribution -- nearly half a million people desperate to cross the Western border into Bangladesh. In the height of monsoon season, many of those who tried to make the crossing over the Naf River have drowned. More than 1,000 have died.
Dominating the public perception of the crisis is the complicated narrative around State Counselor Aung San Suu Kyi. Her courage in the face of military rule made her an inspiration to people all over the world, including the Rohingya. The first female Minister for Foreign affairs, the most prominent figure in the National League for Democracy, a leader so determined to see democracy reach her people that she chose 15 years of house arrest rather than cut a deal with the military to leave Burma and not return.
Her recent descent from human-rights icon to problematic fave owes to her response to treatment of the Rohingya, which boils down to an extremely loud silence. Last week, she finally gave her first televised statement in the wake of the ARSA powder-keg incident last month, downplaying the military raids by saying vaguely that "there have been allegations and counterallegations."
There are more than 1 million Rohingya in Myanmar, but the government recognizes them neither as Burmese nor as a community of their own, maintaining instead that they're a scattering of illegal, opportunistic immigrants from Bangladesh.
Suu Kyi's response to the international criticism being leveled against her saw her denounce the "false news." This is actually just a chaser for the obstruction of the Human Rights Council Fact-Finding Mission, which would like to investigate for crimes against humanity, and a systematic denial of emergency relief.
UN distributions of food, water, and medical supplies are being turned back on the grounds that there's too much violence to permit field aid. Police and stick-wielding paramilitary forces have appeared to supervise incoming aid trucks. Red Cross convoys have been stopped and searched by mobs of hundreds of Buddhist protesters; ICRC supply trucks have fatally crashed; supply warehouses have been looted.
The military, meanwhile, has excused its actions by claiming that it's only enacting "clearance operations" to drive out Muslim terrorists. Suu Kyi pushed out images of World Food\rogramme biscuits found at one camp, accusing the organization of siding with terrorists and effectively intimidating aid workers from attempting to return.
---
Check out more videos from VICE: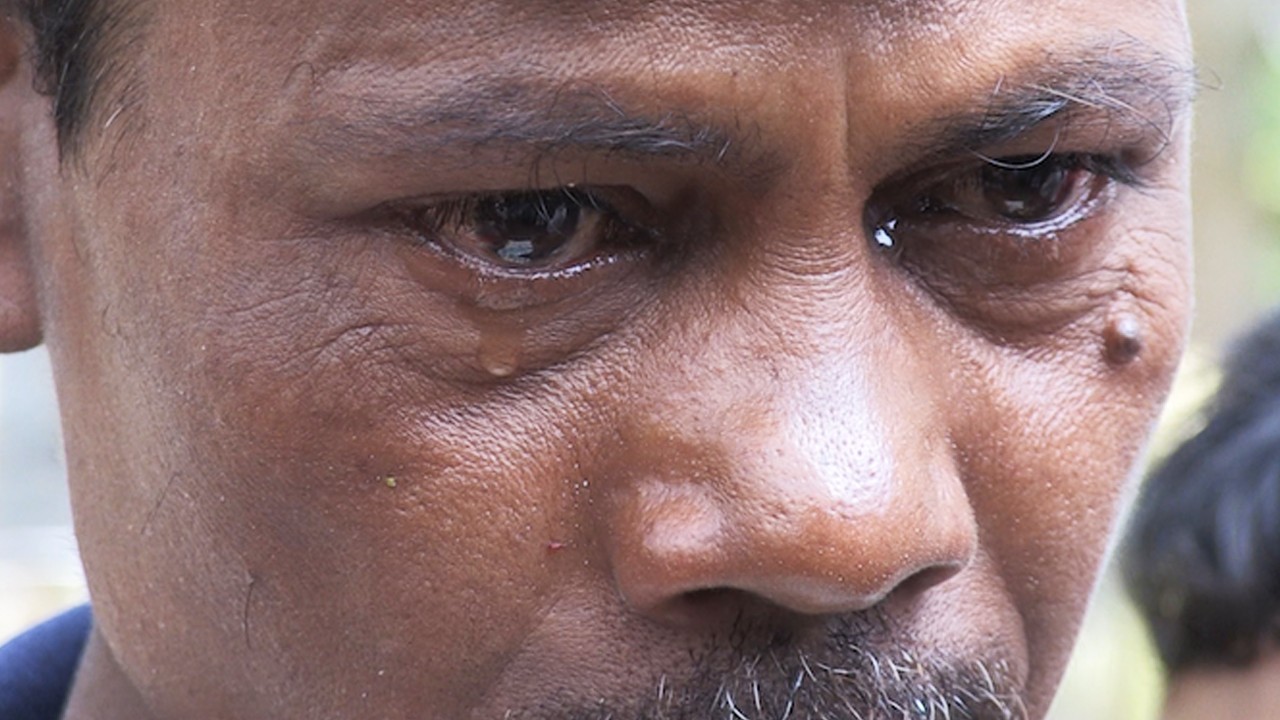 ---
When earlier this year the Office of the High Commissioner for Human Rights accused the military of massacres, torture, gang rapes, and use of land mines, Suu Kyi's administration accused the UN of a smear campaign. Suu Kyi refuses to mention the Rohingya by name, which lines up with the narrative Burmese officials have stuck to for years.
There are more than 1 million Rohingya in Myanmar, but the government recognizes them neither as Burmese nor as a community of their own, maintaining instead that they're a scattering of illegal, opportunistic immigrants from Bangladesh. They aren't officially recognized as a Burmese minority; they aren't even granted citizenship.
Rohingya are legally unable to vote, marry, pursue an education, practice their religion, or access health care. Those who remain aren't permitted to leave camps without government approval, even to get food. Some are sneaking in and out to nearby forests where they can eat leaves. They're a stateless people -- not allowed to leave, but simultaneously denied a home.
Suu Kyi claims the military has ceased its operations; satellite images of smoke rising from more than 200 Rohingya villages recently raided and set on fire say otherwise. The government claims the Rohingya burned their homes themselves. Suu Kyi said Myanmar was prepared to repatriate any refugees who wished to return, just as long as they could produce the proper verification. Recall that most hadn't been granted this to begin with, but for good measure they now have no homes to return to. Burmese law conveniently stipulates that burnt land becomes the property of the government, which will redevelop it as it sees fit.
READ MORE: These Striking Photos Capture Myanmar's Resilient Displaced Community
The reason you'll always see Suu Kyi described as the country's "de facto" leader is because the parameters of Burma's constitution don't allow for her to actually be named prime minister. Her election in 2015 marked the end of a decades-long era of military rule, but the military still retains control over border affairs. In Burma, the holder of the highest political office and the commander-in-chief are not the same person, so Suu Kyi doesn't control the military, which ultimately controls pretty much everything. The most forgiving view of her to take here would be that she's just doing her best not to rock the boat for sake of the nation's majority, since the military could declare martial law at whatever point they decided she was straying too far from her lane.. Which leaves us where we are today.
The most popular petition remains the one to take away Suu Kyi's Nobel Peace Prize.
Since even the largest aid organizations are overwhelmed and still figuring out how to organize, this is one of those crises about which everyone says they must do something but can't yet provide an actionable description of what exactly that something is. Nations including Japan, Turkey, Iran, Indonesia, Morocco, India, Malaysia, Thailand, and China have all extended offers of aid in some form, though lots of those have political agendas of their own.
Bangladesh, which by virtue of proximity is by far the country absorbing the most refugees, has begun distributing food, shelter, vaccinations, and identification cards; it's only been a few decades since many Bengalis experienced government persecution and mass displacement of their own. Their government asks the international community to increase pressure on the Suu Kyi administration to stand down.
The WFP is still attempting to donate rice. The UNHCR is ramping up its delivery of supplies and trying to install site planners and structural engineers at the most desperate camps; you can donate to their efforts.
The Office for the Coordination of Humanitarian Affairs, finding itself overwhelmed by the crisis' scale, has emended its response budget from $77 million to $200 million. UNICEF is also a good place to put your money; it was just able to get 100 tons of emergency supplies into Bangladesh, and it's trying to gather more than $7 million in additional funds. The UK organizations One Nation and Human Appeal are taking donations for their respective ongoing emergency relief efforts as well.
The most popular petition remains the one to take away Suu Kyi's Nobel Peace Prize. Here are some Change.org petitions urging the UN to allocate more resources; one to investigate the massacres and torched villages; and an Amnesty International petition demanding the Burmese commander-in-chief cease the ethnic cleansing and grant access to relief organizations. You can also donate to the World Food Programme, one of the lead agencies on the ground feeding families crossing into Bangladesh.