In the front row of the dimly-lit strip club sit two clusters of fratty manboys. The guys stare up at dancers with names like Mocha, Phoenix, Lexis, and Selena, one after the next. The women hoist their bodies into the air by the strength of their arms gripping the pole.
Backs twist. Legs stretch. Asses shake. The guys stare wide-eyed. They do not, however, seem to be paying.
Until one woman turns to a group of them and yells. "Are you going to tip her? You're sitting right in the front row!… It's her birthday!"
"Yeah! It's my birthday!" Selena joins the heckling, standing above the cheap bastards in high heels and a power pose. I am grateful that, while my cash has run out, I've been hiding beside a friend who has diligently thrown down bills all night.
"I was going to," one dude protests, tossing a twenty on the dance floor.
This is a Friday night at Ralph's Place. It's Nova Scotia's last strip club. And on Saturday, January 13, the Dartmouth joint closed its doors.
Four years ago, Ralph's son Khalil Nasrallah told Halifax alt-weekly the Coast that two things were recession-proof: "alcohol and women." But today, strip clubs are disappearing all over the place. Experts and industry insiders point to puritanical city regulations, a rise in alternative forms of sex work like camming or massage parlours, and the bogeyman of gentrification as possible factors contributing to the trend.
While the reasons vary from place to place, Tuulia Law says she sees a common feeling from people in the clubs: work is just "not as good as it was back in the day."
That might be nostalgia, she says. But Law, an assistant professor of criminology at York who studies management in the sex industry, also points to "observable changes." Many clubs that had feature dancers—strippers from other cities, famous for their work in porn or otherwise "known"—in the 90s don't bother now. Managers tell her that their lines used to snake out the door on the weekends. "That doesn't seem to be the case anymore."
Locals on Reddit describe Ralph's as "greasy" and "certainly lacking," saying it "aint much but it's all we got." It has one-and-a-half stars on Yelp. Yet, after other strip clubs in the Halifax region closed—Sensations, the Lighthouse, Load of Mischief—Ralph's became the last holdout.
For Kyla, who asked VICE not to use her last name, it's goodbye to a place that was full of memories. She worked as a server and coat check at Ralph's for almost a year in 2014. "I think strip clubs are really awesome and healthy for a community," she says. Plus, she had recently moved close to the club, so the commute was ideal. She showed up with a resume. She got an interview and a job on the spot.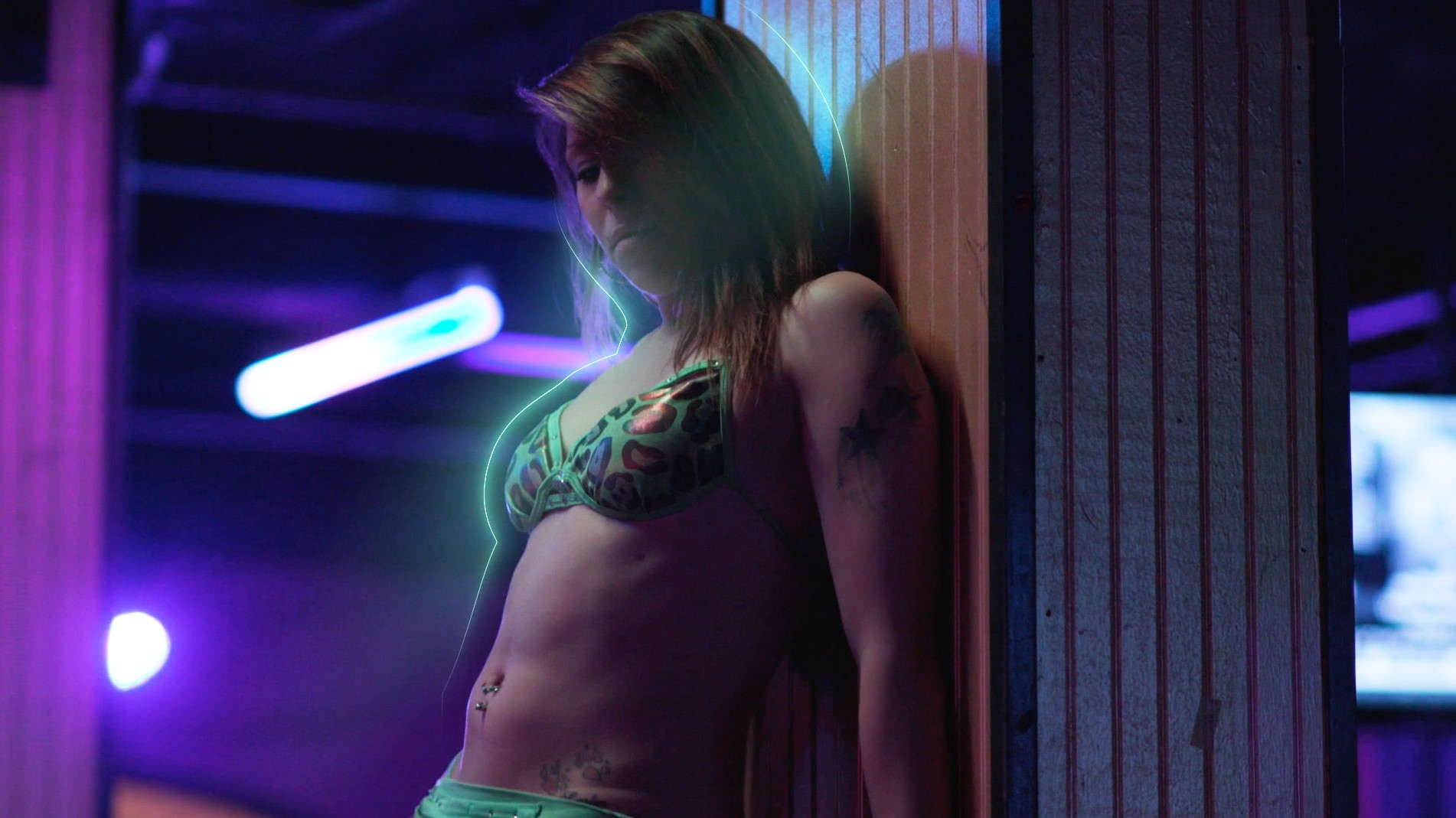 Kyla says Ralph's was usually pretty dead. The occasional biker would stop in for a drink, which probably didn't help its reputation. And sometimes they'd get big groups of guys coming in from work boats.
But contrary to ideas of catty girls or wild strip club drama, "You basically just see a lot of lonely or sad people," she says. "Men who were uncomfortable speaking with women, or their wife had died or something like that … and this was their only time to be social." On a recent Wednesday afternoon, I walked in alone. Bright red-and-green lights swirled around on the floor, like a disco ball offering up one last sputter of Christmas cheer. They only made the emptiness more noticeable. Two guys sat at the bar holding the rapt attention of the women who sat beside them. A dancer lackadaisically walked between the poles, beginning her tease. It seemed like nobody was even watching her.
Kyla says on days like these people working could seem miserable—"because they're there to make money, and they aren't making money." But when it was packed, the vibe was different. "When we had a good night, everyone was having fun … I formed a lot of great relationships there."
The club has closed. But some locals are whispering about a possible comeback elsewhere, pointing to a carefully-worded goodbye on Facebook.
"This phrasing in their closing message has me suspicious that the rumours of [a] Burnside strip bar is just a move," writes popular Twitter account Halifax ReTales, which regularly breaks news about local business in Halifax. "'January 13th will be our last day on Main Street!'"
Will we once again hear this DJ's buttery voice call on all the "gentlemen" to bring out their "loonies, toonies and those bills?" Will Halifax's stripper scene rise from the ashes like "the beautiful Phoenix," lifting herself out of an inversion on the dance floor?
"I'm not comfortable saying there will never be another strip club in the municipality," says Halifax spokesperson Brendan Elliott. But anyone who wants to open a new club will face an uphill battle with local bureaucracy.
"Generally, though there may be exceptions given there are many zones in each of our 22 or so Land Use By-laws, you CANNOT propose a [strip club] as-of-right in Halifax," Elliott wrote VICE in an email. "Theoretically, if someone wanted to propose a strip club for a mixed use or commercial zone, they would have to apply to the municipality for an exception." That process would include an application and a public comment period and could take eight to twelve months.
Halifax's Deputy Mayor Waye Mason says "people get pretty upset about someone building a building two stories higher than what's usually allowed, so something like this would … be controversial." From prohibition laws of the 1900s to bylaws regulating arcades today, he adds, legislating morality is a big part of the Maritimes' history.
But titty bars aren't great places to think about historical context.
"We're here to have a good time, right?" says one man as he hears me waffling about getting another beer. He's here with a woman who sits at the bar, facing the stage. They're fans of Roxy—a curly-haired bombshell who today pulls on a turtleneck and woolly slippers after her set, then comes out after each of her fellow dancers to wipe down the poles and pick up cash from the floor.
My friend and I are fans too. At one point Roxy looks at us—we have been cheering for her raucously—and smiles. We melt.
We hemorrhage more money. Later, we leave the club and head into the strip mall parking lot, surrounded by fast-food joints and auto shops. Dartmouth has been trying to clean up this street lately. I get in the car. I'm not sure where we're going next.
Follow Katie on Twitter.