Images via YouTube.
At the Academy Awards this year, Frances McDormand climbed onto the stage to accept her Best Actress award, exuding the brand of weird exuberance that has come to define her incompatibility with Hollywood archetypes. After delivering a lengthy, motor-mouthed speech, she concluded with a statement about Hollywood's proclivities toward white male actors: "I have two words to leave with you tonight, ladies and gentlemen: inclusion rider." (An inclusion rider, as defined by Stacy L. Smith—the founder and director of the Annenberg Inclusion Initiative—is an equity provision in actor contracts ensuring diverse casting.)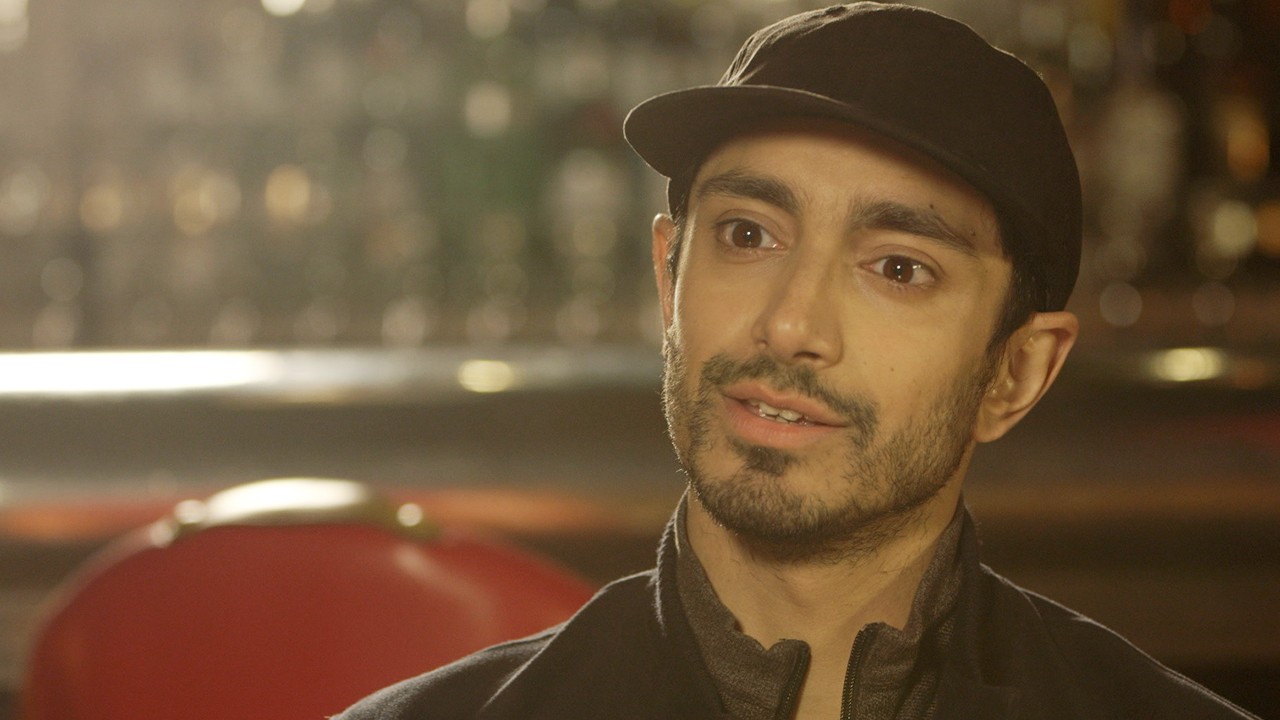 McDormand's statement was an important one. The words "diversity," "representation" and "inclusion" have all become part of the conciliatory language of Hollywood as of late—so much so that the conversation alone might convince you the numbers have changed. But they haven't. In late July, the Annenberg Inclusion Initiative found little progress has been made in the last decade. "Female speaking characters on screen filled just 30.6 percent of all roles across the 11-year time frame," the press release detailed. "In the 100 top movies of 2017, 29.3 percent of characters were from underrepresented racial/ethnic groups, 2.5 percent were characters with disabilities, and less than 1 percent of all characters were from the LGBT community."
Monday was a polarizing, bittersweet day for casting. Disney was lambasted for selecting Jack Whitehall, a straight actor, as its first major gay character, for the upcoming film Jungle Cruise. Meanwhile Ruby Rose, an Australian queer and genderfluid actress, exited Twitter amid backlash over her casting as the first openly lesbian superhero lead in Batwoman. (Batwoman is originally written as a Jewish lesbian; Rose is white and bisexual.) Disney also unveiled the first look at a live-action Mulan film, starring Liu Yifei.
Understanding the context of these digital wars can be both confusing and exhausting. For years now, Hollywood has been scrutinized for its poor casting practices—intentionally "whitewashing" the roles of characters initially intended to be minorities; choosing cisgender people to play transgender characters. There's a lot to cover, so we've compiled a recent history of casting controversies and their lasting legacies.
Premise: Directed by Neil Marshall and based on the Dark Horse Comics character Hellboy, the film reboots the Hellboy film series to follow the story of an "immensely powerful demon" who works for the government organization Bureau for Paranormal Research and Defense.
Controversy: On August 21, Ed Skrein, an English actor and rapper, was cast to play Ben Damio, a character of Japanese-American descent from the comics.
Response: A week after his casting, following extensive controversy, Skrein voluntarily dropped out of the film. "It is clear that representing this character in a culturally accurate way holds significance for people, and that to neglect this responsibility would continue a worrying tendency to obscure ethnic minority stories and voices in the Arts. I feel it is important to honor and respect that. Therefore, I have decided to step down so the role can be cast appropriately," he wrote in a statement. Producers Larry Gordon and Lloyd Levin issued a statement to Deadline on behalf of Lionsgate & Millennium , saying: "Ed came to us and felt very strongly about this. We fully support his unselfish decision. It was not our intent to be insensitive to issues of authenticity and ethnicity, and we will look to recast the part with an actor more consistent with the character in the source material."
A Wrinkle in Time (March 2018)
Premise: Director Ava DuVernay adapts Madeleine L'Engle's classic 1962 teen sci-fi novel about a teenager who travels in space to find her scientist father, who has disappeared in the middle of a secret assignment for the government.
Controversy: DuVernay is known not just for her filmmaking prowess (her documentary, 13th, won a Peabody Award in 2017), but also her work behind the camera in diversity and inclusion initiatives. For the film, she casted Storm Reid, who is biracial, as the protagonist Meg Murray, who, in the book, is white. She also casted Oprah Winfrey and Mindy Kaling as two of the three celestial beings who would guide Meg on her journey.
Response: The Observer reported that DuVernay was taking flak for "trying to make too much of a political point by casting African-American actors as characters that were assumed to be white (though the book doesn't actually specify)." The director, who is black, didn't seem to mind the criticism. "The first image [I had in my head] was to place a brown girl in that role of Meg, a girl traveling to different planets and encountering beings and situations that I'd never seen a girl of color in," she told Entertainment Weekly. "I was interested in… a heroine that looked like the girls I grew up with." Russel Boast, the vice president of the Casting Society of America and its head of inclusion and diversity committee, was as elated as DuVernay was about the casting choice: "The more we can celebrate diversity, the better," he said.
Urban Myths: A Brand New Collection of Comedies (January 2017)
Premise: Urban Myths is a comedy anthology series, with each episode featuring stories drawn from urban myths in popular culture, ranging from Muhammed Ali talking a man down off a ledge to Bob Dylan turning up, unannounced, on a stranger's doorstep.
Controversy: One particular episode of the series was set to follow the (likely) fictional story, reported in Vanity Fair , of a road trip Michael Jackson, Elizabeth Taylor and Marlon Brando took following the September 11 attacks. It was soon revealed that Joseph Fiennes, who is white, was to portray Michael Jackson—an especially dangerous choice considering the relationship Jackson had with his blackness. When accused of "whitewashing" the character, Fiennes said: "This territory is sensitive. One must determine if this portrayal is one that is going to be positive entertainment, and one that will not bring about division and put anyone's noses out of joint, so I went with the mind that this was a positive light-hearted comedy."
Response: Sky Arts, the company which broadcasts Urban Myths in the United Kingdom, initially stood by the casting decision in a statement to Rolling Stone, saying: "Sky Arts gives producers the creative freedom to cast roles as they wish, within the diversity framework which we have set." Several members of Jackson's family were quick to object, including his daughter, Paris Jackson, who called it "shameful" and wrote in a since-deleted tweet: "I'm so incredibly offended by it, as I'm sure plenty of people are as well, and it honestly makes me want to vomit." The episode was pulled from the broadcast indefinitely: "We set out to take a lighthearted look at reportedly true events and never intended to cause any offense."
Ghost in the Shell (March 2017)
Premise: Directed by Rupert Sanders, Ghost in the Shell is a sci-fi action film loosely based on the Japanese seinen manga of the same name, which was written and illustrated by Masamune Shirow. Set in a near future timeline, the film follows the Major (Scarlett Johansson), a cyborg supersoldier who investigates her past amid a blurring line between humans and robots.
Controversy: Though Ghost in the Shell is an adapted version of a highly popular Japanese manga, its starring character—and most of the cast—is played by Johansson, a white actress. In April 2016, ahead of the film release, Screencrush reported filmmakers had commissioned the use of CGI, among other visual effects, testing to make Johansson appear more "Asian." Paramount swiftly denied this.
Response: Director Sanders told CNET he stood by his decision to cast Johansson, who he referred to as "the best actress of my generation and her generation, and the person I felt most embodied the physicality and the ability to inhabit that role." On a similar note, Mamoru Oshii, tho directed the first Ghost in the Shell film, from 1995, told IGN: "The Major is a cyborg and her physical form is an entirely assumed one. The name 'Motoko Kusanagi' and her current body are not her original name and body, so there is no basis for saying that an Asian actress must portray her." Johansson also said, in an interview with Marie Claire, "I certainly would never presume to play another race of a person. Diversity is important in Hollywood, and I would never want to feel like I was playing a character that was offensive."
For what's it's worth, Ghost in the Shell was a huge flop at the box office, only taking in $40 million on an estimated budget of $110 million.
The controversy continued even into this year, when Sanders was set to direct a film about a transgender man starring Johansson, from which Johansson promptly dropped out, after being heavily criticized.
Gods of Egypt (February 2016)
Premise: Directed by Alex Proyas, Gods of Egypt is a sci-fi action film about a mortal Egyptian hero who partners with the Egyptian god Horus to save the world from Set, god of chaos, and rescue his love.
Controversy: In spite of what the title suggests, no Egyptian actors appeared in Gods of Egypt. Instead, the film cast is replete with white actors: Gerard Butler as Set, Nickolaj Coster-Waldeau as Horus, Geoffrey Rush as Ra, and Brenton Thwaites as Bek. There is also Chadwick Boseman, who plays Thoth, but for the most part the film features no people of colour.
Result: The film predictably faced a torrent of backlash. The Associated Press politely called it "ethically inaccurate casting"; Ava DuVernay said "We all deserve icons in our own image," praising J.J. Abrams' casting in Star Wars: The Force Awakens. Even Chadwick Boseman, who was in the film, agreed with criticism of the film. Lionsgate and director Alex Proyas issued apologies for not thinking about the film's diversity, and Lionsgate promised it would do better in the future. "We recognize that it is our responsibility to help ensure that casting decisions reflect the diversity and culture of the time periods portrayed. In this instance we failed to live up to our own standards of sensitivity and diversity, for which we sincerely apologize. Lionsgate is deeply committed to making films that reflect the diversity of our audiences. We have, can and will continue to do better." Since then, Lionsgate has made the following films, among others: The Perfect Match (2016), Café Society (2016), Jigsaw (2017), John Wick: Chapter 2 (2017), Robin Hood (2018), and Overboard (2018).
The Great Wall (December 2016)
Premise: Directed by Zhang Yimou, The Great Wall tells the story of European mercenaries searching for black powder who become involved in a battle to protect the Great Wall of China from a horde of ancient monsters.
Controversy: The Great Wall stars Matt Damon and Willem Dafoe as main characters in medieval China. The film was decried for its proliferation of the white saviour narrative—a cinematic trope where a white character rescues people of colour from their imminent destruction.
Result: Zhang Yimou, the film's director (Yimou is Chinese), said the protagonists weren't playing roles that were intended for Chinese actors, denouncing critics for not being "armed with the facts" and stating "In many ways The Great Wall is the opposite of what is being suggested. For the first time, a film deeply rooted in Chinese culture, with one of the largest Chinese casts ever assembled, is being made at tentpole scale for a world audience. I believe that is a trend that should be embraced by our industry."
Premise: Directed by Cynthia Mort, Nina is a biographical film focusing on the life and career of the late jazz musician, classical pianist and civil rights activist Nina Simone, starring Zoe Saldana.
Controversy: Zoe Saldana, a light-skinned black Latina actress, wore dark makeup and a prosthetic nose to play musical polymath Nina Simone in this biopic. There was a chorus of anger online: the actress doesn't sing, bears no resemblance Simone, and there are plenty of dark-skinned actresses—Viola Davis, Kimberly Elise—who would have offered more accurate portrayals.
Result: After being castigated online by actors, critics (it boasts a 3 percent on Rotten Tomatoes) and writers (Ta-Nehisi Coates called it "deeply shameful and hurtful") alike, Saldana did an interview with Allure Magazine in an attempt to delineate the complexities of her blackness: "There's no one way to be black…Do I continue passing on the script and hope that the 'right' black person will do it, or do I say, 'You know what? Whatever consequences this may bring about, my casting is nothing in comparison to the fact that this story must be told.'" Nina Simone's estate responded swiftly, excoriating her on Twitter: "@zoesaldana Cool story but please take Nina's name out your mouth. For the rest of your life."
Premise: Directed by Will Gluck, Annie is a contemporary adaptation of the 1977 Broadway musical of the same name, starring the magnetic Quvenzhané Wallis.
Controversy: In the original Annie, which told the story of a young orphan's experiences during the Great Depression, the titular character is an 11-year-old white girl with red hair; Gluck's adaptation recasts Wallis, a young black Oscar-nominated actress, as Annie. Naturally, the internet was set alight with "I'm not a racist, but…" comments, which usually closed out in "since when is Annie black?" Many of the film's detractors speculated that if the inverse had happened—if a traditionally black character had been cast as white—the film would have never happened.
Result: Jamie Foxx, who also stars in the movie, issued the only response I can find on the matter: "I don't listen to anybody on the internet because they hate everything… A kid growing up today, he sees President Obama, he doesn't know there was controversy… "
The Lone Ranger (July 2013)
Premise: Directed by Gore Verbinski and based on a radio series of the same name, The Lone Ranger tells the story of a masked Texas Ranger who fights outlaws in the American Old West with his Native American partner, Tonto.
Controversy: Despite the producers having used an adviser from the Comanche Nation on-set, many were unsure whether casting Johnny Depp as a Native American character wearing paint on his face, stereotypical braids and feathers—essentially, what is known as "redface"—was a good idea.
Result: Johnny Depp noted this was a personal attempt "to try to right the wrongs of the past," referring to the negative portrayals of Native American people in popular culture. Todd McDaniels, a linguist at the Comanche Nation College, mildly applauded on Depp's attempts to speak the Comanche language, of which there are only 25 to 30 living native speakers: "The words were there, the pronunciation was shaky, but adequate." Ultimately, the movie flopped, and Depp blamed critics for its poor performance: "I think the reviews were written seven to eight months before we released the film," he said.
Premise: Just as the title suggests, Thor is a superhero franchise based on the Marvel Comics character of the same name, directed by Kenneth Branagh and starring Chris Hemsworth as the titular character.
Controversy: Idris Elba, a British actor of African parentage, was cast as Heimdall, the fictional Norse guardian of the burning rainbow bridge.
Result: A since-removed page on Facebook appeared ahead of the film's release, organized by the Council of Conservative Citizens—a white nationalist organization that condemns interracial marriage and refers to black people as a "retrograde species of humanity"—called "Boycott Thor (2011) by Marvel Studios." Of the 1,400 people who liked the page, many had Confederate regalia in their profile photos. Posts on the page included speculations about whether Hollywood might make a movie with "Will Smith as Adolf Hitler" and criticizing the hijacking of European heritage. They also offered "Boycott Thor" T-shirts, bumper stickers and aprons!
Idris Elba is currently leaning into and away from immense speculation that he will be taking over the role as the next James Bond. Maybe he's the only one on this whole list who's learned what the internet does: it reacts.
Follow Connor Garel on Twitter.
Sign up for the VICE Canada Newsletter to get the best of VICE Canada delivered to your inbox.