Image: Flickr/Michael Lehet, CryptoFighters, CryptoBots, CryptoPuppies, TRON Dogs
Kitties, puppies, pandas, bunnies, and tiny monsters—this is not a list of the Beanie Babies that still live in my parents' attic; it describes the various blockchain-based collectibles people have already spent millions of dollars buying.
The idea of collecting virtual items tied to blockchain networks that ensure uniqueness and transparently track ownership isn't new. Developer Joe Looney created the "Rare Pepe Wallet" in 2016—a platform where people can purchase tokens representing virtual trading cards featuring variations of artist Matt Furie's original green frog meme on the Bitcoin blockchain. However, it took CryptoKitties' debut in late November of 2017 to turn this concept into both a game that was accessible to more than just your average cryptocurrency nerd, and a major moneymaker.
Today, the more expensive kitties continue to sell for the equivalent of over $300,000 USD. In total, more than $23 million worth of ether, the Ethereum blockchain's currency, has been spent on CryptoKitties. Recently, the game studio that created them, Vancouver-based Axiom Zen, raised $12 million in venture capital funding.
"Many of these newcomers are resembling casino games a bit"
Since then, a number of other developers from all over the world has created their own blockchain-based collectibles, and a bunch of cryptocollectibles that resemble CryptoKitties—some blatantly—are trying to cash in on the fad. Many of them started development mere days after CryptoKitties launched, and even major companies like Baidu and Xiaomi in China have jumped on board. No fewer than two cryptocollectible games have players trading tulips.
Will these collectibles end up like the Beanie Babies in my parents' attic, unused and making people curse their ill-fated expenditures? Or will they simply make for a good time? You can decide for yourself, but one thing is certain: Oh my god, there are so many of them now. Dear reader, join me on a journey into the bowels of the latest attempts to get people to part with their cryptocurrency.
CryptoPets
Development for CryptoPets started just four days after CryptoKitties' launch on November 28, and is basically a cross between Pokémon and CrytoKitties. Owners' pets can battle each other, and those who put in time and effort to "train" their pets will increase their value in the "adoption center," Mitchell Opatowsky, project manager at CryptoPets, explained to Motherboard in an email.
CryptoPets is still in pre-beta, and according to Opatowsky 1,120 people have signed up for the beta. The company's main revenue stream will be initially come from selling the CryptoPets, Opatowsky told me, suggesting that his team will also add "more items" players can buy down the road.
CryptoBots
CryptoBots is the creation of Russia-based game studio Playneta. Like CryptoPets, it combines the cute collectibles of CryptoKitties with a game that has players duke it out. As of this writing, a new tournament is in play on the CryptoBots website, with a prize of 10 ether (ETH), presently worth $3,682.50.
The game has close to 10,000 users and "averages about 150 signups a day," CryptoBots producer Alexander Rog told Motherboard. It has earned about 150 ETH total (at time of writing, $57,901 USD) from sales of base-level CryptoBots, a 3 percent fee for all subsequent bot sales, and 0.01 ETH fee taken from players participating in battles. The most expensive bot is named Bot Master, and it sold for 10 ETH, or $4,050.
CryptoDogs

CryptoDogs' name is almost as original as the appearance of its characters. The collectibles' overall look blatantly mimics CryptoKitties, but they're dogs, and the game is owned by Chinese tech giant Baidu. What differentiates CryptoDogs is its use of the experimental China-based Achain platform, which seeks to reduce the congestion Ethereum saw when CryptoKitties was at its peak.
According to its website, the most valuable CryptoDog costs about 99,998 in Achain tokens, which at the time of writing equates to nearly $18,447 USD. The CryptoDogs team did not respond to Motherboard's requests for comment.
CryptoPuppies
CryptoPuppies is another clone involving dogs, but with accessories. Its website features pictures of cartoon Shar-Peis, Shiba Inus, and pugs wearing heart-shaped glasses and spiked collars.
So far, the app has a small user base—just 300 in total, with around 50 active daily users, according to CryptoPuppies CEO Valery Kuznetsov. Development started right after CryptoKitties launched. Since the game went live on March 29, users have spent "about 6.5 ETH" on CryptoPuppies (which, at the time of writing, is nearly $2,500 USD). The most expensive CryptoPuppy to date, described as a "plum Beagle underdog," went for 1.098 ETH, or $404 USD. Games like the Puppy Bowl and CrytoPuppy races are "coming soon," as are "achievement" awards, for accomplishments like being the best "hodler" and the fanciest lover, whatever that means.
CryptoBunnies
Launched March 14 by Xiaomi, a Chinese smartphone manufacturer, CryptoBunnies goes by the Chinese translation Jiami Tu. Xiaomi has not responded to Motherboard's request for comment, but a Coindesk article about the company's launch mentions that only users with Xiaomi accounts can adopt Bunnies and that the game will create Bunny scarcity by "only issu[ing] a limited number of digital pets, starting at 11:00 a.m. Beijing time every day."
TRON Dogs
You know those new Beanie Babies, Beanie Boos, with the glittery, hypnotic eyes? That's what TRON Dogs look like. You can find them on Love.pet, a website where individuals can start online stores selling them.
Currently, there are hundreds of TRON stores selling collectibles that go for 200 TRON tokens, equivalent to about $7.40. TRON Dogs is a Game.com game, so players can also use the gaming company's cryptocurrency, G Coins in addition to TRON tokens. The TRON Dog team did not respond to Motherboard's requests for comment.
Pandarium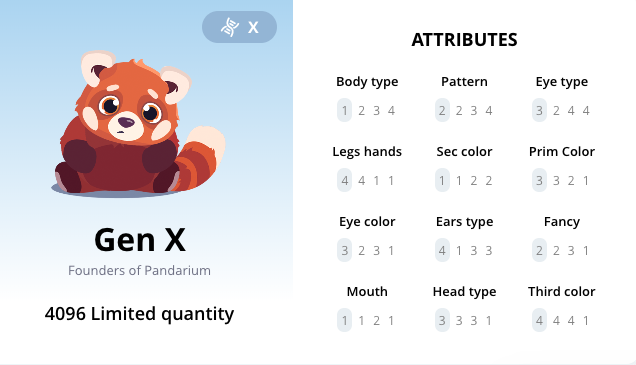 Pandarium's is in the pre-beta stage and its homepage invites visitors to "pandopt," The whitepaper (excuse me, "bamboo paper") begins not with a table of contents, but rather a whimsical tale of runaway pandas who hold annual dance tournaments. The goal of Pandarium is to breed the best dancer in the game.
The game hasn't launched yet, "but we have around 10,000 subscribers who wait for [when] Pandarium goes live," Pavel Agoshkov, CEO of Playtagon (the studio that developed Pandrium) told Motherboard in an email. "We expect players to spend 1-2 ETH on panda-founders since those pandas are super effective for initial breeding." Playtagon will take a 3.75 percent commission from panda breeding and trading.
Etheremon
Singapore-based Etheremon's is yet another cryptocollectble that cribs Pokémon's play style and visual design. The "Mons" look a lot like their Japanese predecessors and come in a wide variety of types. Mirrie, a "phantom," is my favorite.
Etheremon came into being post-CryptoKitties, which served as "an inspiration." The game currently boasts over 4,500 "Monseekers" (players). The Mons listed as "most expensive" goes for 0.1608 ETH ($59.25 USD), while the cheapest is free. "There have been almost 30,000 Etheremons collected and 70,000 battles played," co-founder Naka Nhu told Motherboard in an email.
CryptoFighters
CryptoFighters also involves buying, leveling up, fighting, and selling tokens. Players earn the ability to "recruit" new fighters by winning fights, so you can win new cryptoassets in addition to buying them. Unlike other games on this list, these collectibles aren't cute—by this point, a welcome change. Fighters come in a range of skin colors—the priciest goes for 200 ETH ($74,000) and the cheapest for .0028 ETH.
CryptoFighters started in January, cofounder Elie Steinbock told Motherboard in an email, and was inspired by CryptoKitties. The game has earned $30,000 so far and the team's goal is "to become one of the most popular cryptocollectibles," Steinbock wrote.
*
Cryptocollectibles have come a long way from their Rare Pepe origins, in terms of volume and accessibility. Major Chinese corporations like Baidu and Xiaomi have skin in the game right alongside smaller players.
Overwhelmed by the sheer number of these collectibles, I looked for insight into the space from someone whose product actually inspired CryptoKitties, as Mack Flavelle, whose job title at Axiom Zen is "instigator," told me in the past.
John Watkinson created CryptoPunks—collectible pixelated images of people, aliens, zombies, and apes—in June 2017 with his partner Matt Hall through their mobile game development company, Larva Labs. Watkinson told me he believes the cryptocollectibles space "has a bright future" that will include helping the mainstream better understand blockchain technology. However, he's turned off by the fact that "many of these newcomers are resembling casino games a bit," and he isn't interested in watching the space become a gambler's Eden.
"It may take a while for [cryptocollectibles] to grow beyond the current niche," he concluded, "but it seems too valuable a concept to just fade away."
In other words, while some of these virtual Beanie Babies will start collecting virtual dust, others may serve to drain gamblers' wallets. But who knows—maybe someone will wind up learning something about blockchain technology.
Get six of our favorite Motherboard stories every day
by signing up for our newsletter
.
Update: This article was updated to include comment from CryptoFighters.