Americans who have never heard of Marian Anderson will soon, at the very least, be familiar with her likeness. In 2020, she will appear on the back of the new $5 bill alongside Eleanor Roosevelt and Dr. Martin Luther King Jr. But if only you could put a voice on a bill—that would be a more fitting legacy for the groundbreaking classical singer.
A Black American coal seller's daughter born in 1897, Anderson was both a singer and civil rights activist with a talent so singular that, paired with savvy and determination, it managed to transcend racist prejudices and make her one of the most celebrated contraltos of her time.
Before singing at Carnegie Hall for European royalty, at the White House, and at the inaugurations of Presidents Eisenhower and Kennedy, however, Anderson met constant discrimination. And, for her her ability to persist in spite of those odds, she became an icon of Black excellence, resilience, and pride. The extraordinary story of her seven-decades-long career as a soloist is perhaps best told through the five historic concerts that cemented her place in history.
August 26, 1925—The New York Philharmonic at Lewisohn Stadium
Before she'd even lost her baby teeth, Marian Anderson sang professionally, charging a quarter per song—about $7 in today's currency. As a Philadelphia teenager, her close-knit Baptist church took up a collection to support the burgeoning vocalist's ambitions. By then, her rates had jumped to $5 a performance (around $122), which supplemented her family's income after the unexpected death of her father.
After graduating high school, Anderson auditioned at a local music school, but was turned away because she was Black. "We don't take 'colored,'" the secretary told her. It was, Anderson later wrote in her 1956 autobiography, "my first contact with the blunt, brutal words. …It was as if a cold, horrifying hand had been laid on me. I turned and walked out."
Instead, the singer took private lessons with the renowned opera teacher Giuseppe Boghetti, who encouraged her to enter a competition to perform with the New York Philharmonic. Young Anderson took a train to New York, and took her place among 300 other hopefuls in a large, muggy hall.
Each audition had a limited amount of time, signaled by a bell, at which point each singer was ushered off stage mid-song. "I was finally called, and I began with the recitative and then launched into the aria proper, with one part of my mind waiting apprehensively for the voice of doom upstairs," Anderson later wrote. "It did not come. I was allowed to sing the whole aria, including the trill." The other contestants burst into applause. Then a judge called from the balcony: "Does 44A have another song?'"
So, she continued, singing a collection of both arias and spirituals.
"Miss Anderson made an excellent impression," the New York Times wrote of the audition. "She is endowed by nature with a voice of unusual compass, color and dramatic capacity." And at that, her career took off.
September 16, 1930—London's Wigmore Hall
As Anderson's career grew, her fees increased to $350 a performance, and $500 for special venues. Still, the racism Anderson experienced at home followed her for the rest of her career: traveling to concerts in the "Jim Crow car" of trains, being denied performances at "whites-only" venues, and being shut out of dressing rooms or hotel rooms reserved in her own name. "Prejudice," she once said, "is like a hair across your cheek: You can't see it, you can't find it with your fingers, but you keep brushing at it because the feel of it is irritating."
Hoping to be accepted as a performer on her own merits, she used a scholarship from the National Association of Negro Musicians and traveled to Europe, where the likes of Josephine Baker were already embraced by audiences of mixed races. Anderson made her European debut at London's Wigmore Hall, where she was received with open arms, and spent the next five years touring Europe, where she blossomed into a marquee name.
December 31, 1935—New York's Town Hall
"It would be fooling myself to think that I was meant to be a fearless fighter," Anderson writes in her autobiography. "I was not, just as I was not meant to be a soprano instead of a contralto." And it's difficult to imagine her as fiery in any other respect besides her voice: Accounts paint her as thoughtful, considerate, docile, even. While touring, she didn't like to bother her neighbors with a warm up, if someone was smoking in her midst, she didn't care to inconvenience anyone by asking for it to be stomped out. And it's with this poised determination that she pressed on in the face of obstacles—not a fighter, but resilient nonetheless.
Despite her initial hesitance to return, for instance, Anderson was set on winning over the American stage. But upon sailing back to the States, she broke her ankle failing down a flight of stairs. Despite the injury, she gracefully performed before New York crowds with her cast covered by her couture gown, her limp camouflaged by leaning against a piano. The audience roared with applause.
"Let it be said from the outset," Howard Taubman wrote in the New York Times, "Marian Anderson has returned to her native land one of the great singers of our time."
April 9, 1939—Lincoln Memorial
In 1939, Anderson was prevented from performing at what was then the largest concert hall in Washington, DC because she was Black. The hall was owned by the Daughters of the American Revolution, whose racist bylaws restricted who could play there. It made no difference that she'd toured Europe or performed for President Eisenhower as long as she was Black. "I was saddened," she wrote of hearing the news, "but as it is my belief that right will win, I assumed that a way would be found. I had no inkling that the thing would become a cause celebre."
Upon hearing the news, then First Lady Eleanor Roosevelt, who was a member of the Daughters of the Revolution, publicly revoked her membership in protest of the decision. The controversy made headlines nationwide, and Anderson was invited by the Secretary of the Interior to give a free public concert before the Lincoln Memorial that Easter Sunday. "As I thought further, I could see that my significance as individual was small in this affair," Anderson later wrote. "I had become, whether I liked it or not, a symbol, representing my people."
A crowd of 75,000 draped around the nation's capital from the Lincoln Memorial to the Washington Monument to hear Andersonnati sing. "I had a feeling that a great wave of good will poured out from these people, almost engulfing me, and when I stood up to sing our National Anthem I felt for a moment as though I were choking," she recalled. "For a desperate second I thought that the words, well as I know them, would not come. I sang, I don't know how."
Amid the audience was a ten-year-old boy who, 24 years later, would stand in Anderson's spot and preach "I have a dream." In a speaking contest five years later, young Martin Luther King Jr. recalled Anderson's performance: "She sang as never before, with tears in her eyes. When the words of 'America' and 'Nobody Knows de Trouble I Seen' rang out over that great gathering, there was a hush on the sea of uplifted faces, Black and white, and a new baptism of liberty, equality, and fraternity."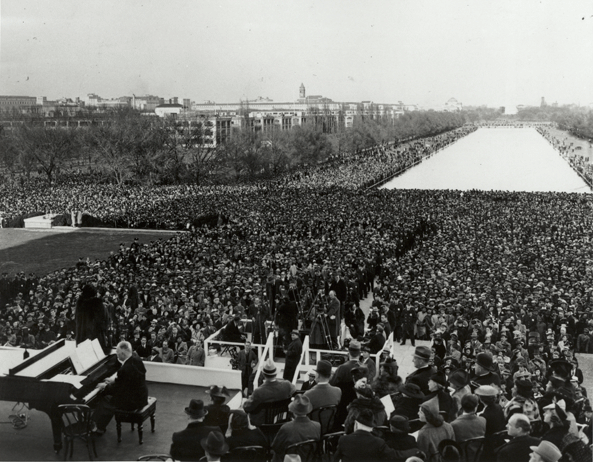 January 7, 1955—The Metropolitan Opera
By mid-century, Anderson had already received medals from European royalty, toured the world, and appeared on the covers of TIME and Newsweek, but there was still a barrier she hadn't broken: In its 75 years of existence, New York's storied Metropolitan Opera had yet to feature a Black soloist. And at age 57, decades after most other singers would have retired, Anderson became the first, playing Ulrica in Verdi's The Masked Ball.
The performance, which was immortalized in an iconic photograph by Richard Avedon, would also be the first and last time Anderson sang an opera role onstage. "The chance to be a member of the Metropolitan has been a highlight of my life," she later wrote of the experience. "It has meant much to me and to my people. I have been privilege to serve as a symbol.
"There will be others. One does not expect them to be accepted because they are Negroes; one hopes that they will be welcomed only for their worth."