Getty Images
Russia's deputy PM took a swing at Donald Trump's erratic Twitter diplomacy Friday, claiming the president's early morning posts were overshadowing world affairs.
The jab came as tensions continue to rise over an anticipated U.S. strike on Syria — a military escalation that Moscow warned Friday could lead to a wider conflict between Russian and the United States, or turn Syria into another Libya or Iraq.
Speaking at a forum in Krasnoyarsk, Arkady Dvorkovich said: "We cannot depend on the mood of someone on the other side of the ocean when he wakes up, on what a specific person takes into his head in the morning… We cannot take such risks."
The comment came after Trump sent conflicting messages over military action against Syria, in retaliation for an alleged chemical weapons attack, in tweets posted over two days.
On Wednesday Trump taunted Russia, Syria's key backer, to "get ready" for U.S. strikes; the following day, perhaps stung by criticism he was showing his hand, he tweeted that he had "never said when an attack on Syria would take place" and that such an assault might come "not so soon at all."
Russian Foreign Ministry spokeswoman Maria Zakharova also criticized Trump's use of Twitter Friday, telling Sky News: "I was surprised that such strong messages were sent through social media because this should be a time to phone your partner. We can resolve all these problems by picking up the phone, not by force."
In the background to Trump's posts, discussions between the U.S., France and Britain in recent days have been building a consensus on how to respond to Saturday's alleged attack on Douma, which the World Health Organization said killed dozens and affected hundreds.
The White House said after Trump met with his national security team that "no final decision has been made" on a course of action. But momentum appears to be continuing to build towards a military response.
READ MORE: Trump wants to send Assad a message – but his options are all bad
British Prime Minister Theresa May's office said late Thursday that, following a call with Trump, the two leaders had "agreed it was vital that the use of chemical weapons did not go unchallenged, and on the need to deter the further use of chemical weapons by the Assad regime. They agreed to keep working closely together on the international response."
The call came after a meeting of May's cabinet in which her senior ministers unanimously supported her position. A statement said the British government believed it was "highly likely" that Syria had used chemical weapons on its own people, and that such an atrocity could not pass unchallenged.
French President Emmanuel Macron said earlier Thursday that France had "proof" the Assad regime used chemical weapons in Douma, and would support any US action. Earlier in the week he had said that France was ready to attack Syria's "chemical capabilities."
The saber-rattling has prompted dire warnings from Syria and its chief backer, Russia. Russian Foreign Minister Sergei Lavrov told a news conference Friday that he hoped that Syria wouldn't become another Iraq or Libya.
"God forbid anything adventurous will be done in Syria following the Libyan and Iraqi experience," he said.
Vassily Nebenzia, Moscow's ambassador to the United Nations, warned against strikes on Syria and said he "cannot exclude" such actions setting off a wider conflict between Moscow and Washington.
"The immediate priority is to avert the danger of war," he told reporters Thursday. "We hope there will be no point of no return."
READ: Trump is not going to tell Syria when he's going to bomb Syria
Syrian President Bashar al-Assad also warned against attacks, calling the allegations of a chemical attack on Douma "fabricated." "Any possible action will only cause more instability in the region and threaten international security and peace," he said at a meeting with an Iranian delegation in Damascus, Syrian state television reported.
Turkish President Recep Tayyip Erdogan cautioned both sides Friday against turning Syria into a proxy U.S.-Russian war. "We are extremely uncomfortable about the fact that some countries who have confidence on their military power are using Syria as their arm-wrestling field," he said in a speech in Ankara.
"No one has the right to engulf the Mediterranean and the Syrian lands in the fire of their political and military power struggles."
The Organization for the Prohibition of Chemical Weapons has sent a team of investigators to Syria that is due to start its investigation in Douma Saturday, the group said. Thousands of Islamist rebels and their families were evacuated in buses from the town overnight Thursday, the U.K.-based Syrian Observatory for Human Rights said, as the last pockets of rebel resistance in Eastern Ghouta gave up their fight for their territory in the wake of the weekend's chemical attack.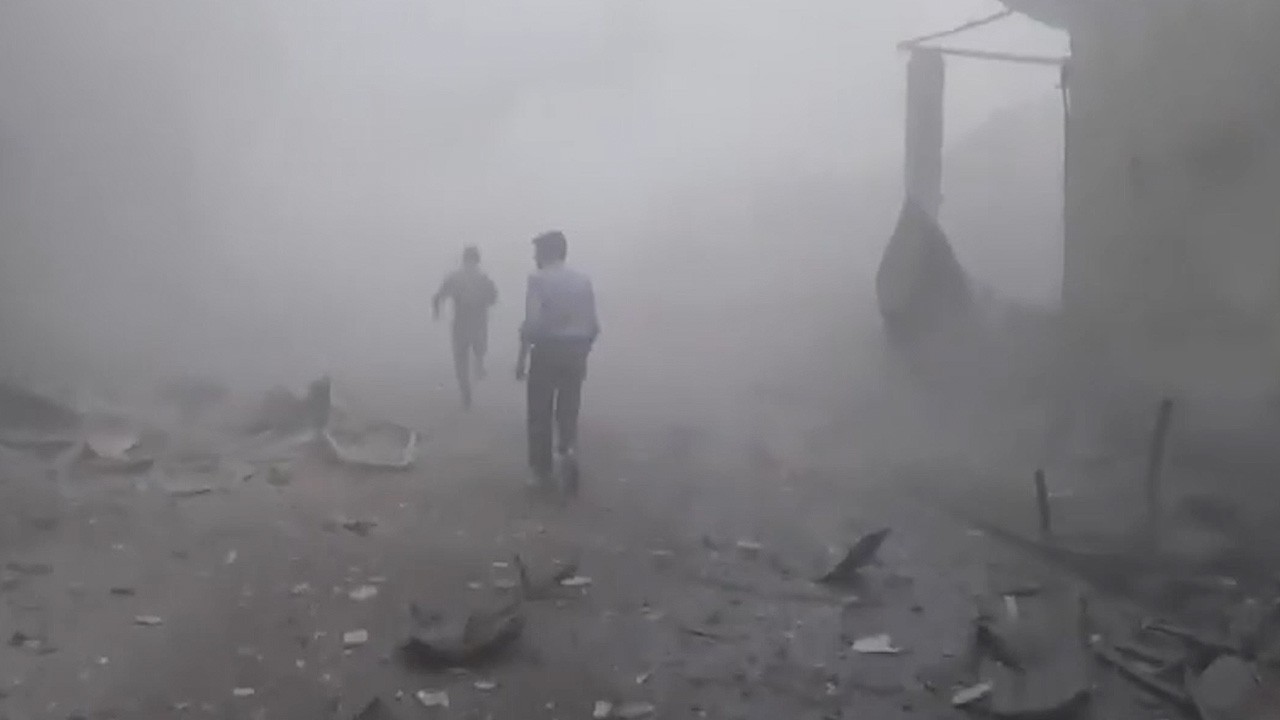 Cover image: Donald Trump participates in a meeting on trade with governors and members of Congress at the White House on April 12, 2018 in Washington, DC. (Chris Kleponis - Pool/Getty Images)