Lately, I can't help but notice the resurgence of the word "Afrofuturism" in cultural circles: at museums, in books, but maybe most importantly, on my social media feeds. In my own work as the founding curator of the Center for Afrofuturist Studies (CAS) in Iowa City, I've been inspired by artist Martine Syms' mundane Afrofuturism to think about art that deals with the future of black lives in an everyday way. I'm interested in a black future that includes, say, tomorrow and the next day, and that also includes the lives of black people on social media—the futurity we all already live with. I wonder whether the space-based Afrofuturism of Sun Ra we saw in the mid-20th century has since given way to a new internet-based one: the millennials' Afrofuture.
Moor Mother, however, sees things a little differently. "I don't know anything about millennial culture," the Philly-based punk-poet, né Camae Ayewa, tells me over the phone when I ask her about Black Quantum Futurism, an offshoot of Afrofuturism she created with her partner Rasheedah Phillips. As Ayewa explains it, Black Quantum Futurism is "a new language of healing, memory, and justice that can be transmitted and used as a technology," one that exists at the intersection of activism, art, and DIY culture.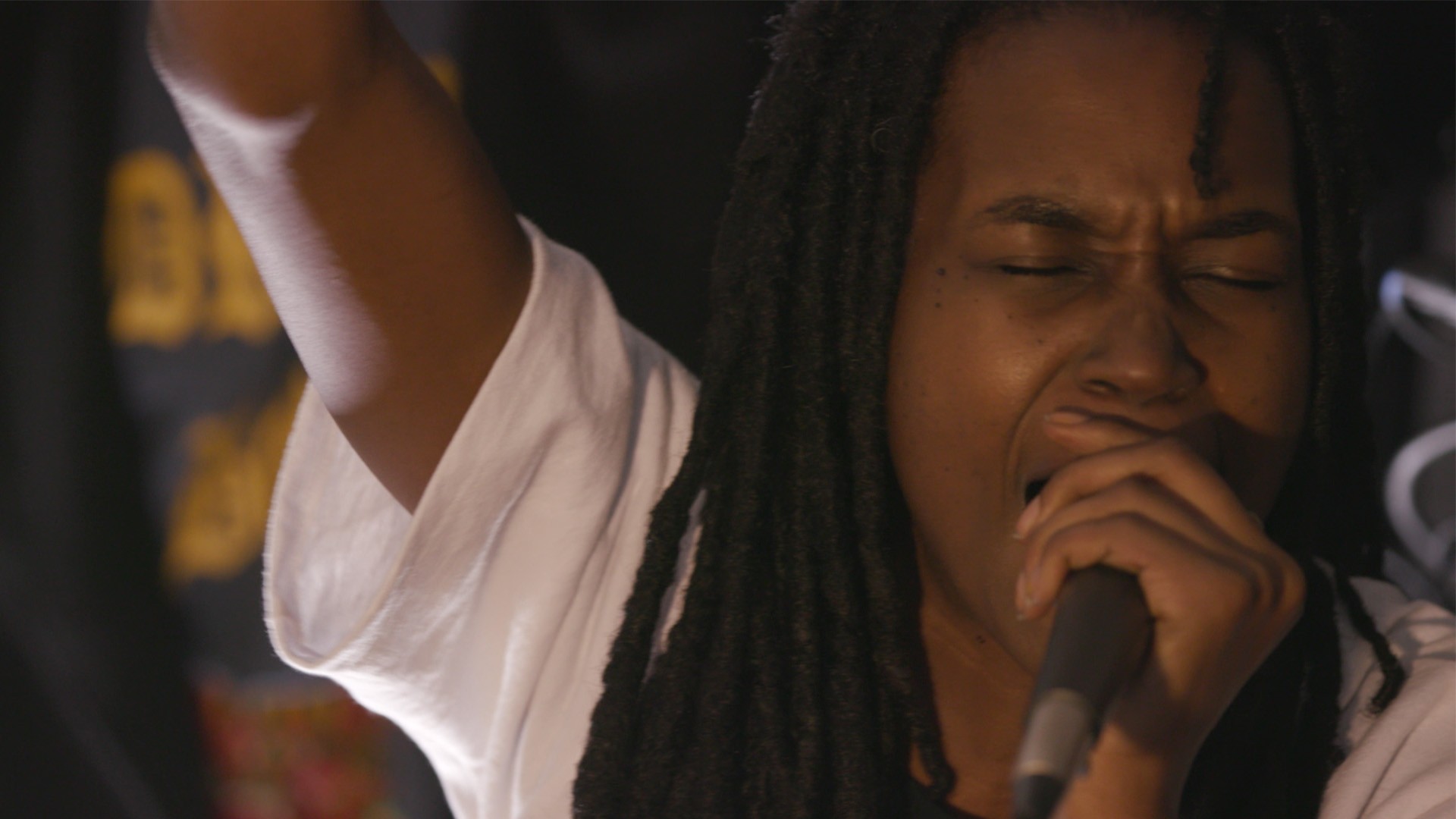 Ayewa emphasizes that access to the internet is itself a privilege—in a way that, say, access to the ideas of space and of the future are not. Black Quantum Futurism, in other words, is a version of Afrofuturism that is expressly for the people—especially the people who can't afford to be online, and who therefore are all too easy to overlook when you spend most of your time in the privilege-dome of the internet.
But this doesn't mean that if you are online—as you are, right now, reading this—that Black Quantum Futurism isn't also geared towards you. This May, Ayewa and Phillips are teaming with Philly-based collectives The Afrofuturist Affair and Metropolarity to curate the Black Quantum Futurism programming theme at Moogfest, which includes a series of performances, talks, and workshops that I'm pretty sure will draw crowds of phone-wielders like you and me. There's a workshop called "Discovering Your Secret Superpower," designed to help people develop their own superhero identities based on their own strengths and weaknesses. And there's another called "Deep Space Mind," inspired by a DIY approach to science-fiction that helps marginalized people "reclaim their own insane mindspaces while developing strategies for psychological survival in our age of warfare." On top of all that, Ayewa's working on a durational piece for Moogfest, in the spirit of her other durational piece, "14 Hours," a performance that lasts as long as—you guessed it—14 hours.
So, if you find yourself in Durham, North Carolina in May at the Black Quantum Futurism stage, make sure you bring some snacks, and maybe a change of clothes. Oh, and make sure you turn your fucking phone off—at least after you've got the whole thing documented on the gram. You won't want to forget it.
Below, Moor Mother explains Black Quantum Futurism, and what's in store for folks at Moogfest. The text combines our telephone interview with some follow-up questions she answered via email, and has been edited and condensed for clarity.
Moor Mother: Afrofuturism is a lens to see things in a differen t way. It's a place for people out on the fringes who have a lot to offer, but may not be in the academic world. There may not be thousands of books on Afrofuturism, unlike the Italian Futurists or something, but it's coming.
The past and future are not cut off from the present—both dimensions have influence over our lives, who we are, and who we become at any particular point in space-time. Our work [with Black Quantum Futurism] focuses on recovery, collection, and preservation of communal memories, histories, and stories.
One of our projects, "Community Futurisms: Time & Memory in North Philly," is a collaborative art and ethnographic research project exploring the complexities of history, time, temporalities, and futurities within a specific low-income community currently undergoing displacement and redevelopment. [The] project is an example of Afrofuturistic social practice, and how Afrofuturism can be used by disenfranchised communities to create safe space for dialogue, visioning, and testing of ideas around community sustainability, resilience, and resistance—and as a technology for the actual implementation of those visions and ideas. [It also sets] an example for other advocates and policymakers on how to creatively approach these issues using social practice and community-engaged art. That's what Black Quantum Futurism is. It's all practical—that's the main point.
Afrofuturism can be used by disenfranchised communities to create safe space for dialogue, visioning, and testing of ideas.—Moor Mother
We have two volumes of [the book Black Quantum Futurism Theory & Practice] out right now that everyone can go and check out. We have a community space [Community Futures Lab] here in North Philly where we have interns that come and work. We've had people do residencies with us on a short term. We've traveled the world talking about these concepts. We just came back from Berlin giving workshops, talks, and performances on Black Quantum Futurism. We're here.
When Rasheedah started her blog, [The Afrofuturist Affair] on Tumblr [in 2011], I had never run into anything that was an Afrofuturist event or a workshop about Afrofuturism. Around that time, Tumblr was really popping. A lot of people that were just starting out on Tumblr [back then], I see them now being in the forefront of things, whether they are artists or activists. I want to move towards the people, and I see that the people are offline. I think that it's a privilege to be online. It's a privilege to be able to continue to tweet things all day to build up your followers. That's a privilege that takes money.
I do these durational performances. I did one called "14 Hours," which is a 14-hour performance to [protest] domestic violence and sexual assault. There's so many women in prison because they protected themselves from some abusive relationship. The next performance that I did was "The Resurrection of Potter's Fields." In the 1700s, 1800s, early even 1900s, there were fields of unmarked graves—people that couldn't afford burial—all different types of what they would call the "Negro Fields." So my durational piece was [an attempt] to resurrect those graves and return them back to their homeland. There's a tradition of people wanting to be buried where they're from, by their families and with their families. The good thing that came about that was in Philadelphia—I don't know who was talking to who—they created a marker, just a few days ago, for the potter's fields here.
[For Moogfest, I'm going to be doing] a piece in the energy and tradition of what I've been doing. I'll be doing workshops too with Black Quantum Futurism, Metropolarity, and the S1 Library from Portland. I'll be doing a little bit of everything. [We're looking] at the underlying connections that hold us captive in literal and virtual prisons and through the Black Quantum Future lens, [breaking down] the linear dreams that have been etched in our psyche, the message that we are running out of time and toward a chaotic end.
It's interesting how communities all over the world are understanding how important it is to move [away] from social constructs. One model that you read in some book, or some person was talking about on Facebook, may not be the model for you. We have to take the agency to define our own thing that keeps us chill, keeps our head above water.