This story appears in the May issue of VICE magazine. Click HERE to subscribe.
Chants roared outside Terminal 4. It was Saturday, January 28, eight days after Donald Trump had taken office, and one day since he'd signed a new executive order limiting refugee resettlement and travel. It felt near 6 PM, although I couldn't be sure—my phone had been dead for hours. A small group of us had arrived at John F. Kennedy International Airport that morning to protest. Now we were thousands.
People filled every level of the parking garage. Protesters blocked drop-off and pickup lanes. Elected officials assembled behind us. "We have a quorum!" one city-council member joked, snapping a group selfie. Rabbis lit candles and prepared remarks for a vigil. Children sat on parents' shoulders. Twenty-somethings passed pizza boxes overhead. Some clenched hands in pockets to stay warm. Others tweeted. Others raised fists.
I gnawed on half a chocolate donut. Some of us huddled behind a television truck to discuss tactics: How long should this go on? Do we plan to stay until all detainees are released? Do we want people to be arrested in civil disobedience?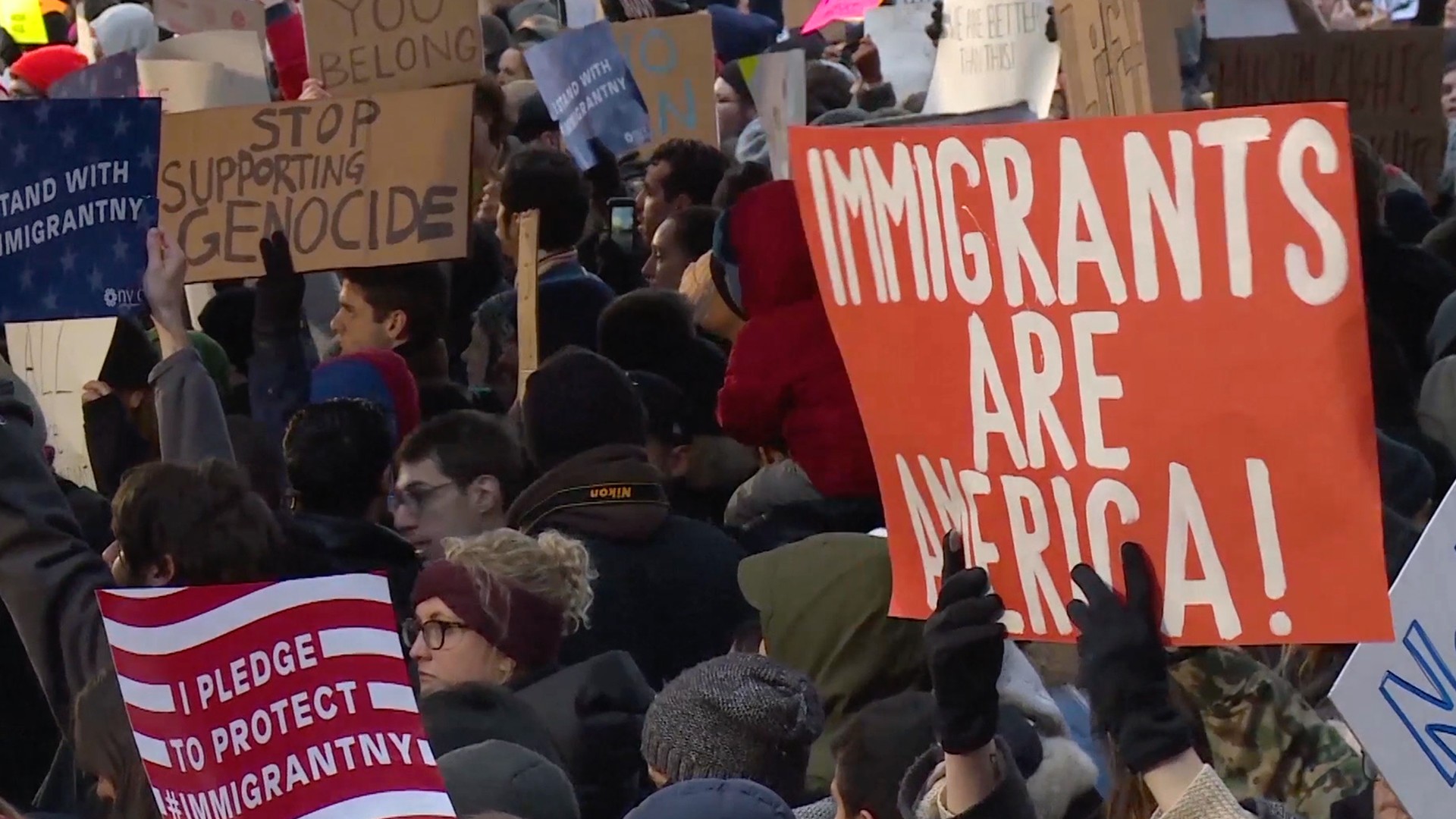 We reached a quick consensus, dispersed, and returned to the roles we'd assumed since the morning. Murad Awawdeh, Fahd Ahmed, and Daniel Altschuler, local organizers, wrangled the elected officials and press. Yasmine Farhang, an Iranian lawyer, addressed the crowd through a call-and-response. I mounted the metal barricades separating the crowd from the cameras and led chants, my voice hoarse but aided by a megaphone. I realized I hadn't gone to the bathroom all day.
HEY! HEY! JFK! NO MORE FASCIST USA!
Twenty-four hours earlier, I was drinking a beer in Jackson Heights with Manuel Castro, who runs a day laborers' organization in Queens. He and I chatted with his staff and the members of his group who had come by at the end of a long day.
I'm the deputy director for the National Partnership for New Americans, a coalition of the country's 37 largest immigrant and refugee rights organizations. We work with our field partners—organizers like Manny—to coordinate policy campaigns, share resources, and deliver services within our communities. I am responsible for our policy and advocacy strategy.
As Manny and I ordered a second round, my phone glowed with a news alert. Trump had signed another executive order. The whole week had been like this, calm moments scattered amid unrelenting attacks on immigrants and refugees, the administration's first victims. Two orders on immigration had been signed on Wednesday: one to build a wall and scale enforcement along our southern border, another to go after undocumented people and the "sanctuary cities" that promised to protect them.
This one—we'd known to expect it—concerned two cornerstones of America's relationship to the rest of the world: our refugee program and the travel of foreign nationals to our country. I slid the beer aside and opened my laptop. Skimming the text of the order, I confirmed that it was what we'd seen in a leaked draft earlier in the week. The order blocked entry to the United States for travelers and refugees from seven Muslim-majority countries, barred Syrian refugees indefinitely, and effectively froze the refugee-admissions program for 120 days. I queued up our press statement and shared resources with our member organizations: analysis of the policy, talking points, and a rapid-response plan. "This is exhausting," I said to Manny after closing my tabs. "It's just been a week," he responded. "We've got a long fight ahead."
The next morning, I woke up on an air mattress in a friend's apartment in Brooklyn and began scrolling through Twitter. Customs and Border Protection had already detained people—including vetted refugees, people with visas, and even green-card holders.
In pajamas, squinting at my phone, I texted colleagues: "What do we do?" One responded: "My friend was detained last night on her way back from Iran… People are being handcuffed." At 9:30 AM, Jacki Esposito, a lawyer with a long history in the immigrant rights movement, said, "Let's go to JFK now and protest."
REFUGEES IN, RACISTS OUT!
Camille Mackler, a lawyer with the New York Immigration Coalition, called organizers on her team. Thanu Yakupitiyage, the coalition's head of communications, began press calls. The Women's March notified its network. Make the Road New York, a group that organizes Latinx and working-class communities, alerted its 20,000-person membership base and coordinated with congressional representatives Nydia Velázquez and Jerrold Nadler. We needed them at the airport to advocate for the detainees.
I pulled up to JFK, one friend in tow, at 10:50 AM. We were the first to arrive. We ordered eggs at Central Diner, in the middle of the terminal, while we waited for the others. I paced, peering at the airport police by the entrance and the hulking armored truck just outside. Families welcomed loved ones with flowers. Travelers rolled their suitcases to the cabstand. I sent some tweets and made my way back to the diner. Before the eggs were cooked, updates began jumping across my screen: Our folks were on their way. Elected officials would arrive within minutes. Reporters were setting up cameras. Nervous and a little nauseous, I got moving.
The members of Congress arrived with a team of lawyers from the International Refugee Assistance Project. Together, we marched toward the double doors that led to customs. Our sudden activity surprised the TSA agents: "Wait. What are you doing?" There was a short standoff at the doors. TSA escorted the representatives and lawyers in to negotiate. The doors shut on Jacki, Camille, and me, and agents stood in our path. We looked at one another, paused for a beat, and then began chanting: "LET THEM IN!" The terminal, silent except for the low hum of morning chatter, echoed with our shouts. The agents pushed us back behind the retractable-belt barriers and out to the terminal entryway, between sets of automatic doors.
Jacki carried two white poster boards and a marker, almost out of ink. Holding the paper up to the terminal window, I made a pathetic sign that said NO BAN NO WALL. One of the guards, nodding to our signs, chuckled to a co-worker: "This is it?" I worried that this was it: Though we knew some people were coming, we had no way of knowing if they would number in the hundreds or the dozens.
Security insisted that reporters who filmed and recorded inside were breaking the law. (We didn't know if this was true.) Reinforcement TSA agents and security guards arrived and promptly kicked us out. "You have to leave the terminal." I wished I'd worn socks. We were out in the cold the rest of the day.
When my family immigrated to America in 1995, we landed at JFK airport. I was three. We settled in the Bronx initially, in an apartment complex with many other immigrant families. My parents had been doctors in India, Australia, and England. In the United States, they had to restart their training in order to practice medicine. Eventually, we left New York for St. Louis, then Iowa City, before moving to Kansas City when I was in fourth grade. I grew up there, in a sheltered, wealthy, white community.
During my senior year of college, I returned to Kansas City to conduct research on eviction for my senior thesis. In my classes, I'd become obsessed with housing in America, a market so fraught with inequity that it's not uncommon for people living in poverty to spend more than half their income on rent.
One day during my research, I met an elderly couple, Chuck and Ivy*, at a McDonald's for a tenant interview. Chuck was 85, Ivy 83. Chuck did most of the talking, while Ivy stirred her coffee until it cooled. Both had worked their whole lives. They lived on Social Security and Chuck's veterans benefits, and they paid over half their income in rent. When I met them, they had fallen behind and would be evicted with no place to go and no one to turn to for help. "So, the whole thing is lopsided," Chuck told me. "They keep raising our rent, tacking on extra costs, you know? They just pinned me with $47 for water, trash… $25 for Sheila, our dog. We just got notice that total rent is $725."
"We ran out of money yesterday," Ivy piped in, looking up from her coffee. "But I don't mind living in the truck, honey, it won't bother me."
I had planned to work for a hedge fund after graduation. But I couldn't sign up for that after meeting Chuck and Ivy, living just ten minutes from my childhood home but in a different reality. When I returned to school, a professor sat me down and told me what I needed to hear. I was about to be the luckiest person my age in the world: limited debt, no dependents, and a prestigious degree. If I couldn't take a risk, or do something I actually cared about, who could?
NO BAN, NO WALL, DONALD TRUMP HAS GOT TO FALL!
After graduating, I moved to Chicago and began my work in the immigrant rights movement. My organization shares office space with a local grassroots group, and it was there that I met Erendira*. Her booming laugh carried down the hall, and eventually we became friends and then roommates.
When she was four, Ere and her family came to the United States, without documentation, from Oaxaca (the most beautiful state in Mexico, according to Ere). Her dad came first, when Ere was eight months old, and sent for the rest of the family after he found work. Ere grew up in trailer homes and small apartments, shared with other families. Her teachers held her back because she struggled to learn English. Her dad was deported once but made it back to their home in Illinois. Ere's parents saved for years so they could buy a house and she could go to college.
Now, through Barack Obama's Deferred Action for Childhood Arrivals program, Ere—and 750,000 others who were brought here as kids—has authorization to work without fear of deportation. Still, she has no path to citizenship and worries about her undocumented parents as they age, without healthcare and unable to travel to see their families.
Ere is now a community organizer in Pilsen, a Mexican neighborhood in Chicago. She trains immigrant women on their rights, immigration law, and issues that impact their families, like healthcare and education. Ere leads her organization's civic-engagement program. Last spring, for example, Ere arranged for two buses to take 100 senior citizens downtown to vote in the Illinois primary, even though she can't vote herself.
Just before the election, Ere told me she'd never bought a bedframe. I knew she didn't have one, of course, because I live with her and could see her mattress on the floor. But when she mentioned it, I realized how out of character it was: Ere loves her space, and the rest of the apartment is always spotless and well decorated. She told me she'd never been able to bring herself to buy one. Even after so many years, she couldn't allow herself to get too comfortable. Because of her immigration status, she had to be prepared for everything to change.
At 12:45 PM, I sprinted from the terminal doors across the street to the parking lot, where the press gathered in a makeshift gaggle and our ranks had grown to about 50. Breathless, a couple of us informed the crowd: Hameed Khalid Darweesh, one of the detainees—an Iraqi man who had worked as an interpreter for the United States Armed Forces during the war—had been released.
Darweesh stepped out of the terminal, beaming, arm in arm with representatives Velázquez and Nadler. He asked for a cigarette and a lighter—he'd been stuck inside overnight. Leaning against the barricades that airport security had erected since morning, everyone held their signs high and yelled, "Welcome home!"
We stood behind Darweesh and the members of Congress as they addressed the media. Representative Velázquez had tears in her eyes. "First of all, I want to thank the people who have been fighting for me," Darweesh said. "This is the soul of America. This is what pushed me to leave my country and come here." One of the reporters asked him what he thought of America. Pointing his finger for emphasis, he responded, "America is the greatest nation, the greatest people in the world." One of the vets he had helped arrived to pick him up. We surrounded the car as they embraced. Darweesh got in, and they drove away.
Darweesh's release warmed us. Cars honked as they drove through the drop-off and pickup lanes. We cheered. With some of the other organizers, I moved through the growing crowd to sustain chants and energy, soliciting ideas from fellow protesters to keep our chorus interesting.
I plugged into a portable charger to check Twitter and saw protests echoing ours across the country. Ere posted a picture at O'Hare. Protesters amassed at LAX, Dulles, and Seattle-Tacoma, among others. Teams of lawyers assembled within the airports. New York taxi workers were striking in solidarity.
As the gray-pink sky darkened, the crowd grew from hundreds to thousands. There were a lot of young people—people in their 20s and 30s. Parents carried babies and young kids. Protesters wore pink Women's March hats, hijabs, shirts with slogans like I'M A HINDU WHO STANDS WITH MUSLIMS. A woman gave me a pair of gloves. It was hard to tell whether people came alone or in groups; we existed in one another's space, lit by a shared purpose.
We broke up the chanting with "mic checks": Organizers yelled out fragmented updates, and the crowd yelled them back in unison, creating a human microphone. City-council member Carlos Menchaca stayed with us through the afternoon and into the evening. From atop a structure in the parking lot, he prompted the crowd.
"We are here to defend what we believe," he bellowed.
"WE ARE HERE TO DEFEND WHAT WE BELIEVE," the crowd responded.
"And we are not going anywhere!"
"AND WE ARE NOT GOING ANYWHERE!"
FUCK YOUR WALL, WE'LL TEAR IT DOWN!
That night, the Trump administration suffered its first legal loss in a civil-liberties fight. Around 10 PM, a federal court in Brooklyn ordered the government to halt the detention and deportation of refugees and travelers from seven Muslim-majority countries who had been in transit before the order took effect.
One week later, a judge in Washington State issued a nationwide temporary restraining order prohibiting implementation of Trump's ban, and the Department of Homeland Security was told to stop detaining refugees and Muslims pursuant to the executive order. Those decisions marked the first formal checks on Trump's power. Our protest was one of the informal ones—a demonstration that resistance would be swift, spontaneous, and impossible to ignore.
I learned of the judge's order when the crowd erupted. The hundreds of us still standing outside Terminal 4 began to disperse. I took a cab back to Brooklyn. My ears rang with chants. My abs, temples, and jaw ached. My lips were chapped; I'd lost my voice. I couldn't process much about the previous ten hours—but I was proud. What grew from stories like Darweesh's, from the quick and diligent work of lawyers, and from the minds of community organizers, felt like the resistance the day required, and it felt true to the country I love.
Twenty-two years after I'd come home to America, through the same doors at JFK airport, Darweesh and the others who had been detained got to come home, too. But it was hard not to acknowledge the long fight left ahead.
The next day, I dragged myself out of bed. This time, I marched alongside 30,000 New Yorkers from Battery Park to the Executive Office for Immigration Review. I held a megaphone up to the mouth of a little boy, so he could lead chants: "IMMIGRANTS ARE WELCOME HERE! THIS IS OUR NEW YORK!" Deafening approval ricocheted between buildings and filled the narrow Downtown Manhattan streets.
On March 6, Trump signed a slightly modified version of the ban on refugees and travelers from Muslim-majority countries. It, too, was halted in court. Although the ban has been blocked temporarily, the Justice Department has appealed and will defend the ban in court. And so it will continue.
Our political moment requires a willingness to fight for our values—suddenly, strategically, and at every opportunity. We will need to give our time and money to sustain organizations that coordinate consistent action. My friends and colleagues from the protest at JFK—like Murad, Jacki, Daniel, Yasmine—we're all organizers. We've been assembling the components of resistance, making methodical and calculated efforts to respond to the Trump administration. Though the JFK protests were spontaneous, we wouldn't have been able to disrupt America's busiest international airport, attract press attention, and have two members of Congress supporting us by 11 AM without that infrastructure.
We will also need to make moves ourselves—like creating a sign and getting to the airport—again and again. Sometimes resistance will look like 30,000 people filling the streets. Sometimes it will be loud and land on the front page of newspapers. It'll happen in town-hall meetings and courts and on Twitter. Other times it will be quieter, more personal.
When Trump was elected, on an unapologetically anti-immigrant platform and promising a menacing deportation force, Ere and I spent a lot of time in our apartment, depressed and scared. I left Chicago for a few weeks after the election. On my first night back home, I popped into Ere's room and noticed she'd bought a bedframe. Not only a bedframe—she'd pulled up her carpet and put down hardwood, painted the walls, and replaced her dresser. I was confused.
"I decided I can't let him tell me who I am," Ere explained. "I'm here. I'm here to stay."
*Names have been changed or withheld to protect subjects' identities.